With the new year in full swing, I for one am dreaming of an African safari. And more specifically, to one of these best bathtubs in Africa. While I would happily take a trip anywhere after the last two years being on a travel hiatus, there is nowhere that is calling me more than the bushlands of Africa.
There's just something so magical about being on an African safari. The air is clean and crisp, the mornings are packed with adventure. And as the sun sets on a day in the bush, you feel alive in a sense no words can describe.
Related: The Best Animal Encounters in Africa
But a visit to Africa is about so much more than seeing animals in the wild. Many of the camps you will encounter have luxury amenities like private plunge pools, butler service, spa treatments and luxury bathtubs. The last of which is my personal favourite. So with that, these are the best bathtubs in Africa, to help you curate your luxury African safari bucket list.
The best luxury bathtubs in Africa
Somalisa Camp
Hwange National Park, Zimbabwe
Known for being home to enormous herds of elephants, Hwange National Park is a first time safari-goers dream escape. There will be no shortage of wildlife putting on a show for you, combined with vast open plains that stretch as far as the eye can see. Somalisa Camp lies in the heart of the park, making it the perfect place to rest your head and hopefully see some wildlife from the comfort of your incredible oversized tub! The bathrooms at Somalisa Camp are a huge drawcard for travelers, given their spacious nature and the vintage safari aesthetics.
Related: The Ultimate Africa Bucket List
Londolozi Granite Suite
Sabi Sand Game Reserve, South Africa
Next up is one of my favourite lodges in South Africa, Londolozi, located within the Sabi Sand Game Reserve. The crowning jewel in the Londolozi crown is this epic granite suite, perfect for honeymooners and couples looking to create an extra special getaway during their African escape. The suite comes with a private outdoor bath tub overlooking the river, with wildlife consistently using this pathway as they move locations in the early morning and late afternoons.
Singita Sabora Tented Camp
Grumeti Game Reserve, Tanzania
Singita has an ever-growing collection of tented camps across Africa, but it was the camps in Tanzania that totally swept me off my feet. Having stayed at no fewer than three of them, I have to say that Sabora Tented Camp is my favourite. There's such a down-to-earth appeal about this lodge, which manages to encapsulate barefoot luxury with ease. And I don't think you'll find a more perfectly situated bathtub in all of East Africa!
Related: 12 of the best isolated lodges in Africa
andBeyond Lake Manyara Tree Lodge
Lake Manyara National Park, Tanzania
Set inside a mahogany forest in Tanzania, andBeyond Lake Manyara Tree Lodge is a nature lover's dream come true. And if the serene landscapes matched with the use of natural resources to create the lodge itself aren't enough to convince you, how about witnessing tree-climbing lions in the wild? You read that correctly! Along with the famous tree-climbing lions, you will also be able to witness the pink flamingoes of soda lake and embark on a nocturnal night game drive. Then after a long day searching for wildlife, kick back in the quiet serenity of your oversized private bathtub. Bliss!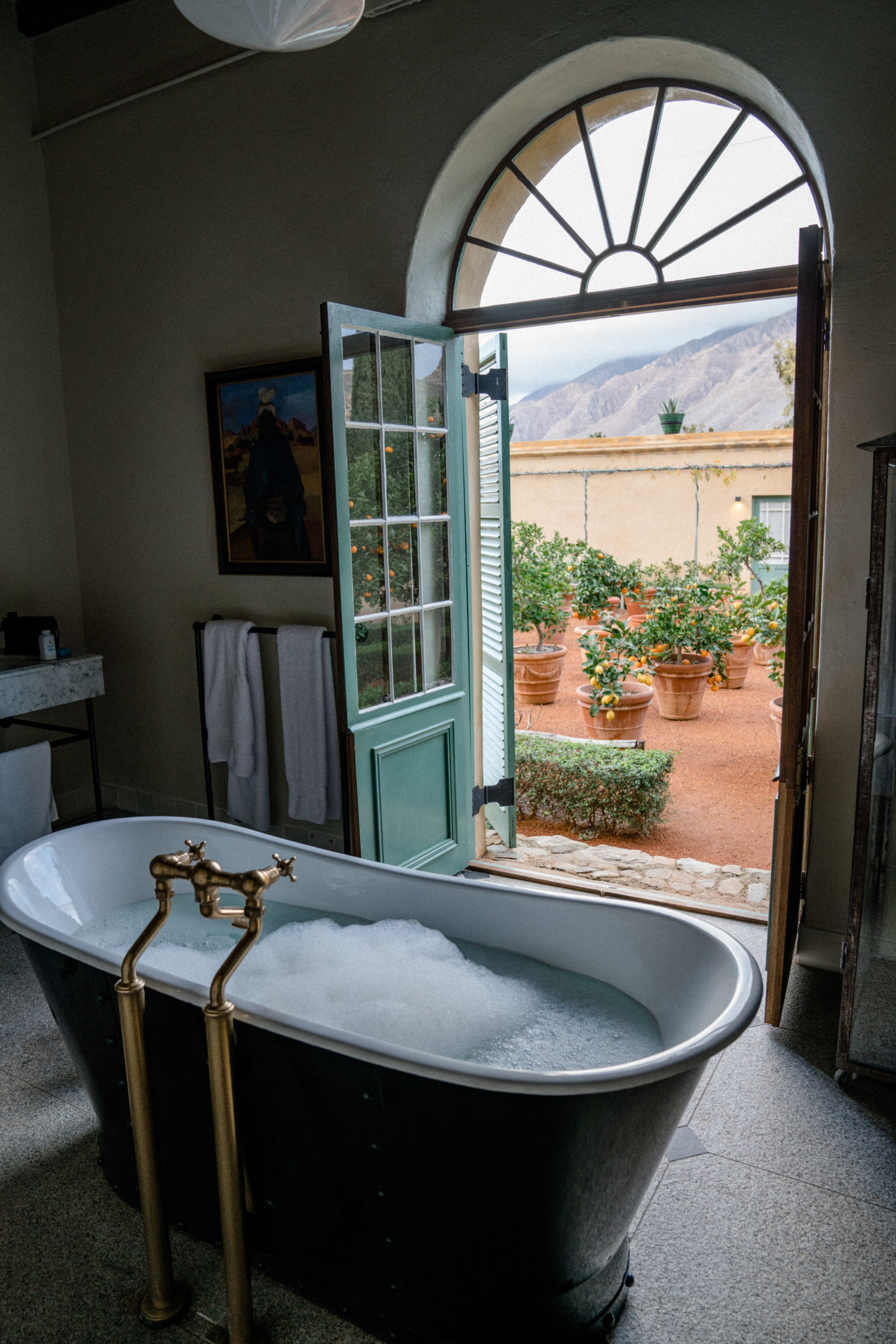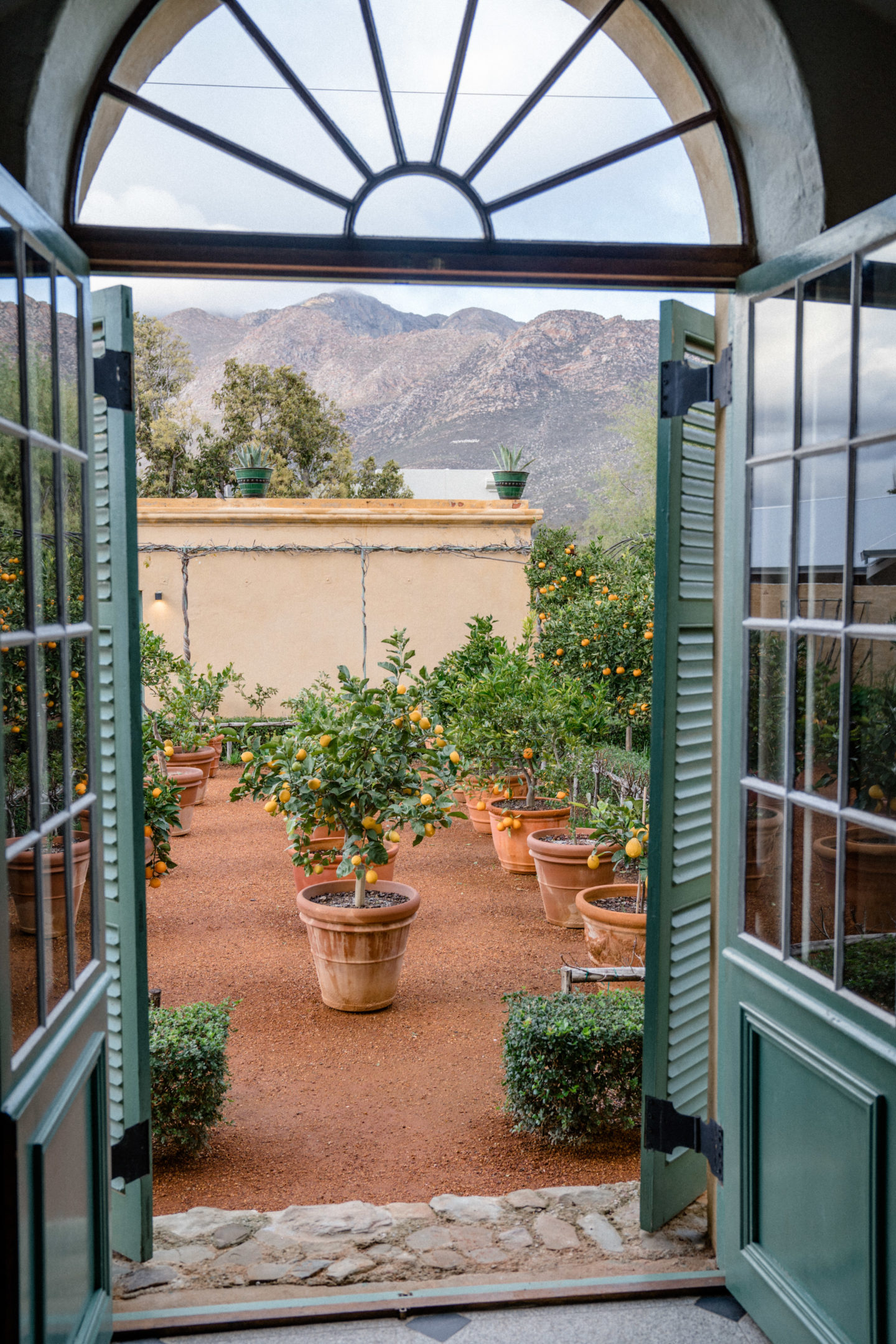 Jonkmanshof
Montagu, South Africa
While most of the bath tubs listed in this article are based in the bushlands of Africa, this to-die-for bath tub at Jonkmanshof in Montagu is an exception. This hotel is located in the Western Cape and can be reached in a couple of hours from Cape Town. Once there, the lodge is small (with just two rooms), adding to the private tranquility of the bathtub overlooking the potted citrus garden.
Related: My stay at Jonkmanshof, South Africa
Royal Chundu Zambezi Island Lodge
Victoria Falls, Zambia
With a handful of awards and accolades under their belt, the team at Royal Chundu Zambezi Island Lodge certainly know how to host their guests! And if you're looking for a lodge that boasts romance on overdrive, this is a particularly special lodge for couples. The outdoor bathtubs are a particular highlight, overlooking the spectacular Zambezi River.
Kwitonda Lodge
Volcanoes National Park, Rwanda
Rwanda has quickly made a name for itself as hosting some of the most stunning lodges in all of Africa. Home to the famous mountain gorillas, Rwanda is quickly becoming a must-visit destination for visitors to Africa, and one look at the view from the rooms at Kwitonda Lodge will show you why! These private bath tubs offer unparalleled views over the epic mountainous landscapes, leaving it difficult to want to leave the room!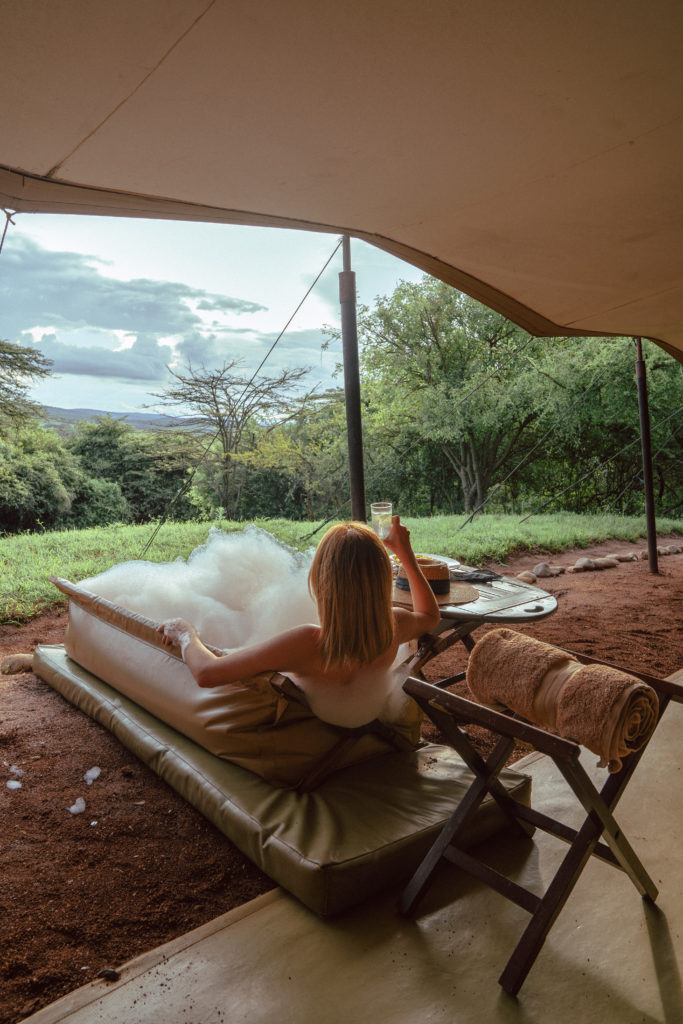 Cottars 1920's Camp
Greater Mara, Kenya
Situated on a private conservancy on the edge of the Maasai Mara, Cottars 1920's Safari Camp feels as if you have stepped back in time. Paying homage to the history of traditional safaris as they were back in the 1920's, this camp offers guests an extremely unique and authentic experience. And the traditional bush baths (pictured above) are just one way this camp goes above and beyond to exceed all of your expectations.
Angama Mara
Maasai Mara, Kenya
As one of the newest lodges in the Maasai Mara, the opening of Angama Mara on a hilltop overlooking the National Park below was highly anticipated, to say the least. But the reputation of this lodge appears to have matched the anticipation for its opening, as it has quickly skyrocketed to become one of the most sought after lodges in East Africa. Each of the individual tents offers an oversized bath tub, with unobstructed views over the Mara below.
Related: Checking in to Angama Mara in Kenya
andBeyond Phinda Rock Lodge
Phinda Private Game Reserve, South Africa
There are a handful of lodges set inside the Phinda private game reserve, but none is more unique than Phinda Rock Lodge. This lodge offers an extremely down-to-earth experience for its guests, and the outdoor bath tubs are no exception! So if you're staying a while, be sure to skip one of the afternoon game drives and settle in to your bathtub to watch nature put on its show.
Jacana Camp
Okavango Delta, Botswana
The Okavango Delta has a high concentration of safari camps, however, each of them is reasonably small with just a handful of rooms. This makes each of the lodges unique and tranquil, with each of them aiming to provide something different for their potential guests. And if you ask me, Jacana Camp have done just that with their private outdoor bathtubs! This experience earns Jacana Camp a place on our list for having one of the best bathtubs in Africa.
Singita Boulders
Sabi Sands Game Reserve, South Africa
Last but not least in our round-up of the best bathtubs in Africa, we can't forget to mention Singita Boulders in South Africa. This lodge is one of my personal favourites – for wildlife viewing, lodge design, and the oversized yet effortlessly private rooms. Each of the rooms offers a large bathtub overlooking your private deck, which is quite often where you will spot elephants drinking. This is an incredibly unique experience and one last reason to book your trip to Africa!
Follow on Instagram
Safari Style