In my opinion brunch is by far the best meal of the day, at what other meal is it socially acceptable to order pancakes with bacon and a side of mac and cheese? I think you'll find the correct answer is no other meal. Whether a healthy brunch or a really dirty fry up I've created a list of the 20 best brunch spots in London.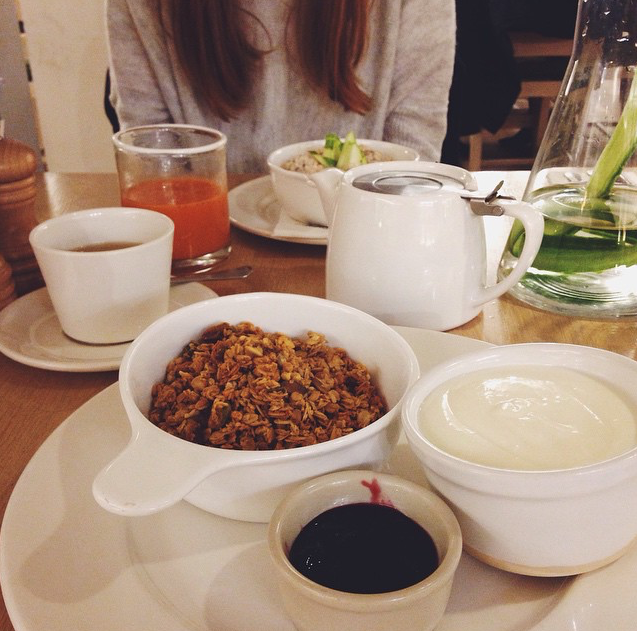 1. Daylesford Organic
A Notting Hill favourite, located on Westbourne Grove, Daylesford Organic is a haven of organic products, beautiful quality food and you guessed it, the most amazing brunch menu. Whether you're seeking a superfood smoothie or indulgent pancakes this place has it all. The front of the restaurant is a gorgeous deli of fresh cheeses, bread, vegetables and the likes. It really is quite heavenly. I'd highly recommend trying their granola, it's a personal favourite of mine.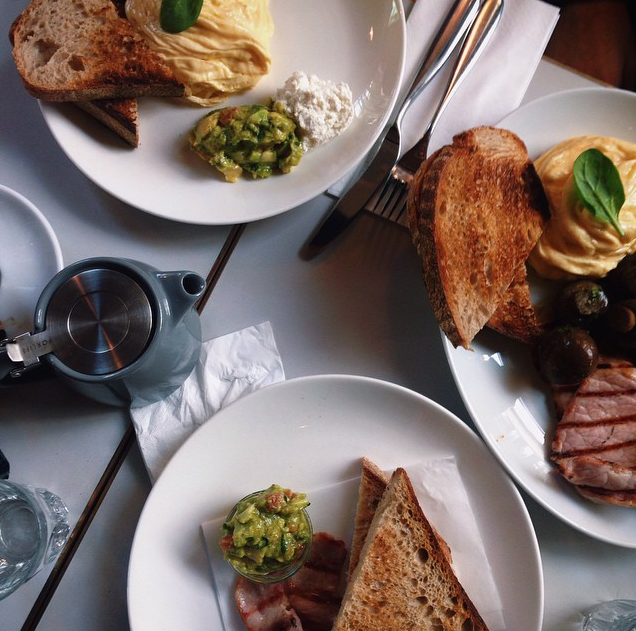 2. Granger and Co
My go to brunch place is Granger and Co. Another Westbourne Grove, Notting Hill haunt, they really do know how to do great bunch there. You'll also find their new restaurant in Clerkenwell, so they've got both ends of the city covered. The scrambled eggs here are amazing, they look so perfectly whipped that you would question whether you actually have real food on your plate. The sweetcorn fritters are also delicious and if you're feeling particularly naughty then the butterscotch pancakes are the one for you.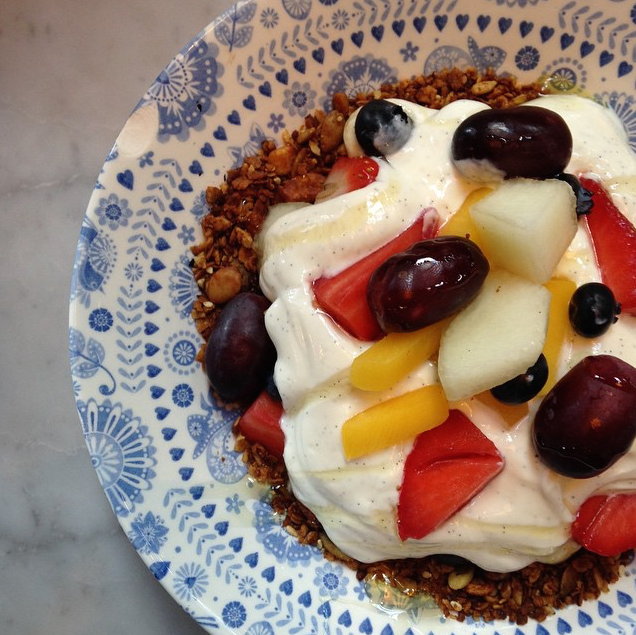 3. Dishoom
They have a number of Dishoom's around London now, but my favourite for brunch by far is still their restaurant in Shoreditch. I don't know what it is but it just feels right for a weekend brunch. Dishoom is an Indian restaurant and their brunch menu has all sorts of influences running through it. Any of the Dishoom Naan Rolls are especially delicious, I usually opt for the bacon but the others are pretty spectacular too. Wash it down with a breakfast lassie and I can't think of many more delicious ways to start your day.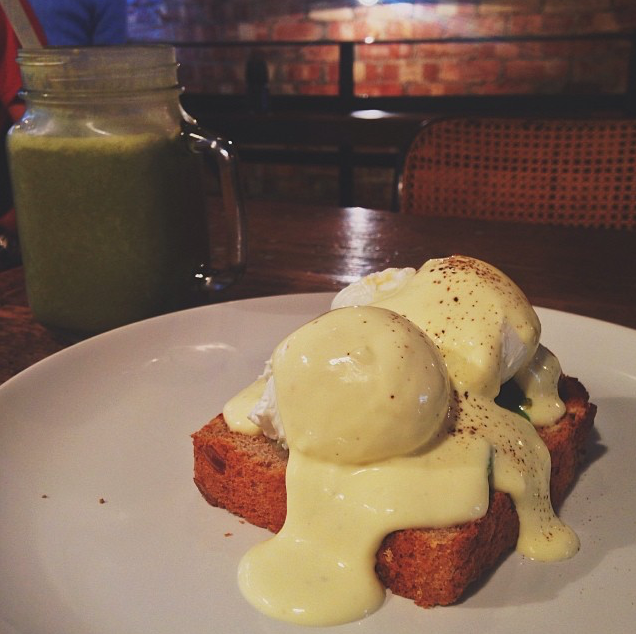 4. Good Life Eatery
If you've read my Healthy Cafes in London post then you'll have seen this one make an appearance before. But if you're seeking a little Sunday morning redemption after a few too many cocktails on Saturday night then this place is for you. They do a delicious acai bowl, a great selection of smoothies, smashed avocado on toast and plenty of superfood meals that'll have you ready to start the day in no time at all! They're located in Chelsea, with a new cafe set to be opened in Marylebone in the not so distant future.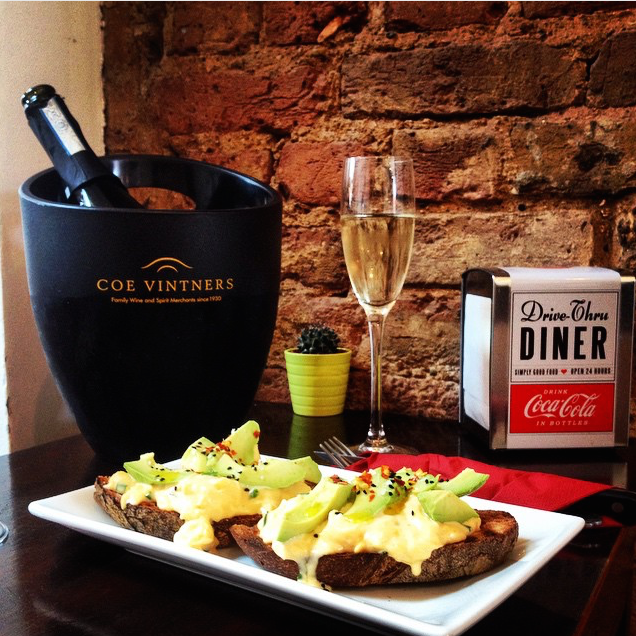 5. Chairs and Coffee
This cafe is not only home to potentially the best scrambled eggs in London but also the perfect work spot. You'll find Chairs and Coffee in the heart of Fulham. The cafe has wooden chairs decorating the walls and a bar full of cakes and cookies greeting you as you enter. And I mean who doesn't love to be greeted by cakes and cookies?! The food is really reasonably priced, the coffee is delicious and the scrambled eggs with smoked salmon has no faults. In conclusion I see no reason for you not paying them a visit.
6. No 11 Pimlico Road
A haven of Instagram opportunities. Everything from the grey marble tables to the perfect lighting, and food you put on a table here will look fantastic. So it's just as well the food tastes pretty sensational too. You'll find No 11 in Chelsea, their blueberry pancakes will be calling you in from the street. They have a HUGE breakfast and brunch menu that covers pretty much anything you'd ever wish to eat. Truffle mac and cheese is a must, as are the blueberry pancakes, a freshly pressed juice and maybe even some Eggs Benedict. The possibilities are endless!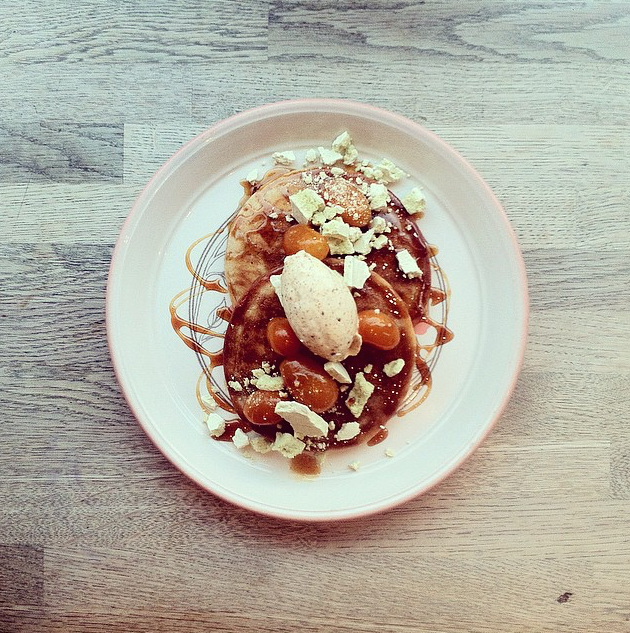 7. M1lk
I'm going to be bold and just outright say, potentially the best breakfast I've had South of the river? All of the produce they serve is locally sourced from the South East of England and their meat is all organic British meat. M1lk has such a lovely feel to it and if you don't live close to it I'd highly recommend a trip to check them out because if you didn't then you wouldn't be able to try their sweetcorn fritters and that would be a great shame. You'll find them in Balham, go go go!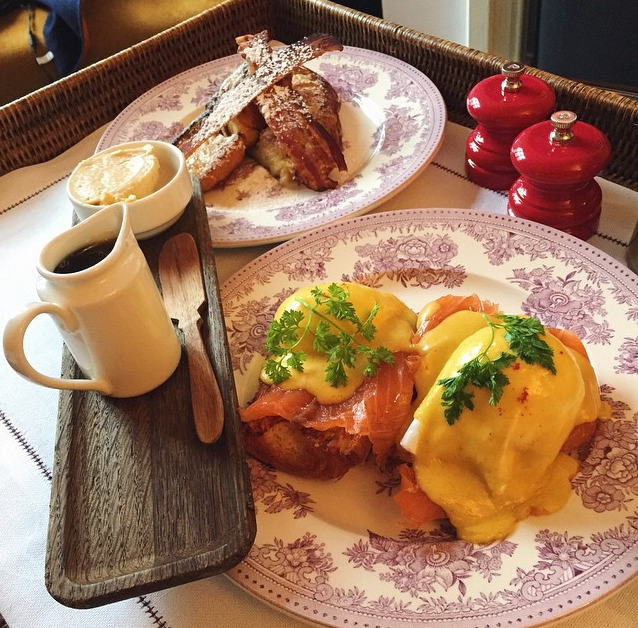 8. Chiltern Firehouse
Well it's not going to be a cheap brunch but it's definitely a brunch you should experience. Let's call this a special occasion brunch spot, it's not outrageously priced but the total of everything you're going to want to eat will warrant a special occasion. Buttermilk pancakes, scrambled eggs, french toast and smoked bacon, just to list a few. It's definitely worth getting one of their fresh juices to sip away at in their gorgeous courtyard!

9. Gail's Kitchen
Gail's is now all over London however they haven't succumbed to the unfortunate inevitable of losing authenticity through expansion. Each little cafe feels as though it's totally unique. All their cafes also double up as great work spaces if you work from home or are in need of a change of scene from the library whilst writing an essay. Gail's became well known for their delicious bread which is now stocked in a number of supermarkets. However, back to what I'm supposed to be talking about – their brunch! The french toast with seasonal compote is really pretty exquisite or their pancakes. Gail's, being a bakery, also have a great selection of pastries and croissants if you're not like feeling a big brunch. They have locations all over London so look out for their cream and red exterior and head on in.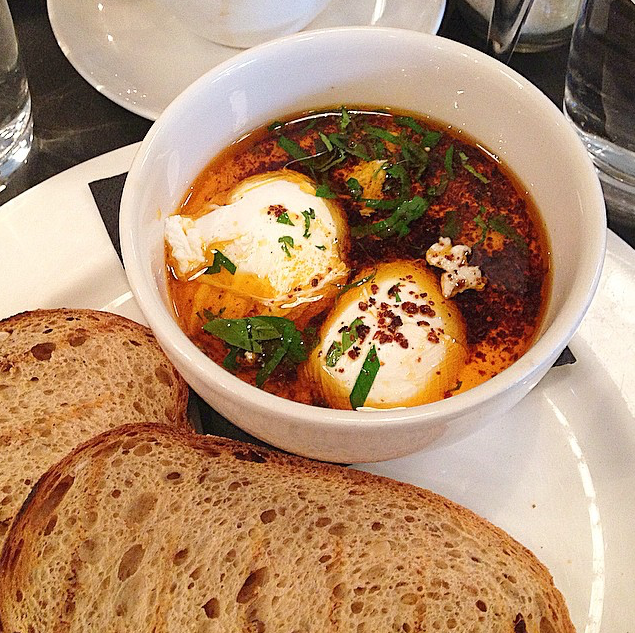 10. Kopapa
I'm just gonna say this once, Marmite soldiers with boiled eggs. If you don't like Marmite then I feel sorry for you because this is a dish I have attempted to replicate which you would presume to be quite simple but it never tastes quite as delicious. Kopapa are located in Covent Garden so a perfect place to start a day in Central London. They do a delicious selection of juices and smoothies as well as great eggs amongst other dishes.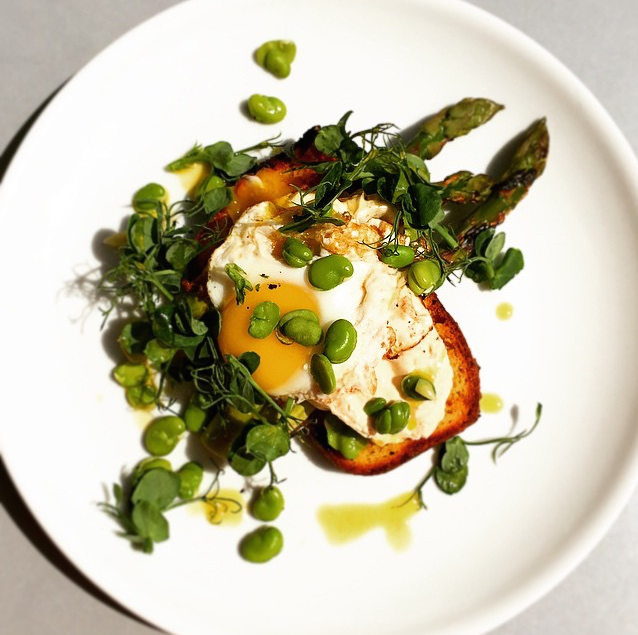 11. The Modern Pantry
Another haven for Instagram obsessives like myself. You'll find The Modern Pantry in Clerkenwell. The food here is a fusion of modern ingredients with traditional recipes and their brunch menu does just that. For example , their take on waffles is pretty sensational – coconut waffles with pineapple and thyme salsa, salted peanut butter brittle and coconut yoghurt. If you can't envisage what that will taste like, it's just delicious, take my word for it. They have all manner of dishes for you to indulge in so go and have a try, you won't regret it!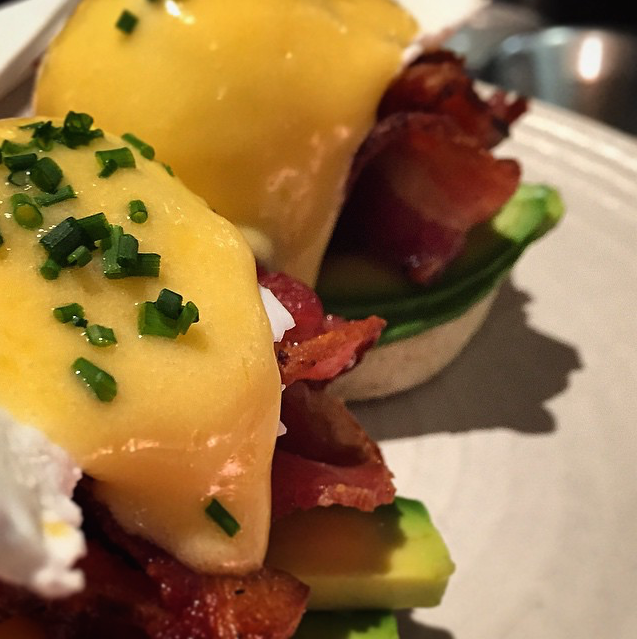 12. The Riding House Cafe
If you're looking for a good breakfast meeting spot I would highly recommend this restaurant. They have a great working atmosphere with a super long table running down the middle as well. Whilst the atmosphere is great the food is an eclectic mixture of hipster, healthy with moderate indulgence. I always love a breakfast/brunch menu that where I want absolutely everything. I'd definitely come back here on a weekend with a big group of friends, order a huge mix of the menu and tuck in!
13. The Wolseley
This one's a little fancier for brunch, maybe keep this one for a special occasion. But my goodness is it good! They serve a more traditional breakfast menu than most of the restaurants on this list but tradition does not make it any less delicious! I usually order the Potato Rosti, avocado and poached eggs but their full english breakfasts are also really delicious. It's located centrally located and definitely somewhere good for a celebration.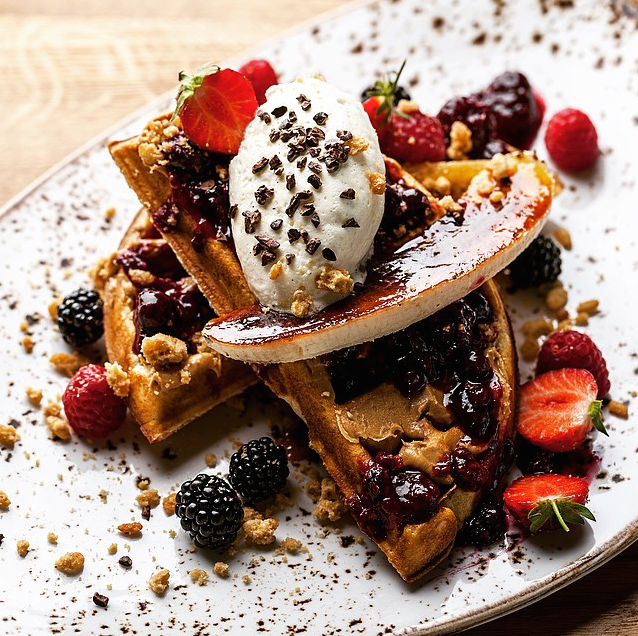 14. Duck & Waffle
Breakfast with a view! Another one to add to the celebration or spontaneous morning breakfast spot. Duck and Waffle is located near Liverpool Street Station in the Heron Tower – right at the top of the Heron Tower specifically. They're open 24 hours, so if you fancied it you could stay all night and have a spot of breakfast before heading home to bed. As you may be able to guess from the name they are pretty great at making waffles, duck and waffles specifically. You can get waffles with almost every on the menu, but really good ones not cheap diner-like waffles. These are waffles with a view! The House breakfast is pretty delicious as are the House mimosas – why not toast the sunrise looking out over London. I assure you the prices are definitely worth it.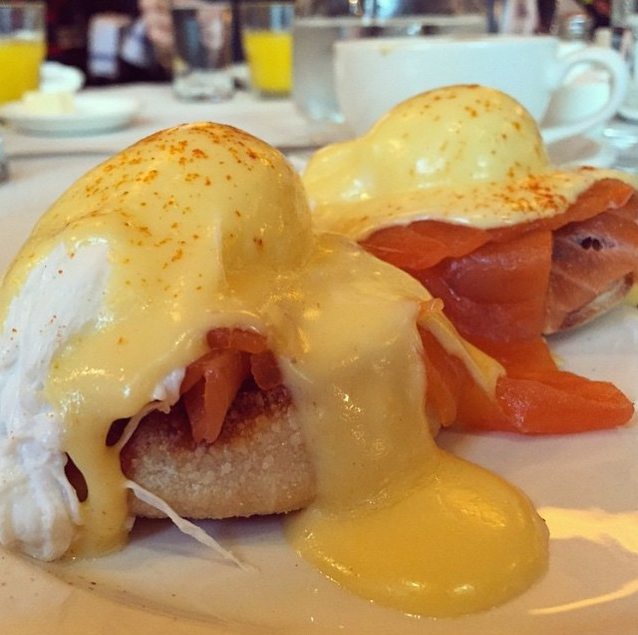 15. Balthazar
The infamous New York restaurant made it's way over the pond to London a few years back and it's been blossoming in it's central Covent Garden location ever since. The all-day brasserie serves up a great breakfast and brunch at relatively good prices as far as London prices go. The home-made date and cherry granola is delicious, along with their avocado and eggs. Be sure to order some of their pastries as well, it is a French inspired Brasserie after all!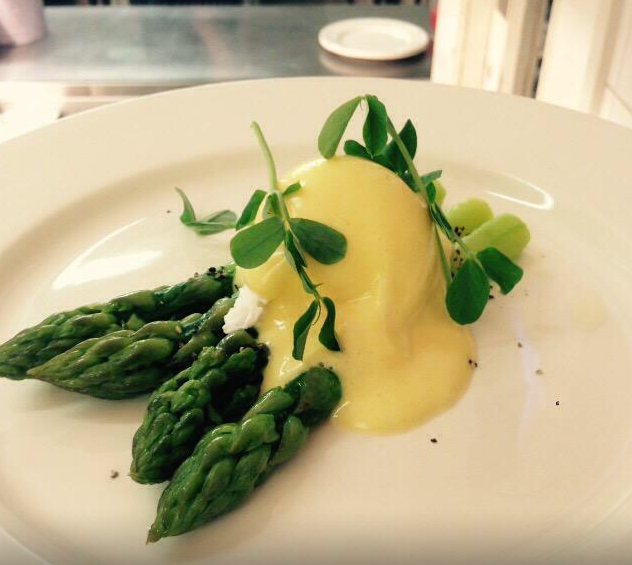 16. Sam's Brasserie
This one is a little further West in Chiswick. Whilst Sam's is delicious for dinner their breakfast is almost even better. Acai bowls, smashed avocados, eggs, house granola, buttermilk pancakes. If I haven't tempted you yet then I'm very concerned. Reasonably priced and in a lovely location to spend a Sunday, maybe head to Chiswick House Gardens for a stroll to work off all your food!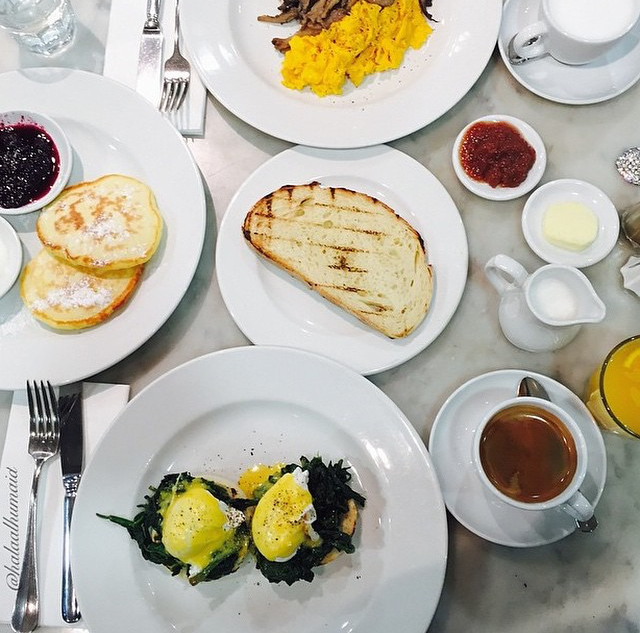 17. 202 Cafe
The last of my Notting Hill recommendations for this post is 202 cafe. Again located on Westbourne Grove this restaurant has some great photo opportunities as well as a little boutique as you enter. Expect a great crowd for people watching and a queue on the weekend. The queue is definitely worth the wait, the food is pretty delicious. Their hot chocolates are almost a challenge to drink, in that they're so deliciously rich you challenge yourself as to how much you can drink. If you're not up for a challenge in the morning then an easy option is french toast, no questions, just order it. Be sure to pop in before or after my other two recommendations on Westbourne Grove because one can never have too much brunch!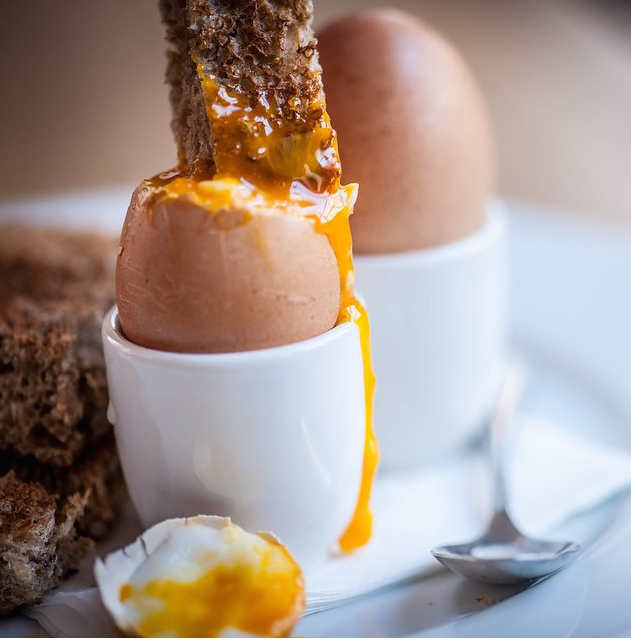 18. Tom's Kitchen
Another delicious spot for you all. They have a few locations round London including Somerset House, Chelsea and Canary Wharf. If you're looking for some breakfast inspiration here I'd highly recommend ordering anything with a bagel, I don't know why they're so good but you should really have one. If you're not feeling eggs, smoked salmon and bagels then I should let you know the brioche french toast with caramelised apples may be just the thing you're looking for. Be sure to pay them a visit!
19. Hally's
Probably one of the most hipster restaurants in Parson's Green, at the weekend you'll definitely need to get there early or wait till later on but their brunch is really delicious and worth a wait. There's a wide range of savoury and sweet options as well as a providing a great spot for people watching. The smoked salmon on rye bread, ricotta pancakes and yoghurt with granola are personal favourites of mine. Also order a side of bacon here, it's really delicious. Definitely check in here if you're in the area!
20. Dean Street Townhouse
Another of the Soho House family so if you're looking for a spot to people watch media-TV types and eat delicious food then here you have it. If you're brunching here it would be rude not to order a House Bloody Mary now wouldn't it? Order any of these; the full English breakfast, porridge, avocado on toast with a poached egg or the apple, avocado and spinach smoothie! You'll find Dean Street Townhouse in the heart of Soho and I definitely recommend you check them out.
PLANNING A TRIP TO LONDON? CHECK OUT OUR GUIDE: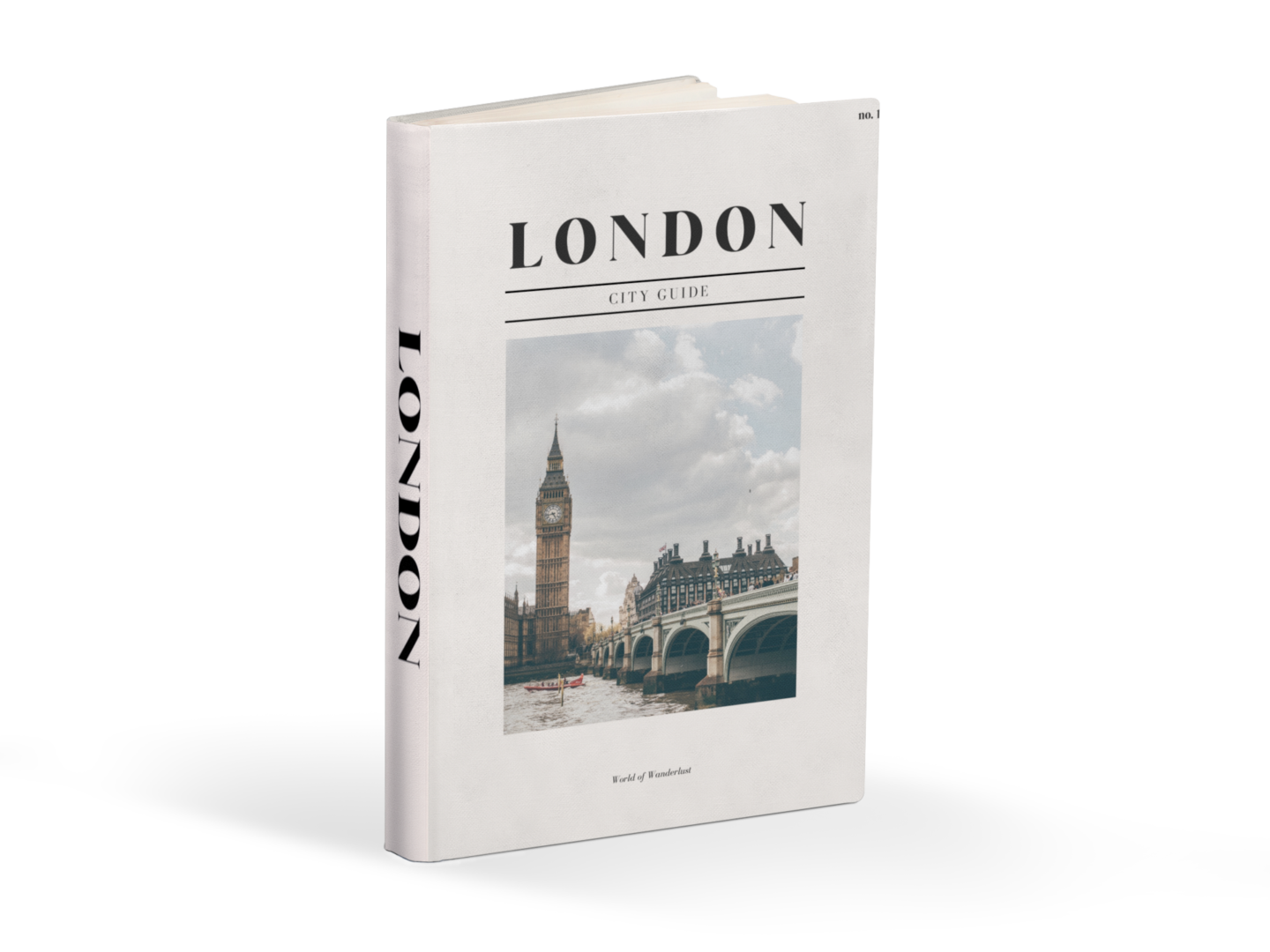 The WOW Guide to London