Are you planning a trip to Tasmania? You've come to the right place! With the outrageously popular 50 Best Things to Do in Tasmania article we published over a year ago, we're back with our 50 Best Places to Stay in Tasmania. As a lifelong Tasmanian resident, I've certainly been spoiled with some of the world's most beautiful hotels, shacks, AirBnB's and villa rentals here in Tasmania over the years. The truth is, there are so many wonderful hotels here in Tasmania, that the hardest part will be choosing your selection! So with that, these are the best hotels in Tasmania, plus a selection of holiday rentals, AirBnBs, and endless beautiful escapes to rest your head.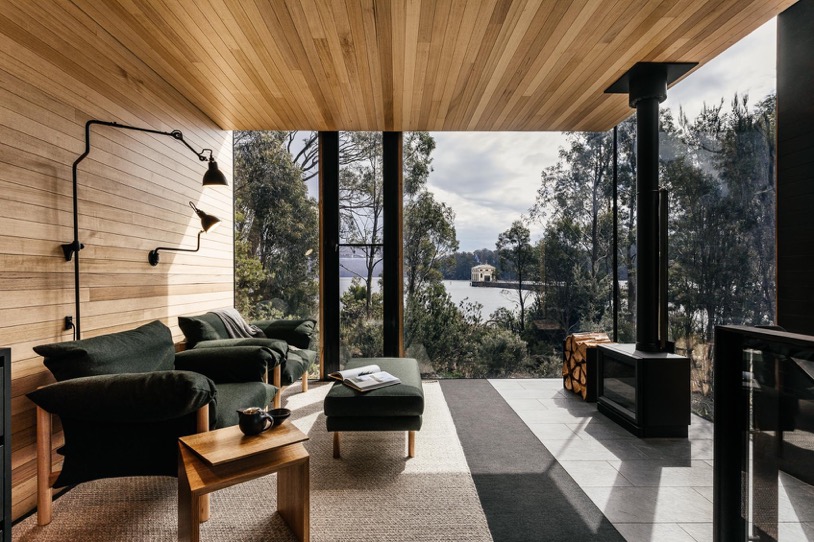 1. Pumphouse Point
When it opened, Pumphouse Point took top spot for Tasmania's newest and most glamorous wilderness retreat. And today, not much has changed. Pumphouse Point is certainly one of the most Instagrammed hotels in Tasmania, with the famous long jetty and beautifully appointed rooms with views for days. Rooms range from those on the lake to those with a lake view. If you ask us, there are no bad options!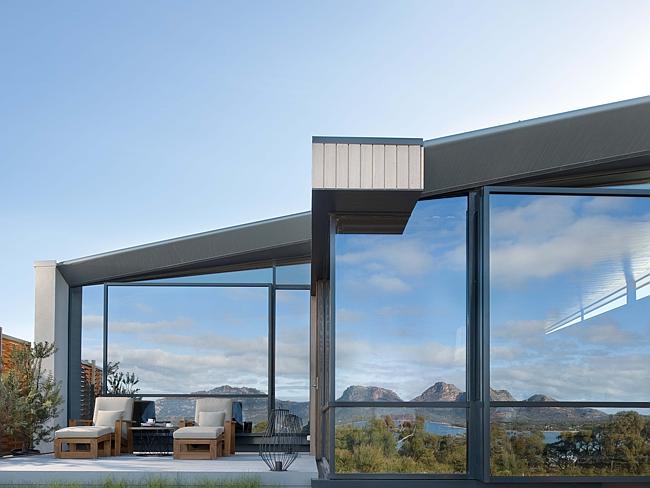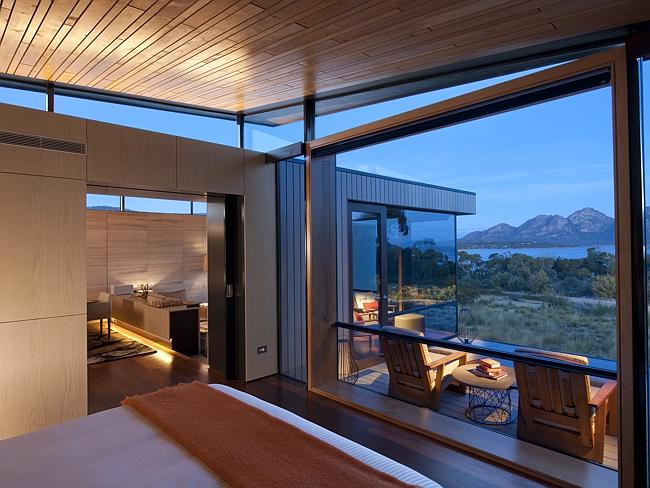 2. Saffire Freycinet
As far as luxury accommodation offerings in Tasmania go, Saffire Freycinet is the cream of the crop. It is the most expensive five-star hotel on the island, and there's good reason for it. As the only all-inclusive luxury lodge in Tasmania, Saffire Freycinet offers a full feast for the senses. From the moment you check-in, no detail is overlooked. There will be a warm welcoming, followed by a cold glass of champagne. What a combo! And from that moment, every inch of your stay will be tailored to your liking. There will be a full-service breakfast available at the restaurant, followed by a casual lunch offering, and finished off with a degustation menu for dinner. Rates also include a bottomless mini-bar, so be sure to prepare yourself for a few days of overindulgence.
Location: Freycinet National Park, East Coast
Read more: These are the best luxury hotels in Tasmania
3. Freycinet Lodge
Freycinet Lodge has won a bunch of design words and if this photo is anything to go off, it isn't hard to see why! This lodge is located on the East Coast of Tasmania, arguably the most sought-after location on the island after Hobart.
Location: East Coast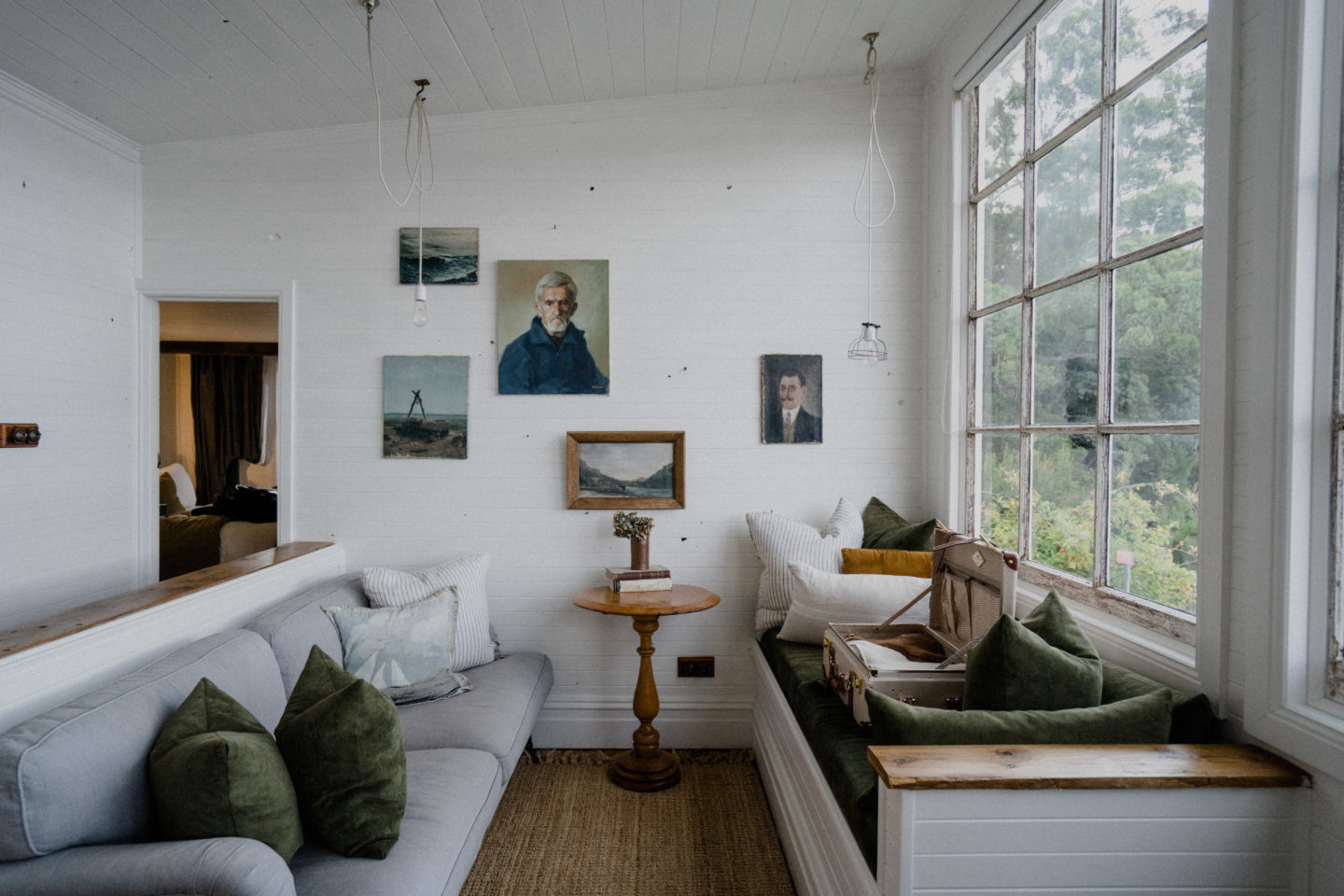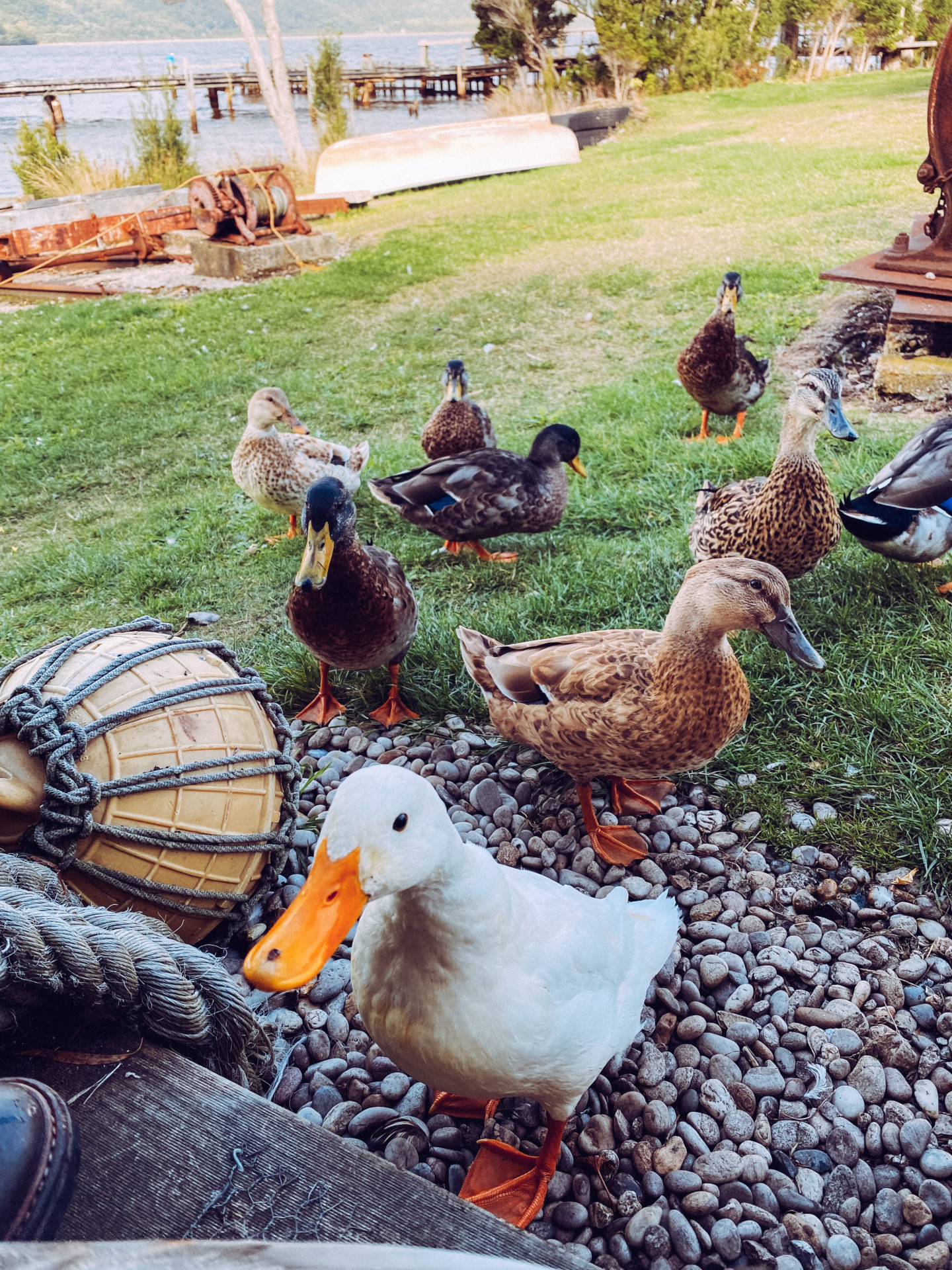 4. Captain's Rest
I don't think there is any other place in the world that has felt like such a coming home moment, as much as I felt that way when checking in to Captain's Rest. This tiny cabin on Tasmania's wild west coast has quickly become the most popular and sought after Airbnb in the state, and certainly one of the biggest success stories of the platform in Australia to date. The cabin is tucked away in a quiet seaside neighbourhood and it is the kind of place that if you weren't staying there, you would never stumble upon. So expect complete isolation and serenity as you kick back at Tasmania's most highly prized AirBnB.
Location: Strahan, West Coast
Read more: Checking in to Captain's Rest, Tasmania's most popular AirBnB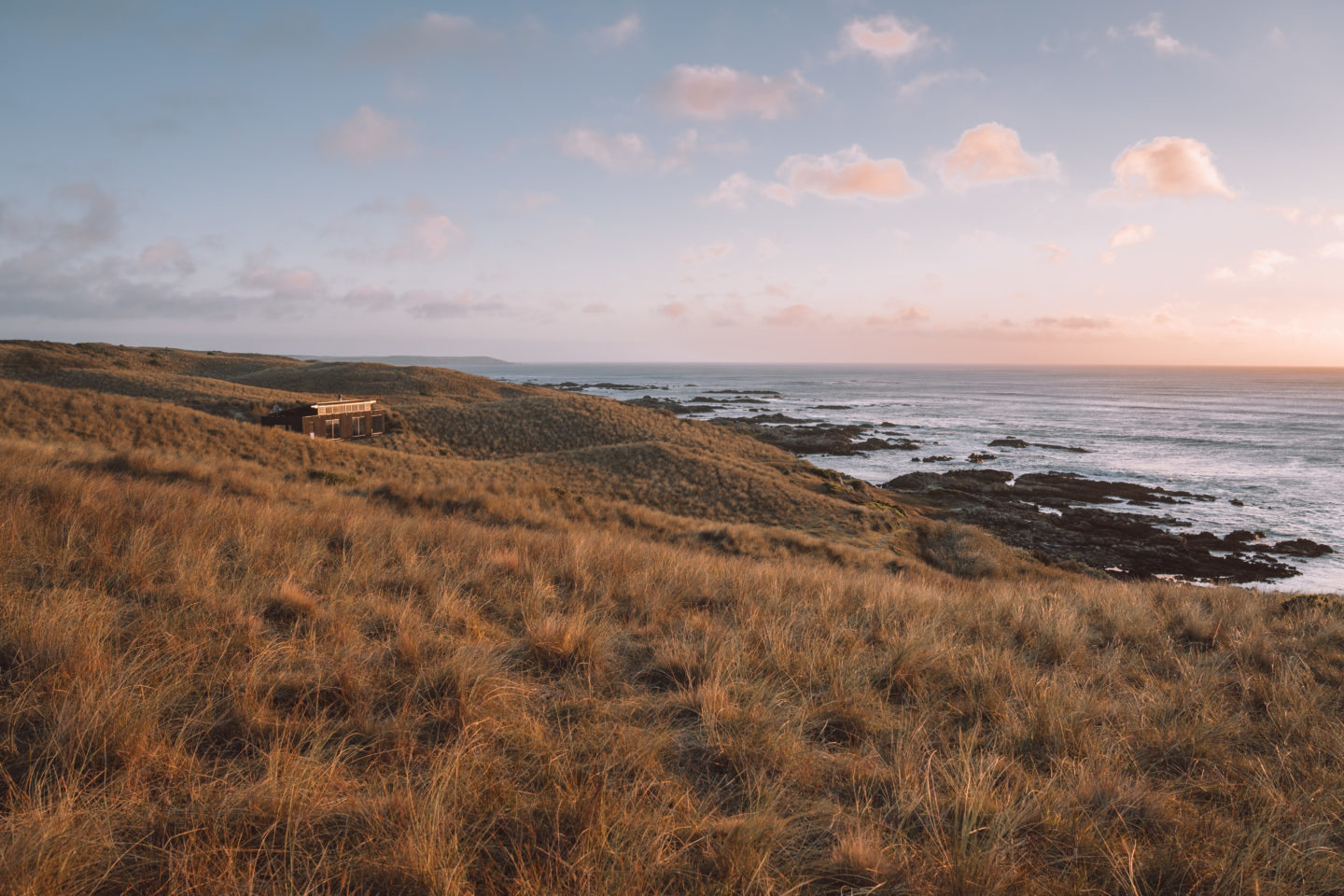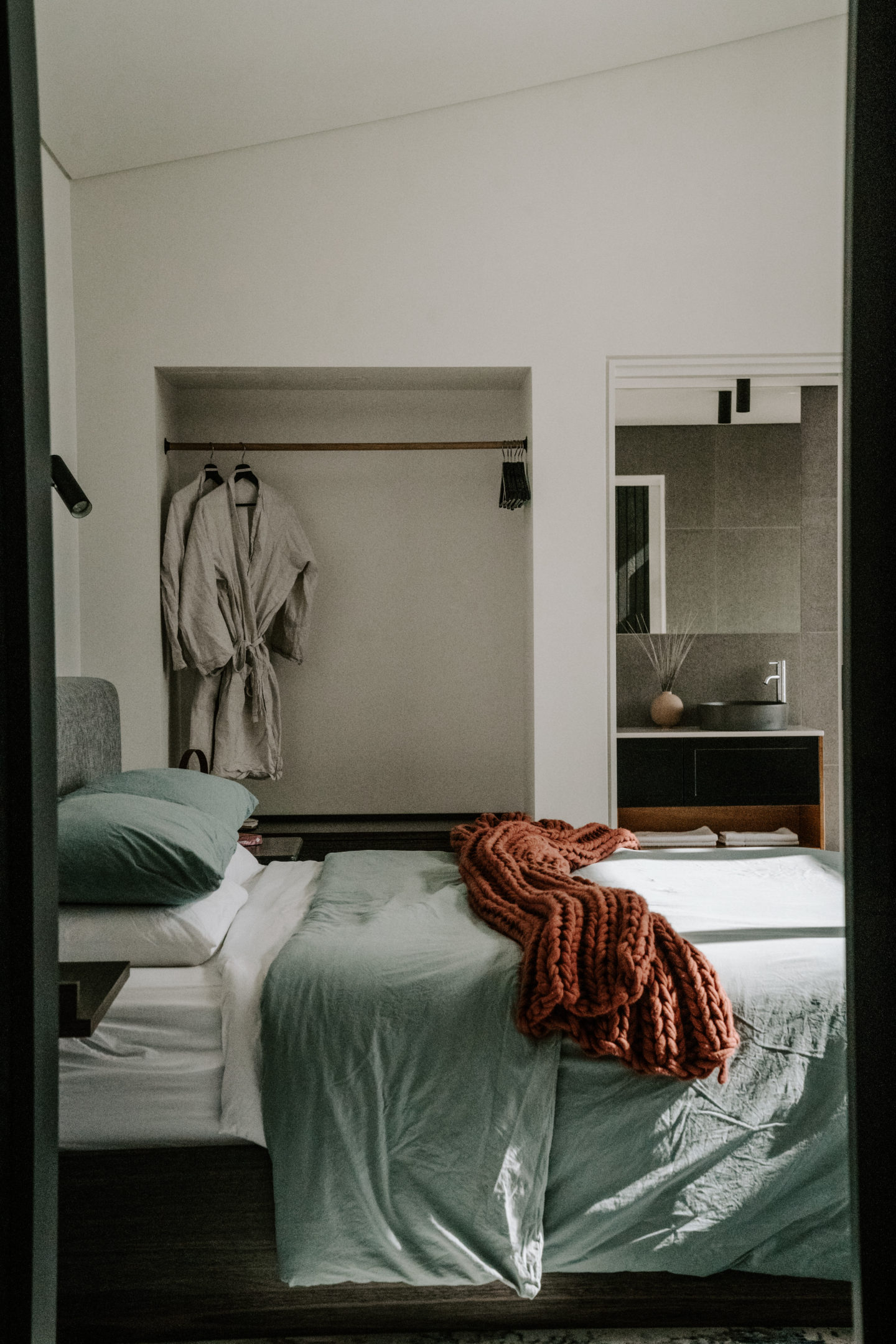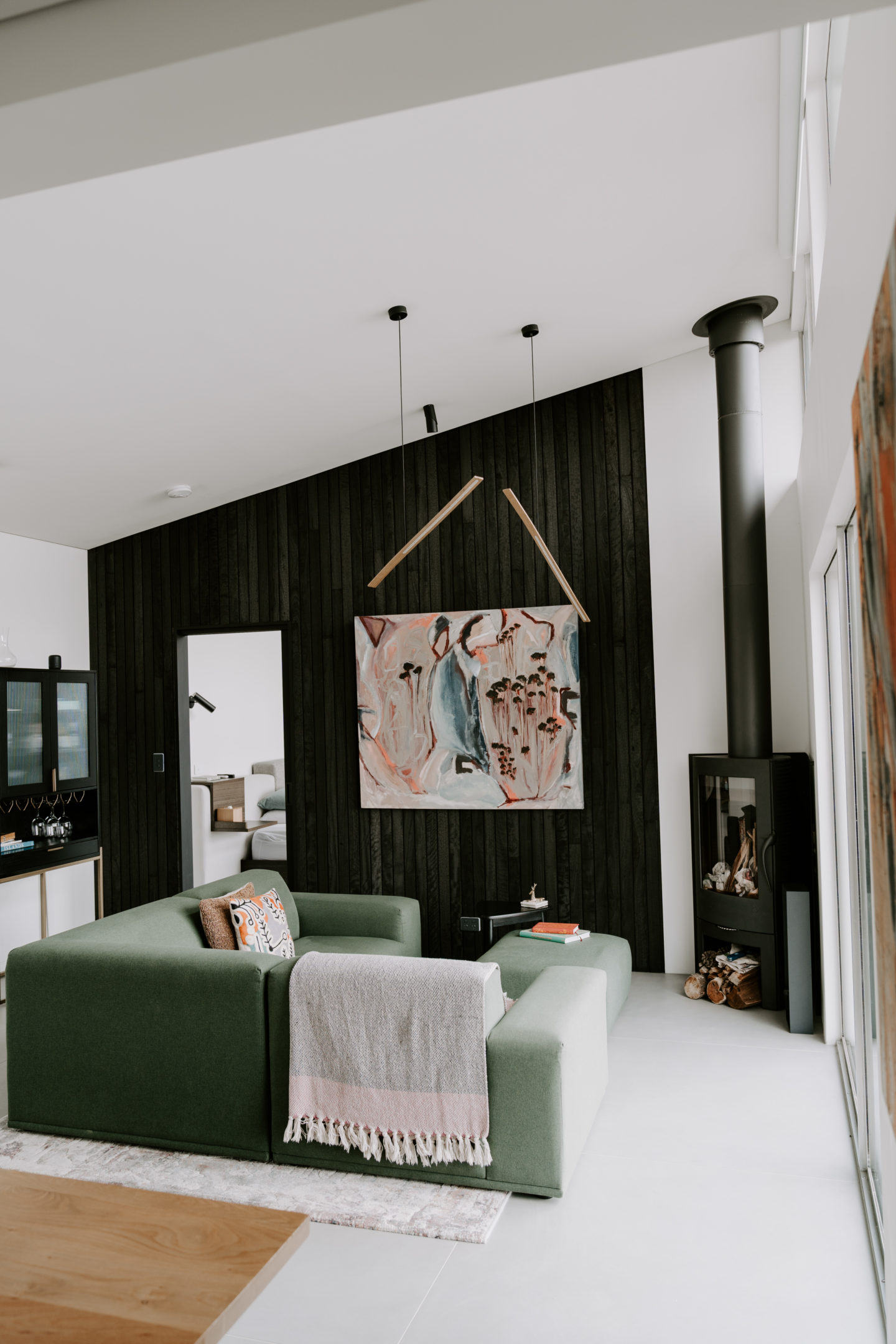 5. Kittawa Lodge
I first saw Kittawa Lodge on Instagram and it was one of those I have to go there moments. The newly opened lodge is the product of a Sydney couple – Aaron and Nick – who packed up their townhouse to move to King Island, a small island off the North West coast of Tasmania. The island is renowned for its dairy and beef industry, but until now, accommodation offerings have been humble and few and far between. Kittawa Lodge aims to change that, by bringing a five-star luxury hotel experience to the island. You can opt for accommodation only, or choose a gastronomic package to have your entire stay catered for. And take it from me, the catering option is not to be missed out on!
Location: King Island
Read more: My stay at Kittawa Lodge on King Island, Tasmania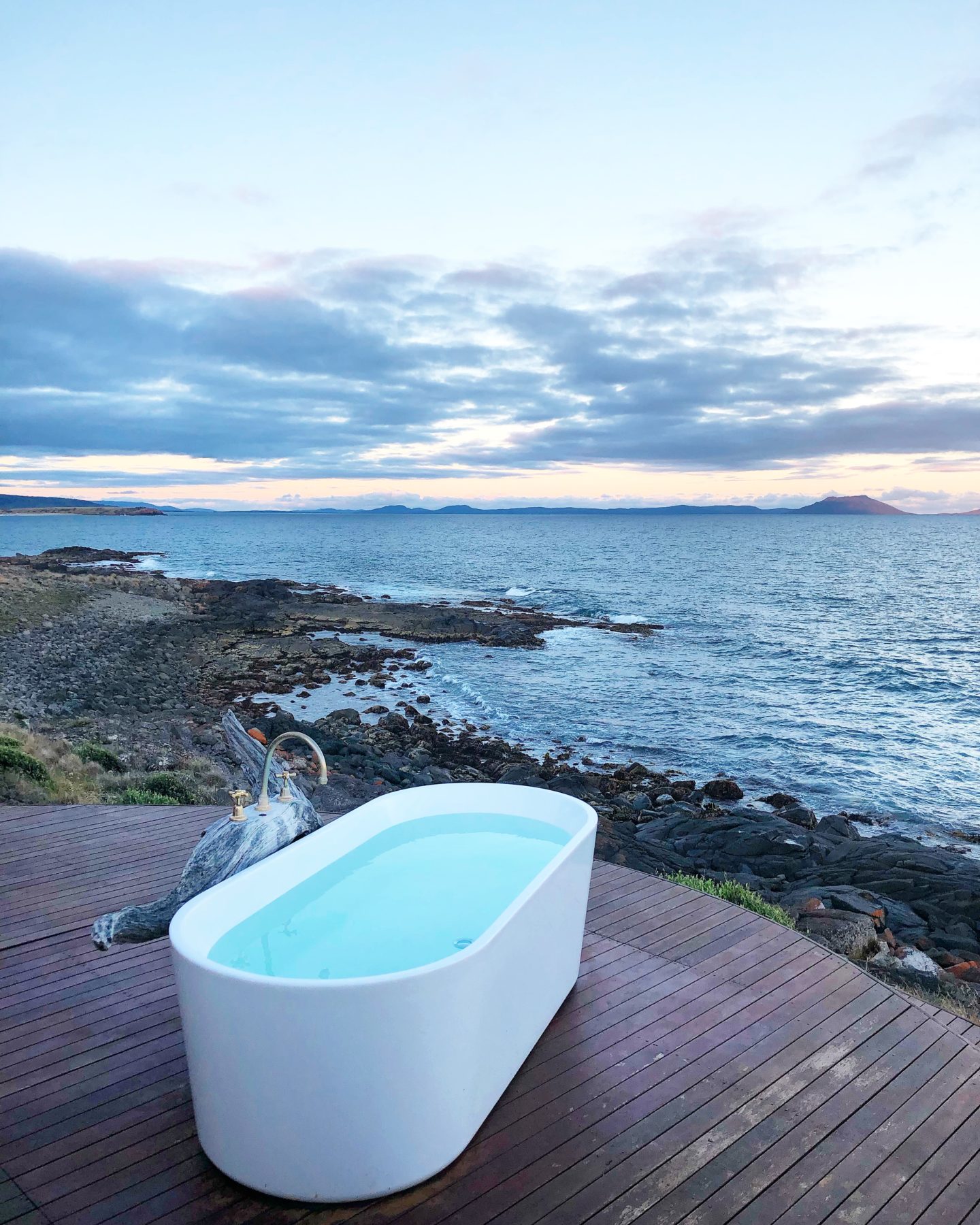 6. Thalia Haven
Next up on our list of the best hotels in Tasmania is a beach shack like no other. Thalia Haven is home to Tasmania's most photographed bath tub, which is just one drawcard for this oversized Italian-style villa on the East Coast of Tasmania. This is arguably the best place to rent out on the island if you have a celebration, as you will find ample bedrooms dispersed throughout the property – however only one of them is connected to the main house. So whether you're a couple or a group of friends looking for an epic escape, this villa caters for all.
Location: Great Oyster Bay, East Coast
Read now: Checking in to Thalia Haven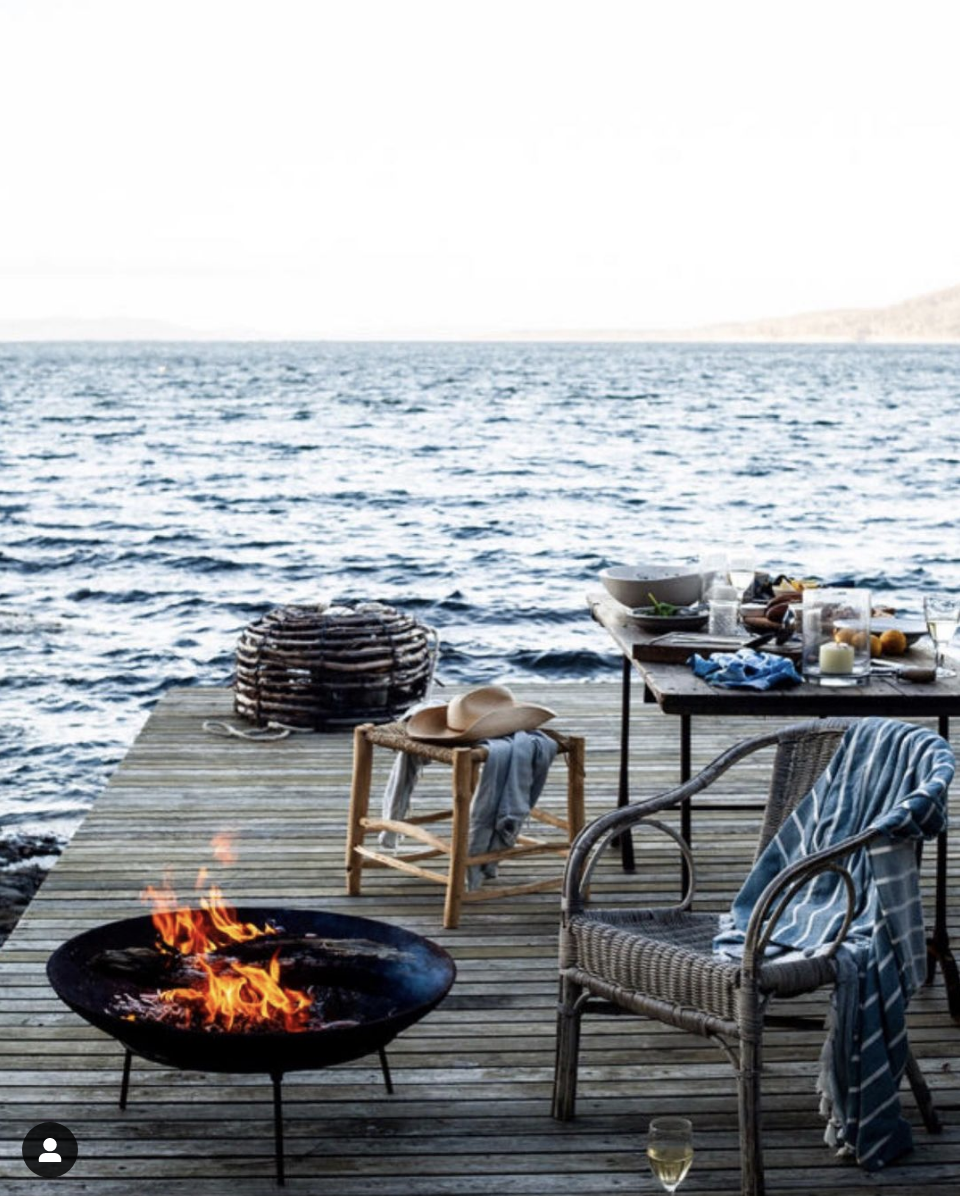 7. Satellite Island
As the most sought-after accommodation on the island, finding an available night to stay at Satellite Island is a bit like winning the lottery. But alas, if you are happy to book up to a year in advance, this is arguably the most iconic location to spend your time in Tasmania.
Location: East Coast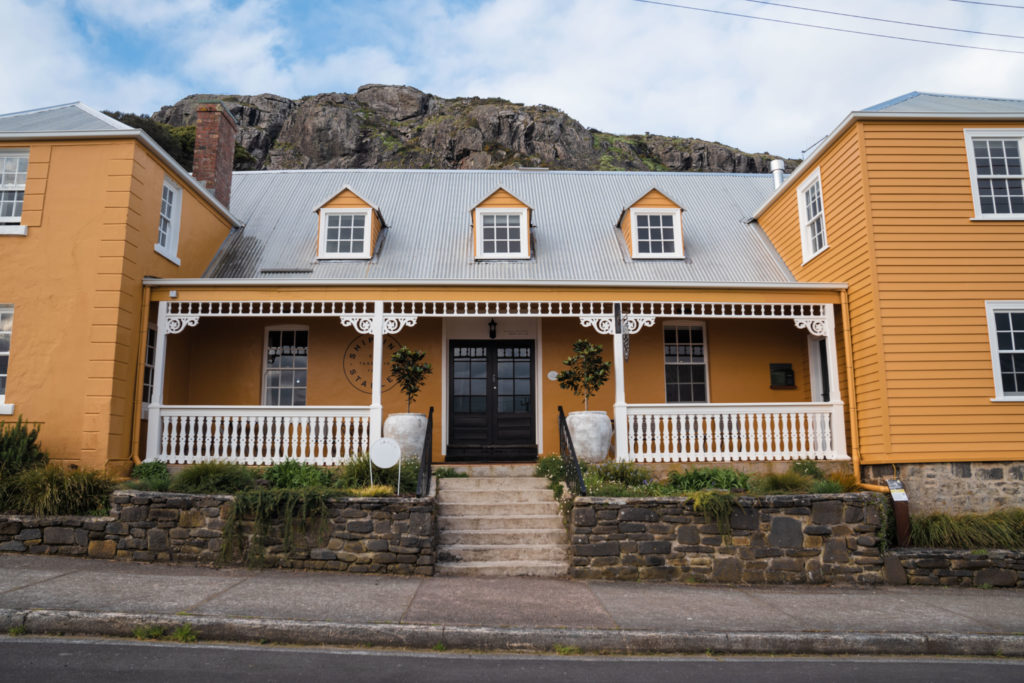 8. Ship Inn Stanley
Stanley is a small seaside town on the North West coast of Tasmania that surprisingly, often gets overlooked. However, travellers willing to go off the beaten path and seek out something less accessible are certainly rewarded, as this iconic little seaside town has a lot to offer visitors. The Ship Inn is Stanley's newest luxury accommodation offering and it is difficult to fault – as there is truly no detail overlooked! Just be sure to book yourself in for at least two nights, as this coastline is a little less predictable in terms of rainfall – which just adds to the appeal of staying indoors and getting cosy.
Location: Stanley, North West Coast
Read more: Your weekend guide to Stanley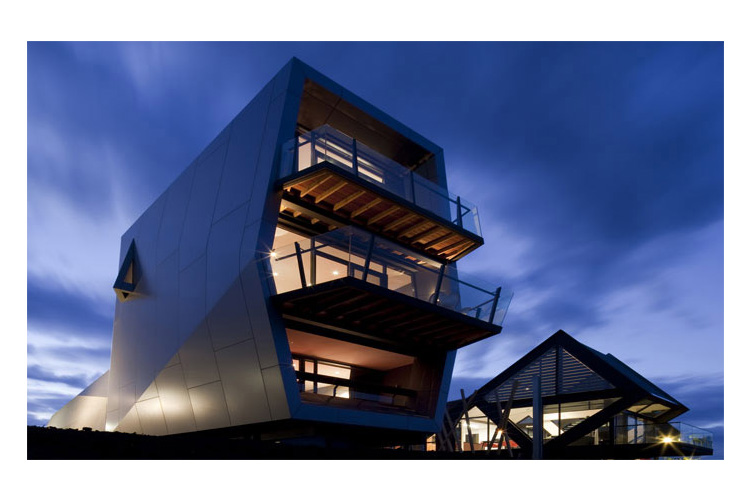 9. Mona Pavillions
MONA is a word most travellers to Tasmania are familiar with and indeed, often the reason for many visitors making their way down to the apple aisle. But while you might be familiar with the MONA art museum, did you know you can also stay here? There are a handful of luxuriously appointed pavilions on offer to guests, complete with sweeping views of the River Derwent.
Location: Hobart
10. Stillwater Seven
Launceston is quickly building a reputation for itself as Hobart's cool cousin of sorts, and one place on our radar since it opened has been Stillwater Seven. The hotel opened above Stillwater Restaurant, one of Launceston's oldest and most celebrated restaurants (worthy of a visit regardless of whether or not you stay here). Each of the seven luxurious suites offer luxurious amenities, views of the Tamar River, and in-room breakfast cooked by the chefs downstairs. If ever there was a place to truly stay, play, eat and drink, this is right on the money.
Location: Launceston
Read more: The 12 Best Things to do in Launceston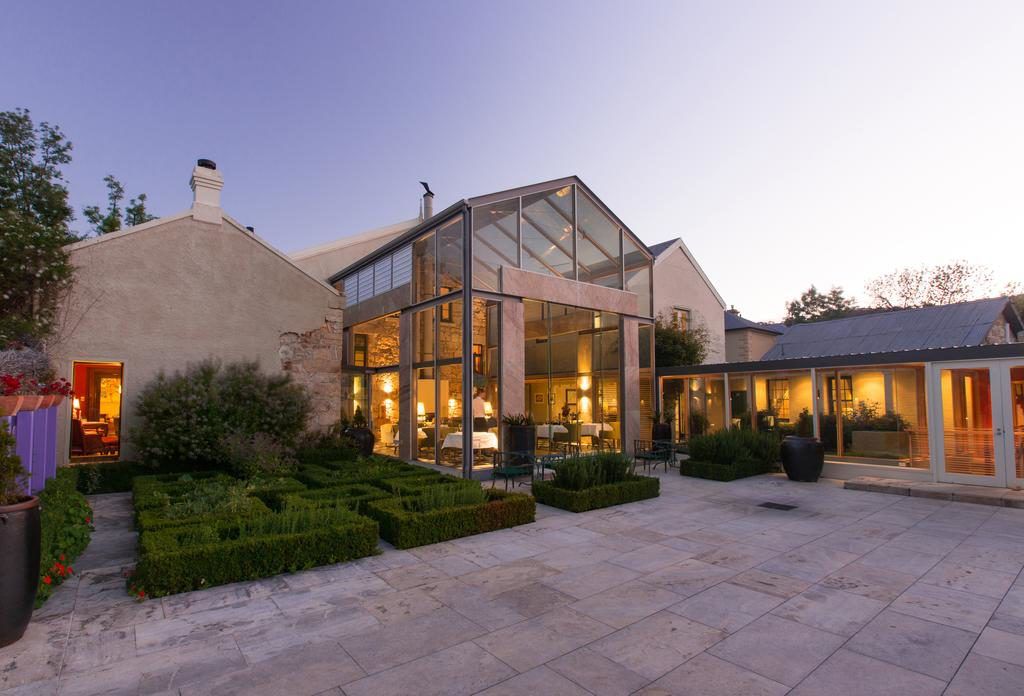 11. Islington Hotel
The Islington Hotel is Hobart's residential luxury hotel located in the leafy suburb of West Hobart. And while it might be a short walk or even shorter drive away from the CBD proper, there are certainly benefits that come with staying a little bit out of town. The Islington is my favourite hotel in Hobart when I want to stay central but out of the city buzz. There's a real homely feel to this hotel, as well as impressive house history, unbeatable breakfasts, and an honour bar to knock your socks off ~ idyllically located by the open woodfire. Does it get any better than that?
Location: Hobart
12. The Henry Jones Art Hotel
Elsewhere in Hobart, there are plenty of luxury hotels to choose from, so we'll cut straight to the chase and send you over to the Henry Jones Art Hotel, located on the Hobart waterfront. This hotel has long been a staple in the luxury hotel circuit down south, with constant refreshes to retain its relevancy. The hotel is also home to one of our favourite bars in the city, which we'd argue is a selling point in itself!
Location: Hobart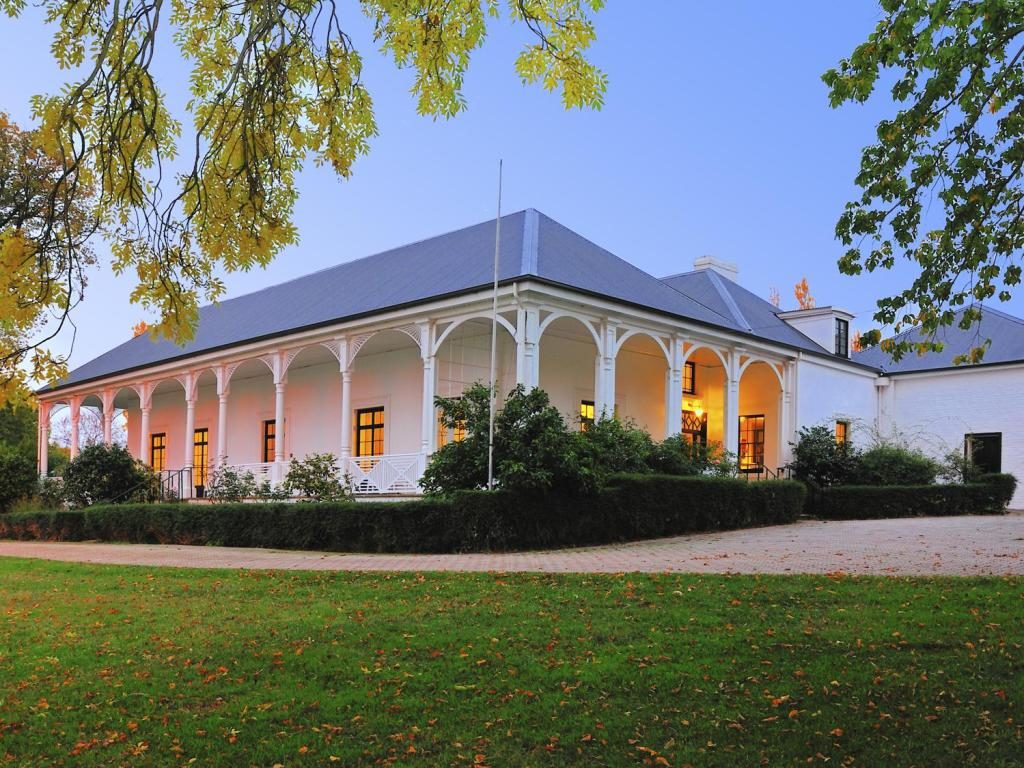 13. Quamby Estate
Tasmania is brimming with luxurious country home estates and nowhere is this more apparent than in the Northern Midlands, a short drive from Launceston. One of our favourite estates and certainly a favourite for locals, is Quamby Estate in Hagley. It is home to a range of acommodations, as well as a function centre, 9-hole golf course and sweeping views of the midlands. If you're looking for country luxe, this is where you'll find it.
Location: Hagley, Northern Midlands
14. MACq 01
Back in Hobart, we'd be doing this list a disservice if we didn't recommend you try out MACq 01, also located on the Hobart wharf and within walking distance to everything. This hotel is one of the newcomers to the luxury hotel scene in Hobart and it has certainly raised the bar. With sweeping views of Salamanca, this hotel is a safe bet for a luxurious weekend escape.
Location: Hobart
15. Avalon Coastal Retreat
Overlooking Great Oyster Bay, Avalon Coastal Retreat is the luxurious holiday home you didn't know existed. This gorgeous retreat is set on the idyllic East Coast, Tasmania's most popular summer destination – not just for tourists, but for locals too. So if an award-winning three bedroom abode with sweeping views of the ocean sound like paradise to you, this coastal retreat will tick all of your boxes.
Location: East Coast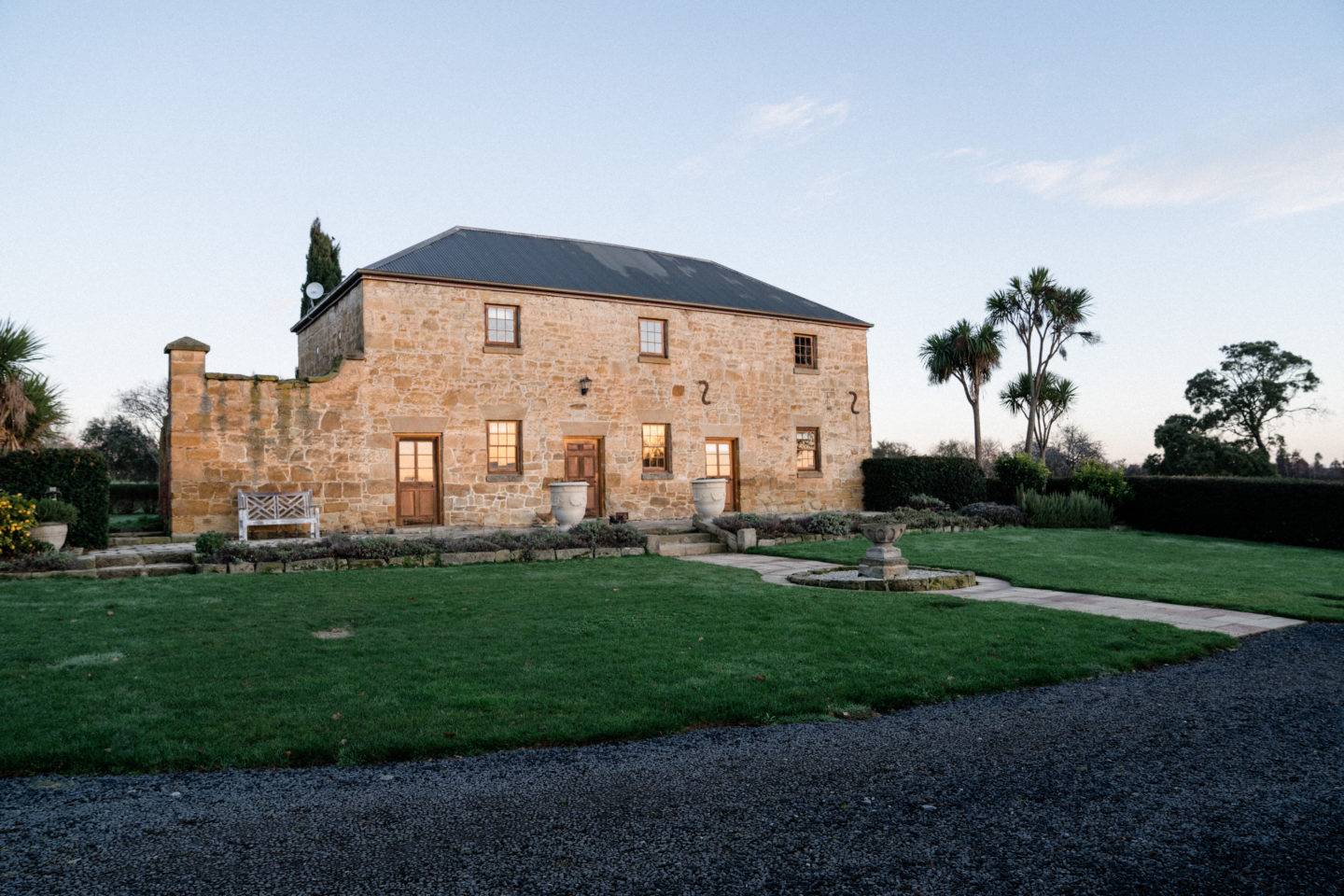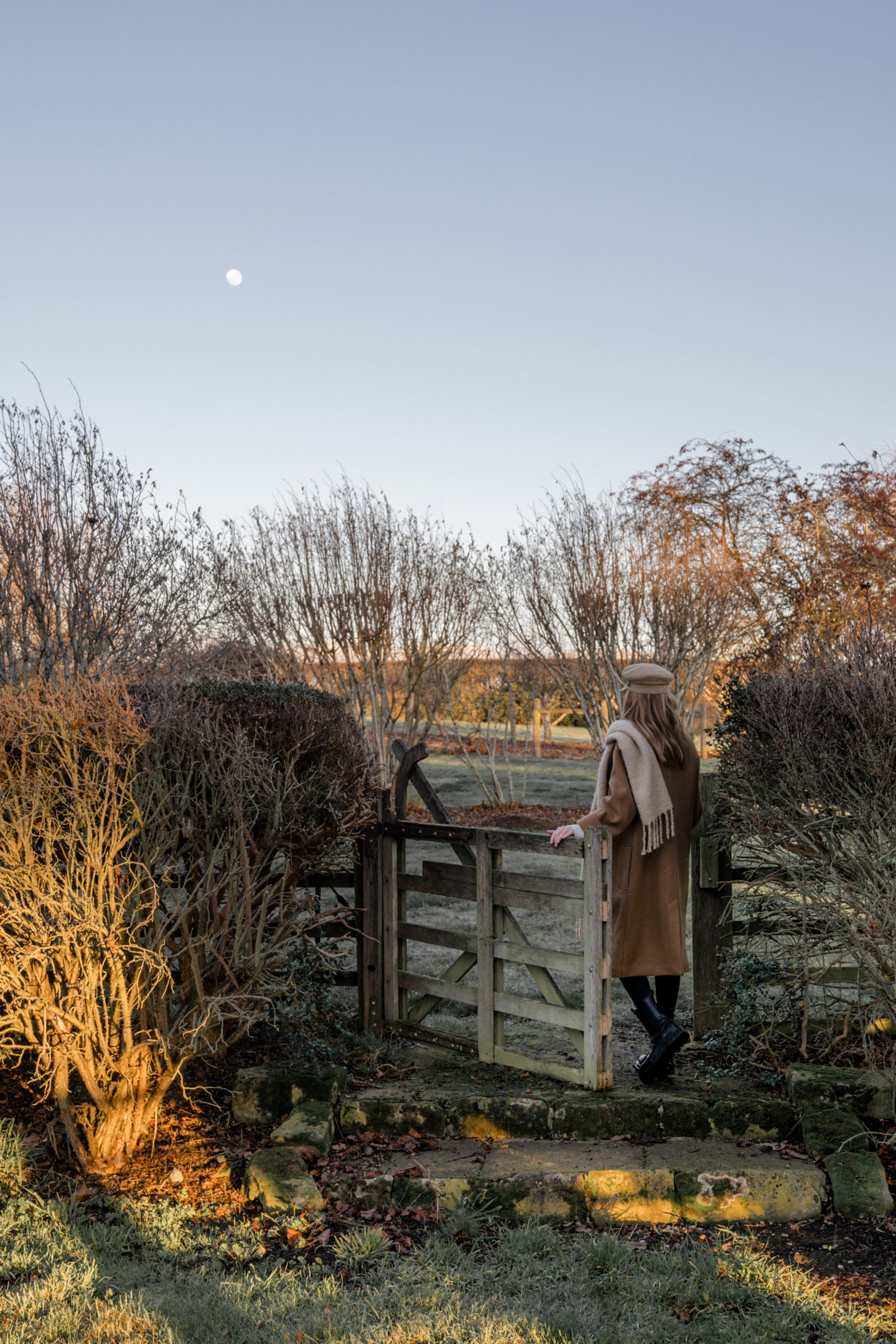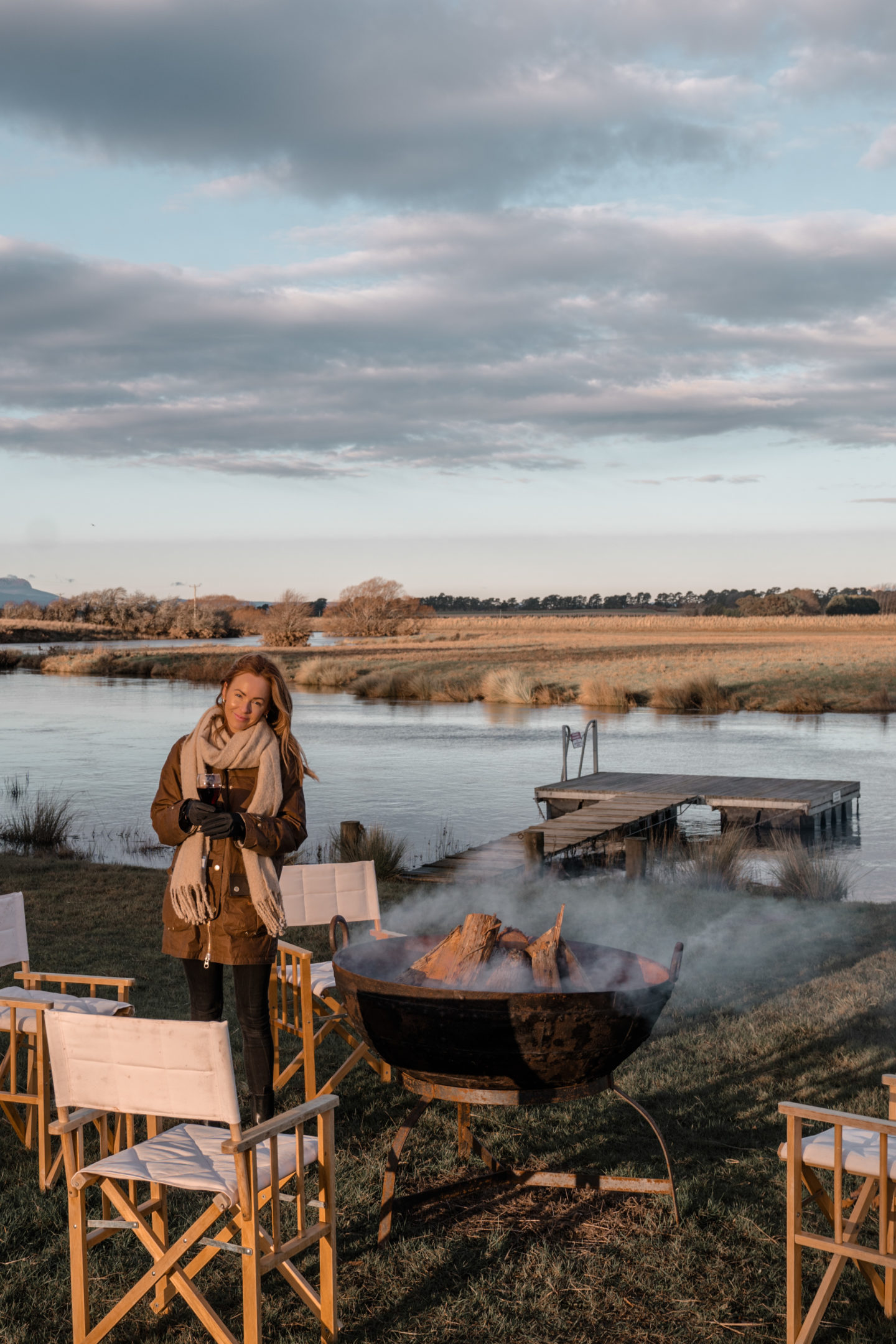 16. The Granary at Richmond Hill
The Northern Midlands will forever hold a special place in my heart and nowhere brings the appeal of the midlands more to life than The Granary at Richmond Hill. This gorgeous countryside escape will have you feeling fully immersed in the Tassie landscape, as you will wake up to the sounds of birds in the trees and frost slowly lifting as the sun rises. If it. isa country stay you have in mind, there is nowhere else.
Read more: My stay at The Granary Richmond Hill
17. Piermont Retreat
After lusting over Piermont Retreat for the longest time, I finally had the pure joy of visiting through the Tasmanian winter. And despite winter being the Tassie off season, there really is such an appeal to curling up with a good book and getting cosy at Piermont Retreat. The stone cottages are the perfect place to sit inside as the rain drizzles outside, plus the restaurant is a gastronomic affair. This is the perfect weekend escape just a short drive outside of Swansea!
Location: Swansea
18. Woodbridge on the Derwent
Down South, there is no shortage of luxury hotels to choose from. But there is one very special property that often flies under the radar, hiding just a short drive from Hobart city centre. Outside of the city and tucked away on the Derwent River is Woodbridge, a five star hotel with every ammenity you could ever need. This is a great choice for couples and romantic trips, as it is private, quiet and serene.
Location: Derwent Valley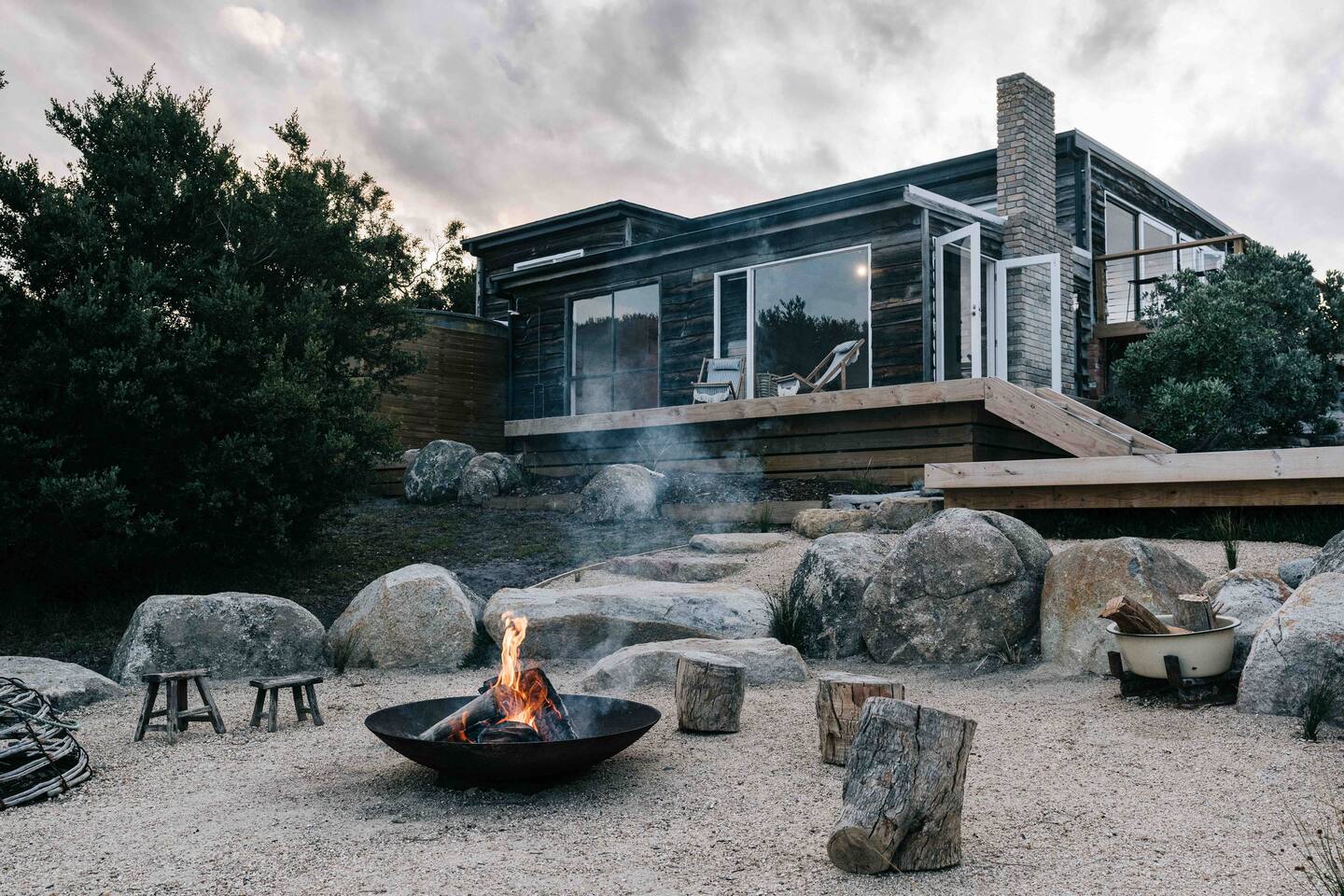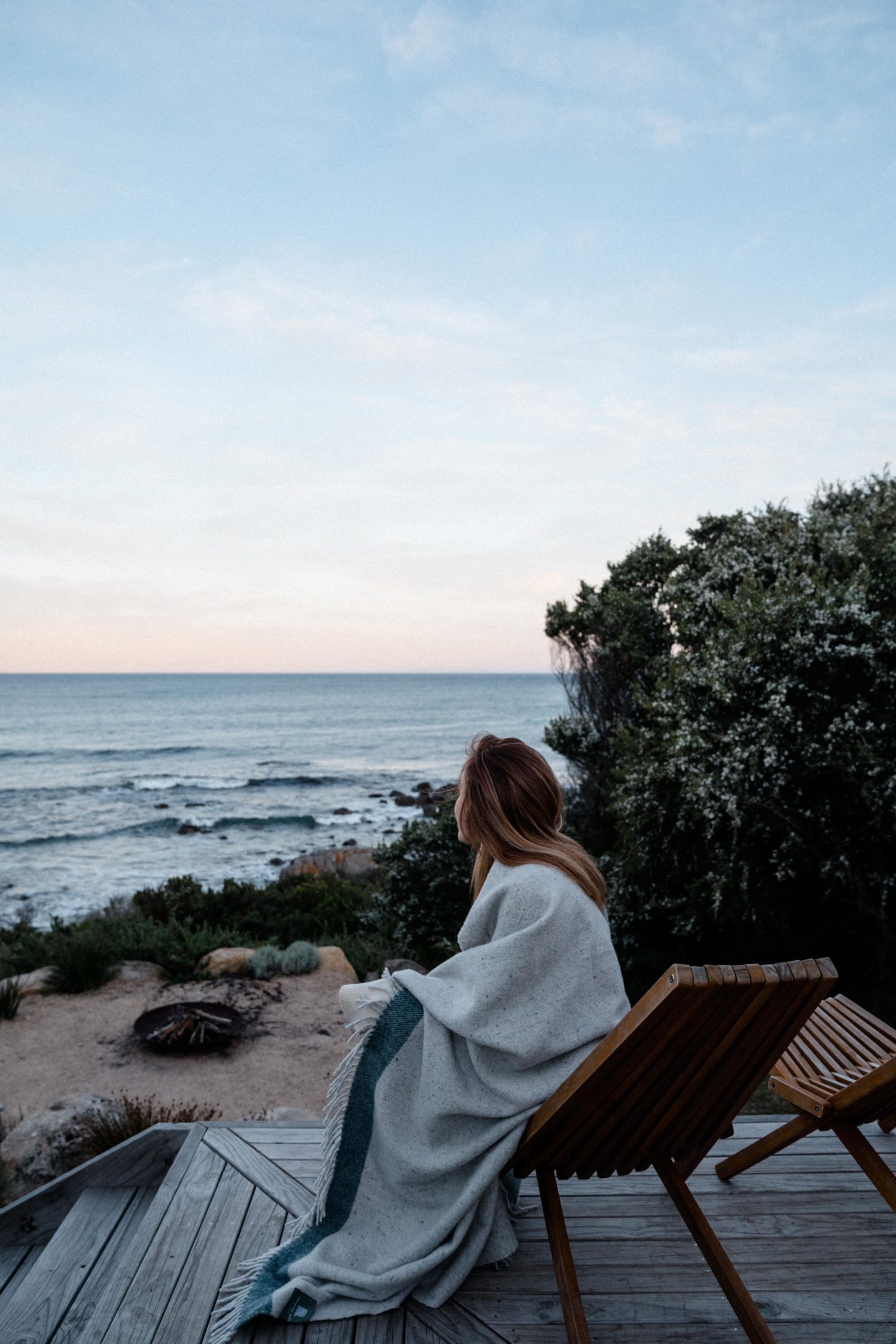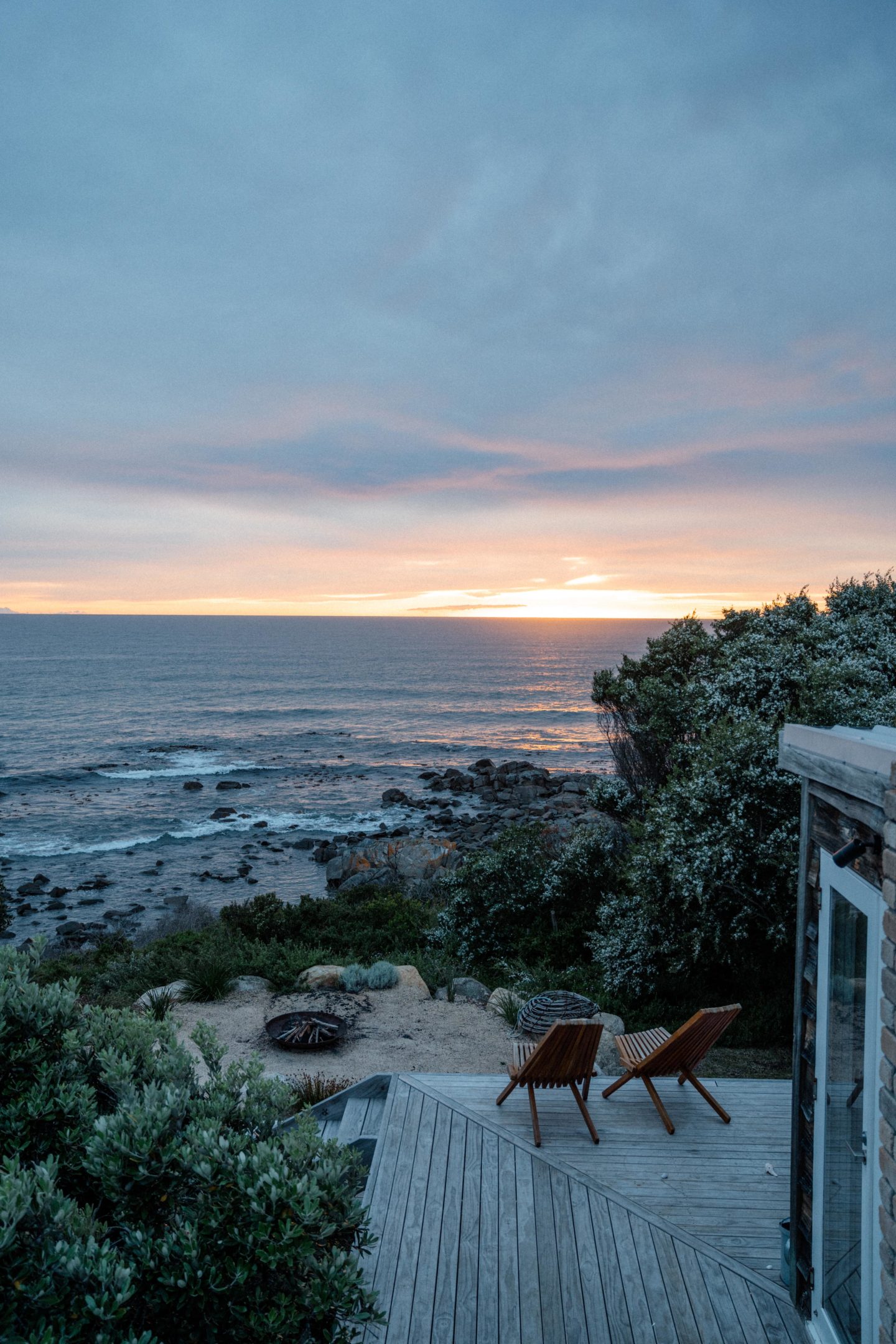 19. Whale Song Shack
Tasmania certainly packs a punch for its fair share of gorgeous AirBnb's. In fact, the AirBnB industry in Tasmania has become so popular, that you will often find places booked out for months in advance. So if you can plan far enough in advance, Whale Song Shack is one of Tasmania's most sought after AirBnb properties. Located in the North of Tasmania, this seaside shack has a moody appeal that makes it enjoyable any time of year. With an outdoor tub and oversized fire pit, this is a great place to entertain with friends before quietly sneaking away to the serenity inside.
Location: Falmouth, Northern Tasmania // Book via the website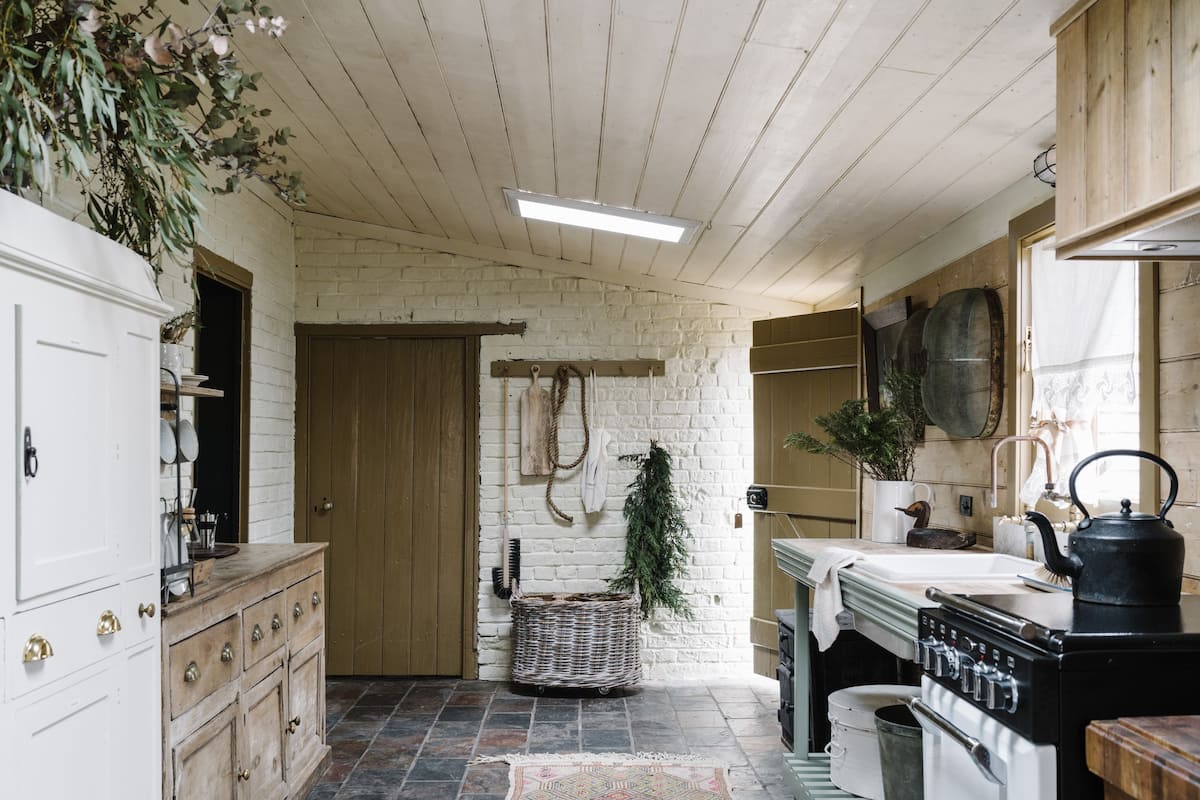 20. The Butcher's House
Speaking of fabulous AirBnB's in Tasmania, The Butcher's House in Bothwell is a photographer's dream. This gorgeous small house is quietly located in the heart of Tasmania, which we could also regard as in the middle of ~nowhere~. Of course, in the best kind of way. This countryside escape is the perfect choice for travellers looking to get off the grid and go a little further off the beaten path. While you're here, be sure to drop by Oatlands for a visit to Tasmania's most photogenic country town. There are a range of local antiques dealers, bakeries and even a whisky bar to enjoy. So be sure to take your time!
Location: Bothwell, Central Tasmania
Read more: These are the best new shacks on AirBnB in Tasmania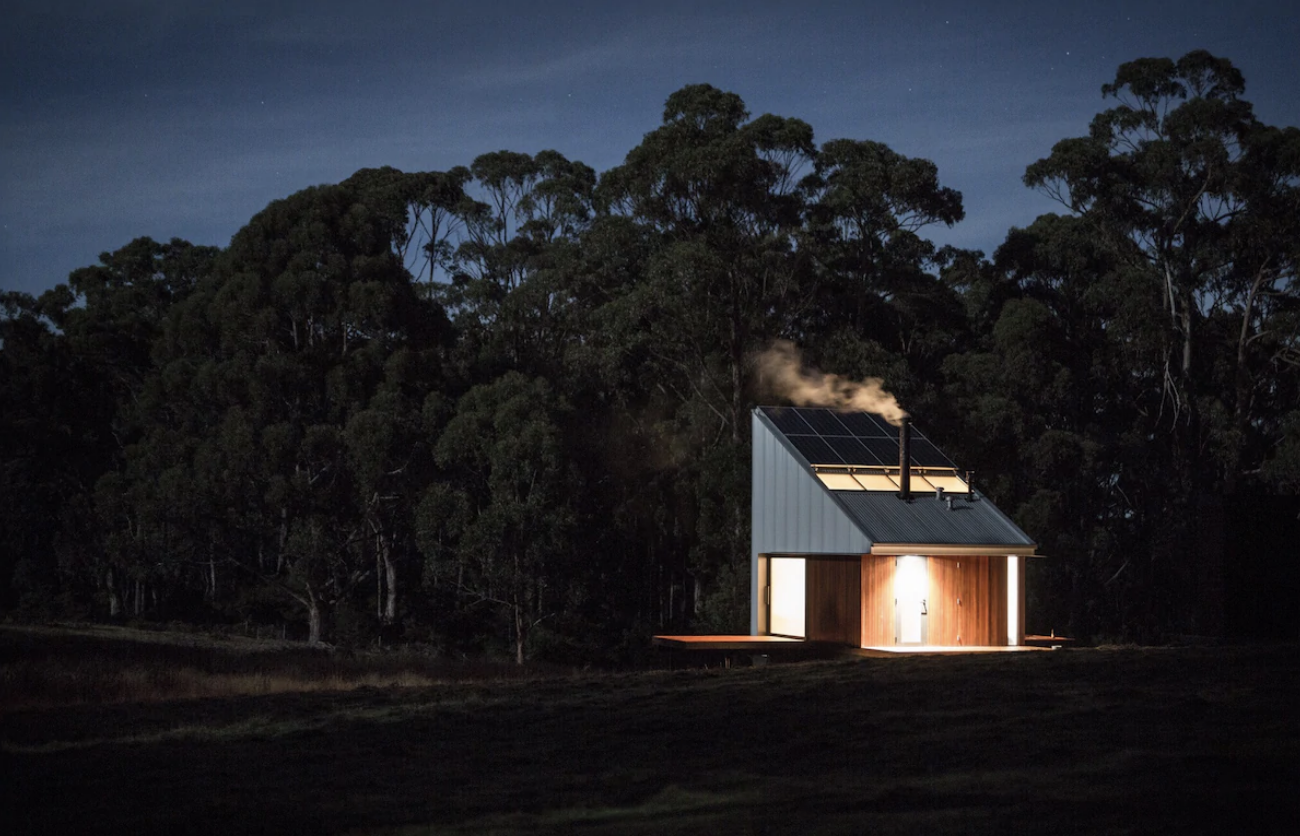 21. Bruny Island Hideaway
Tiny homes have seen a huge rise in popularity over recent years and Tasmania sure has its fair share of tiny homes available for rent. Our favourite of the bunch is Bruny Island Hideaway, located on Bruny Island in the South of the island. This tiny home is well appointed with everything you could ever need – however no part of the space is unnecesary or unused, making it indeed tiny!
Location: Bruny Island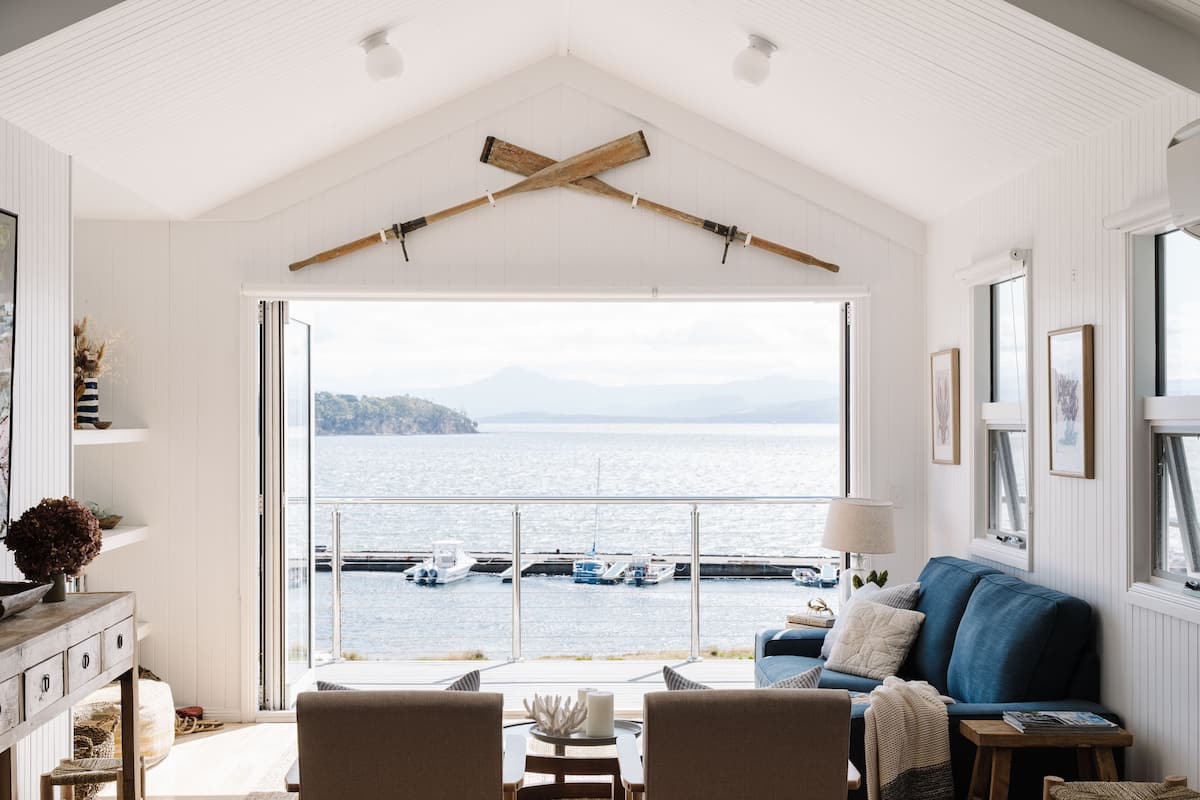 22. Bruny Island Boathouse
Another top pick in Bruny Island is the Bruny Island Boathouse, a dreamy shack nestled on the waterfront of the island. In the summertime you will be able to kick back as yachts float by and the jetty suddenly comes to life after a long, sleepy winter. There is a small beach in front of the property, just a few steps away. There you can collect shells, read a book or simply sit idle as the world passes you by.
Location: Bruny Island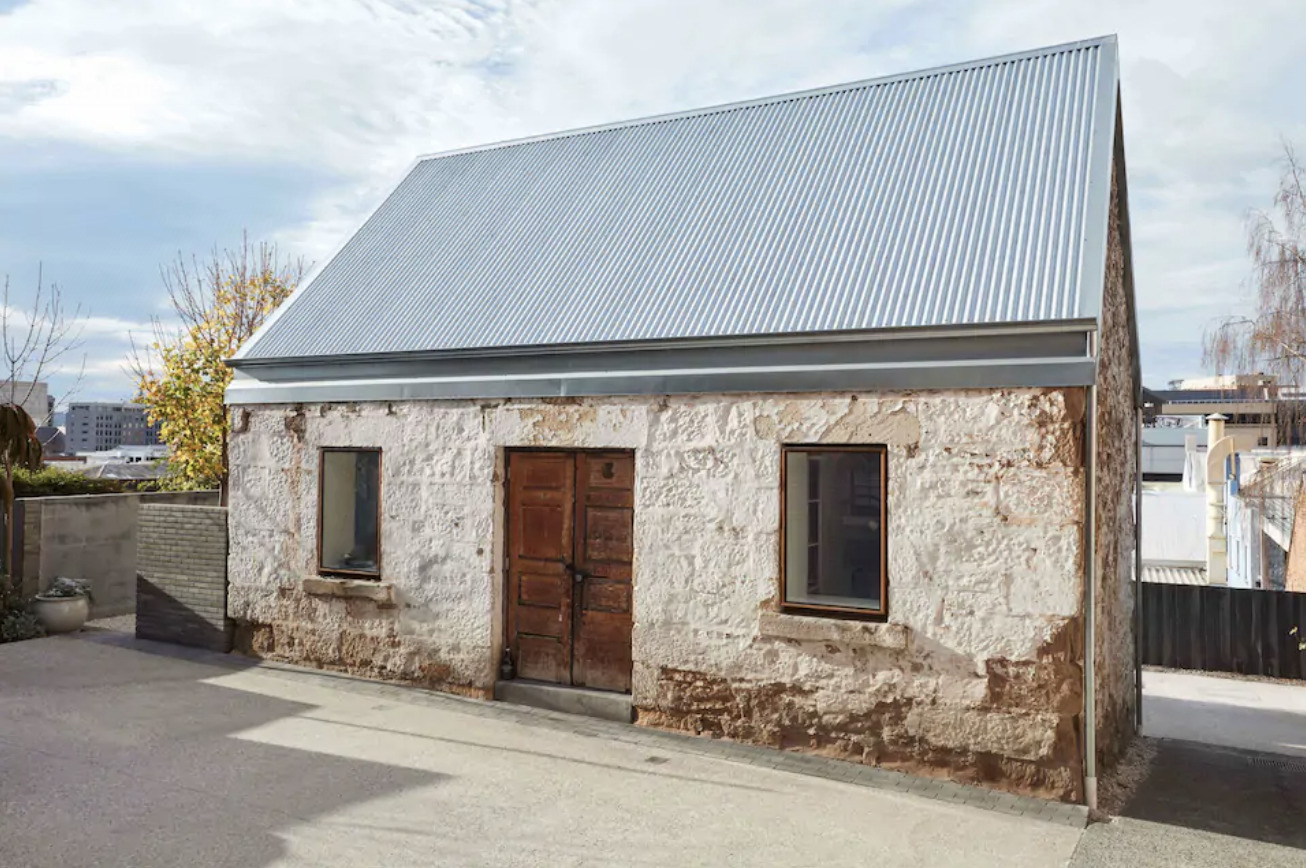 23. The Barn Hobart
As one of the earlier AirBnB's before the buzz started and popular rentals took over the tourism scene in Tasmania, The Barn Hobart has years of experience polishing their offering to bring travellers something truly unique in the heart of Hobart. This small, rustic heritage property was the brainchild of an architect couple, who had a vision to rebirth this charming city escape. The result is a polished mix of old meets new, with raw and exposed brick walls contrasting the clean polished floors. It is truly one of the most jaw-dropping rennovations that encapsulates new and old design existing in unison.
Location: Hobart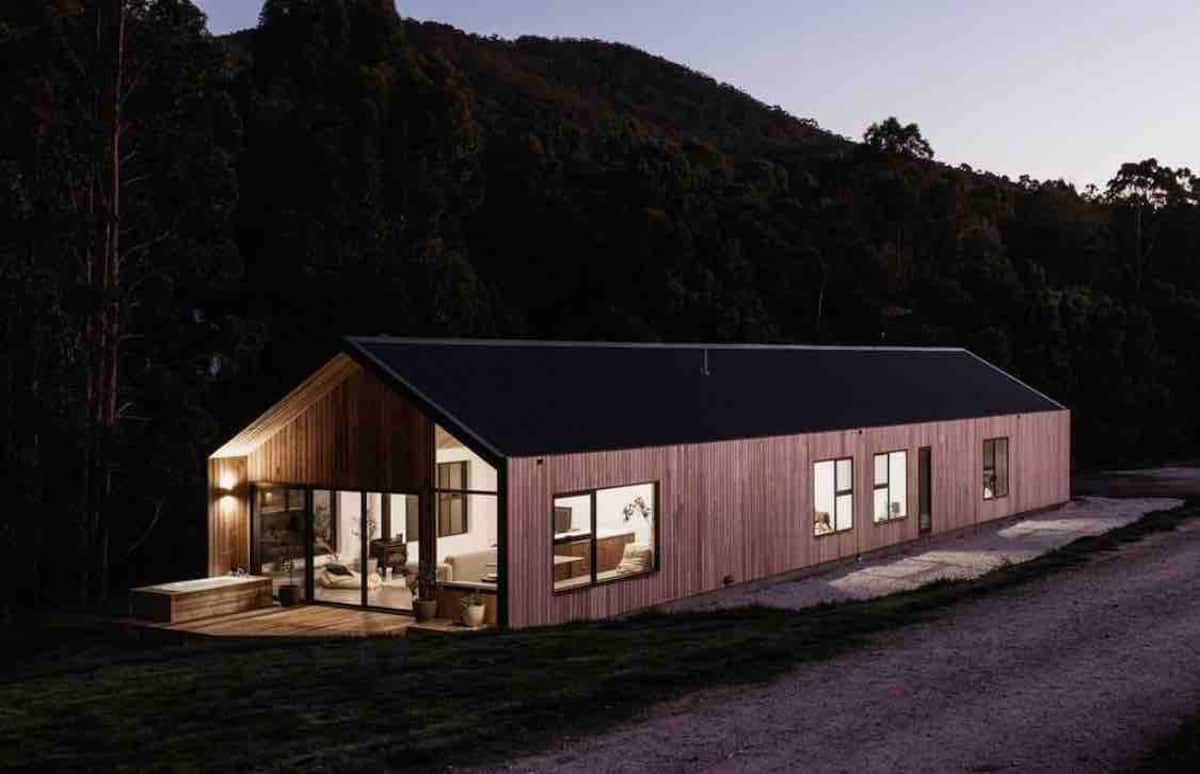 24. The Barn House Penguin
Over on the North West coast you will find a selection of hidden gems and one that can't be ignored is The Barn House in Penguin. Yes, Penguin! The town itself is named Penguin and located on the coast, so as I'm sure you habe guessed by now, is where you will find a local penguin colony nearby. The barn is an architectural dream, with open living spaces and design details like an outdoor bath tub on the deck.
Read more: These are the most sought after AirBnBs in Tasmania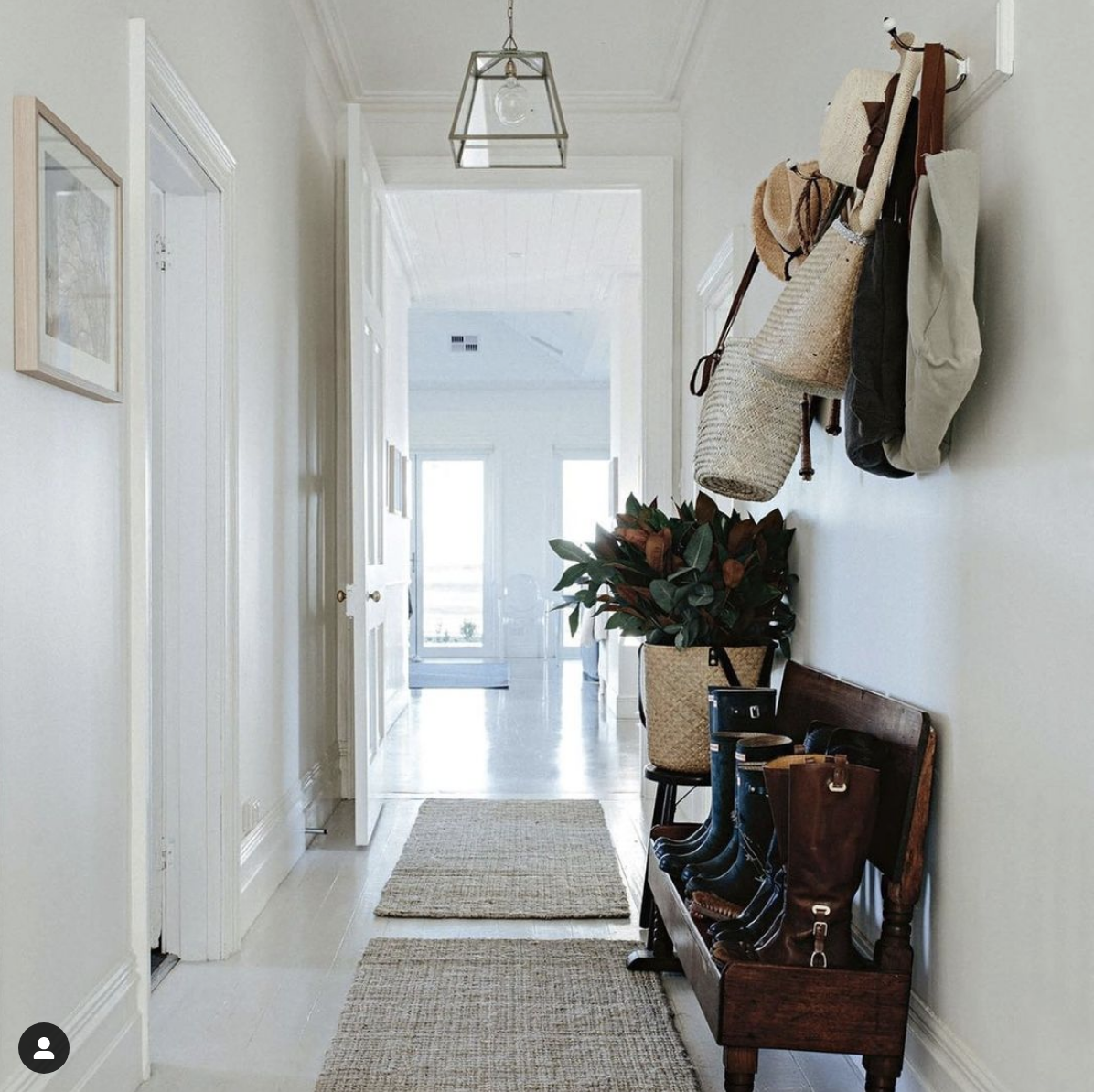 25. Quamby Home
Located a short drive from Launceston, Tasmania's second largest city, you will soon find yourself in the Northern Midlands. Here there is no shortage of countryside estates and one such home that cannot be missed off this list is Quamby Home near Hagley. This newly renovated, 1870's built, luxury accommodation house situated on 312 Acres of English Gardens and will have you feeling as if you have escaped to the English countryside. There are 4 bedrooms with a whopping 10 beds available, so you will be right at home with a large group or family staycation.
Location: Northern Midlands
26. The Burrows
As far as AirBnB's go, you will see by now that Tasmania has no shortage of charismatic places to stay, dispersed across the island. But we'd argue the Burrows on the East Coast of Tasmania has that something extra special and as such, is one of our handpicked selections for the best AirBnbs to book in Tasmania. This gorgeous home has been recently rennovated to feel cosy and chic, and certainly no detail has been overlooked.
Location: Swansea
27. The Stable Lofts
The Stable Lofts are perhaps one of the most underrated accommodation offerings on this list, quietly located in the heart of a small town outside of Launceston, named Carrick. These lofts have been renovated to bring old world charm and warmth to this quintessential countryside town. But it is the garden and grounds that make this stay extra special and will surely leave you wanting more.
Location: Carrick
28. Red Feather Inn
Another great option for a countryside escape is to check yourself in to the glorious lofts, rooms and cottages at the Red Feather Inn. This tiny hotel in Hadspen is just a short 8 minute drive from Launceston, Tasmania's second largest city. There are few places that feel as if you are actually in France, and this is certainly one that will leave you feeling oh so chic! The gardens and grounds are equally as impressive, especially if you time your visit with the wisteria coming to life in Spring.
Location: Hadspen, Northern Tasmania
29. River Cabins Derby
If you've come to Tasmania for action and adventure, you'll find all that and more in the small town of Derby, located in the North East of Tasmania. This town has become famous the world over for being home to world class mountain biking trails, which are available for the public to access throughout the summer season. A great place to stay and arguably the most stylish is the River Cabins, two oversized cabins that sleep two people each. They're available to book through AirBnB, but be sure to book in advance – they don't last long!
Location: Derby // Book via Airbnb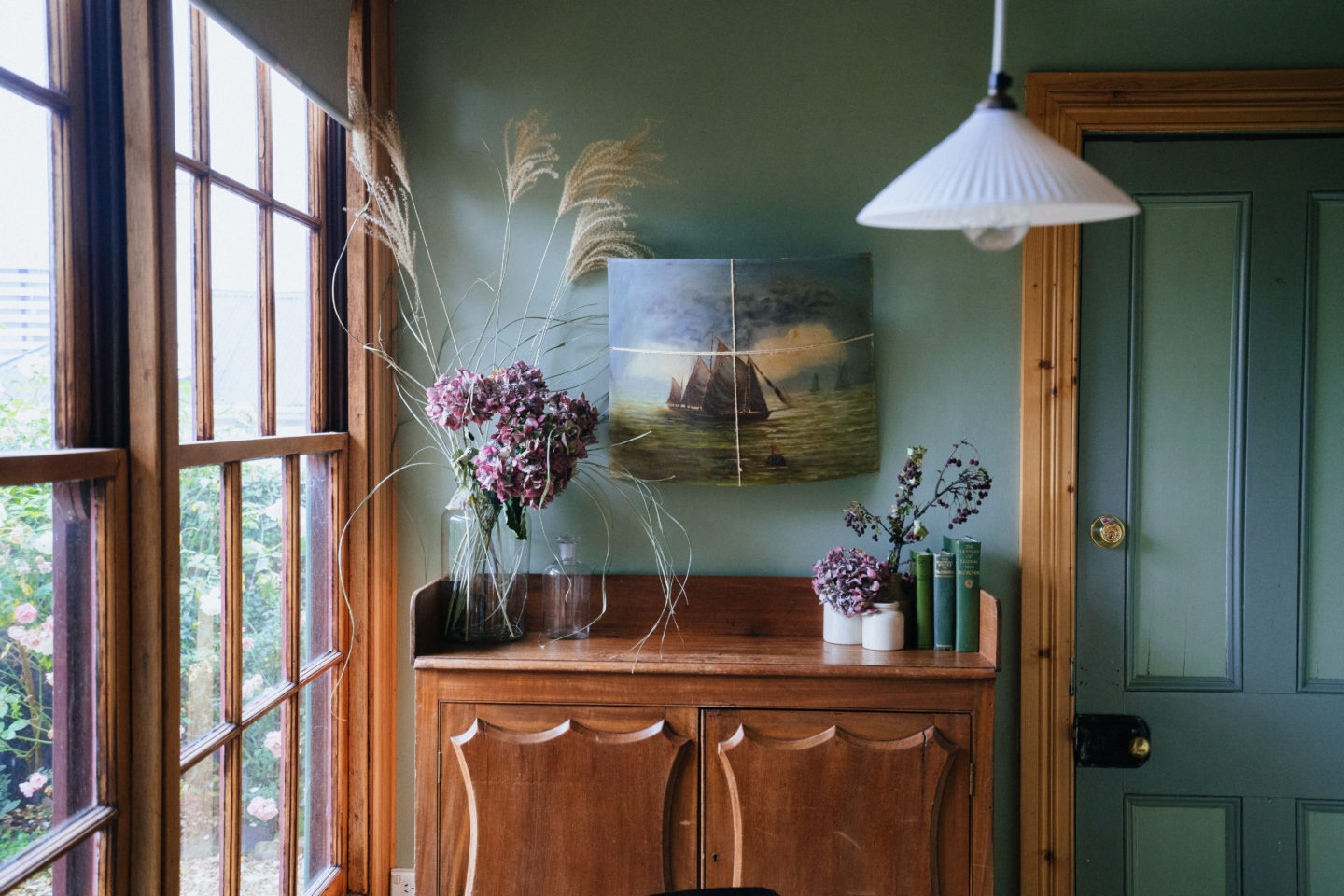 30. Captain's Cottage
If you fancy a weekend in Hobart, you'll be spoiled for choice with things to do, cafes, restaurants, bars, and of course, places to stay. One of my favorite lesser-known finds is Captain's Cottage, a small one-bedroom house in the heart of Hobart. You will find yourself just a short stroll away from the city, Salamanca Market, and not more than ten minutes walk from North Hobart and its many restaurants and brunch venues. All in all, this is the perfect city escape!
Location: Hobart
31. Cedar Cottage
If you find yourself wanting to go off the grid whilst in Tasmania, you will find plenty of places to do so. And one such place is a little-known cottage by the name of Cedar Cottage, located in the Meander Valley region of Northern Tasmania. Here you will find an authentic cottage, complete with a hot tub and sweeping views of the mountains in the distance. This is the perfect place to switch off and take time to yourself.
Location: Meander, Midlands // Book via Airbnb
32. Cloud River Farm
Cloud River Farm is an 1893 Heritage Listed property in Petcheys Bay, just an 11km drive from the village of Cygnet. And as an extra bonus, the cottage is just a few km from Fat Pig Farm – one of Tasmania's most prized possessions in the farm-to-table produce sector the island is so famous for. The cottage itself is gloriously appointed, with a vintage smeg fridge setting scene for this aesthetically pleasing escape in the heart of the Huon Valley.
Location: Huon Valley // Book via Airbnb
33. The Lookout Cabin
If you fancy an escape on Bruny Island, arguably Tasmania's most popular island off the coast itself, then look no further than this open-plan tiny cabin. This architect's cabin is designed as an escape for two, making it a great choice for couples on their honeymoon or just looking for a romantic weekend away.
Location: Bruny Island // Book via Airbnb
34. Forth River Cottage
If you arrive in Tasmania off the Spirit of Tasmania, you will find yourself arriving in the port of Devonport in Tasmania's North. From there, you have plenty of choices for where to go from there. But if you'd rather stay close to port and take a day or two to unwind, then the Forth River Cottage is your best bet. Located on the Forth River, this idyllic cottage is available to book via AirBnB.
Location: Forth // Book via Airbnb
35. The Milkman's Shack
Located in the Meander Valley region, the Milkman's Shack is a great choice if you're looking for a tiny home to rest your head for a night or two. This small shack boasts an outdoor tub and sweeping views of the countryside. You certainly can't go wrong with that combination!
Location: Meander Valley // Book via AirBnB
36. Shack in the Dunes
This small bohemian shack located in Weymouth is the perfect weekend escape for couples and small groups. With two bedrooms and one bathroom, the shack is small but quaint and charming. You will find yourself just a few steps away from the ocean, making this a great escape through the summer months.
Location: Weymouth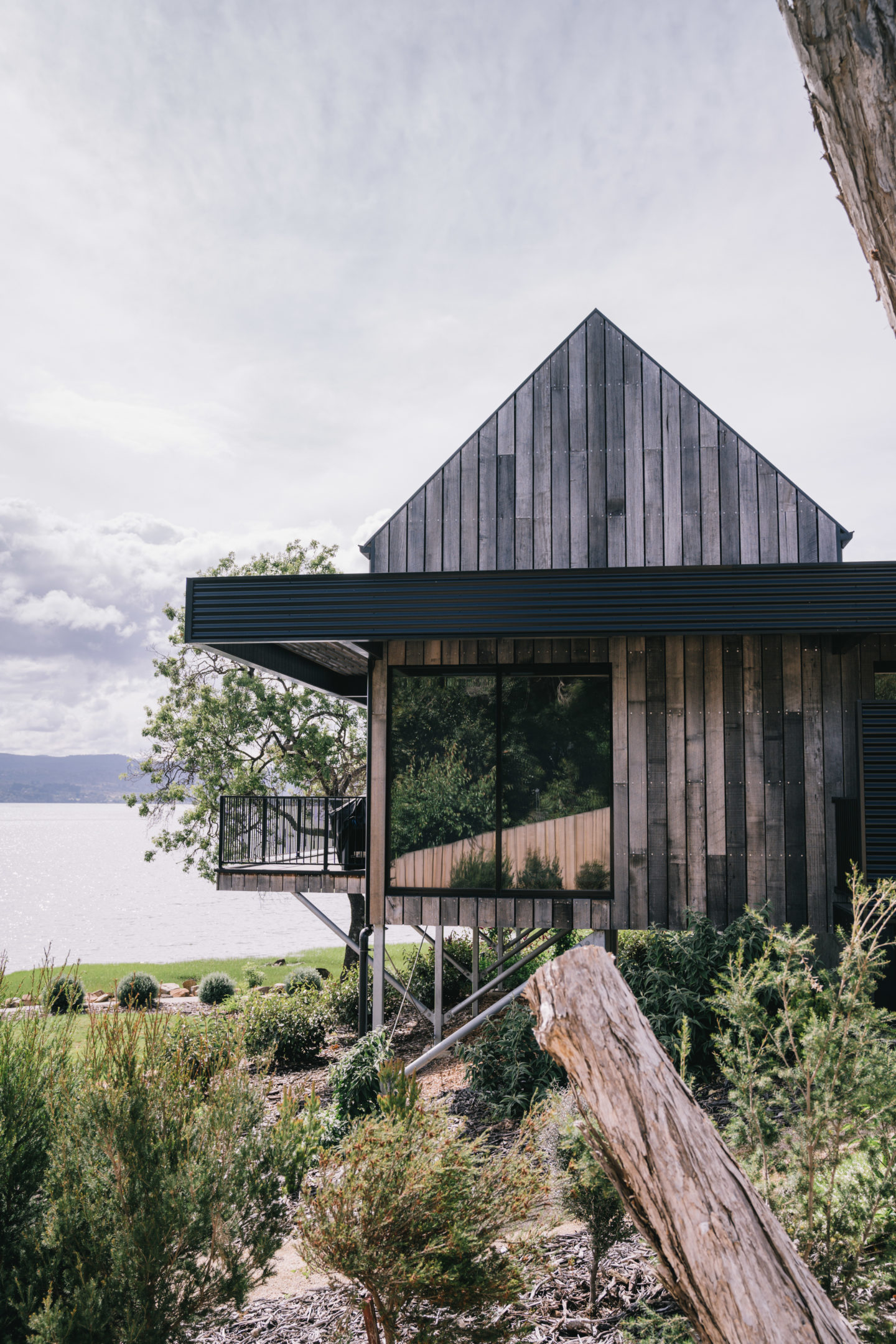 37. The Boat House Deviot
If you find yourself in Launceston but wanting to escape the city, there is a great little escape a short drive up the Tamar River, which goes by the name of the Boat House Deviot. This two bedroom home is the perfect escape for couples or two couples, as you will find matching bedrooms either side of the open plan living room. There's a jetty nearby and within walking distance, which makes for the perfect sundowner spot over the Tamar.
Location: Deviot // Book online
38. Moss Hotel
If you're looking for a trendy hotel in the heart of Hobart, Moss Hotel is the perfect combination of chic interiors with affordable room rates. Located above the busy Salamanca precint, you really can't get more in the heart of the city than this. Moss Hotel Hobart is perfect for couples and solo travellers.
Location: Hobart
39. Villa Howden
Villa Howden is quietly located on the tranquil shores of North West Bay, not too far from the Huon Valley tourist route. Like something out of an Italian film set, the villa boasts just 10 tranquil suites, making this a popular choice for weddings and couples, as it is undeniably romantic to a fault.
Location: Margate
40. The Cob Barn
An enchanting escape, the Cob Barn in the North of Tasmania is an idyllic escape. Set beside a body of water, there is a rowboat available for you to use and get the full tranquility of this magical location. The barn itself is gloriously appointed, with every detail kept top of mind during its inception. This is one of those "in the know" finds, so be sure to book ahead to avoid disappointment!
Location: Lilydale // Book via AirBnb
41. Peppers Cradle Mountain Lodge
Located on the edge of the Cradle Mountain-Lake St. Clair National Park is Peppers Cradle Mountain, the ideal opportunity to explore Cradle Mountain in the heart of Tasmania. With a rustic decor and year-round appeal, this is one of the few locations in Tasmania that is actually more charming through winter (especially when it snows!)
Location: Cradle Mountain
42. Maylands Lodge
A secluded hideaway in the centre of Hobart, Maylands Lodge offers just 12 luxuriously appointed rooms. The small nature of this hotel will ensure you feel at home, especially with the unparalleled service on offer from the accommodating staff.
Location: Hobart
43. Coldwater Cabin
This cosy cabin in the Great Lakes District is the perfect isolated wilderness escape. Decorated in every corner, the cabin is available to book via AirBnB. And if you think the Lakes District is only explorable in the summer months, wait til you see a photo of the lake in winter! Covered in a layer of snow, this region of Tasmania is one of the cosiest locations to curl up by the fireside with a good book and a glass of wine.
Location: The Great Lakes
44. Felons Corner
Located in the heart of Tasmania, Sheffield is often a pass-through town on your way to the likes of Cradle Mountain. However, there are certainly many reasons to stay and enjoy the countryside! Felons Corner is one such place you can perch yourself up, kick back and enjoy being in the heart of Tasmania's central highlands.
Location: Sheffield // Book with Airbnb
45. Semaphore Shack
This renovated seaside shack is located in Eaglehawk Neck, on the rough and rugged south coast of Tasmania. This is the perfect place to perch yourself – even in winter when the seas are rough and the skies are grey.
Location: Eaglehawk Neck // Book with Airbnb
46. Seaforth Shack
Located on the wild west coast, Strahan is one of Tasmania's most photogenic little towns, but given it is a long drive away, it is often overlooked. But if you prefer quiet escapes, Seaforth Shack is just the location for you.
Location: Strahan // Book with Airbnb
47. The Ocean Retreat
If luxury and limitless views is what you are looking for, you will find all that and more at The Ocean Retreat on Tasmania's North East Coast. With sweeping ocean views, a swimming pool and ample deck space for outdoor dining, this is the perfect place to celebrate with the special people in your life.
Location: Falmouth // Book with Airbnb
48. Villa Talia
Located in the Huon Valley, Villa Talia has quickly become popular for its incredible outdoor bath overlooking the Huon landscapes below. This tranquil oasis is just 600 metres from the Huon River, so you'll be sure to enjoy plenty of quiet time in solitude.
Location: Wattle Grove // Book with Airbnb
49. Jessie's Cottage
Richmond is just a short drive from Hobart, but it truly feels a world away. As soon as you arrive in Richmond you will feel as if you have stepped back in time – with historic buildings, quaint cafes and plenty of antique stores to peruse. But if you'd rather stay a while, check yourself into Jessie's Cottage, a small AirBnB farm stay.
Location: Richmond
50. The Keep
To round out our list of the best places to stay in Tasmania, we could not write this list without highlighting The Keep, one of Tasmania's true hidden gems. The Keep is located in North East Tasmania, so high that it appears to be seamlessly floating above the clouds. Prepare for complete isolation!
Location: Goulds Country