Fancy getting lost inside the world's most beautiful libraries? If you ask me, there is no greater adventure than one that is had inside a good book. And with many of us still spending a lot of time at home, there is no better time to start dreaming and inspiring your next trip. As such, we've listed the 8 most beautiful libraries around the world – plus a few book shops for good measure!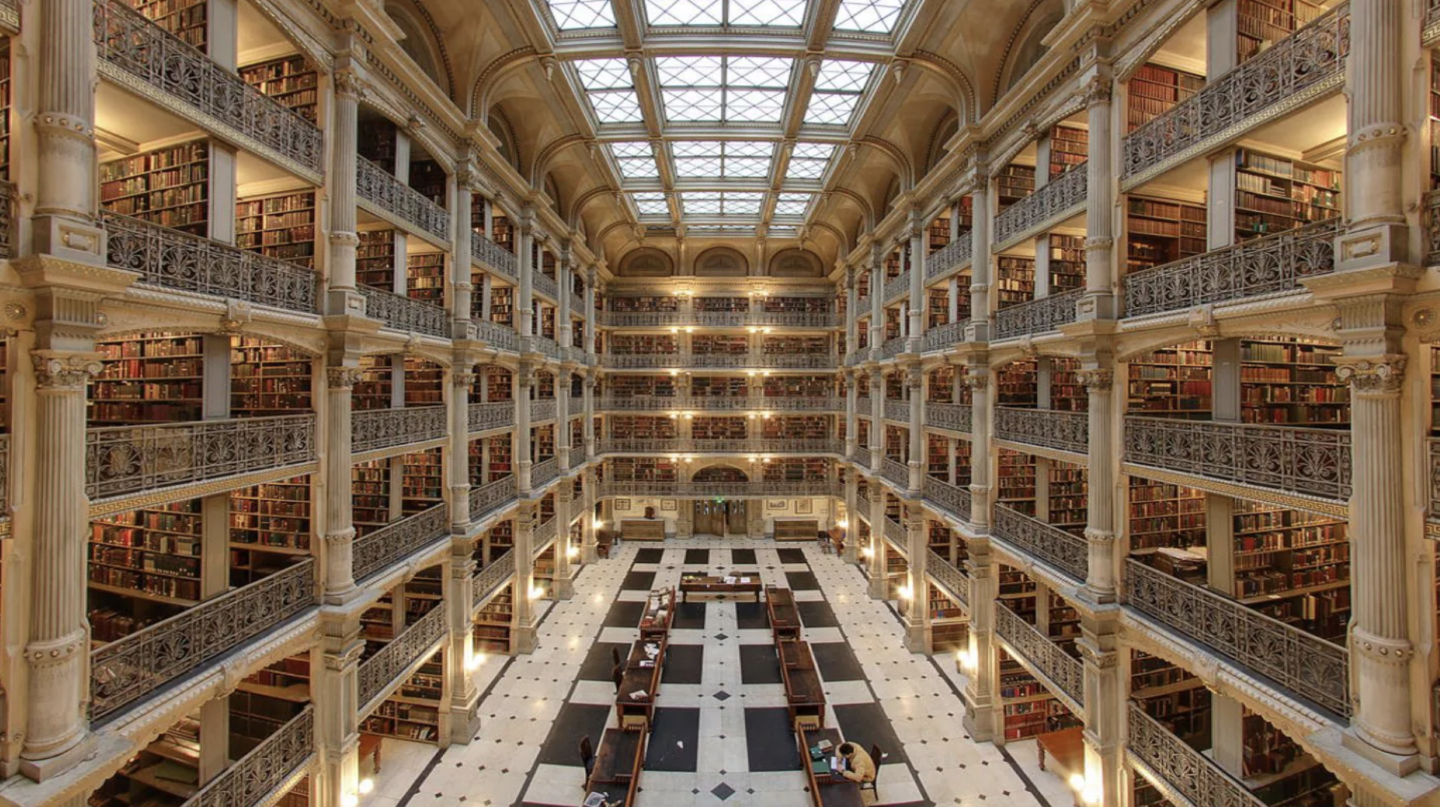 The most beautiful libraries around the world
George Peabody Library, Baltimore, U.S.A
Starting in the United States, the George Peabody Library in Baltimore is a 19th-century research library of The John Hopkins University. The impressive library has six levels of books to explore, plus a beautiful ground floor to sit and study.
Victoria and Albert Museum Library
Located inside beautiful reading rooms in the Victoria and Albert Museum, this library is home to many books in the arts – including decorative arts, journals, comics and much more. This reference library is open to the public from Tuesday through Saturday and is regarded as one of the top four art libraries in the world.
Stift Admont in Austria
As the world's largest monastery library, Stift Admont has an impressive history and even more impressive book collection. As the oldest remaining monastery in Styria, Admont Abbey is home to the largest monastic library in the world. Including a collection of 70,000 restored books, ceiling frescoes and countless sculptures, the monastery is a destination in itself. You can reach the monastery in 2.5 hours drive from Vienna, or make the journey by train in around three hours.
Livraria Lello Bookstore in Porto, Portugal
As far as the most beautiful libraries in the world go, we would be doing ourselves a disservice not to include a couple of bookstores that are so beautiful curated, they rival some of the libraries on this list! And so we cannot go without mentioning Livraria Lello Bookstore in Porto, Portugal. This bookstore is located in the civil parish of Cedofeita, Santo Ildefonso, Sé, Miragaia, São Nicolau e Vitória. You'll find the store in Porto, one of the most charming cities to explore in Portugal.
Read more: 8 Places you Must Visit in Portugal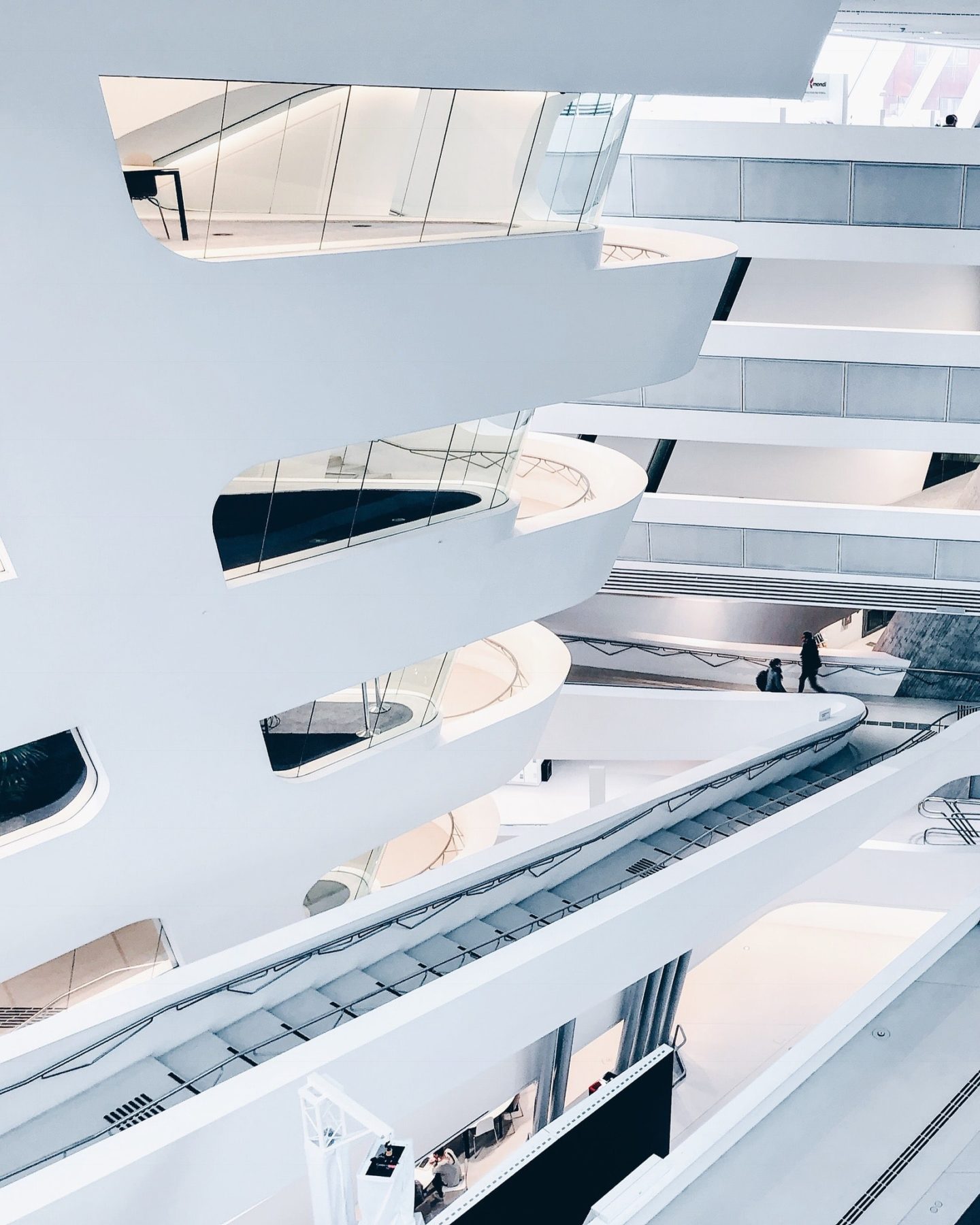 WU Wien Library, Vienna, Austria
There's no city in Europe quite as imperial and immaculately preserved as Vienna, Austria. This city has managed to preserve its past, but it is also always looking toward the future. And with WU Wien Library, Vienna is doing just that! This economics library has a sleek design and is an ode to modern architecture.
The New York Public Library
As the name suggests, the New York Public Library is a public library in the heart of New York City. The library boasts an impressive 53 million books to choose from, with public work benches for study and reading. So, are you wondering just how large it must be to house all of those works? It is the second largest public library in the United States and the fourth largest in the world. Impressive, to say the least!
Related: The 20 Best Things to do Alone in New York City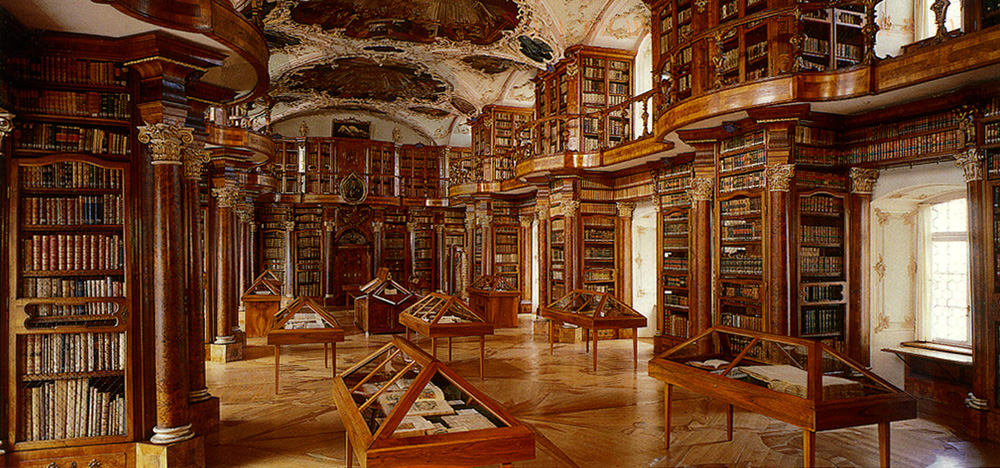 Abbey Library of St. Gall in St. Gallen, Switzerland
Located in St. Gallen, the Abbey Library is arguably the most beautiful library in Switzerland. This medieval monastic library is home to manuscripts dating back to the 8th century and is to this day preserving such manuscripts. The library is open daily (7 days a week) from 10am until 5pm.
Biblioteca do Convento de Mafra in Mafra, Portugal
Completing our list is the beautiful Biblioteca do Convento in Mafra National Palace, Portugal. Regarded as one of the national treasures of Portuguese architecture, the library is home to 36,000 leather bound volumes. The library is commonly considered one of the most beautiful in all of Europe, with travellers coming from far and wide to step foot inside the hallowed halls.