Are you planning an escape from Melbourne? Perhaps you're looking for a weekend away to one of Melbourne's nearby cities and towns. Well, we've searched the internet and done the hard work for you. These are the best Airbnbs outside of Melbourne for the perfect weekend away!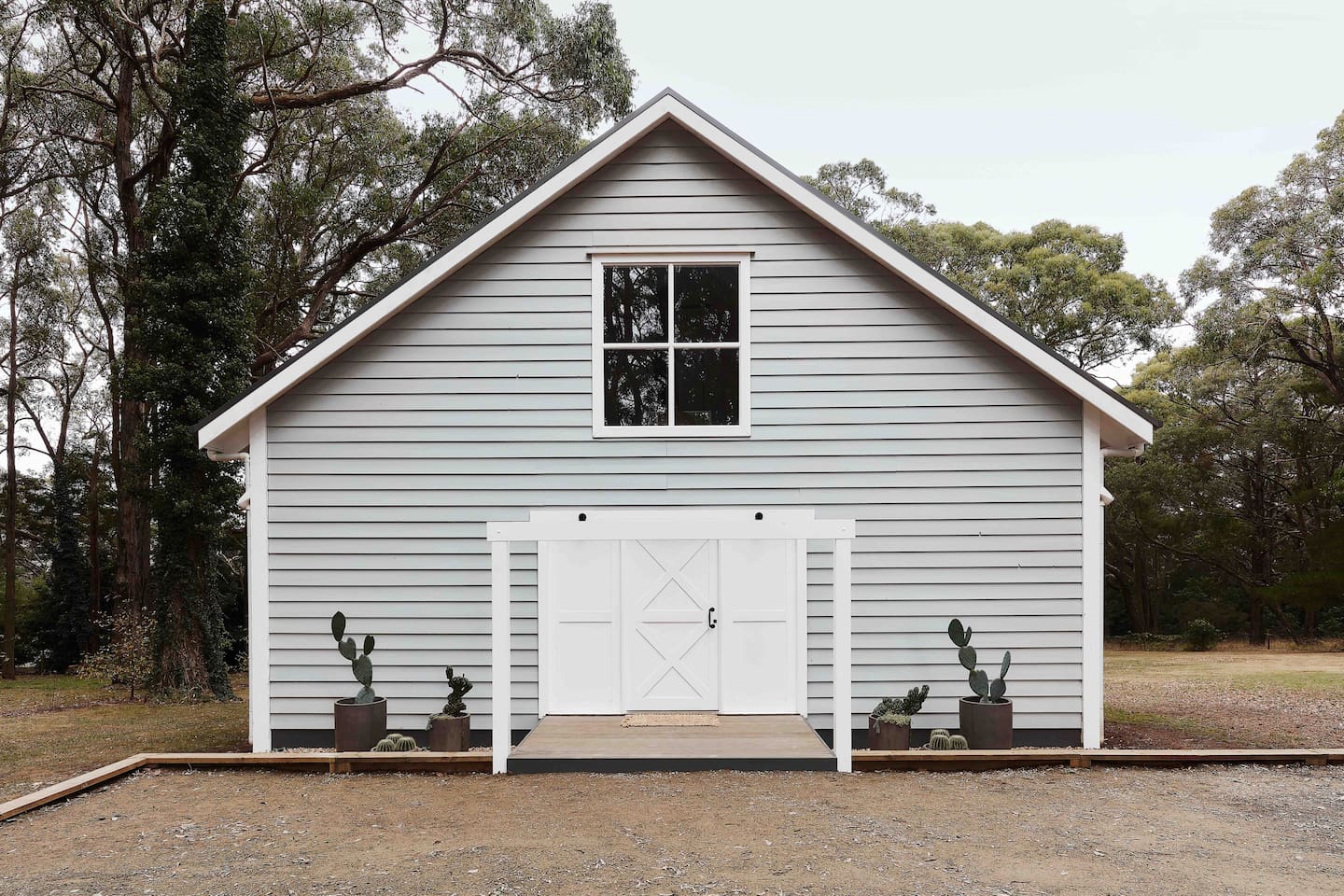 The best Airbnbs outside of Melbourne
A CHARMING BARN
This charming barn in Main Ridge is only a drive from Melbourne but feels a world away. If you are looking for a quiet and calming farm escape, this is a perfect choice. There is just one room inside, making it the perfect couples escape. Plus, it is just a bonus this barn is located in Red Hill wine country!
Book this stay
RED HILL BARN
Also located in Red Hill, this oversized barn house is perfect for bigger groups. The house sits quietly between vines and olive groves with stunning views of the nearby hills and dam. There are two rooms on offer, one with a queen bed and one with two single. This could be the perfect girls trip or family getaway!
Book this stay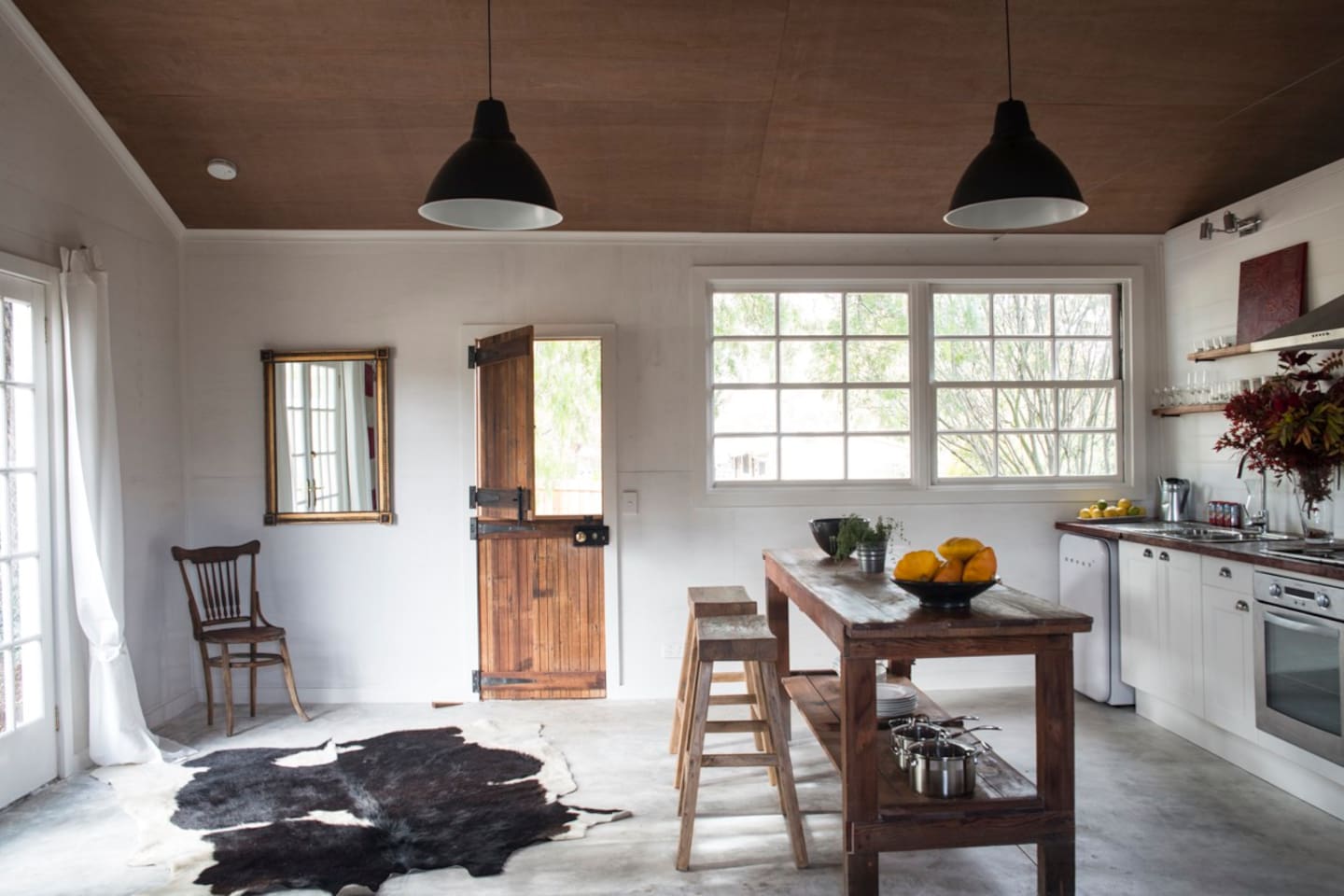 UNDER A PEPPERCORN TREE
A personal favourite, this charming farm studio is nestled under an oversized peppercorn tree. It might just be the most romantic Airbnb outside of Melbourne! The self contained studio is the perfect long weekend getaway for couples in need of a little quiet time.
Book this stay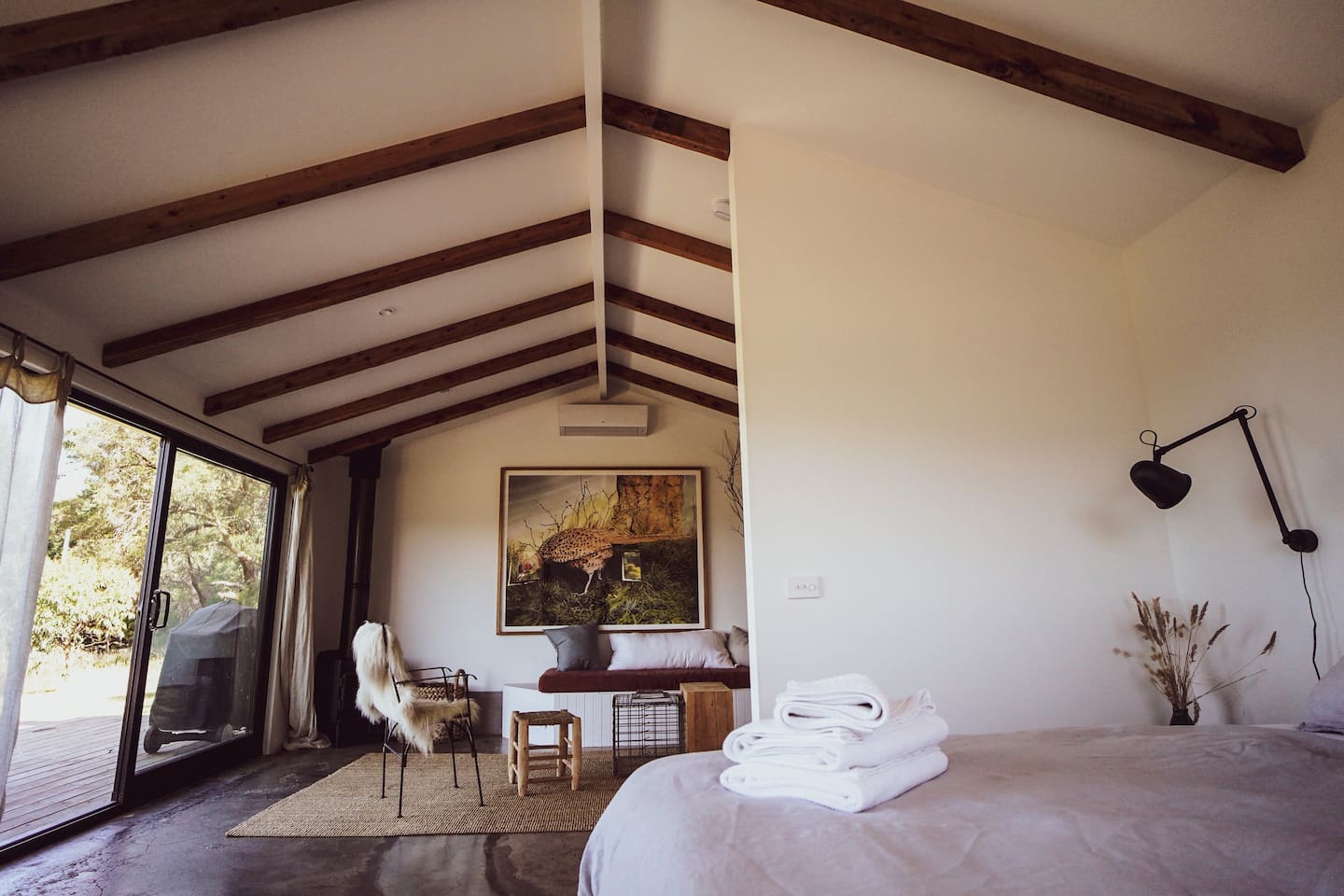 THE DAIRY
This beautiful cabin in Red Hill is perfect for a couple's weekend away. The cabin has been beautifully restored and the interior decor is on point. The cabin boasts raw cypress beams, distressed concrete floors, banquette seating and a wood heater. Comfy!
Book this stay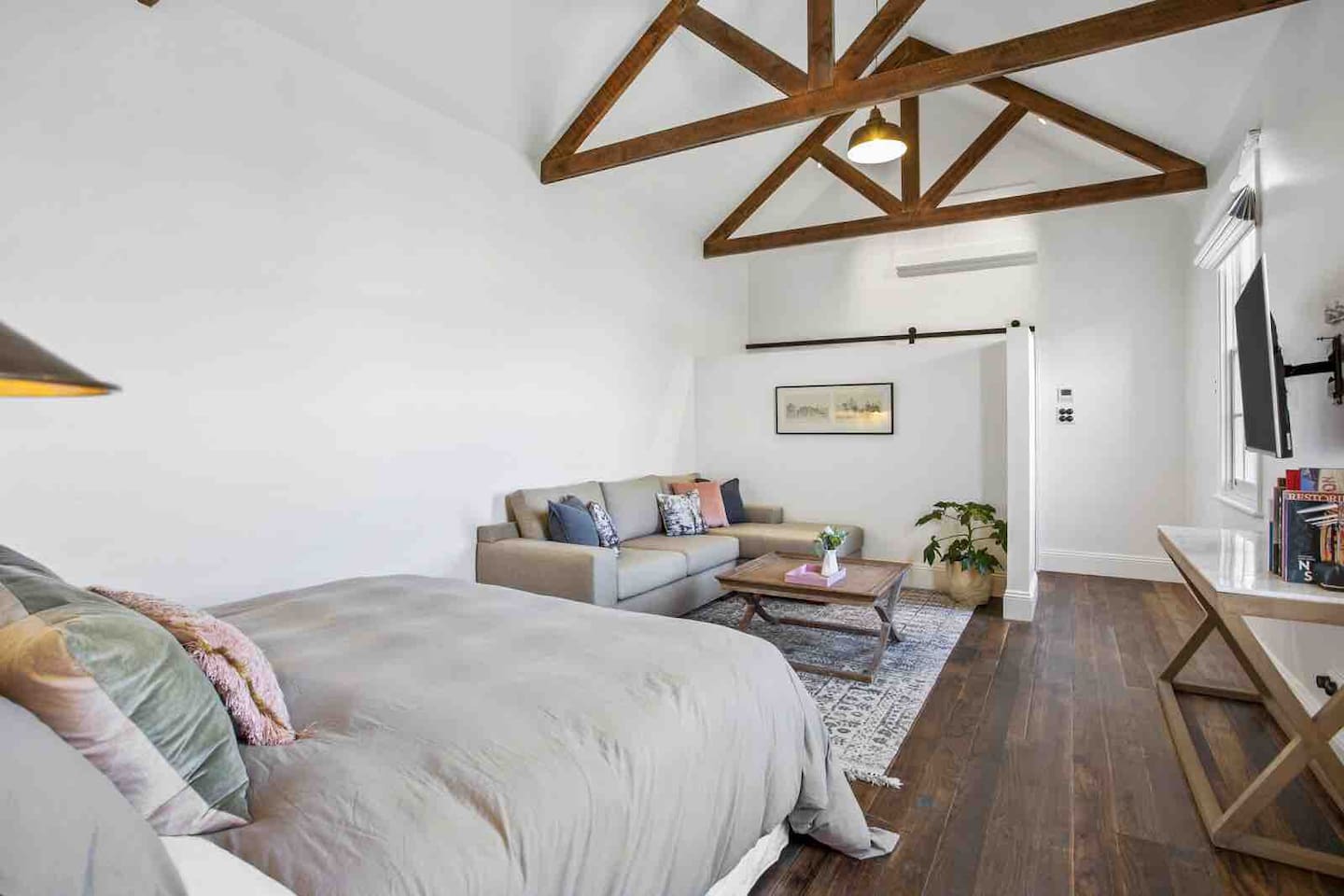 HERITAGE BY THE SEA
This beautiful heritage building has been lovingly restored. "Navestock" will set you back $200 a night for the crisp white high ceilings, exposed beams and comfy romance. The home is located in Queenscliff, Victoria.
Book this stay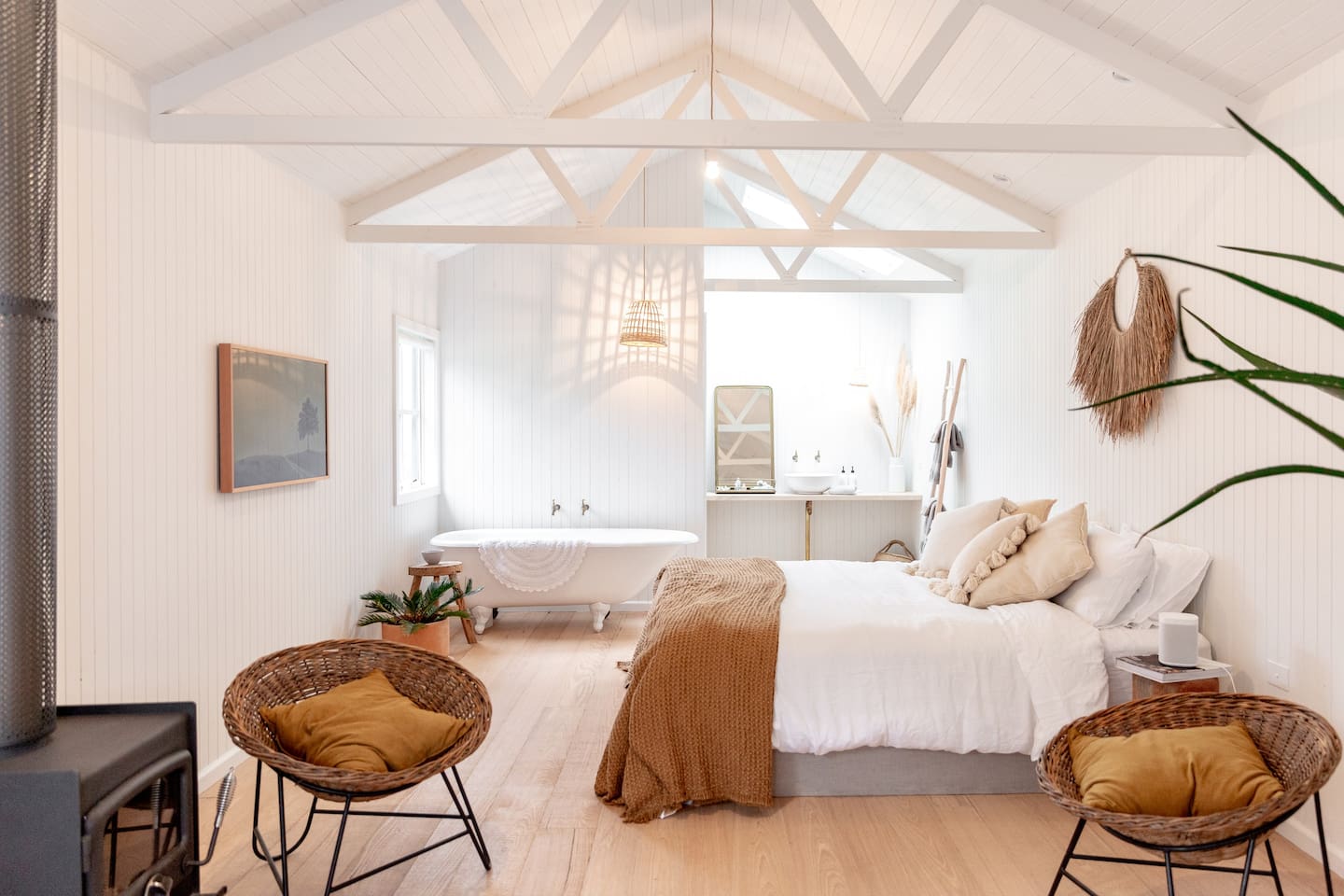 THE OLIVE SHED
You might be thinking by now, why haven't I been to Red Hill wine country yet? I know I am. Many of our picks on this list are a one hours drive from Melbourne in Red Hill. It seems the Airbnb scene here is just on point and "The Olive Shed" is no exception! This beautifully decorated shed makes us question the term shed itself. This will satisfy even the most discerning interior design-loving eye. Starting at $320 per night.
Book this stay