There's no denying Cape Town is one of the most beautiful seaside cities in the world. It is often a must-visit on first-time trips to the continent, and an unmissable stop for any traveller visiting South Africa specifically (I know it was on mine!) Since I moved to Cape Town (last year in November), I've been making a concerted effort to check out a new hiking trail each week. With sunset being the best time of day to capture the magic of Cape Town in a pastel haze, these are the best hikes at sunset in Cape Town.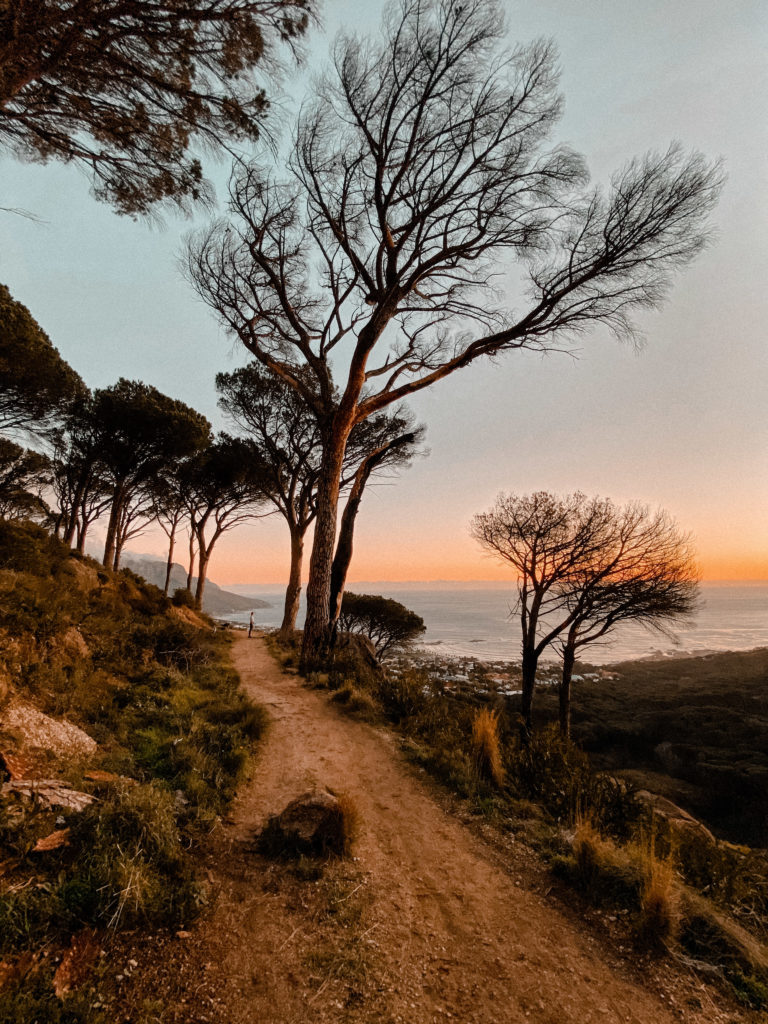 The Best Hikes at Sunset in Cape Town
Anyone who has visited Cape Town will tell you this is one of those cities you have to visit at least once in your life time. The backdrop of the city meeting the Atlantic ocean sets the scene for iconic sunsets, any time of year. When we decided to move to Cape Town last year, I knew I wanted to make every effort to live a more active lifestyle. This city is full of great day hikes, mountainous terrain, and great weather even in winter. These are my favourite hikes at sunset in Cape Town!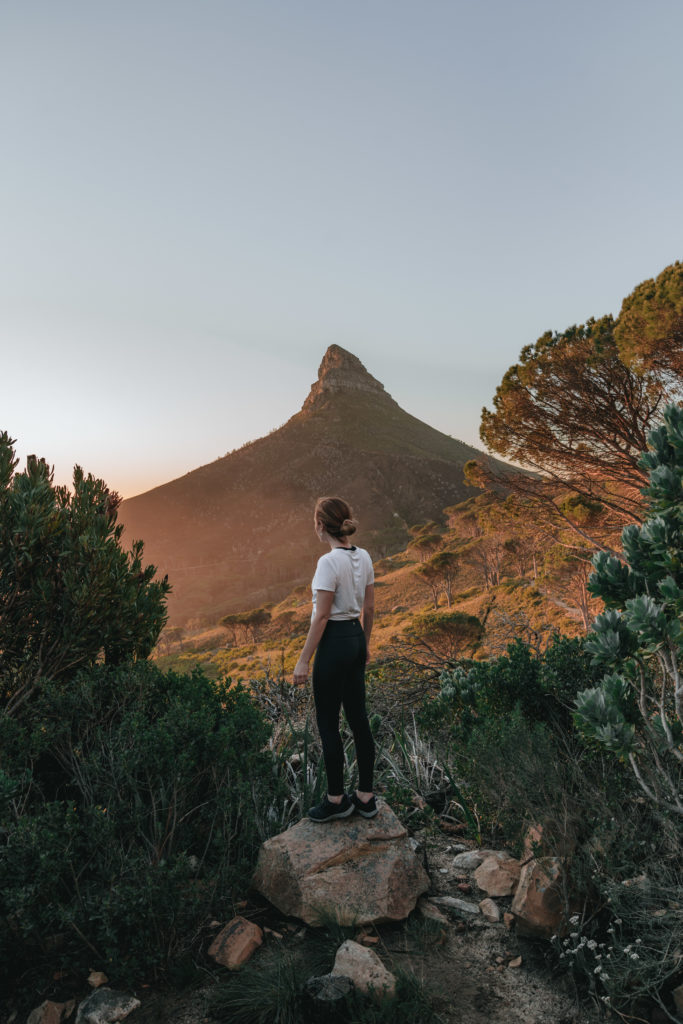 Pipe Track
Starting point: Kloof Nek Parking
Duration: 3 hours (return)
Distance: 6km
Best time to hike: Sunset or sunrise
This is one of those trails you seek out once a week, for a light walk or jog along relatively flat terrain. The Pipe Track is one of the most rewarding trails for little effort, as you will get epic sunset views of Lion's Head in the distance and Camps Bay down below. You can choose to complete the full hike in three hours (return) or see the highlights by completing part of the hike in just under an hour.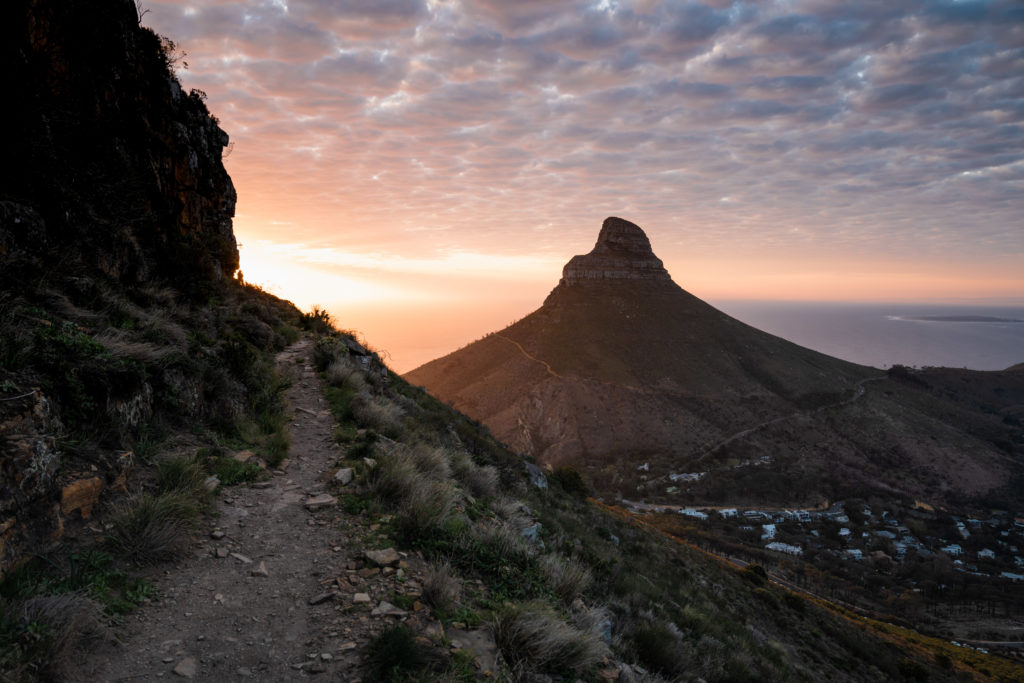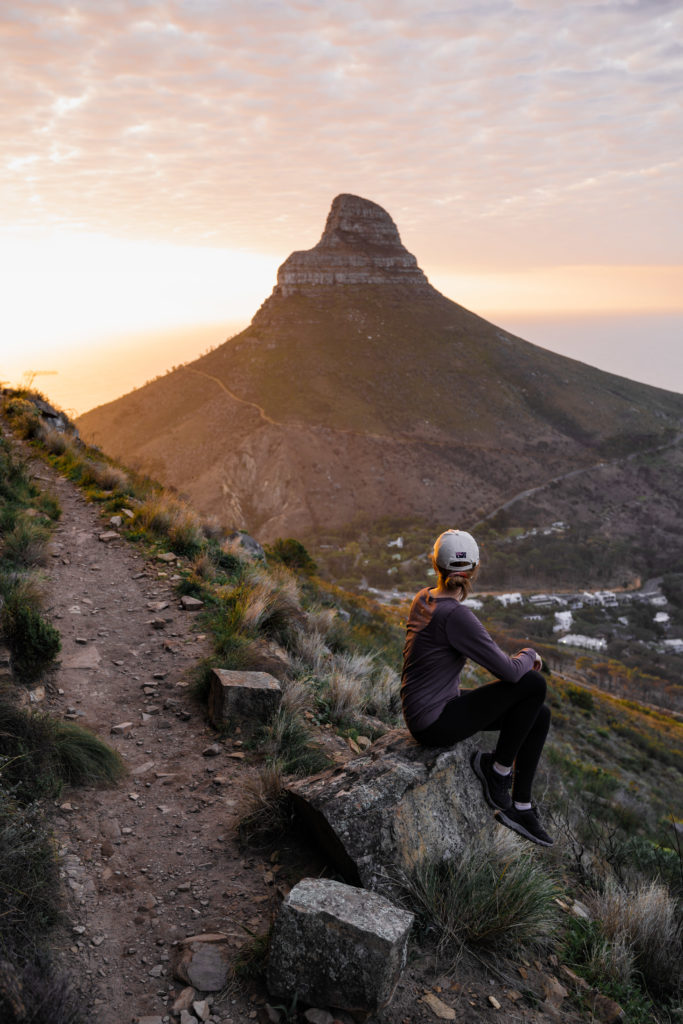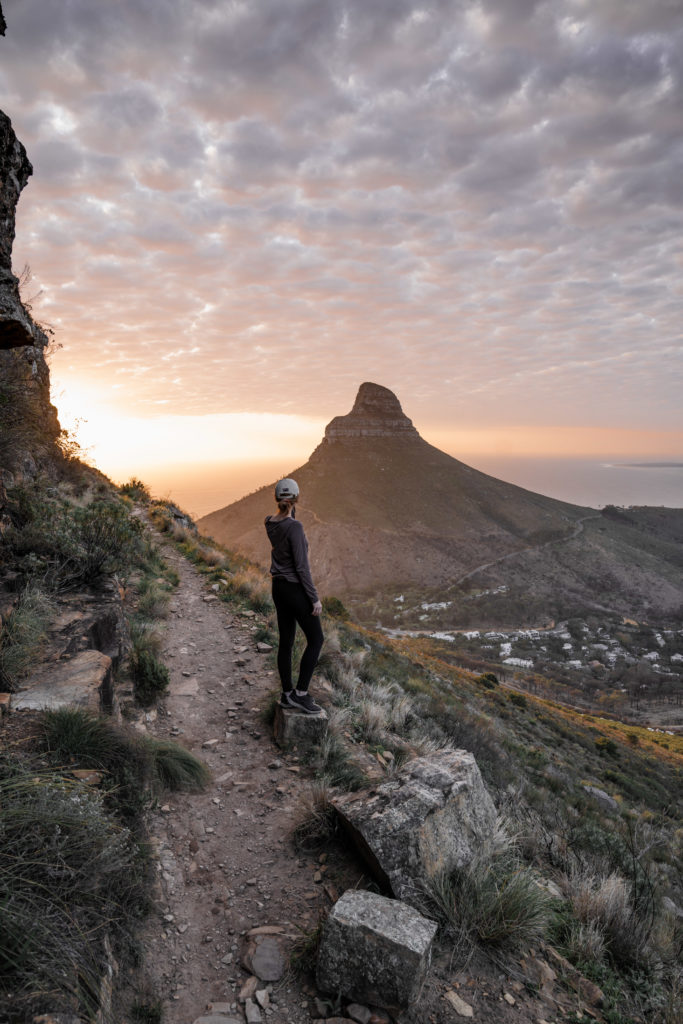 Kloof Corner
Starting point: Kloof Corner parking area
Duration: 20 minutes each way
Distance: 1.8 km
Best time to hike: Sunset
Although my boyfriend has lived in Cape Town for much of his life, he was pleasantly surprised when I revealed Kloof Corner to him. It is a short 20 minute hike (each way) to arrive at the sunset viewing point, which is one of the most popular spots for sundowners amongst Cape Town locals. Although the hike is steep, it is relatively easy for any hiker. Be sure to do as the locals do and bring a couple of drinks to sit back and enjoy watching the sunset over the Atlantic ocean!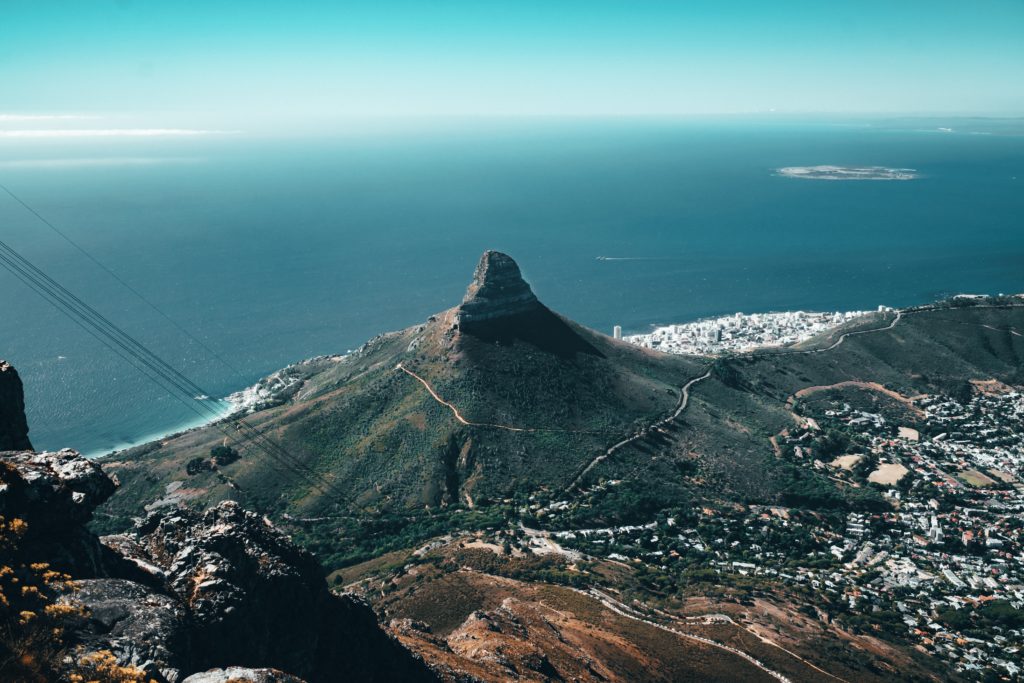 Lion's Head
Starting point: Lion's Head Parking lot
Duration: 2 hours (return)
Distance: 5.5 km
Best time to hike: Sunrise and sunset
As perhaps the most iconic sunset hike in Cape Town, Lion's Head certainly lives up to the expectations surrounding it. The popularity of the hike is due mostly to the short distance (2 hours return), safety (being so popular you are less likely to encounter crime), ease and for being one of the most photogenic spots in Cape Town. The hike isn't difficult, though there is a bit of climbing, ladders and ropes towards the end. Be sure to pack some water, sunscreen and your camera!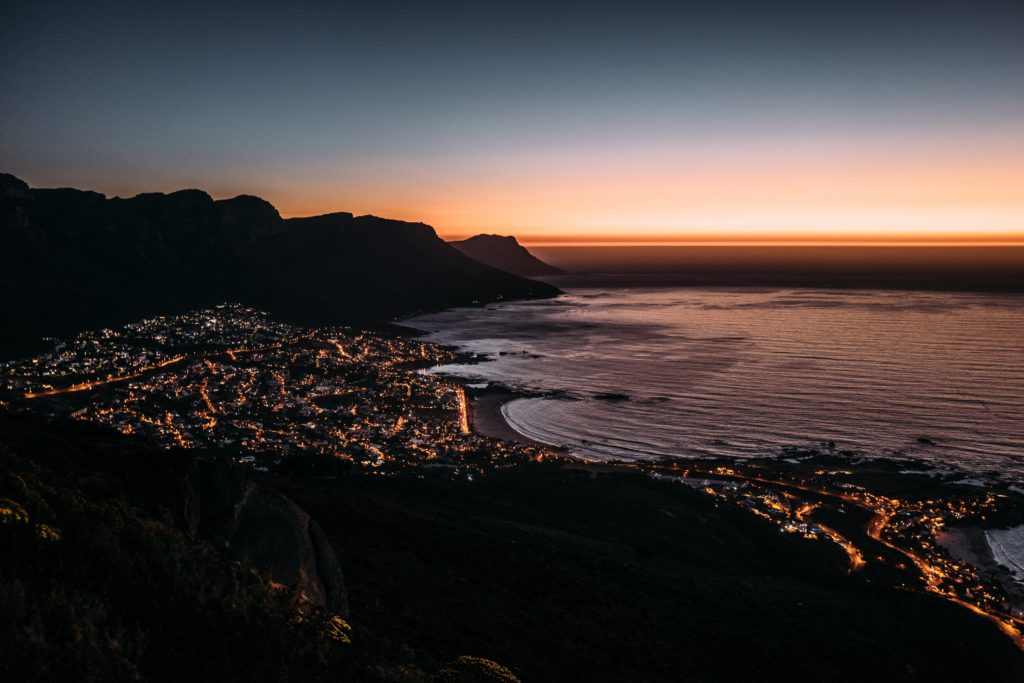 Signal Hill
Starting point: Signal Hill parking lot
Duration: 20 minutes
Distance: .5 km
Best time to hike: Sunrise and sunset
Although this is the easiest hike on the list, do not underestimate it for its beauty! By walking around the loop trail on Signal Hill you can view the sunrise or sunset from a range of different vantage points, From here you can see the city bowl of Cape Town, the sun setting over the Atlantic ocean, and capture a great view of Lion's Head from below.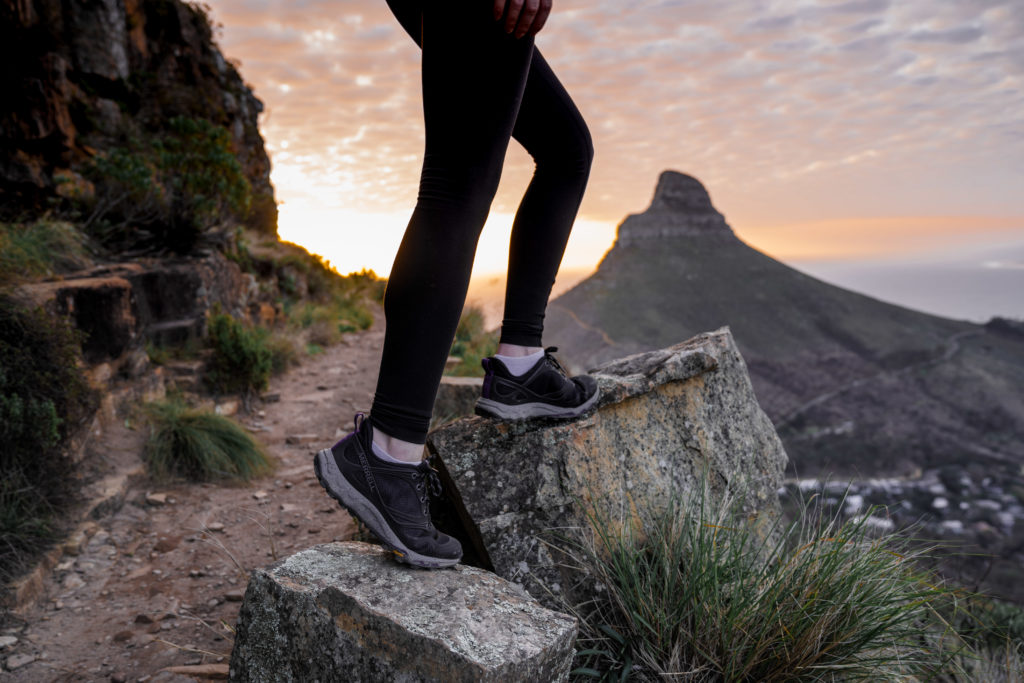 Devil's Peak
Starting point: Tafelberg Road
Duration: 2-4 hours
Distance: 2.7 km
Best time to hike: Start two hours before sunset
If you're up for a more difficult hike, pack your things and set your sights on Devil's Peak. This trail is one of the more strenuous hikes on Table Mountain, though it is certainly equally as rewarding. Depending on your fitness level, you can reach the saddle in 2-4 hours, with epic views of Cape Town down below. You'll have a great view of Lion's Head, making this a great sunset spot. Because of the length of the trail, Devil's Peak is best enjoyed at golden hour, before making your way down. Be sure to descend on the trail before then sun sets, to allow time to make it back before nightfall.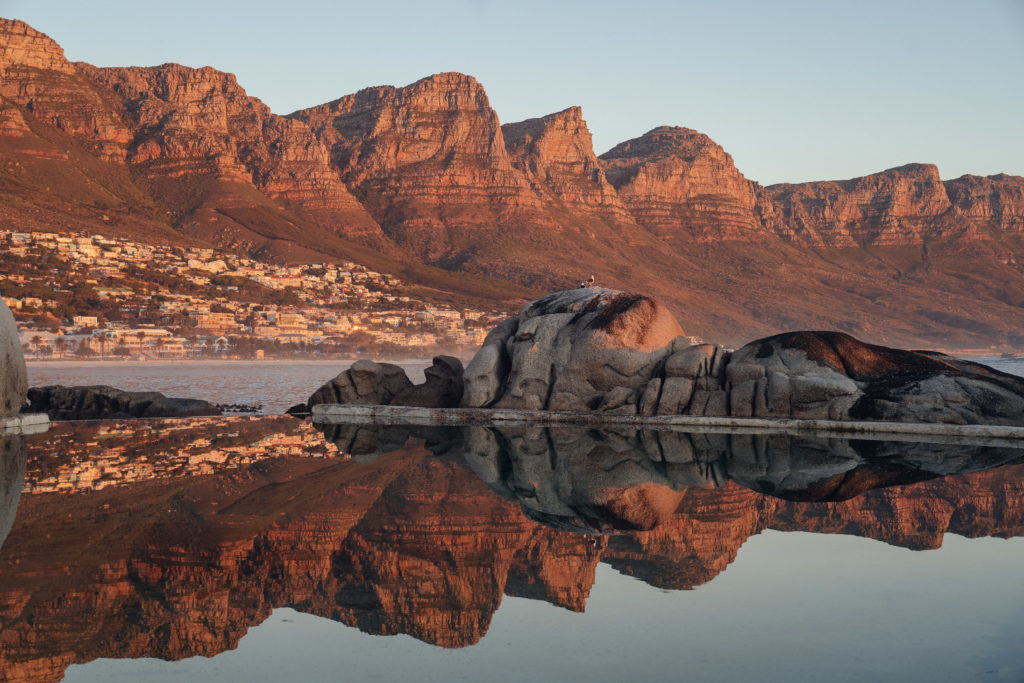 Maiden's Cove & Tidal Pools
Starting point: Maiden's Cove Parking Area
Duration: 20-30 minutes on the rocks
Distance: varies
Best time to hike: Sunset
Although it is less of a hike and more of a scramble on rocks and boulders, Maiden's Cove is hands down one of the most epic places to see the sun set in Cape Town. The tidal pools offer a beautiful still reflection for photography enthusiasts and there is no end to your creativity as you climb the boulders in search of the best sunset spot. This is a popular choice for sundowners who park themselves at the Maiden's Cove parking lot.
Plan your visit to Cape Town
Shop my Hiking Style