If you are planning a solo trip to Paris, you've come to the right place. For the last ten years I have been traveling the world solo as a female traveler and for the life of me, I can't stop visiting Paris. Those of you who have been reading my blog for a while now or keep up with my travels on Instagram already know my love for the French capital runs deep. But if you're new here, you're talking to a self-confessed Francophile who has been to Paris solo more times than she can count. And today I'm going to share with you all of the best hotels for solo travelers in Paris with links to my preferred platform (because they have the cheapest room rates). You're welcome!
Les Tournelles
Arrondissement: Le Marais
Let's start with my top choice, a boutique four-star hotel in Le Marais named Les Tournelles. This hotel is the perfect choice for solo travelers who are on a reasonable budget, but don't want to skimp so much that they sacrifice stylish digs and an enviable location. Enter Les Tournelles, a mid-range priced property in my favourite neighbourhood to base myself in Paris. Le Marais is full of great cafes, restaurants and a beautiful public park named Place de Vosges. Skip on booking the breakfast option because you're only a three minute walk from Carette, who have fabulous Pain au Chocolat and even better hot chocolate for a perky start to your day.
Hotel de L'esperance
Arrondissement: Latin Quarter
Over on the other side of the Seine you will find Hotel de L'esperance in the Latin Quarter. I love this part of town for the wide range of food on offer, all of it affordable given this is the street food quarter of the city. This arrondissement is ironically located just next door to Saint-Germain-des-Prés, one of the most expensive neighbourhoods in Paris (and indeed one of the most beautiful). So basing yourself here will mean you are a short walk away from the fancy part of town without the price tag. I'd say that's an offer too good to refuse!
Libertel Gare du Nord Suede
Arrondissement: 10th
If you're visiting Paris on a budget or even just looking for somewhere to fill a one-night stay, I discovered Libertel Gare du Nord Suede under these very circumstances on my most recent visit to Paris. After messing up the date of my departure from Paris, I found myself in need of a room for the night but didn't want to be too far from Gare du Nord considering I was arriving on the Eurostar one day and departing from Charles de Gaulle Airport the next (and you catch the train directly from the same Gare du Nord station). This hotel has a cheaper rate for solo travelers and it was only a 2-minute walk from the train station. To explore the rest of Paris, just jump on the metro nearby and you're well connected to everywhere.
Hotel Elysees Opera
Arrondissement: Opera
For as long as I can remember I have not visited Opera arrondissement, perhaps because it is a more local part of town with lots of high street brands and the grand boulevards which pale in comparison to the charming alleyways of the likes of Le Marais. But it was a few years ago when I met up with my friend Chelsea for afternoon tea and when I asked her where she was staying, she named her hotel in Opera. As it turns out, this is one of the more affordable arrondissements in town to stay because although it is central, it isn't in the tourist heart. So if you're on a budget and looking for a 3 or 4 star hotel with a reasonable price tag, check in to Hotel Elysees Opera.
CitizenM Hotel Paris
Arrondissement: 3 locations
If you haven't heard of CitizenM Hotels yet, you're missing out! I first stayed at one of the hotels in Glasgow, Scotland, and have loved using the hotels ever since. They do great rates for solo travelers and exist as a sort of no-fuss hotel. The check-in process is easy and with a machine. Then when you arrive to your room you will notice a lack of space, but all the ammenities you need (a small private ensuite, storage under your bed and a comfy bed perched at the window). It's a great option when you're on a budget but don't want to sacrifice comfort.
Citadines Saint-Germain-des-Pres Paris
Arrondissement: Saint Germain
Another great option if you want basic and budget-friendly is Citadines in Saint Germain. This hotel is basic but comfortable and better yet, it is located in one of the best arrondissements to base yourself and explore Paris as a solo traveler. That is because this neighbourhood is extremely safe and you can walk to plenty of attractions in just a few minutes. Don't miss Les Deux Magots, Cafe de Flore and Shakespeare and Co. Book Store.
Chouchou Hotel
Arrondissement: Opera
Conveniently set in the heart of Paris and within walking distance to everything, Chouchou is a great hotel to base yourself as a first time solo traveler in Paris. This hotel has a real social feel to it, so it is a great choice if you want to meet fellow solo travelers and mingle with others.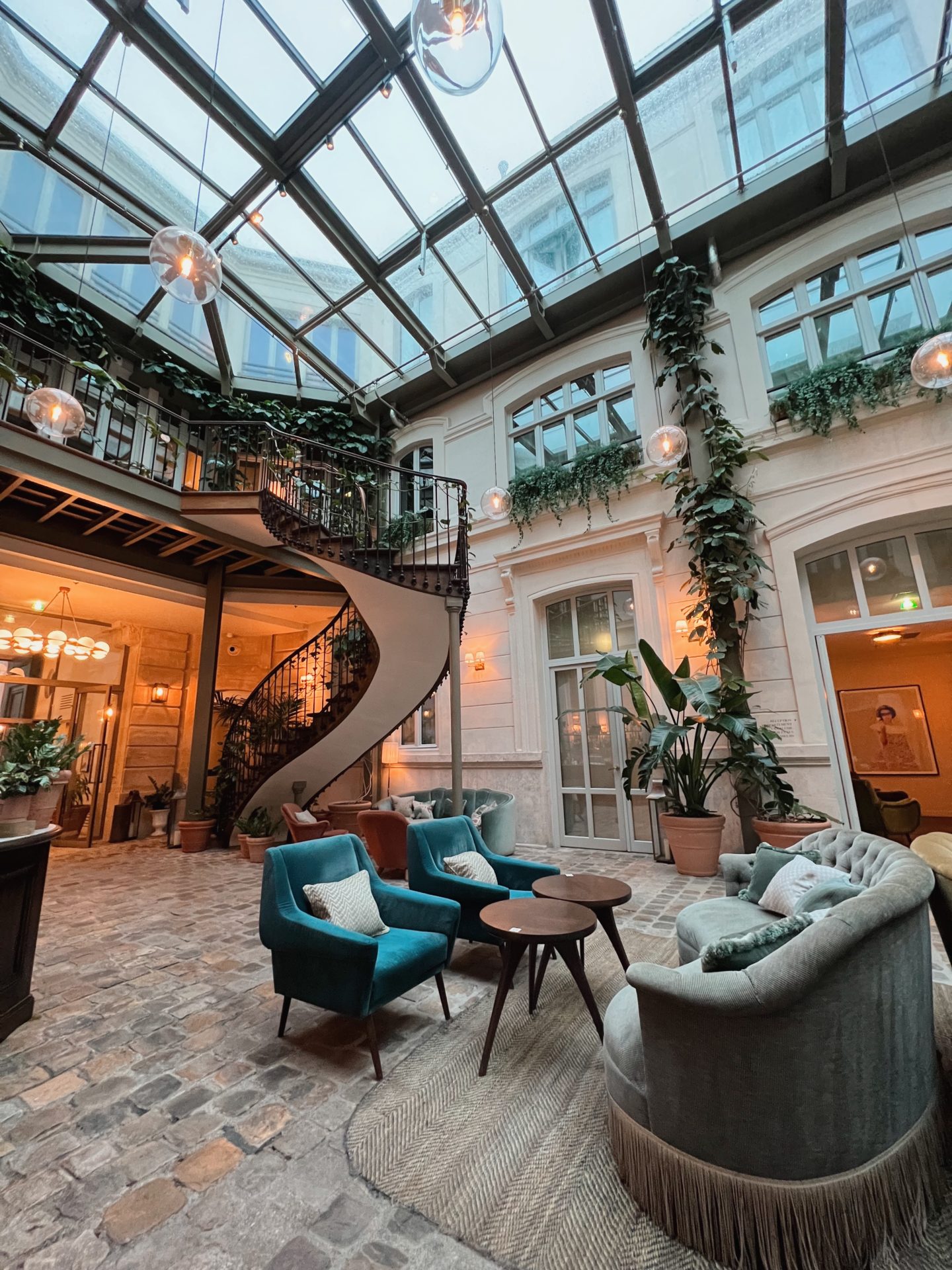 The Hoxton Paris
Arrondissement: 2nd
If you fancy splurging on a beautiful hotel with a carefully curated design eye, then look no further than The Hoxton Paris. What's great is that this hotel is not expensive like a five star hotel in Paris would be, but it feels shockingly similar. That is because The Hoxton have refined the art of luxury hotels on an affordable budget and they have great room sizes for solo travelers.
NEW NOW! SOLO TRAVEL GUIDE