The Ritz Escoffier is one of Paris' best-kept secrets. If you have ever pictured yourself in the heart of Paris in an underground kitchen making your French pastry chef dreams a reality, then you'll want to sign yourself up for a pastry class at the Ritz hotel in Paris. Yup, your pastry dreams are about to come true!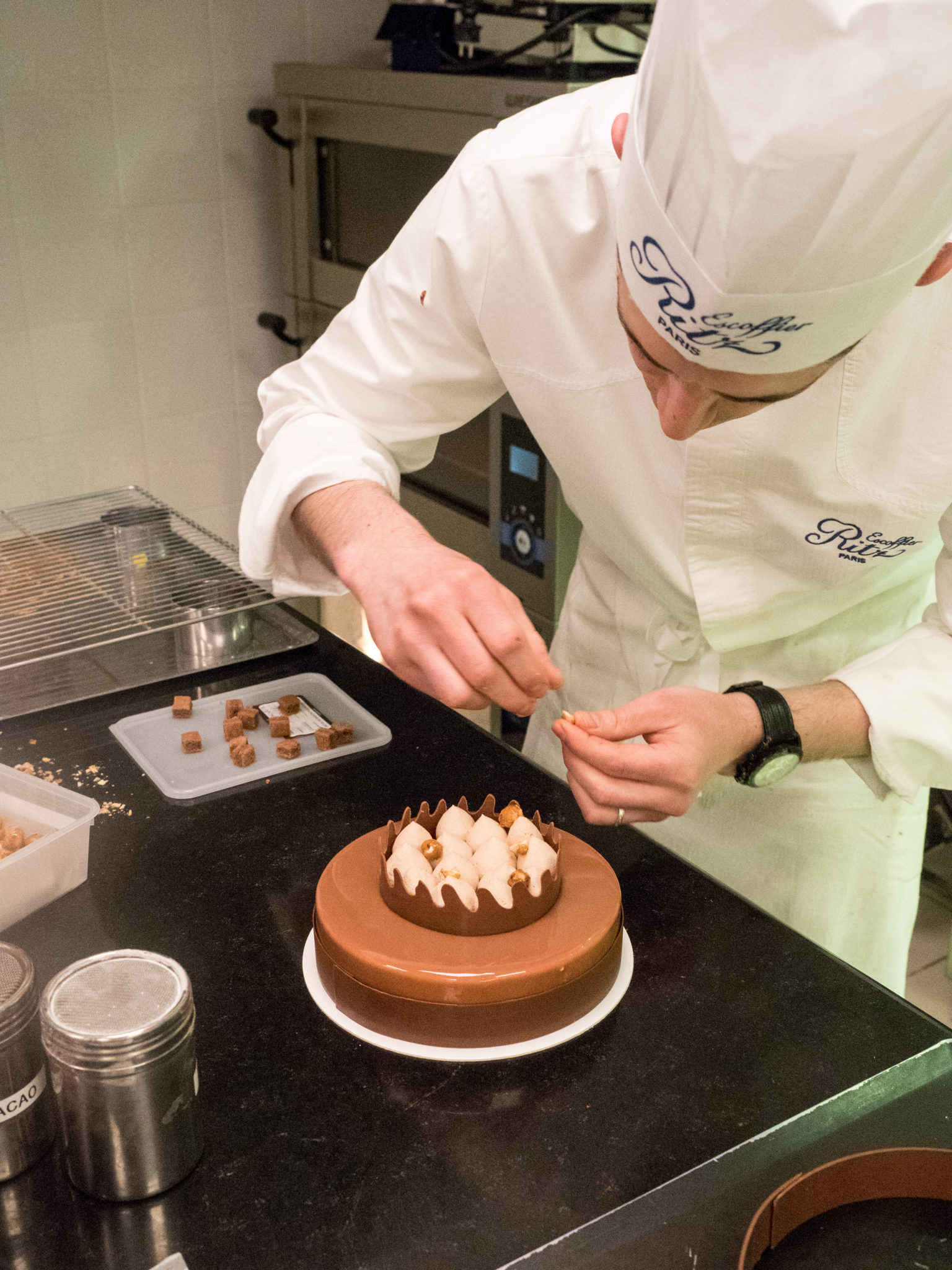 Ritz Escoffier: Inside the basement of the Ritz Hotel
Prior to discovering the pastry classes on offer at the Ritz Escoffier I had been to a few pastry classes elsewhere in Paris and was eager to learn some new techniques as well as explore the world-famous hotel and its' kitchens. As it turns out the Ritz Escoffier is a completely separate area of the basement, dedicated entirely to cooking classes of French classic dishes and refined French pastries.
The Course: Haute Couture Entremets
The course I enrolled for was a four-hour long lesson in entremets (dessert). We made a delicious chocolate hazelnut gâteau and learned the intricacies of French pastry along the way. Many of the classes are offered in French so be sure to be aware when booking your class. The class I booked for was available only in French however there was a sous chef on hand to translate the class in to English – what a saviour!
My Favourite Patisseries in Paris
After the class I realised I now had an entire glazed cake on my hands and would struggle to eat even a sizeable portion, so I chose to donate the cake to the staff at my hotel (and earned myself a lot of smiles and brownie points in doing so!)
There are many great patisseries in Paris on almost every corner, however if you're a pastry nutter like me, you'll want to check out these stand out stores:
Carette – My favourite macaron in Paris. Try the gigantic salted caramel macaron for a jolly good time.
Pierre Herme – Of course the indisputable macaron master. I like to try his rotation of seasonal flavours that are quite often very out of the ordinary.
Du Pain et des Idées – The best traditional pastries in all of Paris if you ask me! The most reliable source of a croissant or pan au chocolat.
Where to Buy French Pastry Supplies to Take Home
If you're looking to take some of your newfound skills home with you then be sure to drop by E. Dehillerin to pick up all your pastry supplies. From piping nozzles to copper pots, there's everything you will ever need inside.
18-20 Rue Coquillière, 75001 Paris, France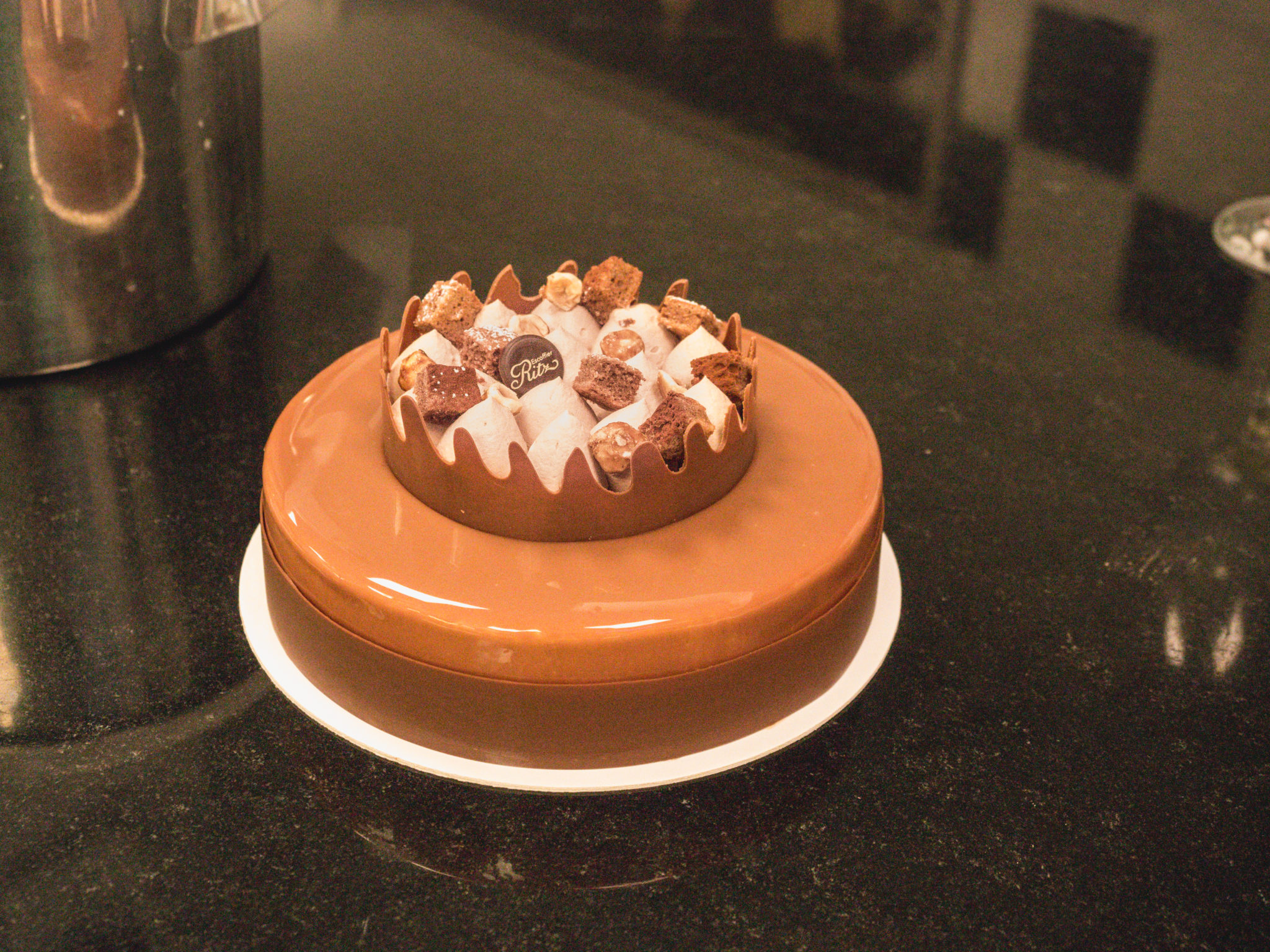 How to Attend a Pastry Class at the Ritz Escoffier
To book a class at the Ritz Escoffier, simply visit their online booking system. There are only very select dates on offer and many of the classes book out so I would recommend booking in advance wherever possible. The classes are much more expensive than other classes in Paris but very well run and you can learn a lot of advanced techniques beyond what you can learn elsewhere.
Price: €165
Book: via the Ritz Escoffier