Lake Bled is one of Slovenia's most popular tourist destinations. Located in the Julien Alps, Lake Bled is as serene as it looks in photos and a visit to this romantic lake is as surreal as you would be led to believe. Below is the ultimate guide to visiting Lake Bled which will help you plan your stay.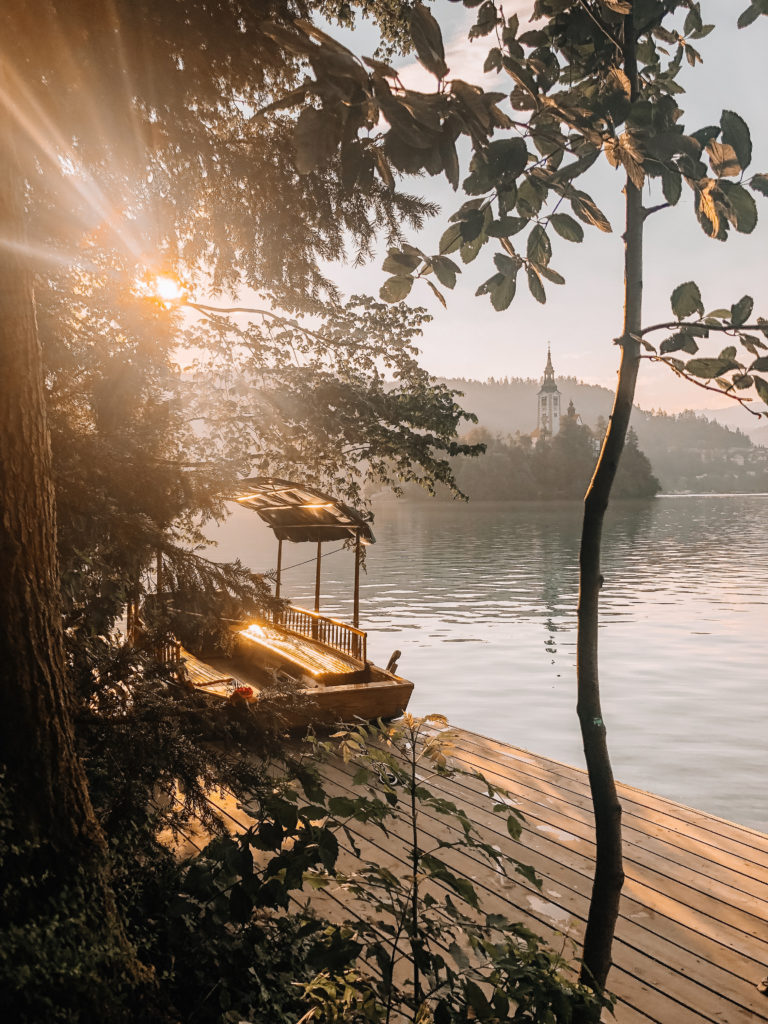 Introduction to Lake Bled
This Lake Bled travel blog will give you all the information you need to plan your visit to Lake Bled. Whether you are visiting for just a day visit or are planning a week or more of adventures in summer, this guide will tell you everything you need to know to visit Lake Bled.
Contents:
How to get from Ljubljana to Lake Bled
The best things to do in Lake Bled
The best time of year to visit Lake Bled
Recommended hotels, restaurants and tours in Lake Bled
Things to do near Lake Bled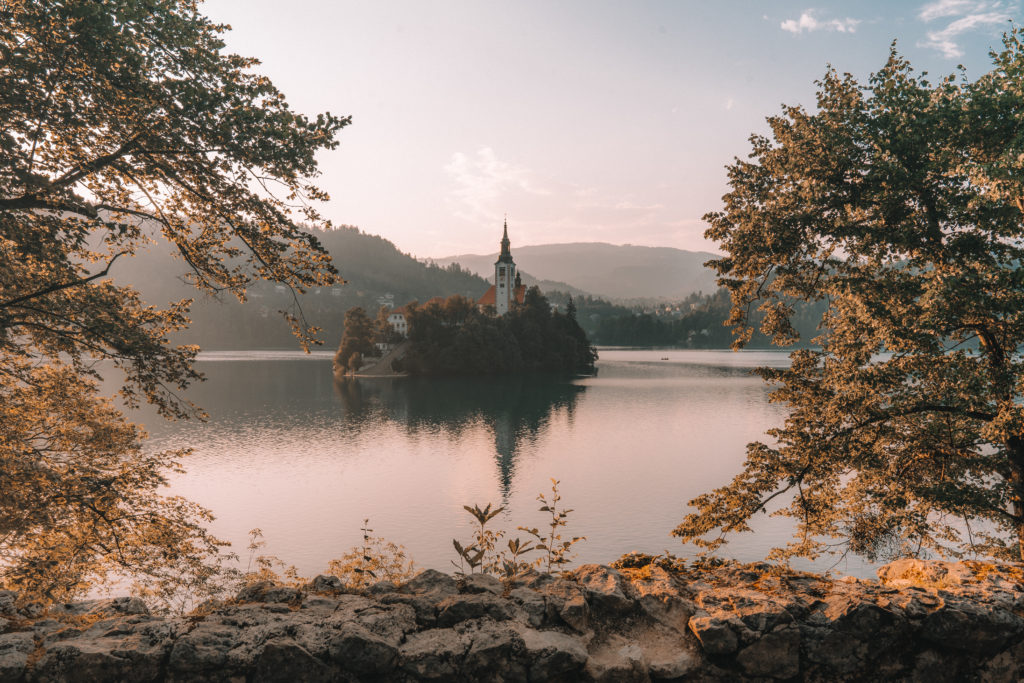 How to get from Ljubljana to Lake Bled
Lake Bled is a popular day trip from Ljubljana. There are a few ways to arrive in Lake Bled including public transport and self-drive from Ljubljana to Lake Bled. Depending on your travel plans for Slovenia, these are your options:
Ljubljana to Lake Bled by Bus
It will take you 1 hour and 20 minutes to travel from Ljubljana to Lake Bled by bus. This is one of the cheapest and easiest ways to arrive in Lake Bled, costing just 7 euros. This is the best option if you are visiting Lake Bled as a day trip from Ljubljana.
Ljubljana to Lake Bled by Train
There are two train stations in Lake Bled: Lesce train station and Jezero Bled train station. Neither of them are extremely central but if you don't mind a bit of swapping transport, the system works easily enough.
If you arrive to Lesce train station you will need to switch to a bus for the further 4.5 kilometres to reach Lake Bled.
If you arrive at Lesce train station you will be around 3 kilometres from the town of Bled, on the Western side of the lake.
Ljubljana to Lake Bled by Car
Driving from Ljubljana to Lake Bled is very easy and well sign posted. The journey will take approximately 45 minutes without traffic. Kranj and Skofja Loka are beautiful towns to stop in if you'd like to see more of Slovenia and are both located on the way to Lake Bled.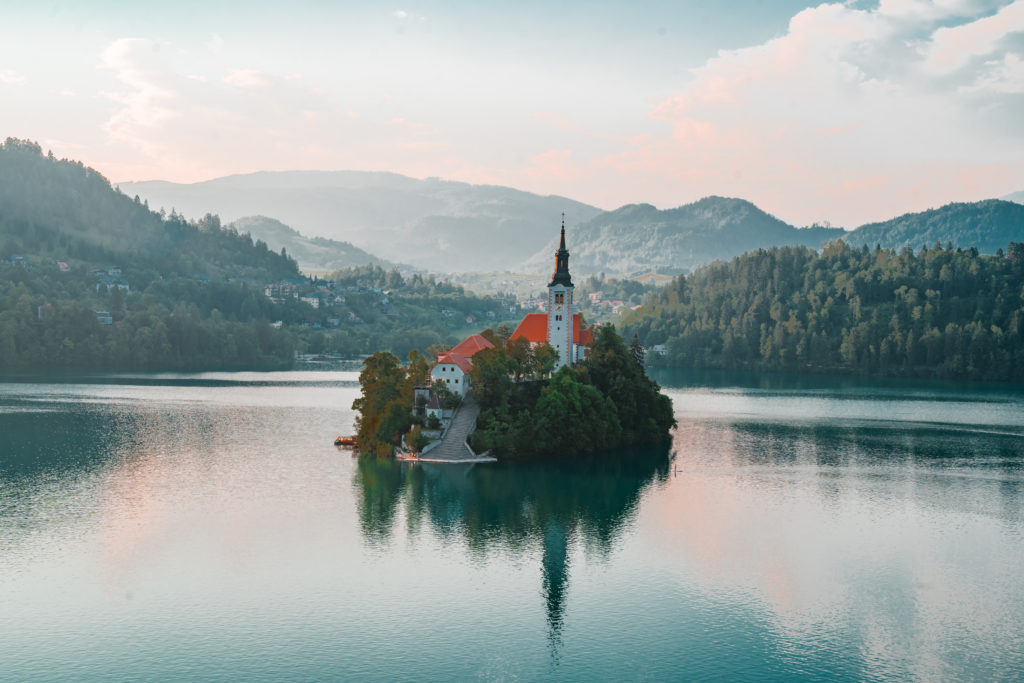 The best things to do in Lake Bled
The activities on offer in Lake Bled are plentiful, however the timing of your visit will play a large role in determining what you can do while in Lake Bled.
The best way to start your time in Lake Bled is of course to walk around the lake. To walk the entire lake in a circuit will take between 1-2 hours. You may need extra time to stop and take photos because believe me, this is one photogenic location!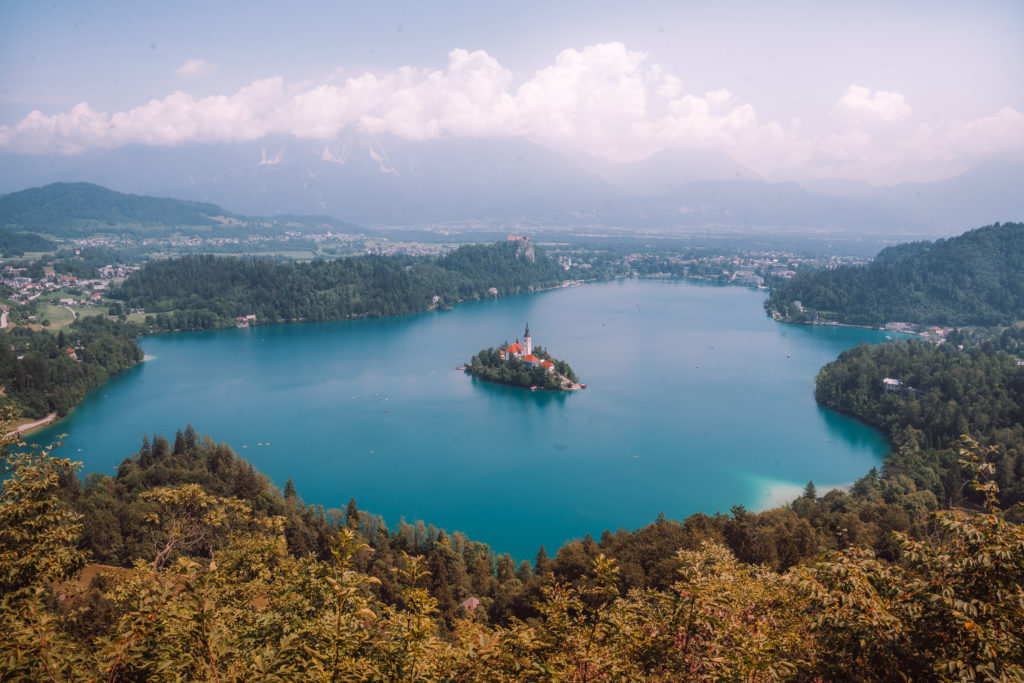 If you would like to get a view of the lake from above, the best viewpoint is from Mala Osojnica. The hike will take around 1 hour to complete, allowing for some time at the top to enjoy the view.
Another great way to experience the lake is to be on it by boat, pletna, paddle board or kayak. In the summer months there is no end to the amount of activities on offer!
Swimming in the lake almost feels like an essential in the warmer months. It was an impressive 30 degrees celsius during my time in Lake Bled and I'm happy to report the lake is beautifully warm!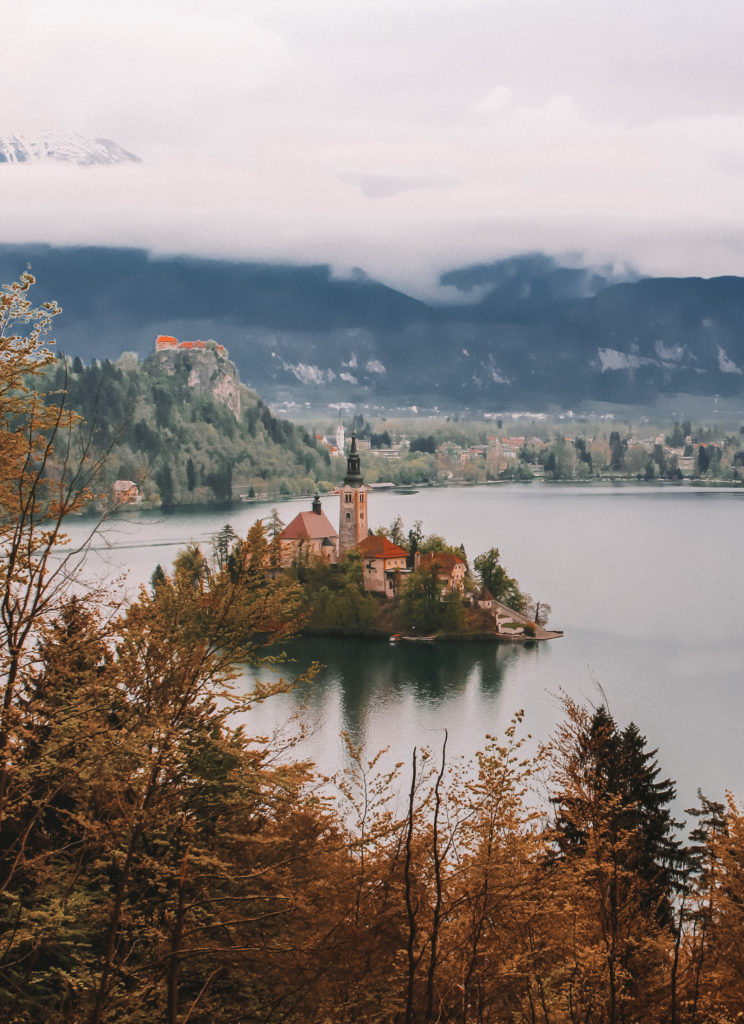 The best time of year to visit Lake Bled
I first visited Lake Bled back in 2015 during autumn when the weather was much, much colder. This year I returned in the summer time and it is safe to say it was a very different experience. The lake is beautiful to visit any time of year, however if you have your heart set on a certain way of experiencing it, there are better times to visit than others.
Summer (June, July, August) in Bled is hot, sunny and beautiful. This is the best time of year to experience all the lake has to offer as everything will be open during this time and for longer hours. This is the best time to swim in the lake as it is beautiful and warm.
Spring (March, April, May) is arguably the next best time to visit. Some people prefer to visit in this season as there are fewer crowds, however it is still popular during this time.
Winter and Fall (September-February) are much colder but it is still a beautiful time of year to see the lake. Fall is beautiful as the leaves change colour and winter can sometimes mean a light layer of snow and skiing nearby. It is important to note, however, that a great number of restaurants, cafes and activities are closed over the colder months.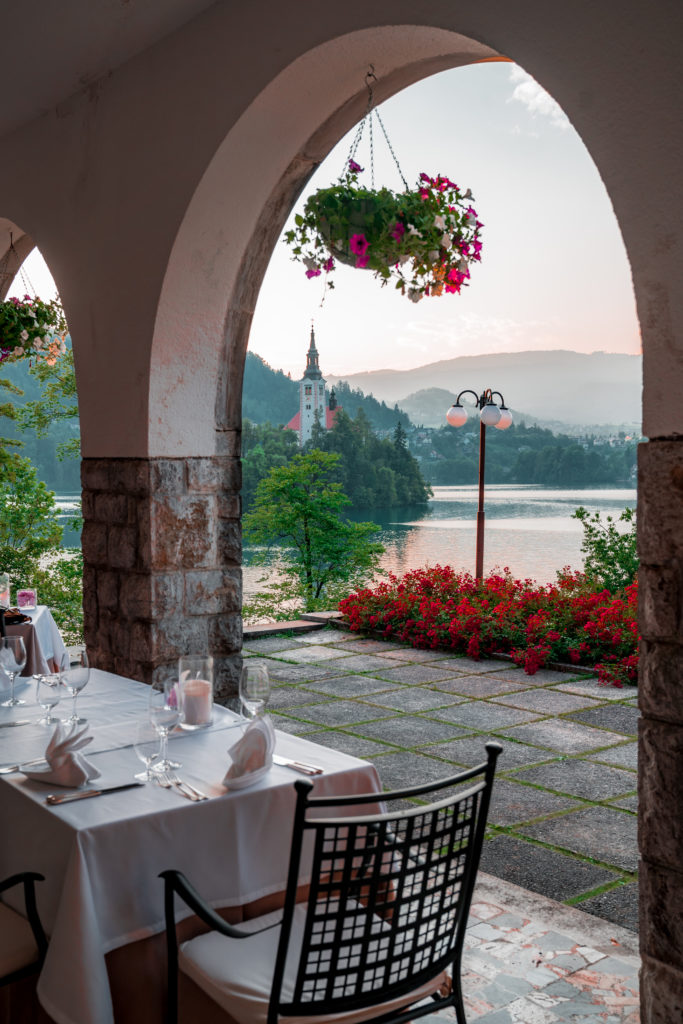 Recommended hotels, restaurants and tours in Lake Bled
There are so hotels, restaurants and tours to choose from in Lake Bled that it can often be a little overwhelming. As someone who has visited in both the off season and busy season, these are my top recommendations for Lake Bled:
Vila Bled is the best located hotel on the lake. It overlooks Bled Island and has direct access to the lake from the stairway at the front of the villa. It is however one of the more expensive options in Lake Bled at around 250 euros per night.
Cafe Belvedere is the cafe that overlooks Bled Island with an incredible (in my opinion the best) view of the lake. You absolutely must try the Bled Cream cake here! It is to die for.
Bled Castle Restaurant is actually a really great option in Bled and has a magnificent view over the lake. Surprisingly, the menu is reasonably priced and offers a great introduction to Slovenian cuisine.
Public & Vegan Kitchen Bled is the best place for vegetarian and vegan food in Bled. It came as a surprise to me to find such great vegan food here in Lake Bled! The vegan burgers are huge and really tasty.
Pr1mo Tours is the best tour company for outdoors adventure sports. They rent out mountain bikes, e-bikes and organise activities like kayaking in the black hole or joining a tour to Triglav national park. If you have your own car I would recommend taking yourself to locations in Triglav, however if you are relying on public transport or travelling solo, joining a tour for the day is always a fun idea.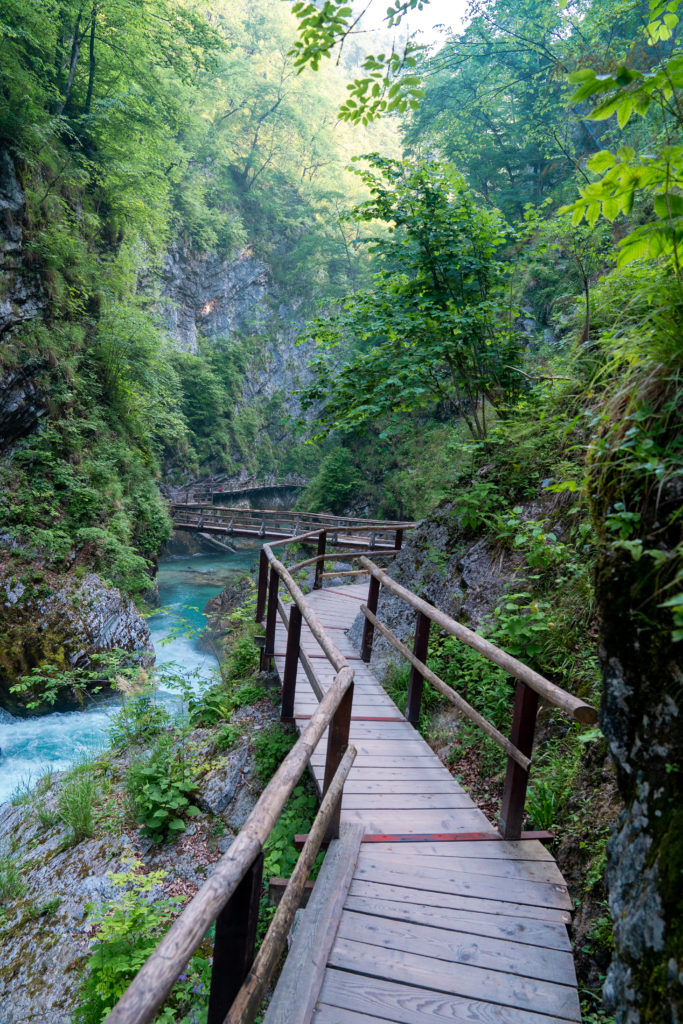 Things to do near Lake Bled
If you are staying in Lake Bled for more than two days you will eventually tire of lake activities and be looking to venture elsewhere (and even if you don't, you should!) There is so much to see in the area beyond Lake Bled, a few are the top highlights:
Vintgar Gorge can be reached in just 10 minutes by car. The gorge is a 1.6 kilometre stretch of water and boardwalks that criss cross their way through the gorge. It is a beautiful place to visit and costs 10 euros.
Triglav National Park is full of great day hikes if you're feeling up for something a little more adventurous. You can self-drive and take your own hike or join a tour like those offered by pr1mo tours (above).
Lake Bohinj is a great alternative to Lake Bled and a much quieter experience. Here you can enjoy al the same lake activities a little further off the beaten path.
Enjoy your visit to Lake Bled!