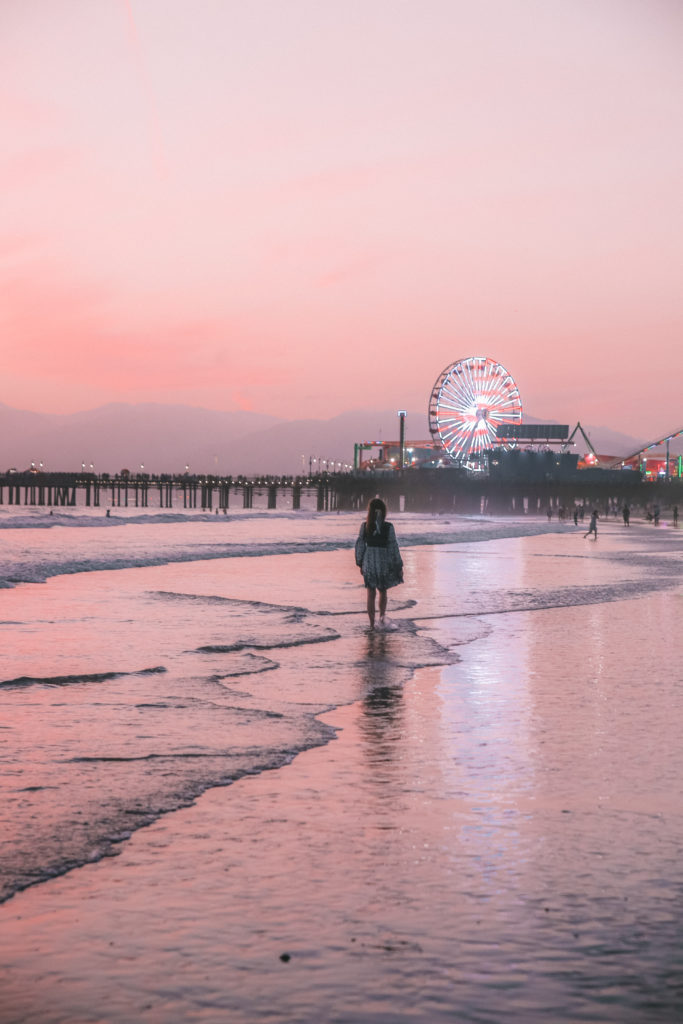 The absolute best beaches in the United States
1. Francis Beach, Half Moon Bay, California
If you're looking to do more than sunbathing, this is the beach for you. Francis beach is located on the south side of Half Moon Bay State Park. Visitors can cycle along the Coastside Trail, surf, or camp on one of the 52 campsites that accommodate RVs, tents, and trailers. Visitors can also ride horses along the numerous trails that surround the beach.
2. Cannon Beach, Oregon
Known for its sprawling shore and stunning view of Haystack Rock, it's no wonder that Cannon Beach has been dubbed one of the world's 100 Most Beautiful Places by National Geographic. It is about an hour and a half from Portland, however, the seaside village has so much to offer– you probably won't want to venture too far away. Cannon Beach is one of America's top art towns, so check out the many art galleries and festivals in town.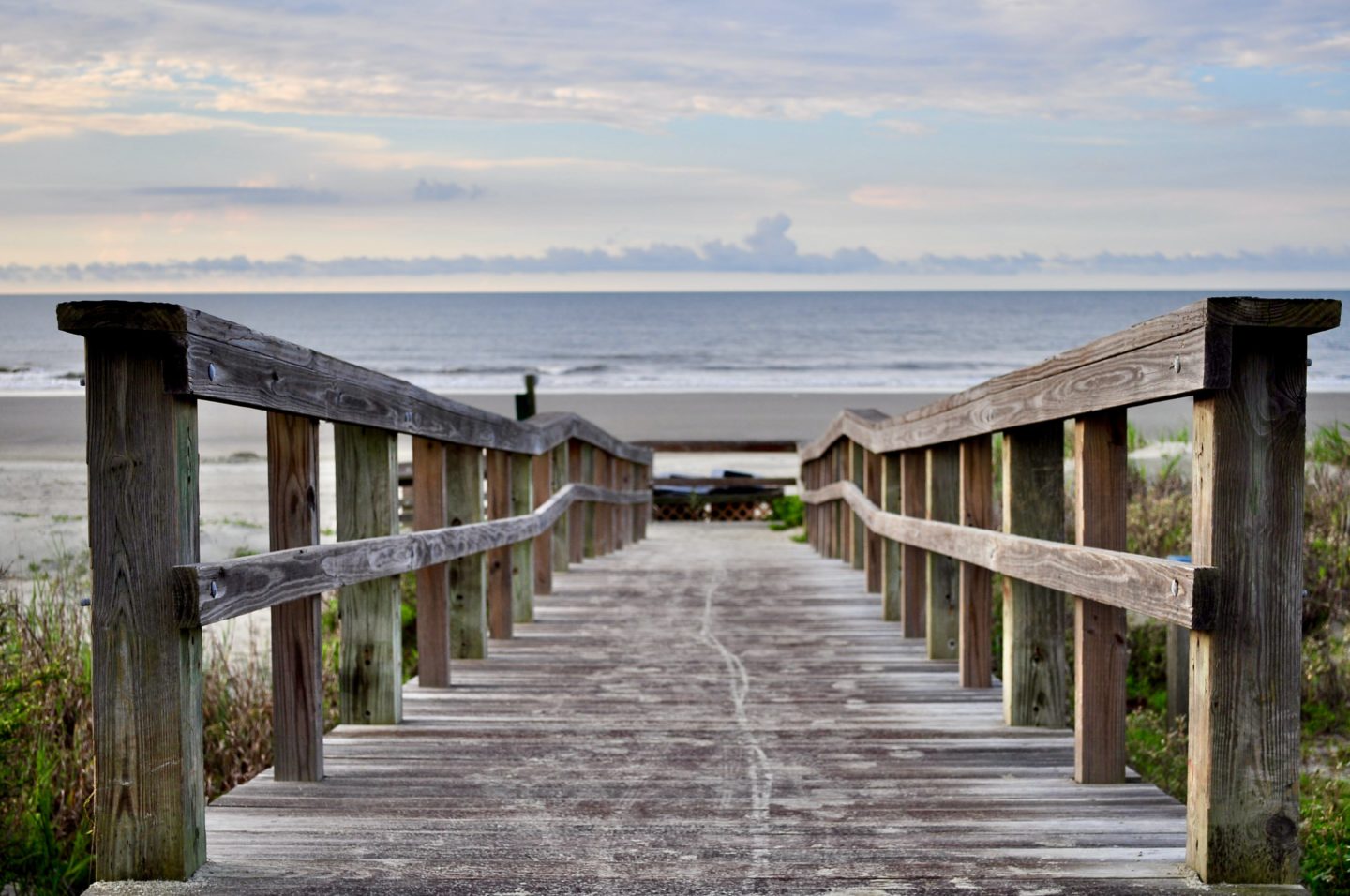 3. Kiawah Island, South Carolina
If you're looking for a quiet beach getaway, look no further than Kiawah Island Beach. The beach stretches 10 miles and is located about 20 miles from downtown Charleston. Since Kiawah is a private gated community, public beach access is located on the west end of the island at Beachwalker County Park. It's an ideal place to soak up South Carolina's natural beauty– Kiawah Island's preserved maritime forests and marshes are amazing for viewing wildlife. Be sure to stop by the award-winning Kiawah Island Golf Resort and the sprawling seaside mansion, The Sanctuary at Kiawah Island which boasts a Forbes Five Stars rating.
4. Twelvemile Beach, Michigan
As you might have guessed, Twelvemile Beach is a 12-mile stretch of sand and pebble shoreline located on a plateau above Lake Superior in Pictured Rocks National Lakeshore. It's very accessible, too– the Twelvemile Beach Campground parking lot and a few stairs will lead you directly to the beach. It's a wonderful place for long walks on the beach. Camp at one of 37 sites along the shore, picnic under the towering pine trees, or stargaze on the dunes.
5. Assateague State Park, Maryland
With over 2 miles of beaches, Assateague State Park is a great place to surf, swim, and sunbathe. As Maryland's only oceanfront park, it's also a great spot to explore– visitors can kayak through the coves along the shoreline or hike through the marsh areas to get a closer look at the wildlife.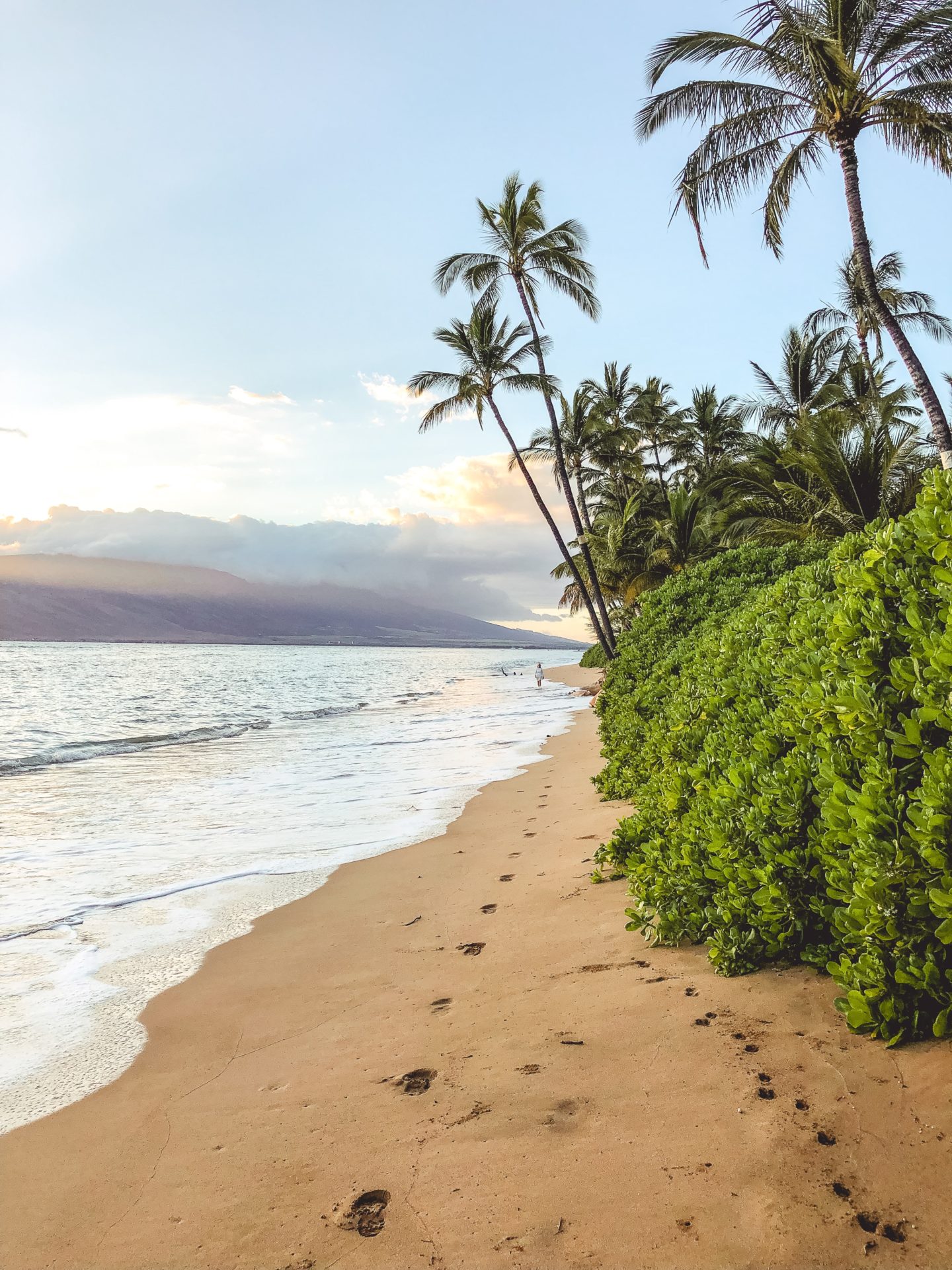 6. Punalu'u Beach, Hawaii
Located directly off of the Mamalahoa Highway on Hawaii's eastern shore, Punalu'u Beach is a must see. A word of warning: consider bringing water shoes because the sand gets hot. The heat from the black sand attracts green sea turtles, so stick around and maybe you'll see some basking in the sun. Ninole Cove, accessible via a path from the parking lot, has amazing snorkeling. You can also follow the same path for a short hike under the towering coconut palms.
7. Sand Beach, Acadia National Park, Maine
Stretching 290 yards, Sand Beach is nestled in between the mountains on Mount Desert Island. Don't be fooled by its name, though. Sand Beach is actually mostly made up of shell fragments. Be warned– the water usually doesn't get warmer than 50 degrees, so if swimming is off the table, check out the various hiking trails that surround the beach. The oceanside trail will lead you past Thunder Hole and Otter Cliff.
8. Spectacle Island, Massachusetts
Spectacle Island is only a 20 minute boat ride from downtown Boston. Take the Boston Harbor Cruises Ferry to the island– tickets tend to sell out quickly so book in advance online. The island itself opens in May and closes in October. While there, be sure to admire the abundance of sea glass that the island is famous for (just don't take it with you). There are also 5 miles of hiking trails and numerous beaches overlooking the Boston skyline.
9. Schoolhouse Beach – Washington Island, Wisconsin
Named after a tiny, wooden schoolhouse that once stood on Washington Island, Schoolhouse Beach is truly unique– the beach is entirely made up of limestone rocks, so be sure to pack flip flops. Washington Island is a short ferry ride away from Door County and is known for its sprawling lavender farms. Pick your own lavender at Fragrant Isle Lavender Farm or head to the gift shop where you'll find extra aromatic soaps and delicious lavender sweets.
10. La Jolla Cove, California
Come for the beach and stay for the wildlife. La Jolla Cove's smooth rocks and sandy beach are ideal sunbathing spots for sea lions and seals. You can also take a guided kayak tour of the Seven Caves where you might spot leopard sharks or sea turtles. Be sure to explore the shops along Prospect Street located in the jewelry district of La Jolla Cove. End the day with a cocktail at George's At The Cove's rooftop bar that overlooks the Pacific Ocean.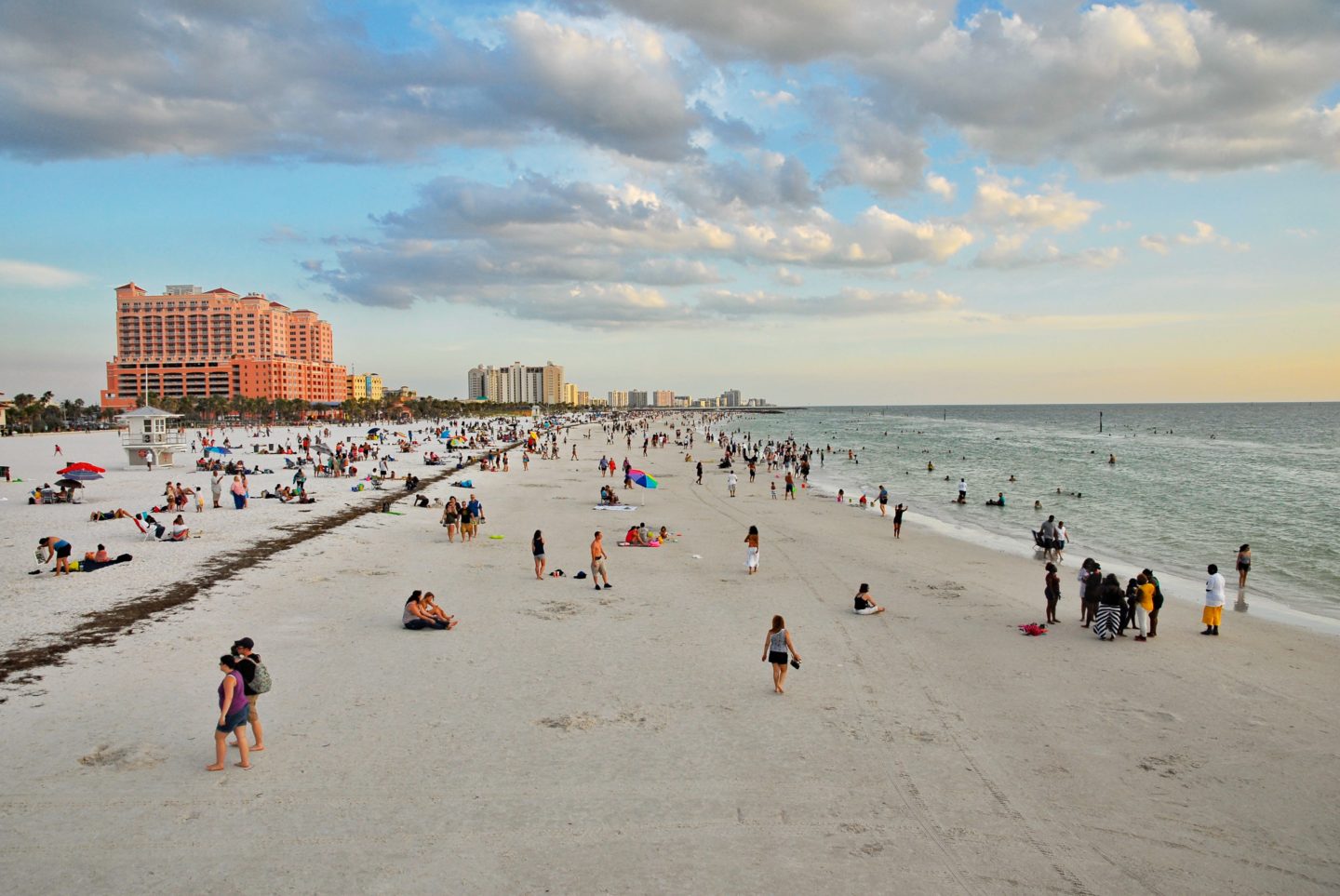 11. Clearwater Beach, Florida
On Clearwater Beach, you'll find the perfect blend of relaxation and excitement. The sandy shores and warm water are the perfect place to lounge in the sun, but there is plenty to see in the small town, too. Visit the artists and musicians at Sunsets at Pier 60 or take a Tiki Boat booze cruise around the gulf. For a bite to eat, Frenchy's Rockaway Grill is the way to go. The restaurant, which was featured on Food Paradise, offers indoor and outdoor dining, as well as live music.
12. Stearns Park Beach, Ludington, Michigan
Stearns Park Beach is one of USA Today Travel's Top 50 Great American Beaches and definitely lives up to the hype. It's ideal for those looking for a little bit of adventure. At the south end of the park, you'll find the Ludington Area Jaycees Mini Golf Course and the Skate Plaza, as well as volleyball nets and open space for grilling. Watch the sunset over Lake Michigan on the North Breakwater Lighthouse pier or grab a bite to eat at the nearby concessions stand (they're known for their deep fried oreos).
13. Pope Beach, South Lake Tahoe, California
Located on State Highway 89, 3 miles outside of South Lake Tahoe, Pope Beach is truly a serene escape. The sandy beach and surrounding pine trees look out over the Sierra Nevada and crystal clear water. Pope Beach is extremely accessible– visitors can hike or bike to the site using the Pope/Baldwin Bike Path. Take advantage of Lake Tahoe's beauty with a scenic helicopter tour and finish the day off with a bite to eat at Sonney's Bbq Shack Bar and Grill.
14. Higgins Beach, Scarborough Maine
Known for its small-town New England charm, Higgins Beach is located in a residential neighborhood dating back to the 1800s. The drive to Higgins is reason enough to visit– located 10 miles from Portland, the winding roads surrounded by towering pine trees are the perfect recipe for a scenic start to the day. The water is perfect for kayaking or fly fishing (a very popular activity at Higgins).
See more on Instagram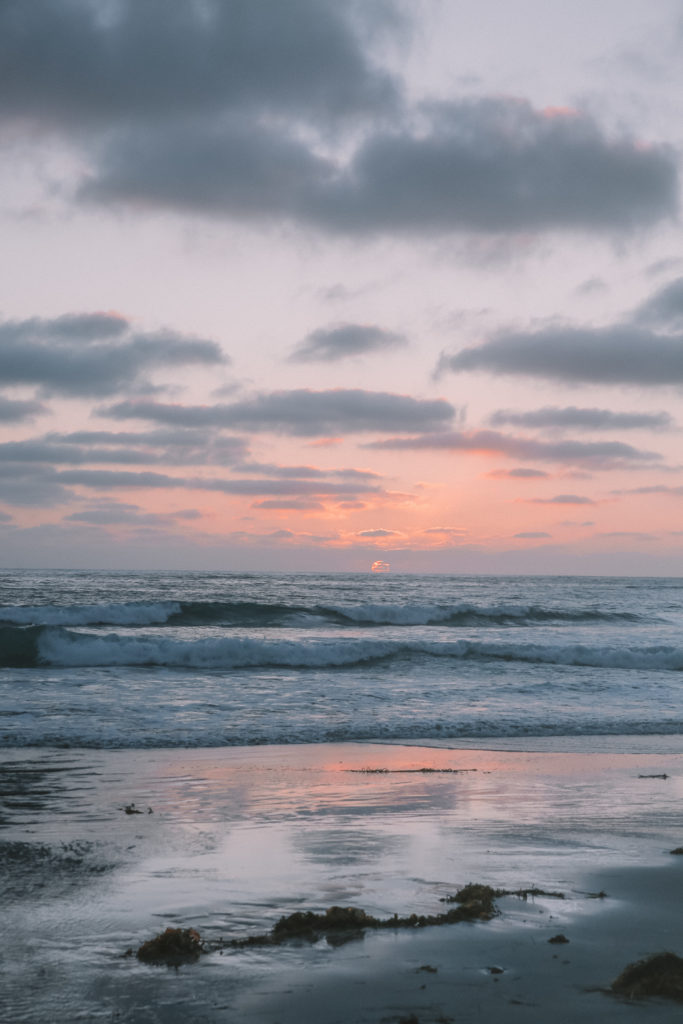 15. South Carlsbad State Beach, California
This 3 mile stretch of beach is popular among divers, surfers, and sunbathers alike. In the summer months, camping is extremely popular here. With more than 200 campsites located on a bluff above the beach, it's no wonder campers are required to book in advance. While in Carlsbad, don't miss The Flower Fields at Carlsbad Ranch, fifty-acres of vibrant flowers overlooking the coastline.
Read more: Your Summer Guide to Encinitas, California
16. Burkes Beach, Hilton Head, South Carolina
Burkes Beach is about an hour drive from downtown Hilton Head, but it's well worth the visit. The quiet, soft white sand beach is easily accessible by bike– paved paths will take you to tennis and basketball courts. Visitors can spot dolphins on a boat tour of Hilton Head or tour the Harbor Town Lighthouse.
17. Mustang Island State Park, Texas
Mustang Island State Park has something for every type of beach-goer, including surfing, geocaching, and camping. Explore Corpus Christi Bay by renting a kayak and paddling the Mustang Island State Park Paddling Trail, which goes along the western coastline. The 20 miles of trails are great for viewing wildlife, especially coastal birds and turtles. Kick back and stay the night at one of the many campsites and sunbathe on the white sand.
18. Turner Beach, Florida
Located past the bridge to Captiva, Turner Beach is famous for its sunsets and shelling. The rock jetty is great for fishing or stargazing. Visitors can swim, however, the currents are relatively strong, so swim with caution. Across the bridge, there are numerous beachside pubs– the Mad Hatter and Lazy Flamingo are two of the top rated restaurants in the area.
19. Mohegan Bluffs: Block Island, Rhode Island
New England charm at its finest. With only one grocery store and no chain restaurants, cozy inns and quaint boutiques make up Block Island, which is about an hour ferry ride from Rhode Island. The sheltered beach located at the bottom of the Mohegan Bluffs looks out over the misty Atlantic Ocean and is set against vast clay cliffs. The journey to the beach is pretty demanding, 141 steps, to be exact, but the views are truly unmatched.
Read more: Visiting Newport Rhode Island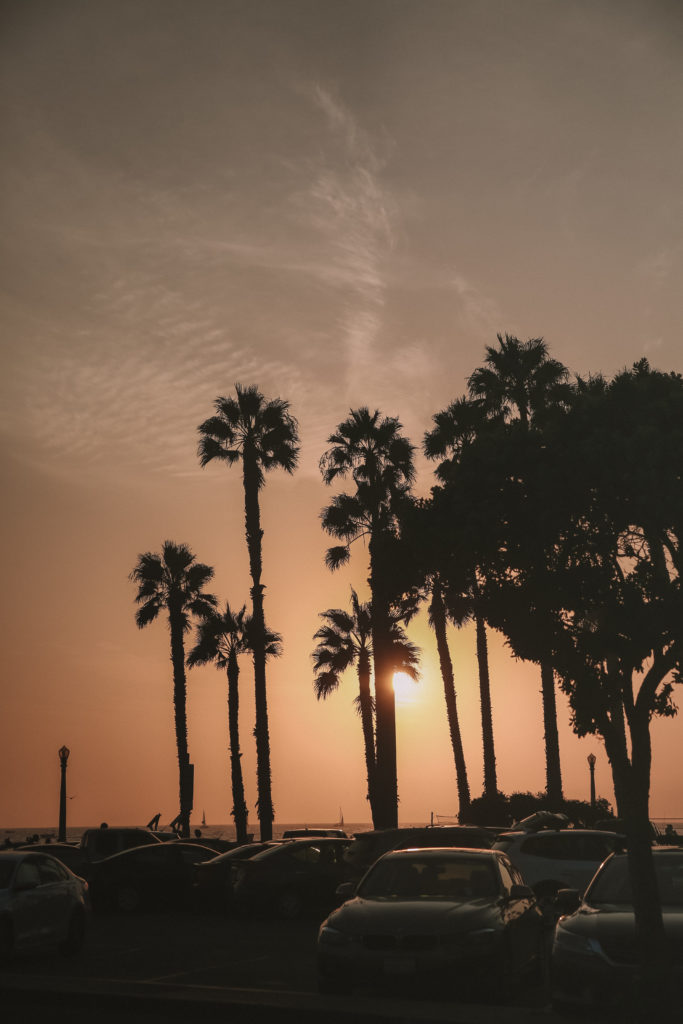 20. Venice Beach, California
Known for the eccentric beachfront boardwalk, Venice Beach is ideal for those looking for a break from sunbathing. On the boardwalk, listen to musicians, watch street performers, or join the drum circle that plays daily on the beach. Grab something to eat at one of the many food trucks that line the boardwalk and visit Abbot Kinney Boulevard's high end galleries and boutiques. The Mosaic Tile House, a home covered entirely in mosaics and tiles, is a must-see.
Read more: How to Spend a Weekend in Venice Beach
21. Old Orchard Beach, Maine
There's a lot to appreciate about Old Orchard Beach. On the 7-mile stretch of sand, visitors will undoubtedly find a diverse array of activities. The Old Orchard Beach Pier is a great place to shop, eat, and drink. On shore, the Palace Playland amusement park has a ton of rides and arcade games (and, yes, even a Ferris wheel).
22. South Beach, Miami, Florida
Miami is known for its glittery nightlife, Art Deco architecture, and sandy beaches– naturally, visitors will find all of the above on South Beach. It may be crowded, but the beach is still a great place to tan and swim in the warm water. Visitors can brush up on their Art Deco history with a walking tour or shop around the outdoor Lincoln Road Mall, which offers a wide variety of restaurants and bars.
23. Coast Guard Beach, Massachusetts
Dubbed the "Great Beach" by Henry David Thoreau, Coast Guard beach lives up to its title. The beach is named for the Coast Guard building located on the dune above the beach. With over 20 miles of shoreline, the soft sand and calm waters provide the perfect place to relax. From Memorial Day through mid-September, visitors park in the Little Creek parking area where a shuttle provides transportation to the beach. Visitors can visit the Lobster Shanty for a classic New England lobster roll or go antiquing in one of the many shops in Eastham.
24. Driftwood Beach, Jekyll Island, Georgia
Unsurprisingly, Driftwood Beach is named after the massive driftwood trees that line the shore. The coiled branches and famous pastel sunsets make for amazing photos. There is plenty to do on Jekyll Island, too. Visitors will find moss-covered trees, quaint cottages dating back to the 1800s, and towering sand dunes that make the island worth a visit. After a day of exploring, head to Fuse for froyo.
This post was written by our US contributor, Eleanor Jane Batten.