It is no secret that Australia is full of incredible locations. A land of natural beauty and extreme contrasts, there is something for everyone. Whether you prefer a luxurious oceanside escape or a digital detox in the desert landscapes, there really is no shortage of luxury lodges in Australia. So if you're looking for inspiration to plan your next trip, look no further than our top picks for the best luxury accommodations throughout the country.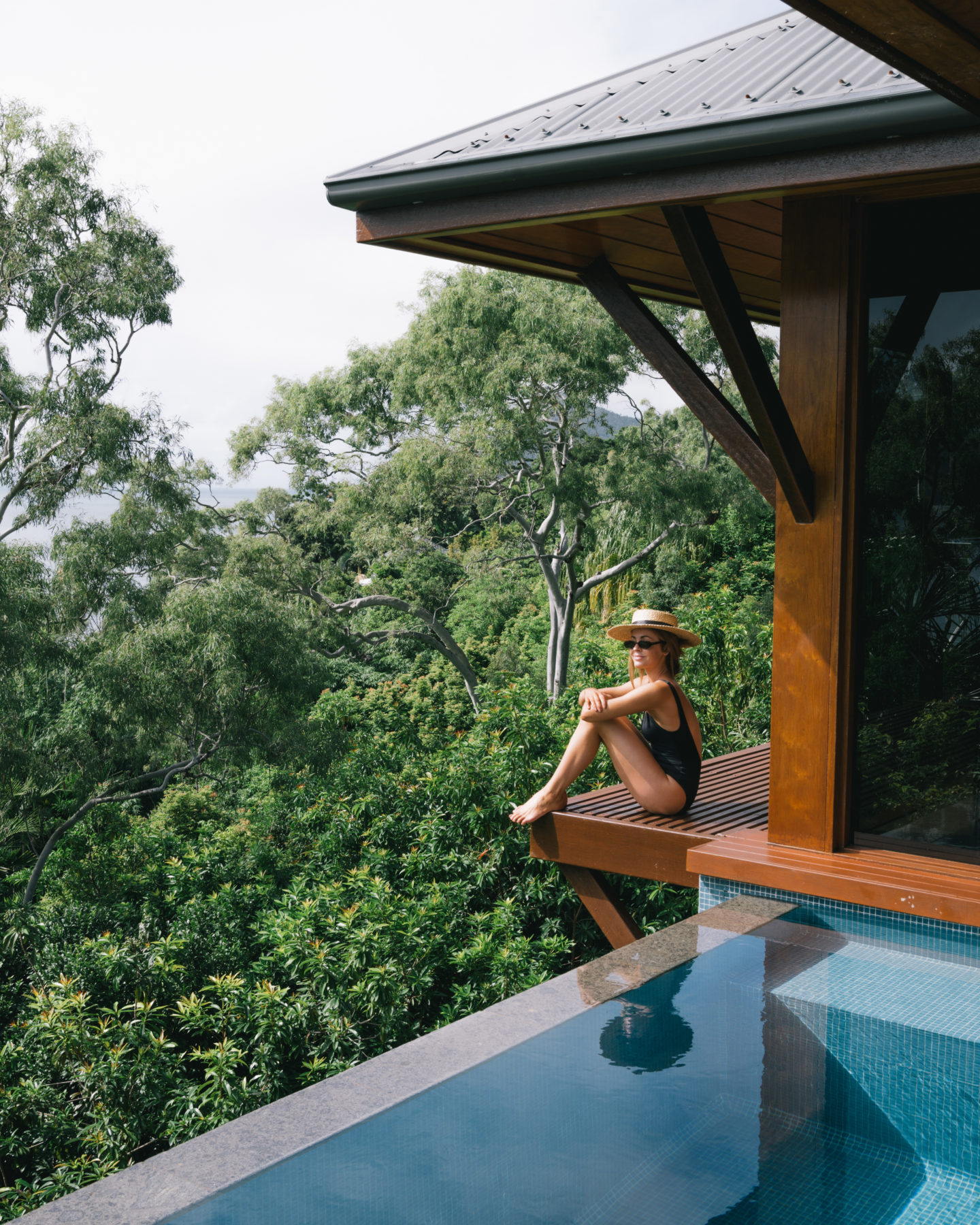 Qualia, Queensland
Surrounded by the Great Barrier Reef and all of its beauty, there really is nowhere that quite compares to the exclusive Qualia resort on Hamilton Island. Situated at the northern tip of the island, Qualia has become synonymous with a luxury island escape and as such, has quickly made a name for itself in being one of Australia's most exclusive luxury lodges. With private pavilions nestled into the natural landscape, you'll really feel as if you have these incredible views all to yourself. Some of the pavilions also come with private pools, which will give you all the reasons to stay inside your villa and soak up the sunshine from the privacy of your oversized deck.
Location: Hamilton Island, Queensland
Nearest airport: Hamilton Island
Number of rooms: 60
Visit the website
Lizard Island, Queensland
After a one hour scenic flight over the Great Barrier Reef from Cairns, you will arrive at the incredible oasis that is Lizard Island. This is without a doubt one of the most isolated lodges in our line up, which gives you all the more reason to book a stay here if you're in need of an escape from reality. Being the only resort on the island, guests are afforded extreme privacy. There are a total of twenty-four pristine white sand beaches to explore, so you can rest assured you will never feel crowded on the island. Plus, you can snorkel right off any one of the beaches and enjoy the Great Barrier Reef right at your fingertips.
Location: Great Barrier Reef, Queensland
Nearest airport: 1 hour scenic flight over the Great Barrier Reef
Number of rooms: 40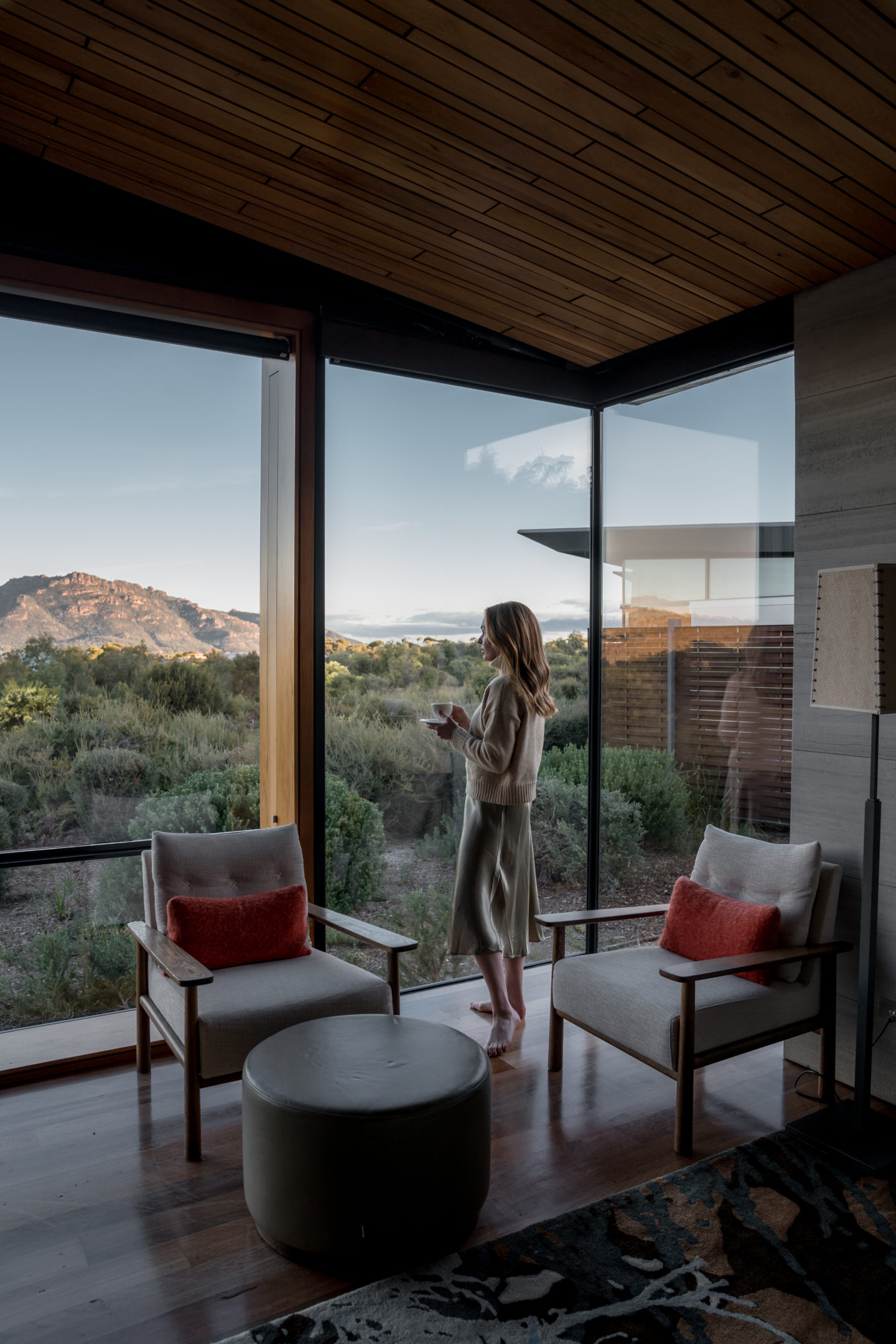 Saffire, Tasmania
Over on the East Coast of Tasmania lies the most exclusive lodge on offer and one the most incredible settings to match. With a backdrop of the Hazards, Saffire at Freycinet is one of the most scenic lodges in the entire country. But it doesn't stop there. The food philosophy at Saffire Tasmania is to take guests on a gastronomic journey through some of the foods the island is most famous for. So you can expect plenty of seafood delicacies included throughout your stay, as well as freshly harvested fruit and vegetables, famous local leatherwood honey and of course a generous selection of Tasmanian wines. If you're looking for an all-inclusive lodge that takes care of everything from start to finish, this is one for the books. Just be sure to book in advance as this is currently one of the most sought after stays in Australia.
Location: Freycinet, Tasmania
Nearest airport: Hobart
Number of rooms: 20
Capella Lodge, New South Wales
As one of the smallest lodges in our lineup of the best luxury lodges in Australia, Capella Lodge is an idyllic island dream. You can expect privacy, seclusion and a hands-on approach to ensuring guests' needs are met and exceeded throughout their stay. Best of all, the lodge is tucked away in the dramatic Lord Howe Island, one of Australia's best kept secrets. The island is home to an array of day hikes, ranging in difficulty, so be sure to make the most of the adventures on offer on land. Elsewhere there is plenty to see and explore underwater, rounding out this lodge as one of the best Australia has to offer.
Location: Lord Howe Island, New South Wales
Nearest airport: Lord Howe Island (2 hour flight from Sydney)
Number of rooms: 9
Arkaba, South Austalia
Nestled in an ancient landscape with millions of years of history and geological activity, Arkaba is the Flinders Ranges crowning jewel. This incredible landscape is where your worries come to escape you, as you'll be sure to leave feeling more connected to nature than ever. The lodge offers accommodation at the homestead or if you're feeling adventurous you can embark on a multi-day trek throughout the conservancy. The land was once used as an old farming station, but has now been restored to is more natural beauty with a focus on conservation and connection to the land. So if you're wishing to escape the daily grind, this is one of the best lodges in Australia to do so in an authentic and unforgettable way.
Location: Flinders Ranges, South Australia
Nearest airport: Port Augusta
Number of rooms: 5
Pretty Beach House, New South Wales
With just four private pavilions on offer, Pretty Beach House is the smallest and thus most curated guest experience on offer. You can expect to be looked after from the moment you arrive, with a small team that are always on hand to ensure guests have an unforgettable experience. But what we really love about this lodge is the recognition and respect for the traditional custodians of the land. As you arrive, guests are greeted by a traditional smoke ceremony with song, dance and dreamtime stories told by an elder. This experience is truly grounding and will leave you feeling more connected to the land we know today as Australia.
Location: Pretty Beach, New South Wales
Nearest airport: Sydney airport (90 minute drive)
Number of rooms: 4
Longitude 131, Northern Territory
Located in the heart of Australia, Longitude 131 is the most incredible lodge to base yourself for visiting Ayers Rock (Uluru). This lodge is not only situated at the nation's spiritual heart, but will also make sure you leave knowing more about the sacred land of which you are visiting. The desert backdrop is the perfect excuse for some stargazing under the dark sky reserves, completed with a gastronomic menu that will leave you feeling inspired by the simplicity of our nation's most prized produce.
Location: Ayers Rock (Uluru), Northern Territory
Nearest airport: Ayers Rock (15 minutes drive)
Number of rooms: 16
Emirates One&Only Wolgan Valley, New South Wales
If a countryside retreat is more your style, look no further than Emirates One&Only in the Wolgan Valley, a 2.5 hour drive northwest of Sydney. Set on 7,000 acres of a conservation and wildlife reserve, you can rest assured you will feel a world away from reality despite the convenience of being just a drive from Sydney. The lodge itself occupies just one percent of the land mass, so you can bet on spending a lot of your time outdoors in nature, making the most of the surrounds. Each of the forty free-standing villas boasts its own private pool, double-sided fireplace and private verandah, making this one of the most iconicly Australian escapes on offer.
Location: Wolgan Valley, New South Wales
Nearest airport: Sydney (2.5 hours drive)
Number of rooms: 40
Sal Salis, Western Australia
If you can't decide between the outback and the reef, you won't have to if you choose to stay at Sal Salis in the Ningaloo Reef of Western Australia. This lodge is set on the backdrop of the World Heritage listed Cape Range National Park, overlooking the World Heritage listed Ningaloo Reef. And with so much determination to protect the environment, you better believe it is a backdrop worth protecting! Expect the ultimate glamping accommodation on offer, with wilderness tents that are designed to blend in to the dunes. But as this is a list of luxury lodges in Australia, you can rest assured there will be a hot shower on offer each evening as well as a lounge, bar and library to kick back and take in the epic views.
Location: Ningaloo Reef
Nearest airport: Exmouth (Plus a 1.5 hour drive)
Number of rooms: 16