Whilst in Vancouver recently I was on a bit of a mission to eat my way around the city's most inviting and intriguing vegetarian/vegan restaurants. Having been vegetarian for a little more than 10 years now, I've become quite comfortable and accustomed to eating vegetarian meals abroad, though over the past 12-18 months I have noticed a huge increase in the popularity of veggie restaurants popping up all over the world. Vancouver was one such city where the veggie revolution seems to have taken off in full force. So here you have it, my top picks for where to eat vegetarian and vegan in Vancouver!

The best vegetarian and vegan restaurants in Vancouver
The Acorn
As far as creative vegetarian fare goes, The Acorn is not only one of the best vegan restaurants in Vancouver, but one of the best in the world. And believe me, I have tried a few. The ambience of the restaurant was sophisticated but casual and you could immediately see this was the perfect spot for a date night. The menu itself had enough options to leave me indecisive and as a picky eater that is not always an easy task! After much deliberation I ordered a delicious green pea soup for entree, wild mushroom tart for main and a ridiculously tasty salted caramel apple cannoli for dessert. All were delicious and I somehow left nothing on my plate – would totally recommend!
The Acorn | 3995 Main Street
Virtuous Pie
My second favourite restaurant from my time in Vancouver was surprisingly a vegan pizzeria, and I use the term surprising because I wasn't quite convinced prior to my visit that pizza could actually exist without cheese. I stand corrected. The flavours of pizza on the menu were creative but well put together, with the likes of truffles and falafel featuring. If you're after something more casual and laid back, this would be my pick.
Virtuous Pie | 583 Main Street
Heirloom
If you're looking for colour on your plate in terms of veggies and lots of them, head on over to Heirloom for a not-too-fancy but also not-too-shabby night out. This place has been around for years and is really popular with locals so you can't really go wrong. Heirloom is located near Granville Street so be sure to check it out when you're up that side of town!
Heirloom | 1509 W 12th Avenue
The Naam
As for late night munchies you can't go wrong with a quick trip to The Naam. These guys have been 'doing' vegetarian since before it was a thing and that has noticeably given them time to perfect their craft. Delicious, no-fuss, quick and easy veggie comfort food.
The Naam | 2724 W 4th Avenue
The Wallflower
So there's one reason I will send you to the wallflower and if you do choose to go, you absolutely cannot go without trying the vegetarian poutine. For those newbies to Canada, poutine is a local delicacy from the Quebec region that has since made its mark all over Canada. So what is it exactly? Hot potato chips covered in gravy and cheese curds. This is one of the few places I can guarantee you vegetarian AND vegan poutine. Don't miss it!
The Wallflower | 2420 Main Street
Other great Restaurants serving Vegetarian Options: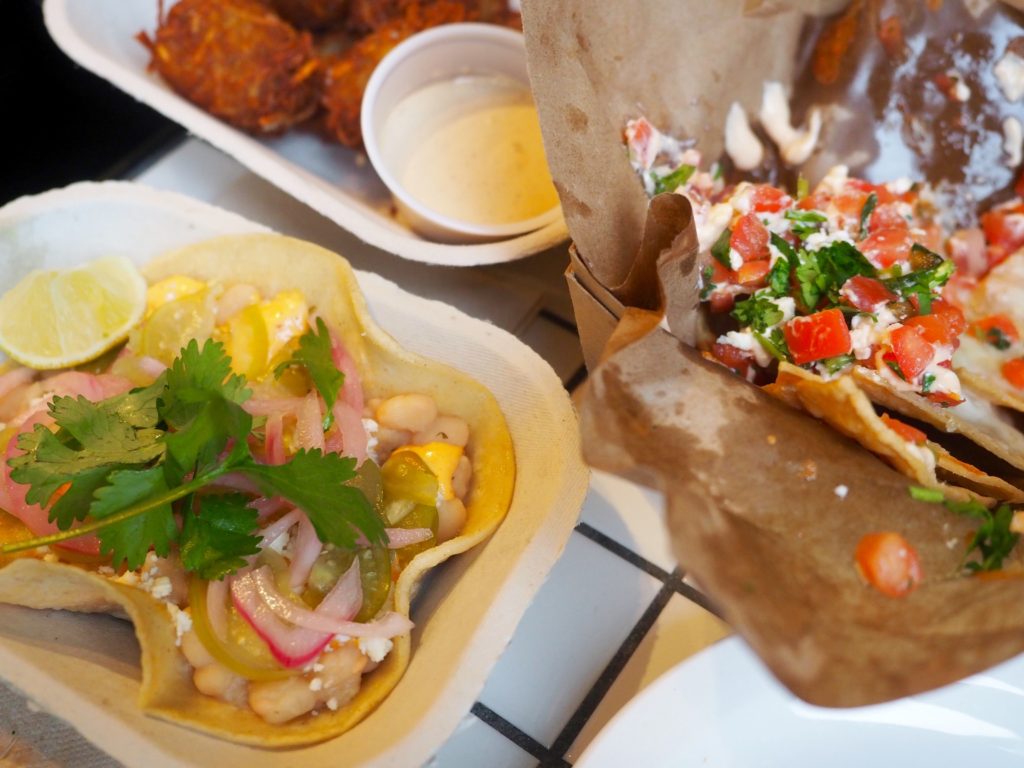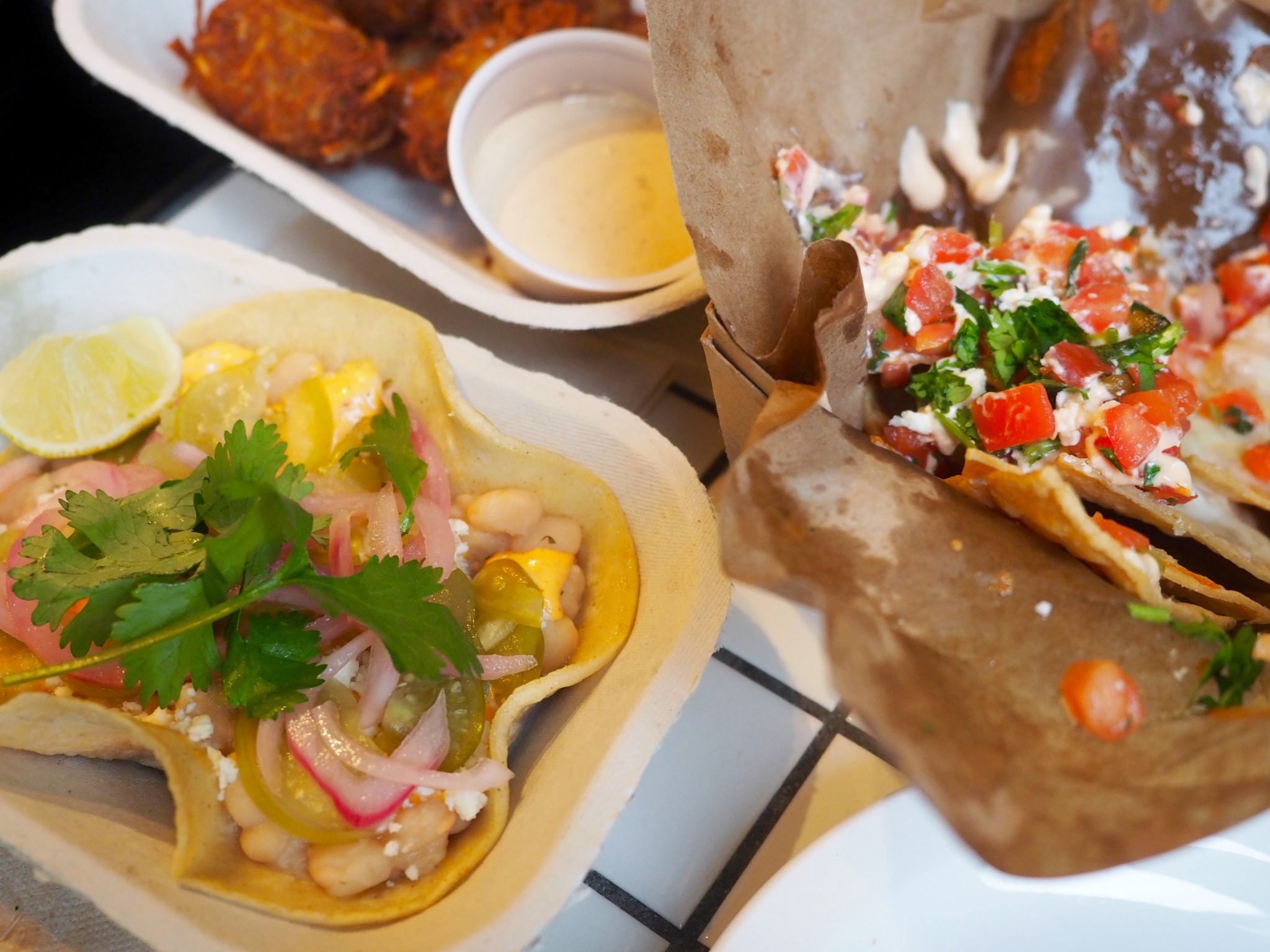 Tacofino
You just can't go to Vancouver and not go to Tacofino: this place is insane! Expect some of the best tacos you will ever eat in your life and some pretty alright burritos too (you can see where my tastebuds lie). The food is so delicious you can almost guarantee you'll roll right out of there afterwards, so be sure to arrive hungry.
Tacofino | 15 W Cordova Street
Cafe Medina
If you've got a sweet tooth (like me) then you absolutely must make time for the waffles on offer at Cafe Medina. This is not only your chance to over-indulge but also a prime opportunity to eat maple syrup in its' motherland. Go on, you know you want to!
Cafe Medina | 780 Richards Street
Forage
As one of the cities' most talked about restaurants, vegetarians and meat eaters are both guaranteed to have an outstanding eating experience at Forage. All of the food that makes it to your plate is locally sourced fresh produce, so you'll not only enjoy the taste but also feel good afterwards!
Forage | 1300 Robson Street
A huge thanks to Visit Vancouver for welcoming me to experience the city! I flew to Vancouver with Air New Zealand as part of their new destination launch, direct to Vancouver!