By way of safaris and particularly so when considering a journey through South Africa, the name Singita carries a lot of weight. In this country, it could be said Singita is the epitome of luxury safari lodges. And so when I was invited to review Singita Boulders in the Sabi Sands, of course I was excited! Commonly regarded as the leading luxury safari operator in the country, Singita has built a name for themselves by providing an uber-luxe safari experience with added perks such as their own fly-in airstrip, all-inclusive rates with gastronomic three-course meals, an enviable wine list (and wine tasting nights!) and so much more. Read on for my full review of Singita Boulders.

Singita Boulders Review
As one of the most popular lodges in the collection, Singita Boulders is a unique South African experience, completely decked out in local materials and decor, but with a contemporary approach. For those preferring a more traditional (colonial) style of decor, check out Ebony lodge by Singita, located just next door.
Each of the suites at Boulders features its' own private plunge pool and guests have the option to face the riverfront or a bush suite, which I preferred for the exceptional wildlife viewing on display right from the comfort of my pool lounger!
To say the rooms are oversized would be a significant understatement, as each room features a vast open-plan living space, oversized bathroom, tub, shower, outdoor shower… the list is endless!
Mini bars are stocked with light snacks, alcoholic beverages and a nespresso machine, though with your butler just a phone call away, its hard to imagine how one could go hungry (or thirsty) in a setup like this!


Singita's Gastronomic Approach to Food & Wine
Of all the safari lodges I have visited throughout Africa I have noticed Singita's strongest advantage is their commitment to exceptional gastronmic meals and pairing said experience with fantastic South African wines.
Breakfast can be enjoyed in the comfort of your room or inside the main restaurant at the lodge, where a cold buffet is served alongside an a la carte menu for hot food items. Lunch is then served during the day on the outdoor terrace, overlooking the river with exceptional views of wildlife down below.
Dinner is indeed the highlight of meals for the day, with a broad range of choices on offer for a three-course a la carte meal, complimented with matching wines. During your stay be sure to ask if there will be a wine tasting before dinner on one of the evenings, as this is a great chance to build your knowledge and repertoire for local South African wines.

.
Sabi Sand Game Reserve & Wildlife Viewing
Choosing to embark on a safari in the Sabi Sand Game Reserve is almost a guaranteed ticket to a Big 5 sighting and can easily occur on day one in the bush. There is plenty of wildlife to discover in Sabi Sand – including all the cats, elephants, giraffe, zebras, and rhino. I was really pleased to hear how dedicated Singita are to wildlife conservation and rhino protection, with a large operation taking place to prevent and poaching occurring on the property (successfully, also!)
Read more: Africa's Best Hotels

Which Singita Should You Visit?
Singita have opened lodges across Southern Africa. Recently, they even opened a lodge in Rwanda. If you're looking for an original safari experience, consider the South African camps.
I would suggest Boulders for a first-time safari-goer; Ebony for a more colonial interior decor style; Sweni for a tree-house vibe; and Lebombo for modern contemporary vibes and a beautiful pool area.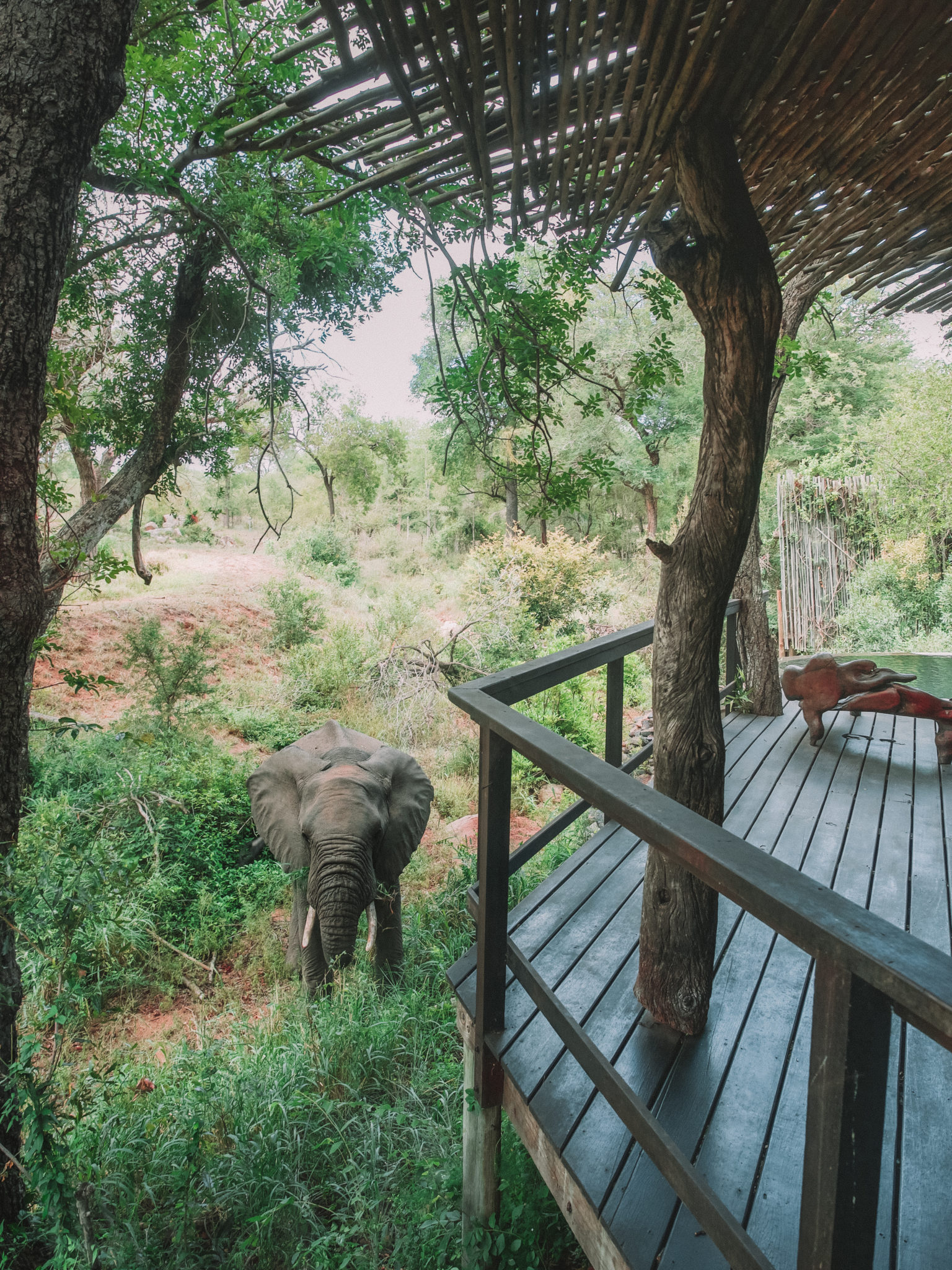 When to visit: There's no bad time to go on safari. However, a visit during winter is preferable, from April through September. My personal preference is to go in the shoulder season to beat the crowds. February and March are great months for this!
How to get there: From Johannesburg, book a Federal Air Flight directly to the Singita airstrip. These are small commercially operated planes and the flight time is approximately one hour.
Price: Approximately $2,500 AUD per person, per night.
.
A huge thanks to Singita for welcoming me back to experience Boulders Lodge in South Africa! All opinions and photos are my own.