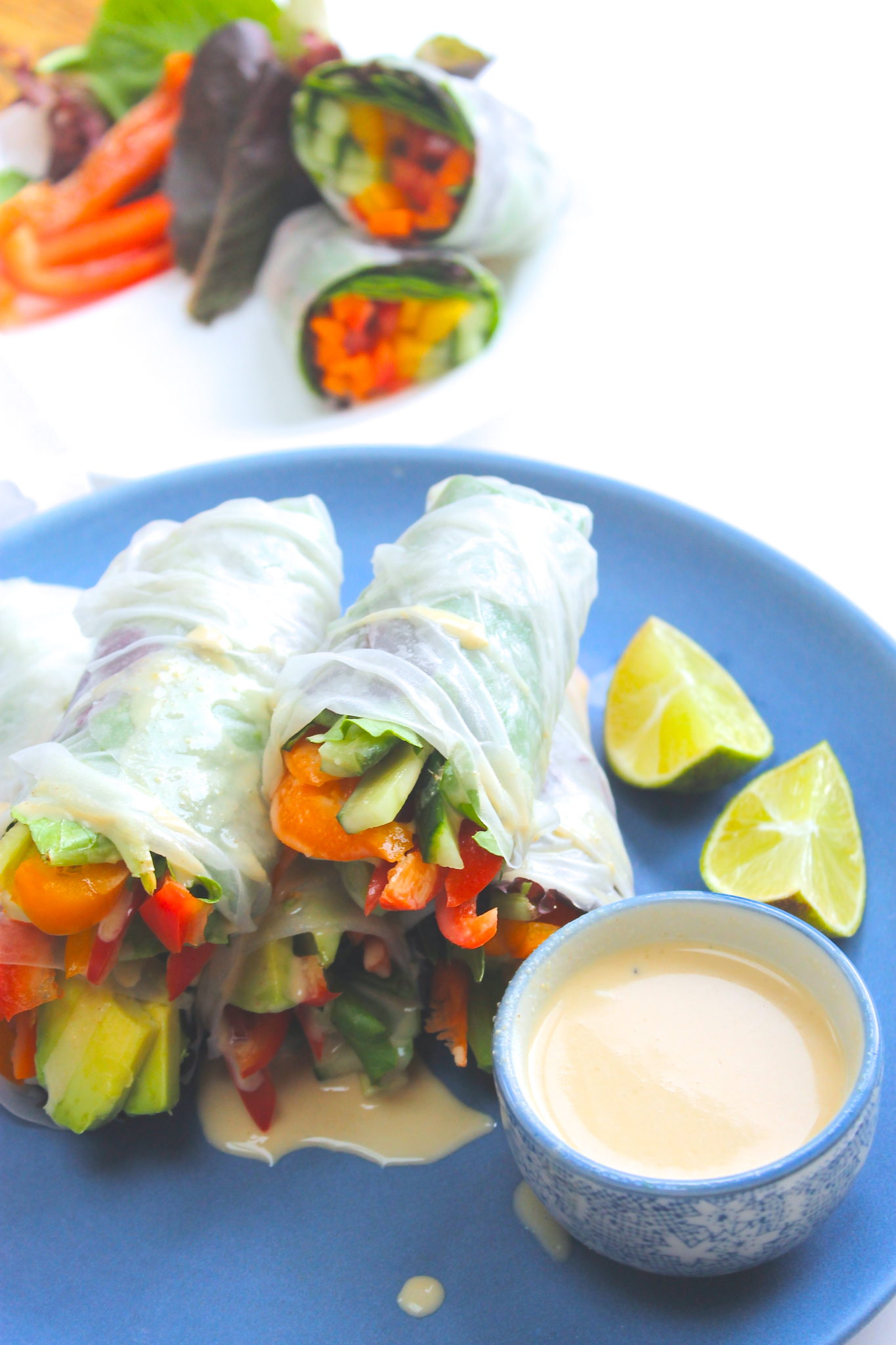 Vietnamese Summer Rolls with Peanut Dipping Sauce
Author:
Prep time:
Total time:
Fresh summer Vietnamese rolls – filled with all the good stuff and no preservatives!
Ingredients
For the Summer Rolls:
5-6 rice paper wraps
2 large handfuls of mixed greens
1 red bell pepper, thinly sliced
1 orange or yellow bell pepper, thinly sliced
1 handful of long, thinly sliced cucumber slices
1 large carrot, thinly sliced
1 avocado, thinly sliced
A few pieces of fresh basil
More optional fillings: mango slices, purple cabbage slices, rice noodles, cooked prawns
For the Thai Peanut Dipping Sauce:
2 tsp all-natural peanut butter
1 tsp coconut aminos, soya sauce or tamari
1/4 cup coconut milk
The Juice of 1 small lime
A sprinkle of chilli flakes and dried ginger
Instructions
Take a rice paper wrap and hold it under the tap under running hot water for about 5-10 seconds, until just soft. Lay the wrap down on a flat surface, like a cutting board. Lay the wrap flat and make sure to be gentle to avoid small holes or tearing. About 1-2 inches from the bottom of the wrap, layer a few mixed greens, a few slices of eat veggie and a piece of basil. Start by rolling from the bottom, tucking in each side of the wrap and holding tightly until fully wrapped. This may take a few practice tries before you get it right, just be patient! For the Thai Peanut Dipping Sauce, blend all ingredients in a blender or shake it up in a jar. Dip the rolls into the sauce for a delicious lunch or snack!
Enjoy fresh.
Recipe + Photos by WOW Foodie Contributor Sisley Killam.