If you are planning a visit to Joshua Tree, you've come to the right place. As far as vintage shopping in Joshua Tree goes, you will be spoiled for choice in the Yucca Valley. This is a neighbourhood where vintage reigns supreme and second-hand goodies are just that – the goodies! Here's our complete guide to help you make the most of your time in Joshua Tree.
Vintage Shopping in Joshua Tree
Hoof and the Horn
We'll start with our favourite find for vintage-meets-new shopping styles at the gorgeous boutique named Hoof and the Horn. This boutique is adjacent to our favourite cafe in town (Frontier Cafe) and has a wide range of clothes, accessories, jewellery and small trinkets to take home as a token from your trip.
Address | 55840 Twentynine Palms Highway Yucca Valley
Funky & Darn Near New
If you want to go full vintage and get your hands on a fab find, then head along the street for a short walk to Funky and Darn Near New. This vintage store is a curated selection of desert boots, quirky prints and playful accessories for the ultimate "I just landed in Joshua Tree" outfit styled head to toe.
Address | 55812 Twentynine Palms Highway Yucca Highway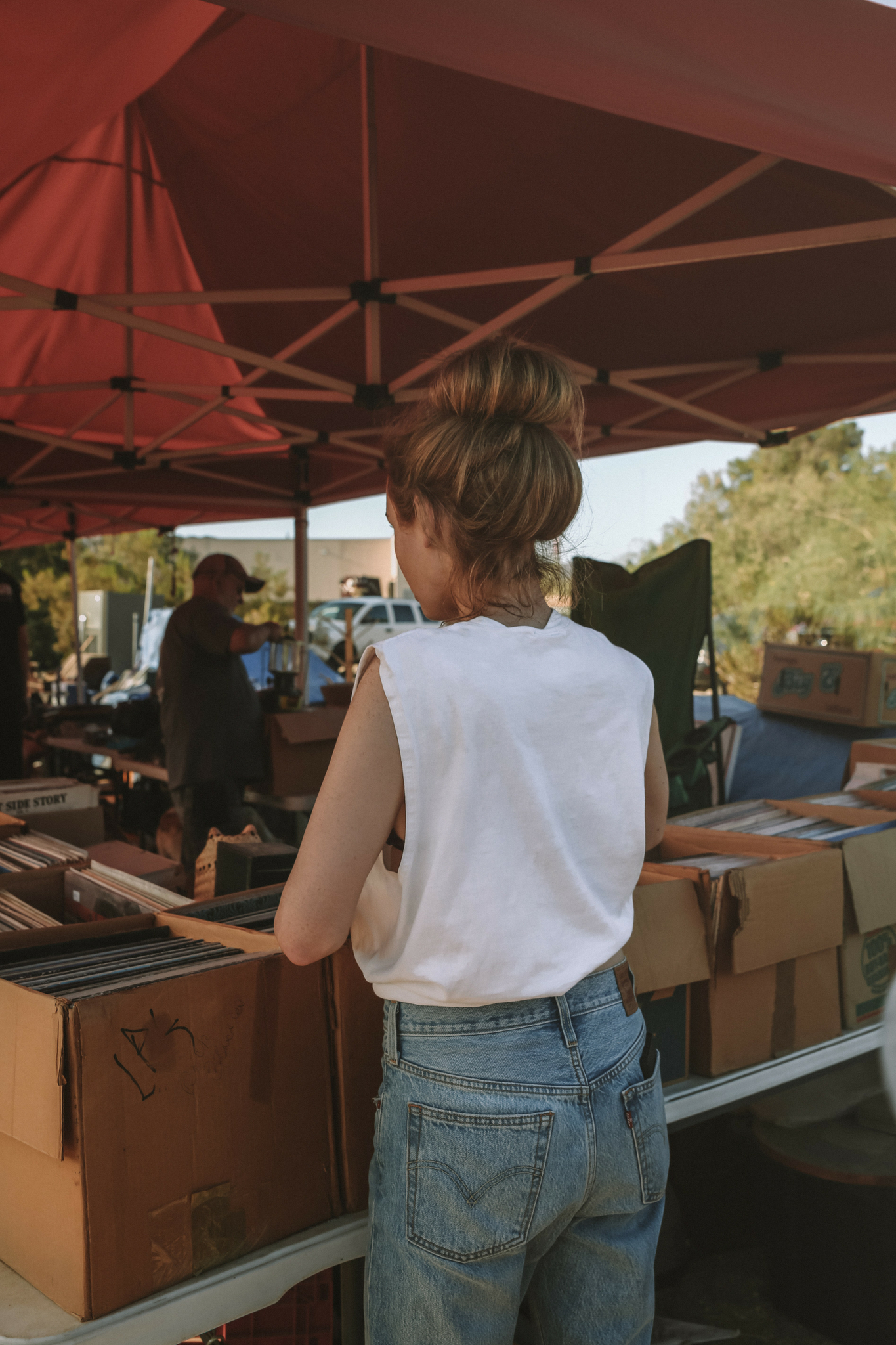 Sky Village Swap Meet
If you chance your visit to Joshua Tree on the weekend, then you absolutely cannot miss the chance to score a bargain at the local Saturday swap meet. Prices are low and there are hidden treasures among the trash, so long as you've got the patience to pursue a bargain and arrive before the heat of the day! We recommend arriving around 6:30 am to get the best bargains and be finished before the sun starts to set in.
Address | 7028 Theatre Road, Yucca Valley
Pioneer Crossing Antiques + Adjacent Record Store
If you're looking for small treasures and quirky furniture/homewares, then head over to Pioneer Crossing Antiques. This is one of the most notable antique stores in town. Next door you will find a record store that also houses comics and slogan t's from the present.
Address | 55854 Twentynine Palms Highway, Yucca Valley
Moon Wind Trading Co
Although it is a bit of a trek out of town, a visit to Moon Wind Trading Co is totally worth your while. This beautiful store is home to crystals, fine jewellery, homewares and a small selection of clothes – both old and new.
Address | 1141B Old Woman Springs Road, Yucca Valley
The End
Another great pit stop a little out of the way but also worth the drive is The End, a curated vintage store with plenty of trinkets and treasures. A self-described "colourful vintage oasis" in the Mojave Desert, The End is frequented by true vintage collectors in the area of Joshua Tree and nearby Palm Springs.
Address | 55872 Twentynine Palms Highway, Yucca Valley
Happy vintage hopping!