I've always wanted to visit Canada. I mean, what more is there to say? No one would pass up the opportunity to venture out into the iconic wilderness – complete with epic landscapes, bears, moose, and endless hiking trails at your finger tips. But I also wanted to experience some of the Canadian culture, such as trying maple syrup in its motherland, finding out what Poutine is, and watching an ice hockey game (sadly not in season during my summer visit). Of course, I couldn't fit nearly all of this into a 2.5 week trip, so I'm hoping to come back soon to tick off my ultimate Canada Bucket List further. Here's what made the list to guide you on your first time in Canada:
1. See a Glacier (CHECK!)
A visit to Kluane National Park is special for many reasons, but arguably the best way to experience it is to hitch a ride on a glacier flight over the park, as mountains and glaciers dominate the expansive National Park in the Yukon region, in the Northwest of Canada (to visit: fly into Whitehorse and drive to Haine's Junction).
2. Canoe on the lake (any lake)
Water activities on the lake (and by 'the' lake, I mean any lake), are near enough to an institution in Canada. Summers are typically spent out on the lake with family or friends, kicking back, and taking in the scenery around you.
3. Visit Banff National Park
Banff National Park is probably the most beautiful of all the National Parks in Canada – with crystal blue waters, an expansive mountain range, and the most picture-perfect landscape you ever did see!
4. Calgary Stampede
Whilst visiting Banff, be sure to make your way over to Calgary and if you can, time your visit to include attending the famous Calgary Stampede, an annual rodeo show held every July in Calgary, Alberta.
5. Visit Montreal, the home of Cirque du Soleil
If you have an appreciation for the performing arts, you will have heard of the highly renowned Cirque du Soleil – the world's most famous and successful circus. The shows are all created in Montreal where the Cirque troop is based, before heading off to tour the world. If you're in town when a show is in local previews, you'll be one of the first to see a new Cirque show!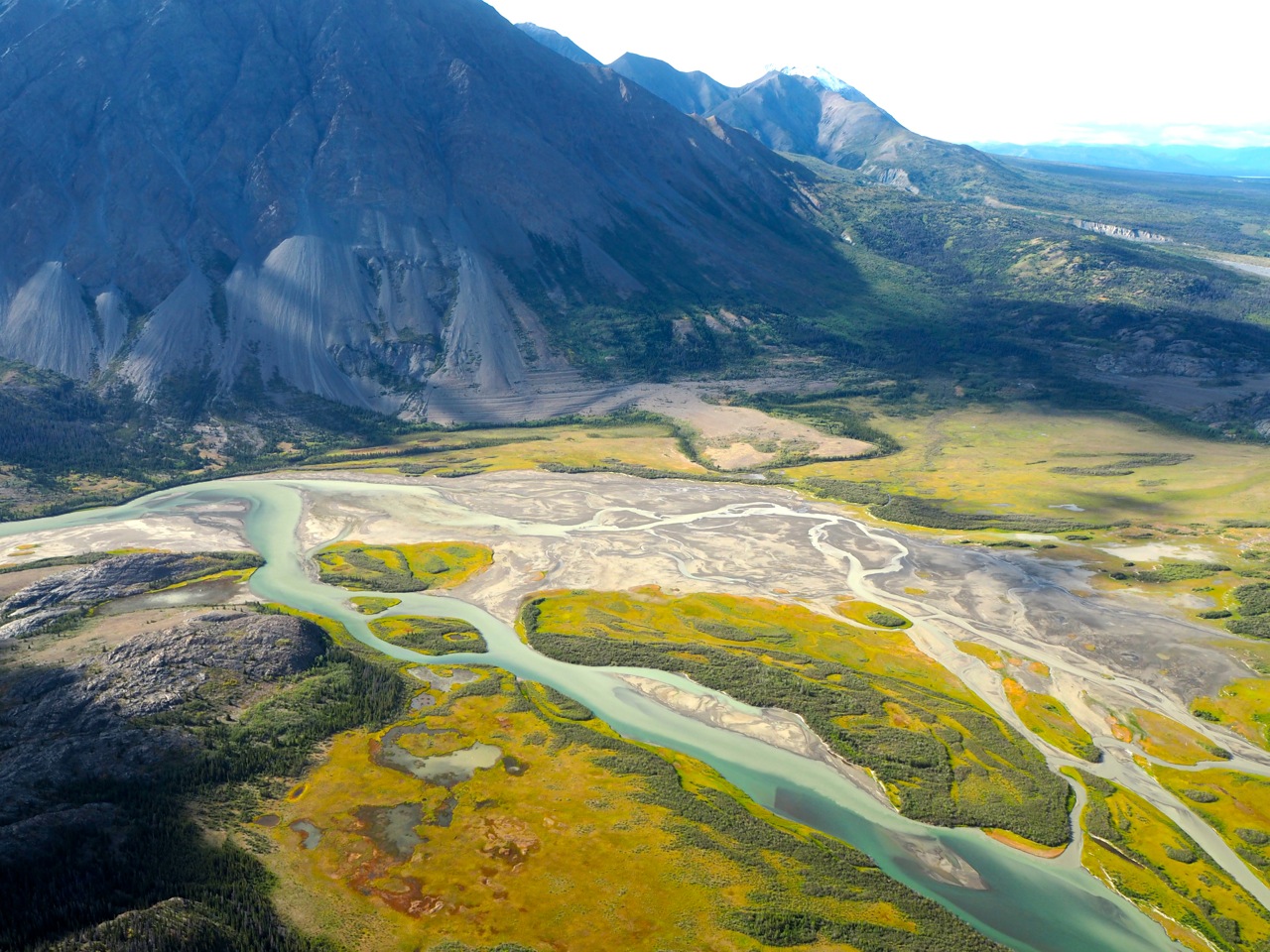 6. Visit the Yukon (CHECK!)
Over in the Northwest of Canada is one of the most authentic regions with friendly locals and glorious landscapes – "The Yukon", or simply Yukon, if you prefer. Typically visitors fly into Whitehorse and rent a car or motorhome to tour the region – here are some highlights from my trip.
7. See Niagra Falls
Niagra falls is one of the world's most famous waterfalls, lying on the border between Ontario (Canada) and New York (USA). It looks pretty spectacular, and given that 30 million visitors head to the falls every year, I'm sure it must be quite the site!
8. See an Ice Hockey Match
I once asked a Canadian what other sports are popular in Canada other than Ice Hockey. The answer: practically none. If you time your visit during ice hockey season, be sure to check out the game + crowd atmosphere at either a local, regional, or national match!
9. See the Northern Lights
One thing I didn't get the chance to view during my time in the Yukon was the highly popularised Northern Lights. The best part? They're not going anywhere anytime soon! The worst part? The lights were out twice during my visit, I just didn't know until it was too late the next day! Be sure to check online that evening for a "Northern Lights prediction" – they're usually pretty accurate.
10. Visit Nova Scotia
Located in the east Maritime provinces, Nova Scotia is argued to be one of the most beautiful parts of Canada to visit, as outlined to me by a number of locals during my trip. For now, it remains on the bucket list!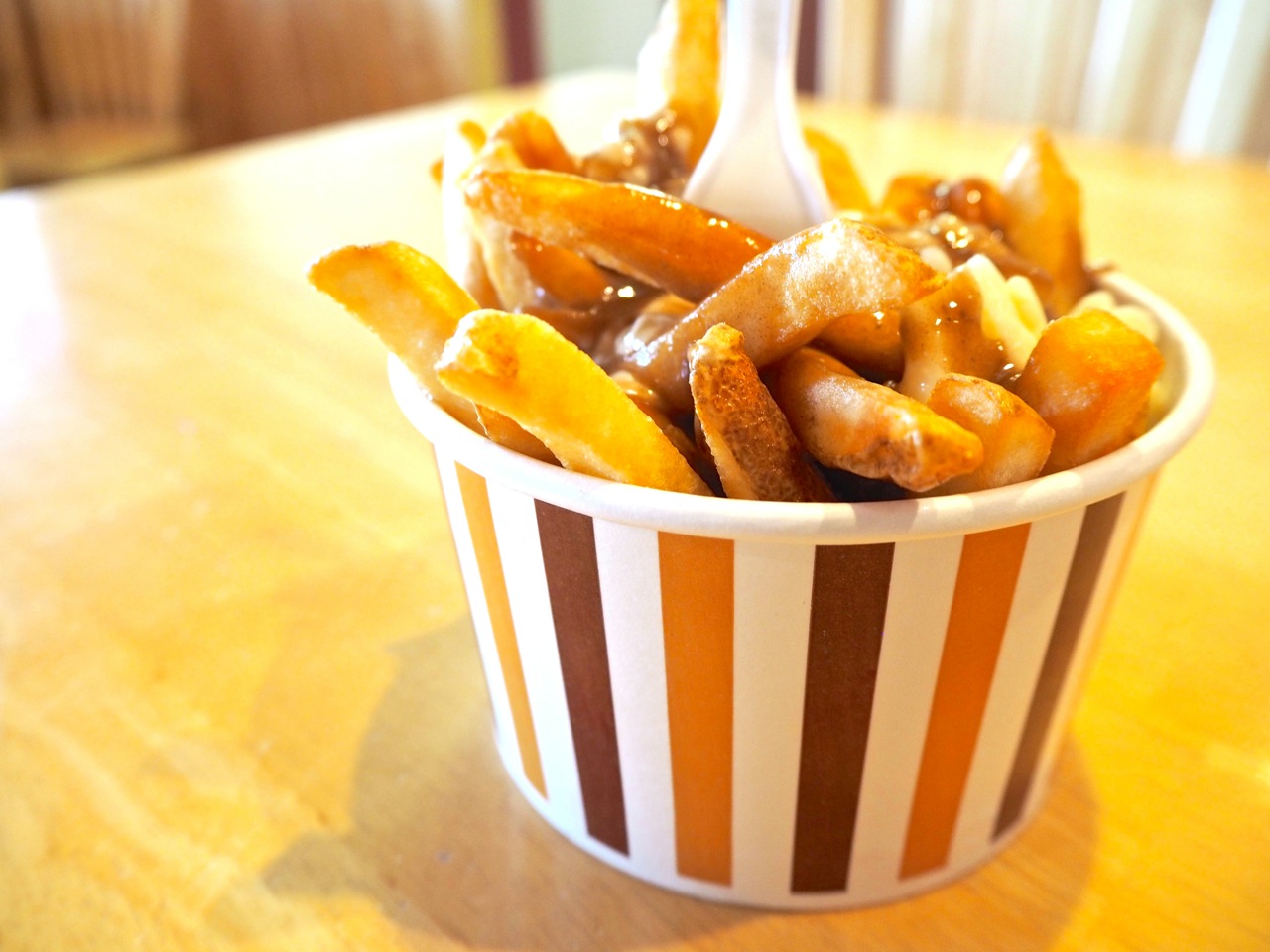 11. Eat Poutine (CHECK!)
"What should I eat in Canada?" was a question I posed to my followers on Instagram. I can't tell you how many people were quick to tell me I MUST try poutine whilst here! Poutine is essentially fat chips (french fries) with gravy and cheese curds on top – yummyyyyy! For the authentic poutine, try it in Quebec, where it was born!
12. See a Bear
Seriously. There is nothing more I wanted to see in Canada than a bear (I can sense the Canadians out there shaking their heads in query and concern)…. But really, who wouldn't want to see one! Perhaps the best way, I should imagine, would be to see one from a car… but to be honest, I'd take (almost) any opportunity to see one! Fingers crossed for next time.
13. Eat a Bagel
Yup, bagels are a thing here in Canada, too! Apparently the best bagel is to be found in Montreal, but I'm uncertain how wrong you can go with a bagel?
14. Ski in the Canadian Rockies
While I didn't get to hit the slopes this time, I'm hoping my next trip to Canada will be in a winter wonderland! The Canadian Rockies are home to many ski resorts, so you can rest assured you'll be spoiled for choice!
15. See an Iceberg up Close
Show me an iceberg. Any iceberg. ALL OF THE ICEBERGS! While I did get to fly over icebergs on my flight in Kluane National Park, I'm still yet to see one up close (in the world – ever), so it remains on the list!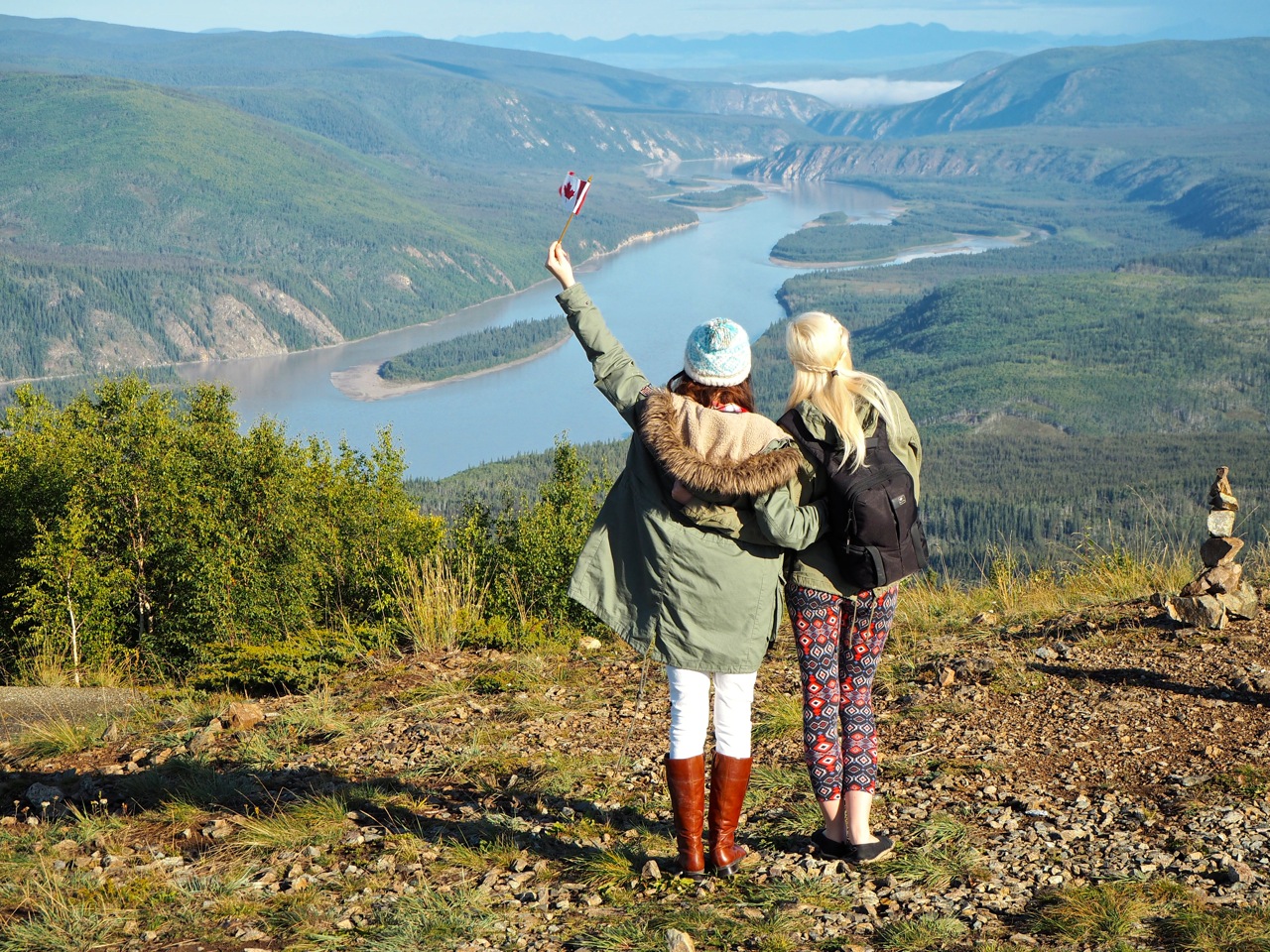 16. Make Friends with a Canadian (CHECK!)
Canadians are probably the easiest people in the world to befriend. They're open to conversation and very friendly without being loud and obnoxious (quite the contrary). They also say "Sorry" for everything, even when it is not their fault in any interpretation of the scenario whatsoever. Who couldn't befriend someone like that!?
17. Eat at Time Horton's
Can you believe it, I didn't get a chance to eat at Tim Horton's on my first time in Canada! According to every Canadian I encountered, TH's is a must. It's also a great (and reliable) cheap eats that is to be found on almost every corner or highway.
18. Visit at least 5 National Parks (There are 37 in total)
Whilst in Canada for my first visit, I was lucky enough to visit Kluane National Park, Tombestone National Park, and Hautes-Gorges-de-la-Rivière-Malbaie. While 3 is a pretty good first run, I'd love to see them all! Or at the very least, I'd love to add Jasper National Park and Banff National Park to my list of Canadian conquests.
19. Visit the Hot Springs in the Canadian Rockies
Because….wow.
20. Walk over the Capilano suspension bridge, BC
Because….also wow. Seriously, check it out.
21. Lake Activities (CHECK!)
There is sooooooooo much room for activities in Canada, and many of them are lake activities! Whilst in Canada, be sure to say yes to any and all opportunities to have fun on a lake. That could include kayaking, canoeing, boating, fishing, stand up paddle boarding, and much more.
22. Visit the Land of Anne of Green Gables
Aka: Prince Edward Island in Canada's East. And yes, it's just like the book!
23. Visit West Edmonton Mall (The Largest Shopping Mall in North America)
Taking a break from all the outdoors activities here and offering an indoor extravaganza, lets not forget about the West Edmonton Mall, located in Edmonton, Alberta. Not only is this the largest shopping mall in North America, it is also the 10th largest in the whole world. Yikes!
24. Ride cross-country via Rail
While I drove most of my trip in Canada, I have heard from numerous sources that the cross-country railways are another fantastic way to see the country and all of its' diversity. This is a great option for those who don't drive or those who don't want the responsibility of driving on the (other side of the) road!
25. Skydive in Saskatchewan
Because….why not!?
26. Camp
What is more Canadian than camping in the woods? Well, most things on this list… but seriously, be sure to pitch a tent for a cheaper alternative to hotels!
27. Ski or Snowboard in Whistler, BC
According to the Canadians I met on my travels throughout the country, there are more Aussies in Whistler than Canadians! There's no denying that it is a favourite among young Aussies working overseas, so it would be a great place to visit if you're looking to work whilst in Canada (as Australians are inherently very friendly)!
28. Get my hands on a Canada Goose Jacket
Canada Goose – the famous coats that are warm enough for the Arctic Circle. For my next Canadian adventure, I'm determined to head North in the winter time! Thus, this will be a (something I really just want) necessity.
29. Go to Jasper National Park
If there could be just one National Park in Canada that is on my "must see ASAP" list, it would be Jasper National Park. The amount of times I've seen an Instagrammer snap a perfect kayak shot on the lake is too many to count. Until next time!
30. Step inside Notre-Dame Cathedral, Montreal
For a little bit of France in Canada, all you have to do is head to Quebec region – filled with extremely well-preserved Francophone culture. Perhaps the most beautiful glimpse into the Canadian French history is to step inside the walls of the Notre-Dame Cathedral in Montreal – a must for anyone visiting the city!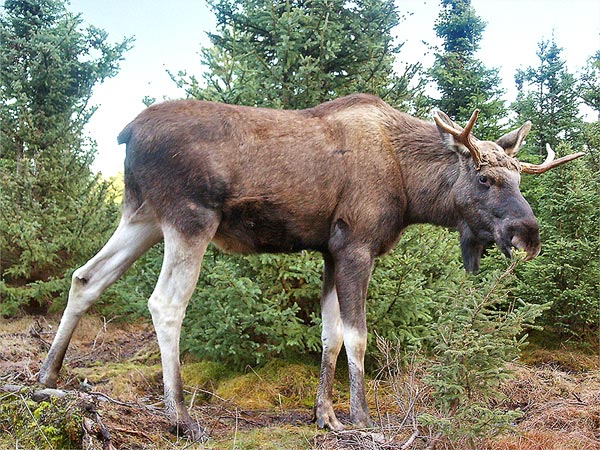 31. See a Moose (CHECK!!!!)
Well, almost. I finally saw a moose on my second last day in Canada… but was driving and didn't have my camera at the ready, hence no photo. Does it still count? Of course it does! I just don't have the photographic evidence. As such, I've taken the great pleasure of tracking down a Wikicommons image of what a moose looks like (incase, y'know, you didn't already know).
32. Visit Canada's "Wonderland"
While the USA might have six flags theme parks galore (which are supposed to be really, really good!), Canada's premier theme park is known simply as "Wonderland". How could one not be curious!? The park is located in Vaughan, Ontario.
33. Stay a Night at Chateau Frontenac
Whilst I was in Quebec I stayed at a couple of great mid-range hotels, however the city is renowned for being home to "the world's most photographed hotel", the Chateau Frontenac (a Fairmont Hotel). Here's to sweet dreams in a chateau!
34. Eat Maple Syrup (On Everything)
Canada is the birthplace of maple syrup and where the sugary treat is made and then exported to the world. But what you'll soon realise when you visit Canada for the first time is that Canadians really love their maple syrup…. on everything! Whilst in Canada I had maple syrup in my smoothies, on my French toast, on crepes, in candy form, maple syrup drinks…. and oh so much more! Luckily I have a sweet tooth!
35. Attend Vancouver Fringe Festival
In Australia we have the popular "Adelaide Fringe Festival", but according to all the Vancouverites I met, the Vancouver Fringe is where its at! Thus I'll be sure to schedule my next visit to Canada during "The Fringe" as it is affectionately known to locals.
36. Find Gold (CHECK!)
Whilst in The Yukon region, I was fortunate enough to have the time to venture toward the border to Alaska and visit Dawson City, the former capital of the Yukon and the historic gold rush town. If you do venture Northwest, be sure to stop into Dawson City as it has a fabulously preserved town centre that literally feels as if you have stepped back in time.
37. Drive the Top of the World Highway
Also whilst in the area (The Yukon), be sure to catch a ferry across the river from Dawson City, to the start of the Top of the World Highway. This stunning drive (that goes through to Alaska) will have you feeling just that; on top of the world.
38. Visit the Haida Gwaii/Queen Charlotte Islands
These are the islands of the Haida people, located in the archipelago in British Columbia. If you're visiting the west coast and looking for something unique, this is totally well worth your while.
39. Cruise through the Maritimes
While I've only ever cruised once in my lifetime (an experience which is guaranteed to result in weight gain — buffets are a dangerous thing), I can't say I would pass up the opportunity to cruise through the maritimes on Canada's east coast!!!!
40. Go Whale Watching
If you find yourself in Canada in the summer time, one of the most popular activities is to go killer whale watching off the coast. While I didn't get the chance to do so this time (and have never seen a whale in my life), it is certainly on my bucket list!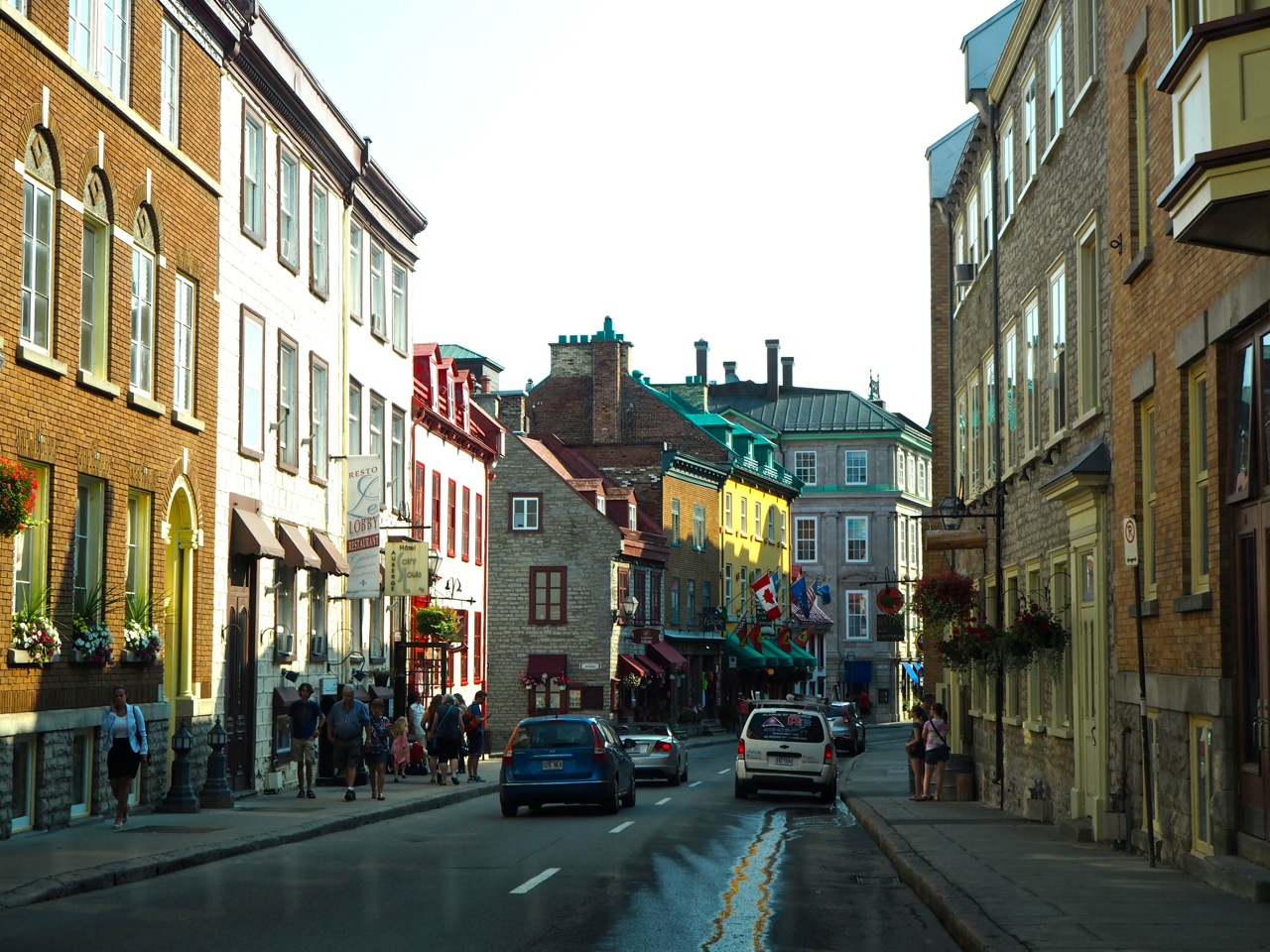 41. Visit French Canada (CHECK!)
One of the most memorable days I had on my first visit to Canada was a free day to explore the city Of Quebec – home to the historic French history, architecture, food, and of-course French speaking locals. The city is so well preserved that you feel as if you have been transported to France itself!
42. See an Iceberg float by in Newfoundland
So there's seeing an iceberg up close, then there's the chance to visit Newfoundland and actually watch icebergs float right by on the shore…. can't. even. deal.
43. Storm Watch on Vancouver Island
Having seen those crazy storm-chasing films, I can't say this wouldn't make me nervous, but it would certainly be a once in a lifetime opportunity! On the list.
44. Experience the Trans Canada Trail (Or a bit of it)
If you wanted to walk the entire trail, you'd be walking for years. But the Trans Canada Trail is so scenic and popular that many people hike parts of the trail each year. So far I haven't stepped foot on it, so I'll add it to the list!
45. Try a Nanaimo Bar
I had a couple of chances to try a nanaimo bar (think caramel slice for an Australian equivalent – different flavours but same premise), however each time they were offered to me I was either full or had just eaten a sweet treat. So….. 'til next time!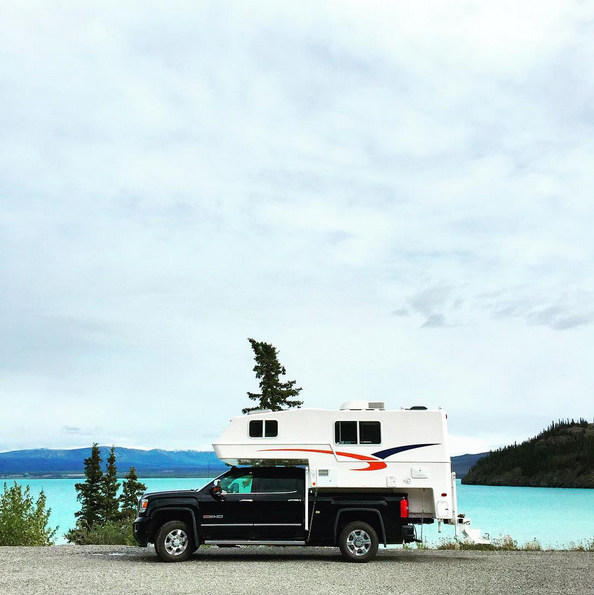 46. Rent an RV and drive, drive, drive…
Probably at the top of my Canada bucket list is to rent an RV (motorhome) and drive to all of the places mentioned on this list. I don't know why exactly I'm so obssessed with the idea – perhaps because it's such a Canadian thing to do – or perhaps because I want to live out my dreams of being a full time gypsy in my trailer. Who knows. Who cares!
47. Over to you! What's on your CANADA bucket list!?