Harry Potter fans rejoice! I have finally made it to the Wizarding World of Harry Potter on my travels!
For as long as I have known of its' existence, I have wanted to step inside the Harry Potter theme park at Universal Studios in Orlando. While it is now my third visit to the USA, it has unfortunately taken me this long (22 years of living) to visit Orlando and finally have my day inside Diagon Alley and Hogsmead Village – but you know what they say, third time's a charm!
Luckily for me, the Hogsmeade Village recently expanded and I was able to visit at a very exciting time as the park is now offering more to visitors than it ever has before. So here's a rundown of my day living out my dreams of being accepted to Hogwarts, shopping for school supplies in Diagon Alley, enjoying a butterbeer, shopping for sweets in Honeydukes and wandering through Hogsmeade Village on a rainy day. All in all it was THE BEST DAY OF MY LIFE and it should go without saying that I am a complete and utter child who refuses to grow up, nor has any shame in admitting this be the case.
My Visit to the Wizarding World of Harry Potter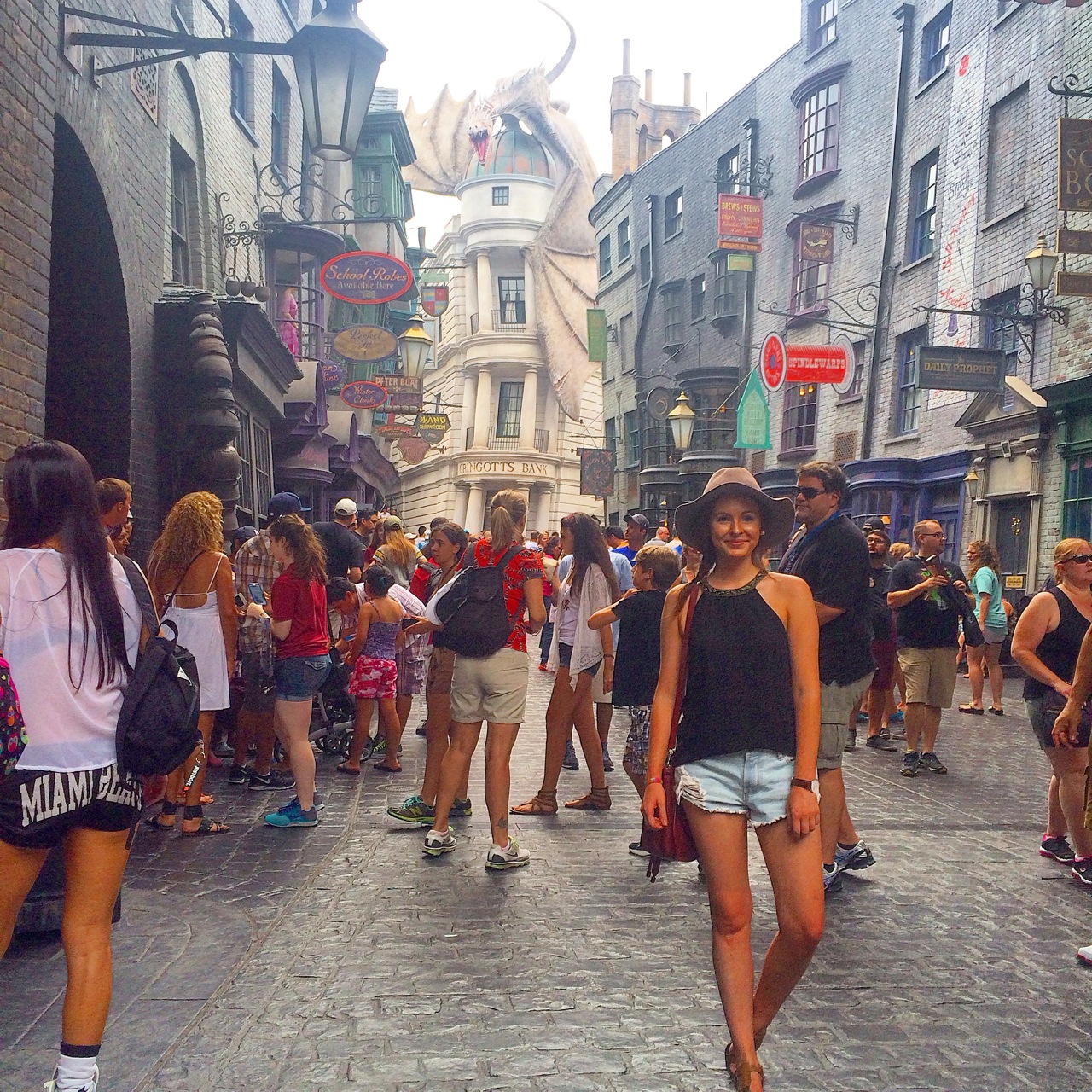 First things first! Shopping for school supplies in Diagon Alley
When you make your way to Universal Studios Orlando you will soon learn there are two ticketing options: either to visit one park or both parks. Each park has a unique Harry Potter experience – Diagon Alley in Universal Studios Florida & Hogsmeade Village in Island's of Adventure. To avoid disappointment, you're best to opt for the two parks pass and visit both. This can easily be done in a day – but expect wait times for rides of around 1-2 hours, unless you spend an extra $100 for an express pass.
Catch the Hogwarts Express to Hogsmeade Village
Once you've finished marvelling over your dreams coming true in Diagon Alley, it's time to make your way over to Hogsmeade Village in 'the other' park at Universal. There is of course only one way to do this —- to catch the Hogwarts Express! Okay I lied, there is another way…. but if you're reading this you're likely not to be a muggle who would walk between the parks so I'll leave it at that.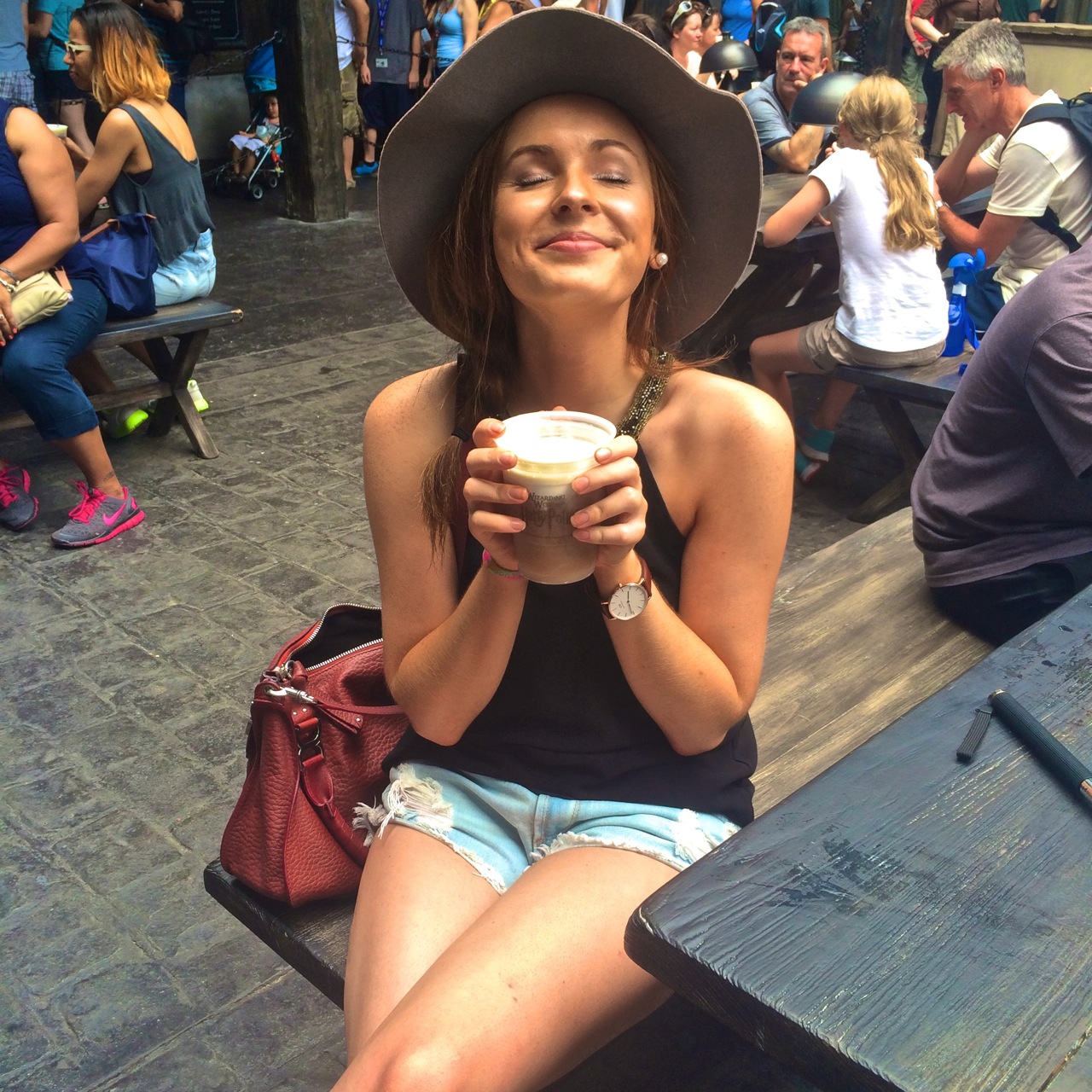 Have a Butter Beer in Hogsmeade Village
I know what you're thinking — "What did it taste like!?" is the question everyone wants to know whenever I mention my first butter beer. Well you have two options – there is the regular butter beer (carbonated soda water) or the frozen butter beer (much yummier frozen drink). I would definitely suggest you opt for the frozen! It is a very sweet drink packed with oodles of sugar, but it was totally irresistible. I finished mine in minutes – and one brain freeze later!
Go to Ollivander's and buy a wand
This is of course the most celebrated 'experience' in the world of Harry Potter. Unfortunately the fact of the matter is that you will have to wait hours to enter the shop, and only 1 out of 20 people will actually have their wand chosen for them – the other 19 will be mere spectators in the event. So be sure to keep this in mind before deciding to jump in the line and wait!
Eat in the Leaky Cauldron OR the Three Broomsticks
There are two dining options – one in each park. Whichever you choose, they're both a great experience and completely decked out once you are inside. The prices are typical of a theme-park and the food resembles British pub food – a nice break from American fast food is ever there were one!
Exchange your muggle money at Gringotts Bank
Take the true transition into the world of magic and exchange your muggle money for some REAL bank notes from Gringotts.
Last but not least… the rides!
First is the kiddie roller coaster, the flight of the Hippogriff – once on board you will pass a remake of Hagrid's Hut. Next up is Harry Potter & the Forbidden Journey – a true highlight of the experience which afterwards takes you to Filch's Emporium where the best souvenirs are found – including a DOBBY which I already regret not purchasing – super sad face.