New York City is one of the greatest cities in the whole world, a place I'm lucky enough to call home currently and a city that is flocked to by millions, from all over the world, every year. Therefore, we thought it was a pretty good idea to create a weekend guide for all those visiting the city, whether it be for the 1st time or the 50th. Without further ado here's a weekend guide to New York City, including a selection of activities you should check out, restaurants you should dine at and places you should see!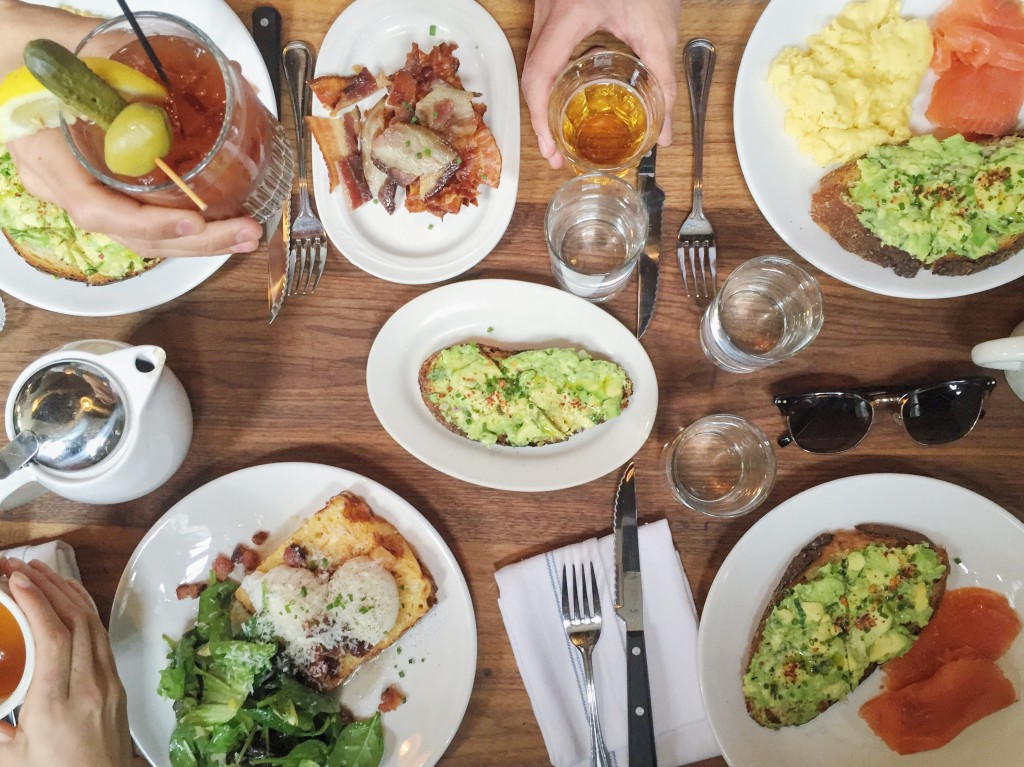 Your guide to spending a weekend in New York City
Brunch in New York City
This is the mecca of all New York weekend activities and for good reason too, New York does brunch pretty damn well. There's so many different places to choose from, you'll actually be struggling to pick. Here's a selection of eight of the best, tried and tested by yours truly. Hopefully this will give you plenty of options to pick from for your weekend trip!
Iris Cafe, Brooklyn Heights – First of all, this is located in one of the most beautiful areas of Brooklyn, so it's worth tying it in with a walk around Brooklyn Heights. Secondly, you should definitely order their poached eggs over nachos.
Bluestone Lane Collective, West Village – This spot is a weekend favourite, it's very Australian and serves up some of the best coffee in New York. They also do a mean avocado on toast which you should definitely check out.
The Smile, NoHo – The Smile is a great place to head to on the weekend, their brunch is served basically all day and it's delicious, especially the waffles which I recommend everyone tries.
The Smith, East Village – If you come here and don't try the mac and cheese then you will most definitely be missing out.
Candle 79, Upper East Side – This place is a vegan and vegetarian friendly cafe, they serve up a delicious selection of food. A personal favourite is their bircher muesli.
Jeffrey's, West Village – If you're looking for a spot for a boozy brunch then this is definitely the place for you. You should try one of their Bloody Mary's along with their avocado on toast!
The Mercer Kitchen, SoHo – This is a little more expensive however it's a great Saturday spot before heading out to explore the streets of Soho. Definitely order their pancakes!
Two Hands, NoLita/TriBeCa – If you're in search of a great acai bowl, then look no further than Two Hands. This Australian cafe now has two locations in NoLita and TriBeCa.

Where to stay in New York City
When choosing where to stay, I highly recommend booking a hotel that's in downtown New York, aka anywhere that's not Midtown. Midtown is great to stay in if you'd like to be near all the main sightseeing spots (Top of the Rock, Times Square etc) however if you're wanting to visit New York to experience "real" New York life, then downtown is the place for you. Here's a couple of our favourite places to stay in the city:
The Greenwich Hotel – This hotel is completely exquisite. It's owned by Robert DeNiro and it fits seamlessly into the surrounding area, on the edge of Soho and Greenwich Village, there's plenty to do, see and explore.
The Broome Hotel – This boutique hotel is a WOW favourite, it's located right in the heart of Soho, a great location to get out and explore during the day and also aptly placed to venture out further afield. The service here is impeccable and nothing is ever too much trouble! Check out a full review here.
AirBnB – If you truly want to feel like you're living in the city for the weekend then definitely check out the option of renting someone's apartment. Due to how expensive the rent is you'll discover that a large proportion of New Yorkers put rooms up to rent on AirBnB to earn a little extra each month. A great way to feel at home in the city!

Dinner in New York City
Much like brunch there are quite literally hundreds of options for dinner. You'll be teased with all manner of restaurants and cuisines. There's quite literally something for everyone, if you can book at the place of your choice then make sure you do because New York restaurants at the weekend are crazy busy. Here's a selection of places you should try whilst you're in the city:
Angelica Kitchen, East Village – This is any vegetarian and vegans dream. They produce delicious, vegan and wholesome good food. Definitely try their thai lemongrass curry, it's incredible.
Santina, Meatpacking District – Located under the Highline, Santina serves up an incredible selection of dishes. This is one of my favourite places to order lots of apetisers, to share with a group of friends. Be sure to order the butternut squash carpaccio!
Sant Ambreous, West Village – You'll find a couple of these dotted around the city on the Upper East Side, in West Village and also in Soho. They serve up quite literally some of the best pasta you could possibly eat in the city.
Barbuto, West Village – This place is a must if you're in the West Village – Meatpacking vicinity. The food is Italian and out-of-this-world good. It's amazing for both lunch and dinner.
ByChloe , Greenwich Village – Testament to the delicious-ness of this food is the fact there is quite literally always a queue, no matter what time of day or which day of the week. ByChloe is a 100% vegan fast food restaurant, however, you would never be able to tell any of the food is vegan. It all tastes delicious, especially the Guac burger, which is a personal favourite of mine.
La Esquina, Lower East Side – In search of cheap, delicious Mexican food? Well look no further than La Esquina on the Lower East Side. Aside from their delicious margaritas, you'll find a selection of incredible tacos. You are welcome.
Frank , East Village- Frank is a small rustic Italian, hidden away in the East Village. There's little to no signs outside and the food is absolutely amazing. Especially their homemade ravioli, you definitely won't be disappointed!
Peasant, Nolita – If you're looking for a little romance, this rustic feeling restaurant in Nolita is one of my favourite spots to dine in. You'll be served a delicious, hearty meal with quaint, suitably New York surroundings.
Rosie's , East Village- Another fantastic Mexican with a great atmosphere and pitchers of margaritas is Rosie's. They serve super delicious guacamole and tacos here, I'd highly recommend heading to Rosie's with a group of friends!
Sauce, Lower East Side – Last but not nearly least is Sauce. Located in the Lower East Side, this place is the best place to venture to in the evening's with friends or a loved one. Their pasta dishes are incredible and it's incredibly atmospheric!

Sightseeing in New York
Much like any major city in the world, there's plenty of places to go play tourist in New York, so if you want to spend part of your weekend trip sightseeing, then here's a little list of our favourite spots to do so!
Brooklyn Bridge – This is by far the most beautiful bridge connecting Manhattan to the other boroughs, it was one of the first suspension bridges in the world and it's truly beautiful. Definitely take a stroll from Brooklyn to Manhattan on it. You'll get an amazing view of the skyline as you walk back over the bridge.
Top of the Rock – This is a classic sightseeing spot, located in Midtown, at the top of the Rockefeller Centre. You'll have one of the best views of the Empire State Building, Manhattan and beyond! You can also see Times Square from above, which will save you the trauma of navigating your way through those crowds. The Top of the Rock can get a little busy around sunset and on the weekends, but it's certainly a view to tick off your bucket list!
One World Trade Centre + Oculus – The One World Trade Centre, or Freedom Tower, as it's affectionately known, is built next to the site of the Two World Trade Centres. It stands high and mighty in Downtown Manhattan and the Observatory holds potentially my favourite view in the entire city. We visited during golden hour and sunset and it was completely breathtaking. The Oculus has only just been opened to the public, it's right next to the Freedom Tower and the architecture is incredible. It's so clean and white, I highly recommend lying down right in the middle and staring up at the Trade Centre above you – hands down the most peaceful place I've found in the city.
Central Park – I don't think anyone can come to New York and not pay a little visit to Central Park, weather permitting. It truly is an escape from the city. Take a picnic, find a nice spot of grass and relax. You can also go feed the ducks in the number of ponds and lakes that are dotted throughout or in the winter check out the ice skating rink!
The High Line – This is one of my personal favourite places in New York. The High Line is a converted overground railway that runs from the Meatpacking District all the way up to West 30th Street. In the summer months there's lots of outdoor vendors selling everything from lunch to ice lollies. It's a great way to see a different perspective of New York.

Drinks
You'll most likely see a bar on every street corner in New York, in the summer months the streets transform and the atmosphere is electric, however bars and speakeasies are also bustling all year round.
Employee's Only – This place is always busy, even at 12am on a Sunday night, they'll still be jam packed with New Yorkers. It feels like a speakeasy and only has the shape of a key on the outside of the building to mark where it is!
Please Don't Tell (PDT) – You'll find these guys through the back of a hot dog shop in the East Village, in true speakeasy style. If you want to feel transported back to the prohibition then definitely check them out.
The Standard Biergarten – This is a fun place to come on a weekend afternoon with a group of friends, it's located under The Standard Hotel and is a great spot to grab a drink.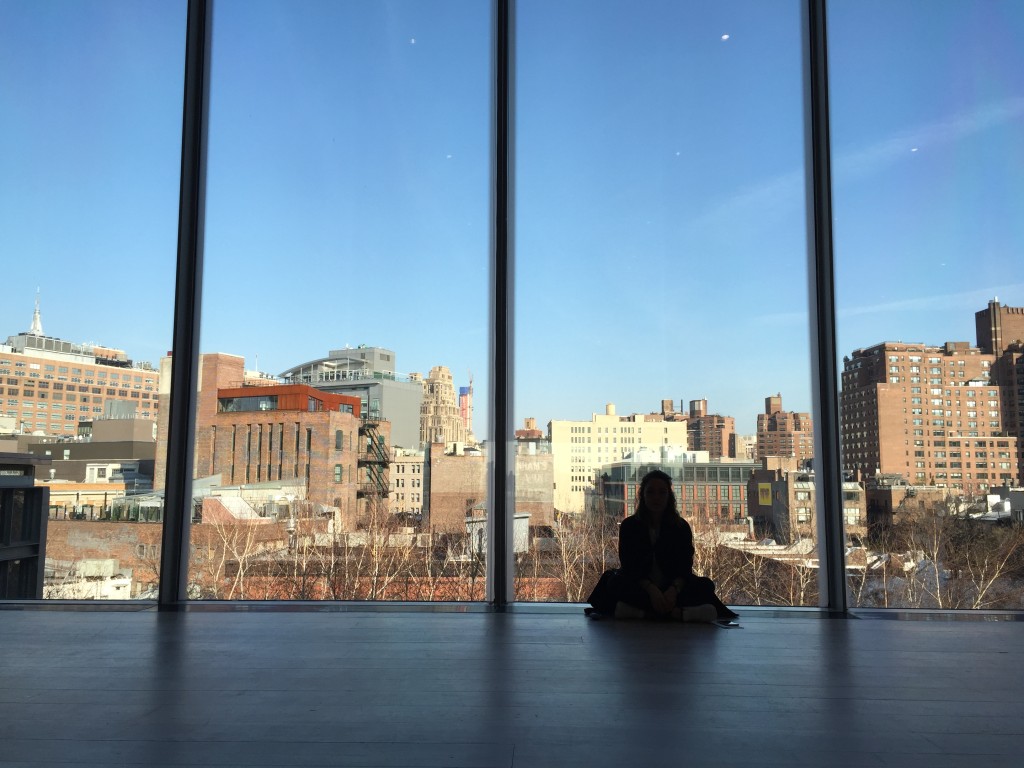 Entertainment
Comedy Cellar – If you feel like spending the evening crying with laughter then you definitely need to check out the Comedy Cellar, located in Greenwich Village.

Broadway –

You could also spend your evening enjoying a show on Broadway, there's so many amazing shows on at the moment you'll be spoilt for choice!

Mini Golf, Hudson River –

If you're into mini golf then you can go and play on Pier 25 on the Hudson River, it's a pretty cool spot and a little alternative activity!

Museums – There are so many museums in New York, you could spend hours wandering around them all. A couple of favourites are; The Whitney Museum, The Guggenheim, The Met and MoMA.
Smalls Jazz Bar –

For any jazz lovers out there, you absolutely must visit this old gem in the West Village. It's been there for years and live jazz is played every night, it's a really fun place to spend an evening or at least an hour of one!
What are your favourite things to do for a weekend in New York? Let me know in the comments!