Food has got to be one of my all-time favourite topics to cover on World of Wanderlust because, well, I really like food. If you've been following my travels for a while now you will be no stranger to the fact that I love sweet treats. So when I started to write a journal about what I ate in Paris, I realised this might make a great blog post. Food is, after all, a big part of travel!
When in Paris on this trip I was on a mission of sorts, to sample as many sweets as possible and balance it out with a few savoury dishes for good measure. I've been working on a new project of late which allows me to regard sweets-testing as "research marketing", so I'm gonna claim that as my reason for all of the over-indulgence… not that you ever need a reason!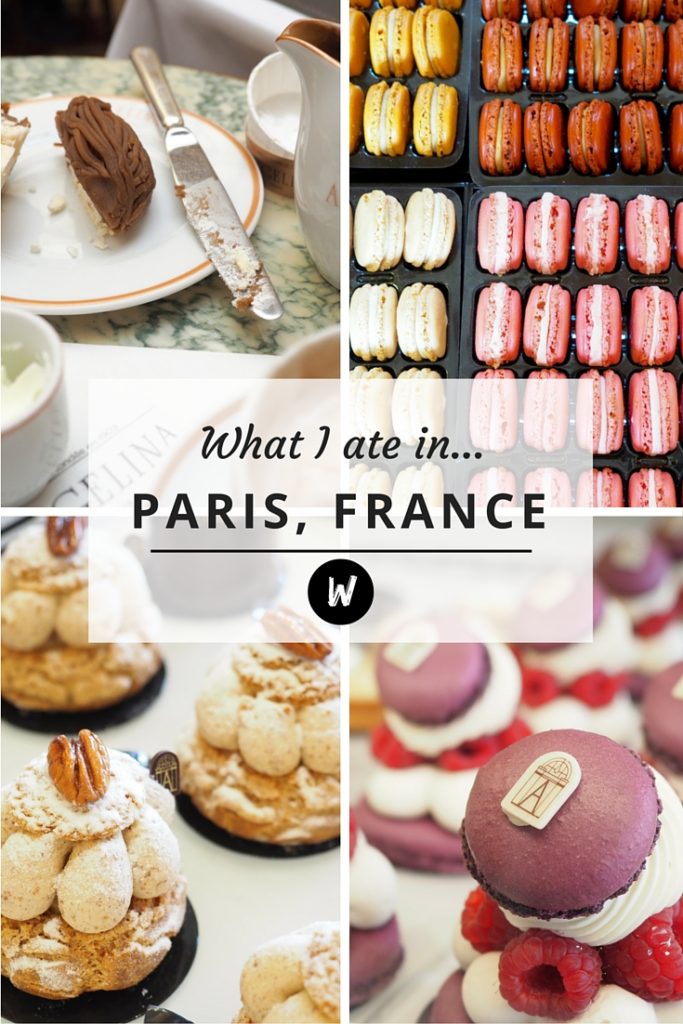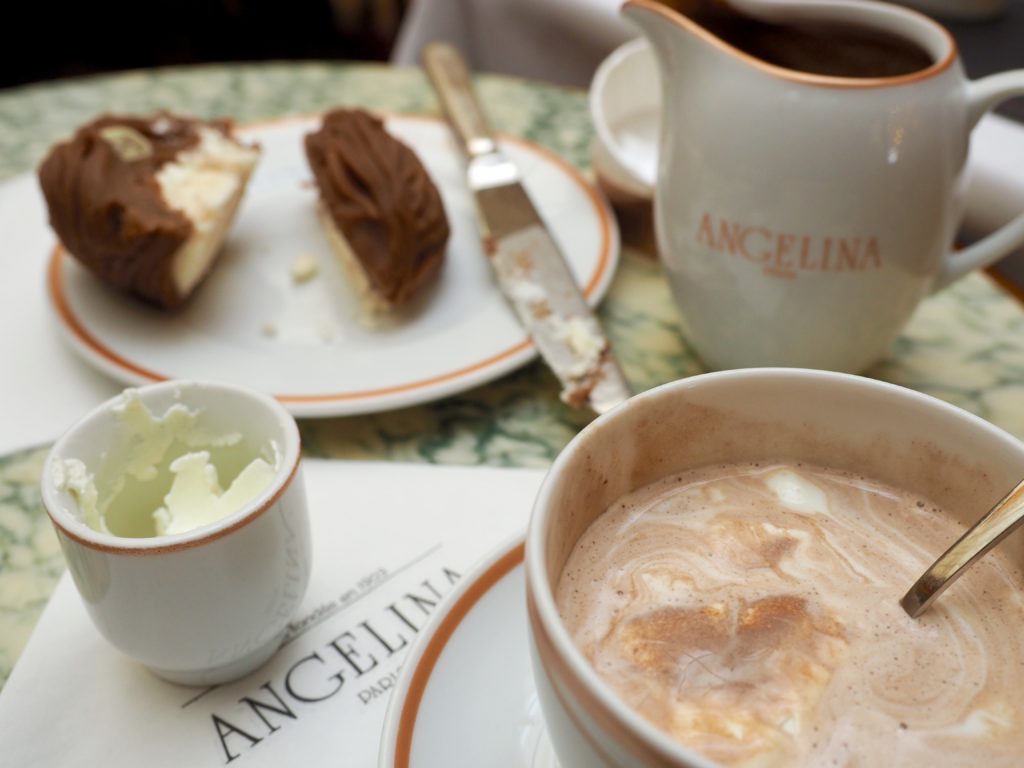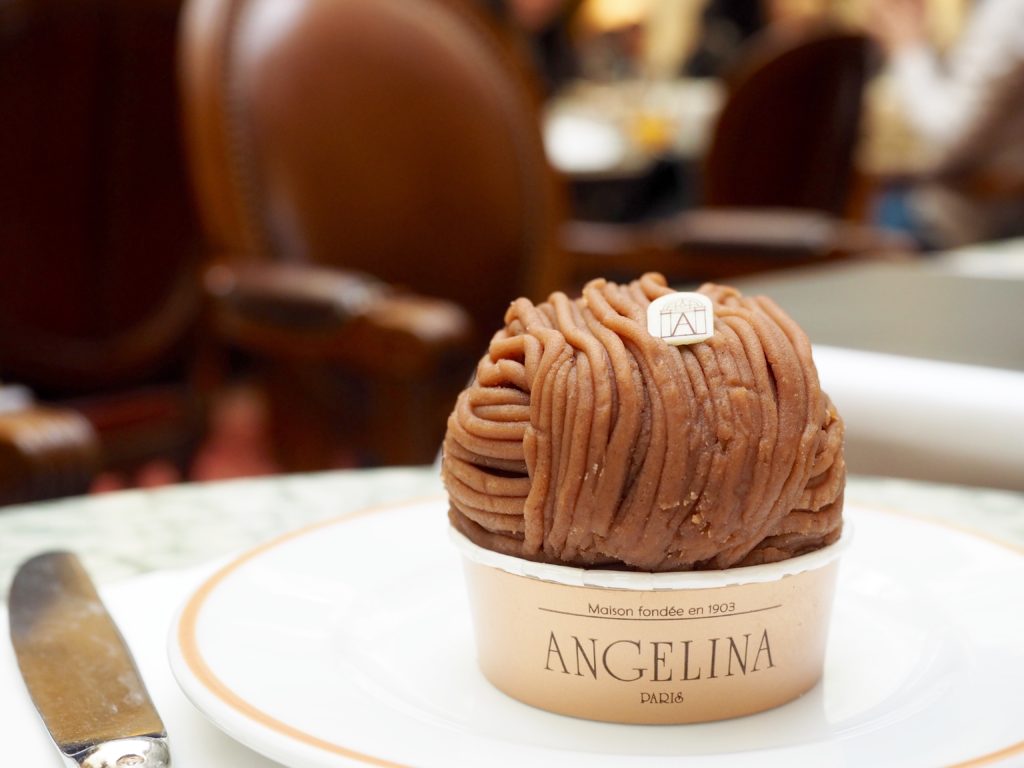 Angelina Hot Chocolate & Mont Blanc
You can't really come to Paris and not visit the Angelina tea house at least once. Yes, it is expensive. Yes, it is a cliché and no, I do not think any of this matters.
I brought my boyfriend here for his first time (my umpteenth) and he was amazed at the full flavour of the hot chocolate, which is, in my opinion, the best in Paris. We also tried the Mont Blanc (I had previously avoided the pastries in an effort to fit in more hot chocolates) which was far too rich for my liking and with a difficult to swallow consistency. Angelina is however renowned for their Mont Blanc so perhaps just my personal preference is something a little lighter!
Address: 226 Rue de Rivoli, 75001 Paris (and many more locations in Paris)
Nearest transport: Tuileries (1)
Hours: Open every day, 7:30 a.m.-7:00 p.m // 8:30 a.m.-7:30p.m. Sat/Sun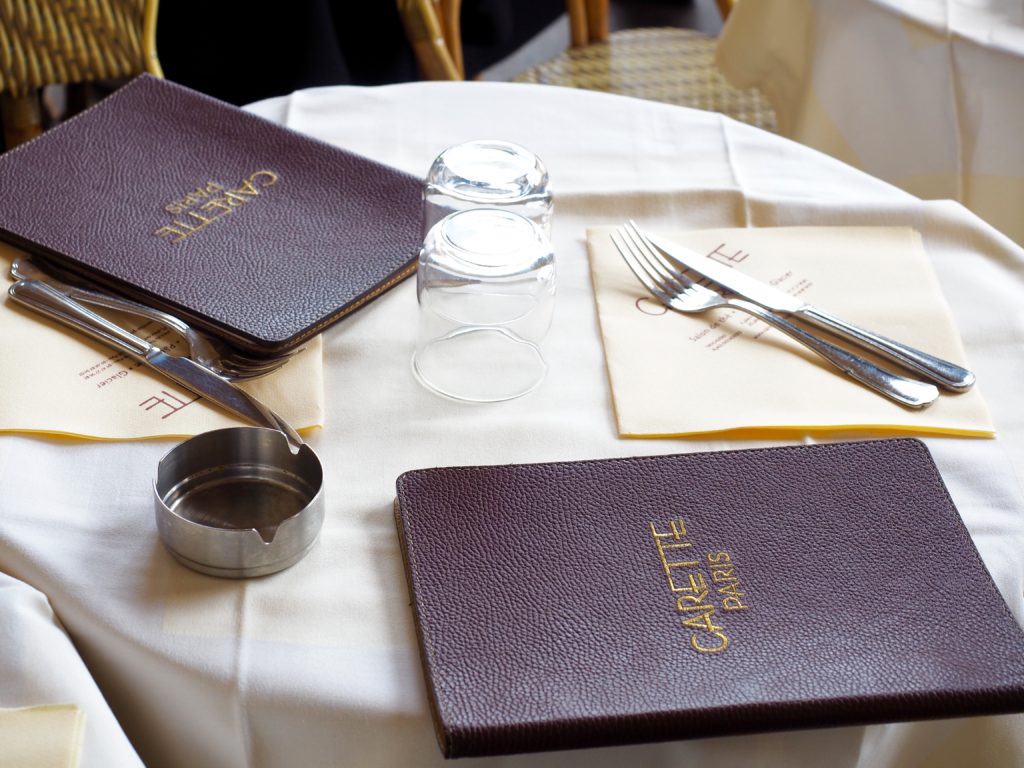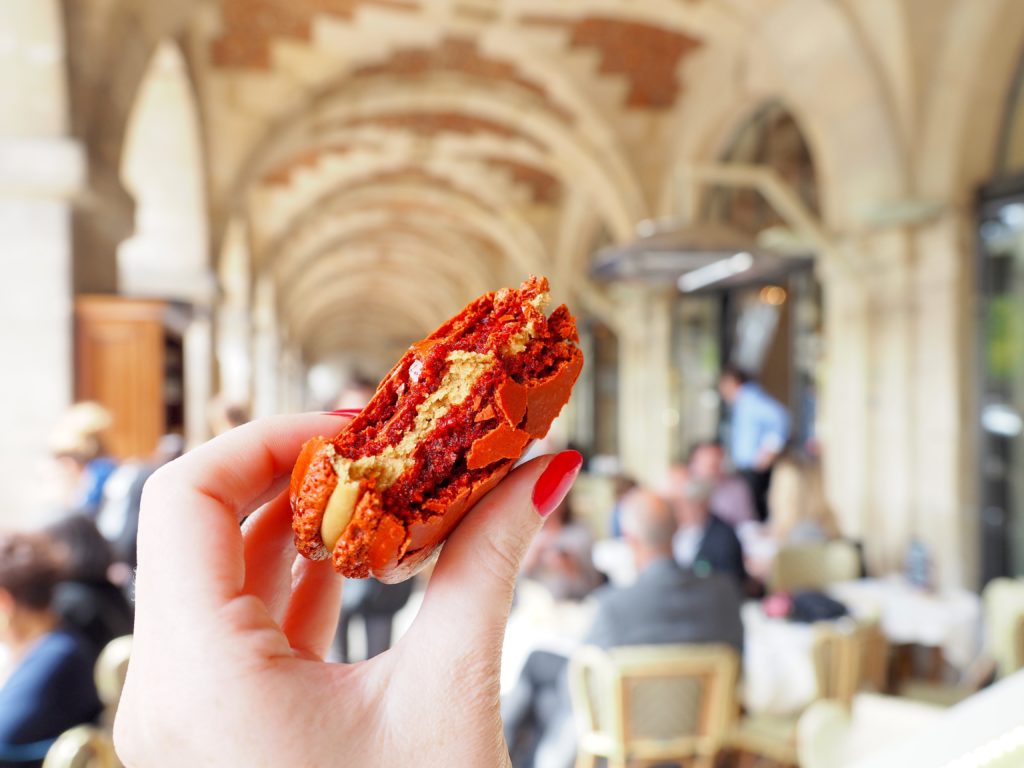 Carette Macarons
The best macarons I ate on this trip were not at Laduree or even Pierre Herme. They were a complete fluke as the cafe located next door to our hotel so happened to sell macarons and they so happened to be the most delicious macarons I have tasted (in my life. Ever.) Turns out Carette is kind of famous for their macarons so I do suggest you stop by! The salted butter caramel was a true standout (yes, that is a large size you see pictured!)
Address: 25 place des Vosges, 75004 (also 4 place du Trocadero)
Nearest transport: Chemin Vert (8) or Saint-Paul (1)
Hours: Open every day, 7 a.m.-11:30 p.m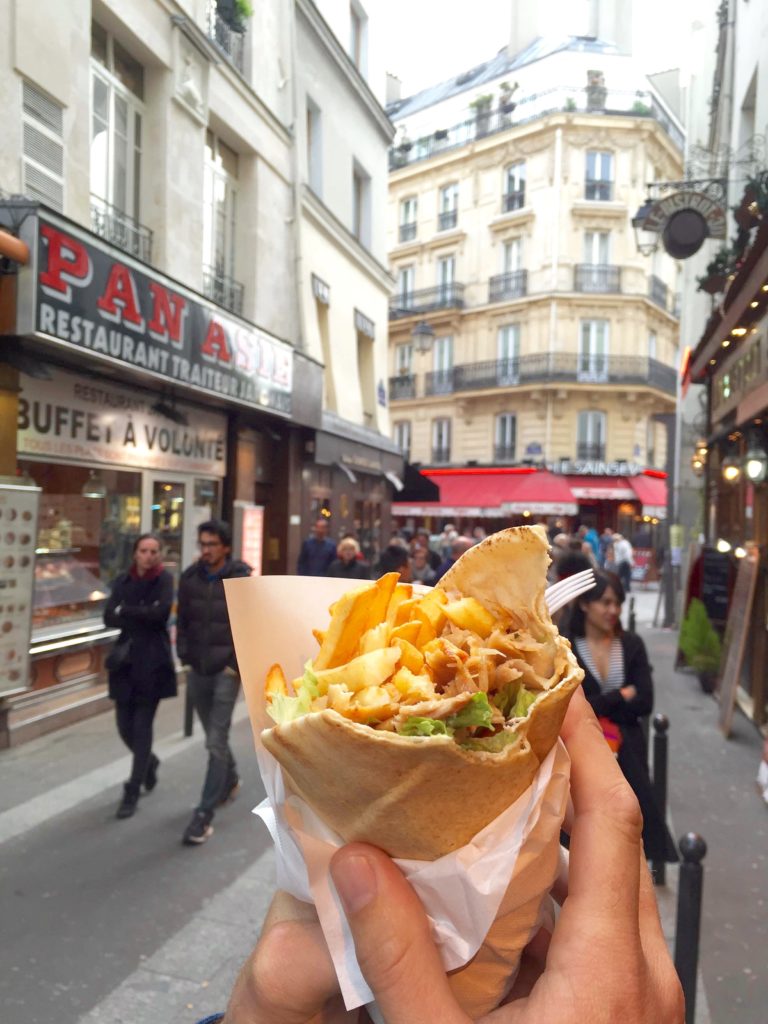 Dinner in the Latin Quarter
Whenever I'm in Paris I know one thing for sure: the best cheap eats in the city are located in the Latin Quarter and they never disappoint. Paris is an inherently expensive city to visit, but there are so many great cheap eats to be found in the Latin Quarter with dishes from all over the world, but mostly Northern Africa, the Middle East, and Asia.
Being a vegetarian I can't go past a good falafel (Maoz is a safe bet for consistency) and my boyfriend tried a regular ol' street kebab.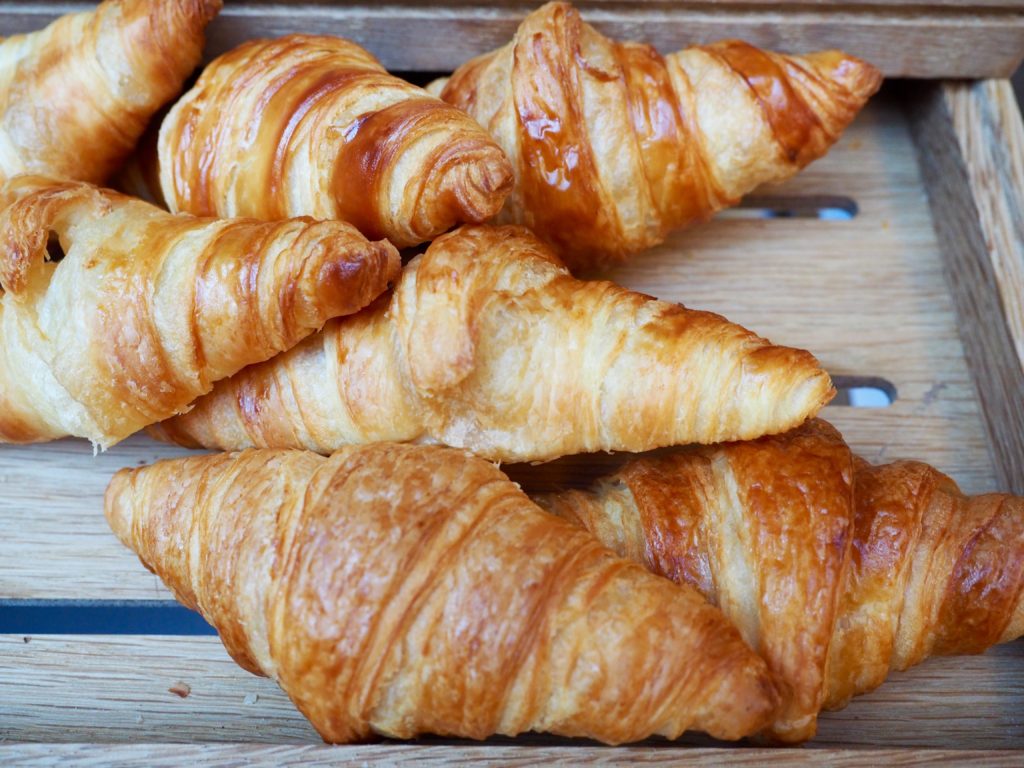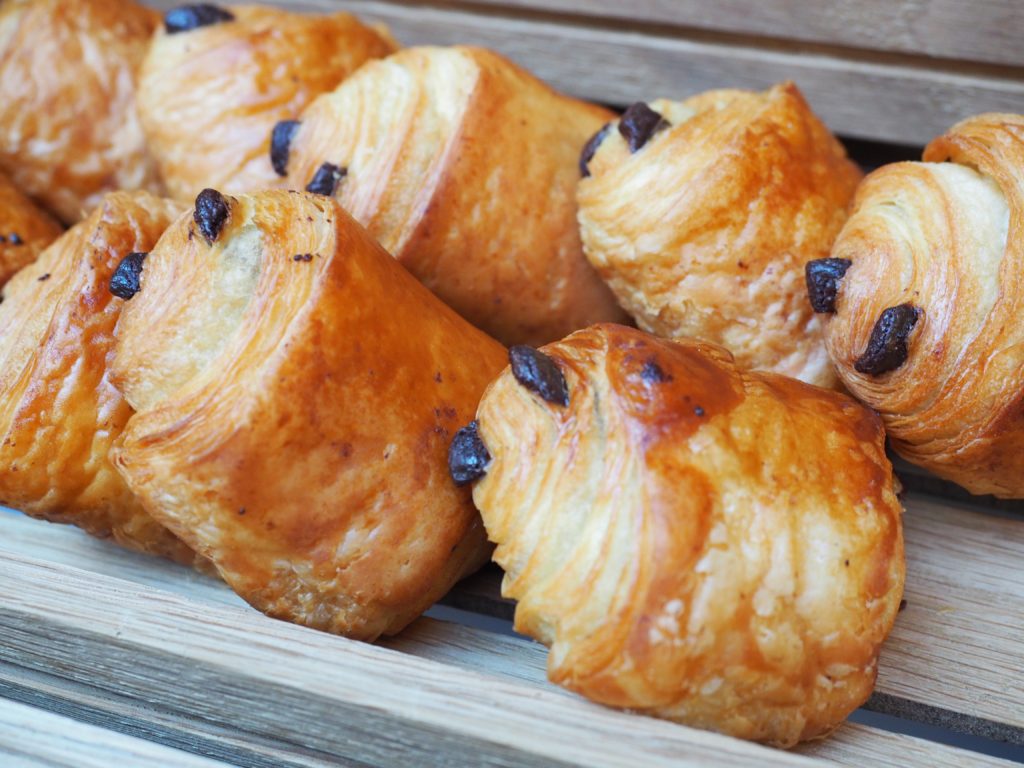 Pastries
I can't even begin to tell you how many pastries we ate in Paris. Turns out the best pastry we ate was actually two hours outside of Paris in the Loire Valley, but the ones we ate in the French capital were still pretty darn good.
For the best croissant in Paris, head to Sébastien Gaudard – Pâtisserie des Martyrs (22 rue des Martyrs).
You'll find the best pan au chocolat at Gérard Mulot (6, rue du Pas de la Mule).
And for something a little heavier, La Parisienne is said to have the best baguette in town (48 rue Madame, 75006).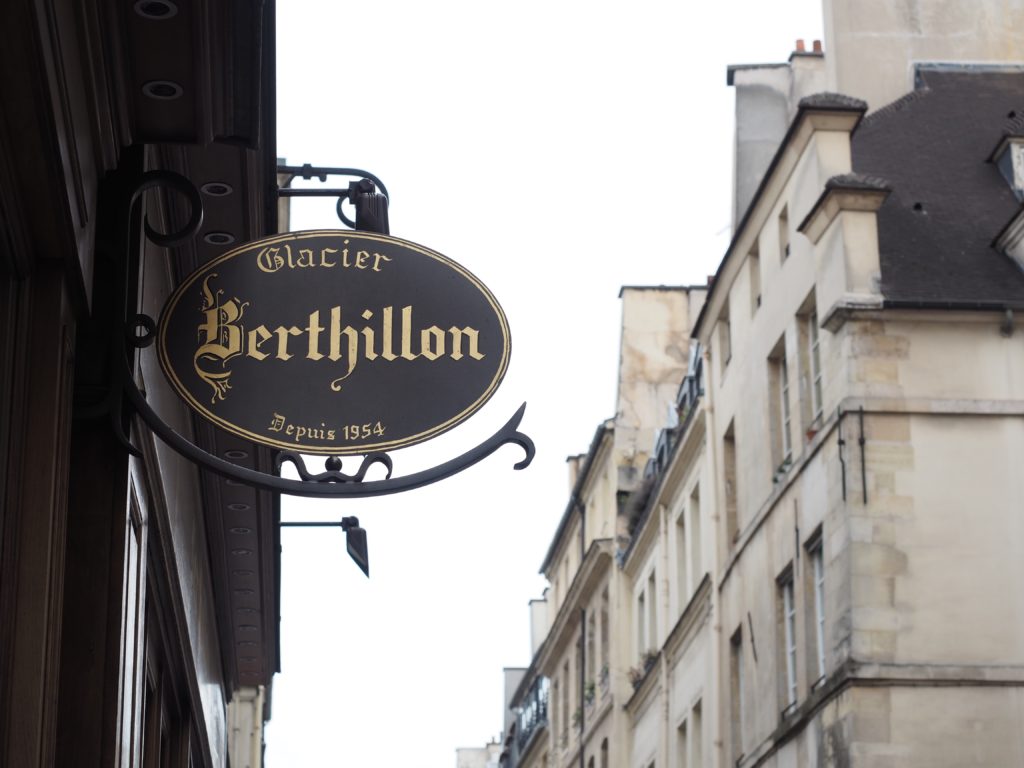 Berthillon Ice Cream
If you've been reading my blog for a while now you will know I take my ice cream testing and tasting pretty seriously. Googling where to find the best ice cream in town when I visit a new city is a common occurrence and if you ask me where my favourite ice cream is in the world, you will get a response of at least 20 establishments across all continents.
For Paris, you can't go past Berthillon. On this trip I stuck with my old classic faves: salted butter caramel, dark chocolate, and pistachio.
Address: 29-31 Rue Saint-Louis en l'Île, 75004 Paris
Nearest transport: Pont Marie (7)
Hours: Open Weds-Sun, 10 a.m.-8 p.m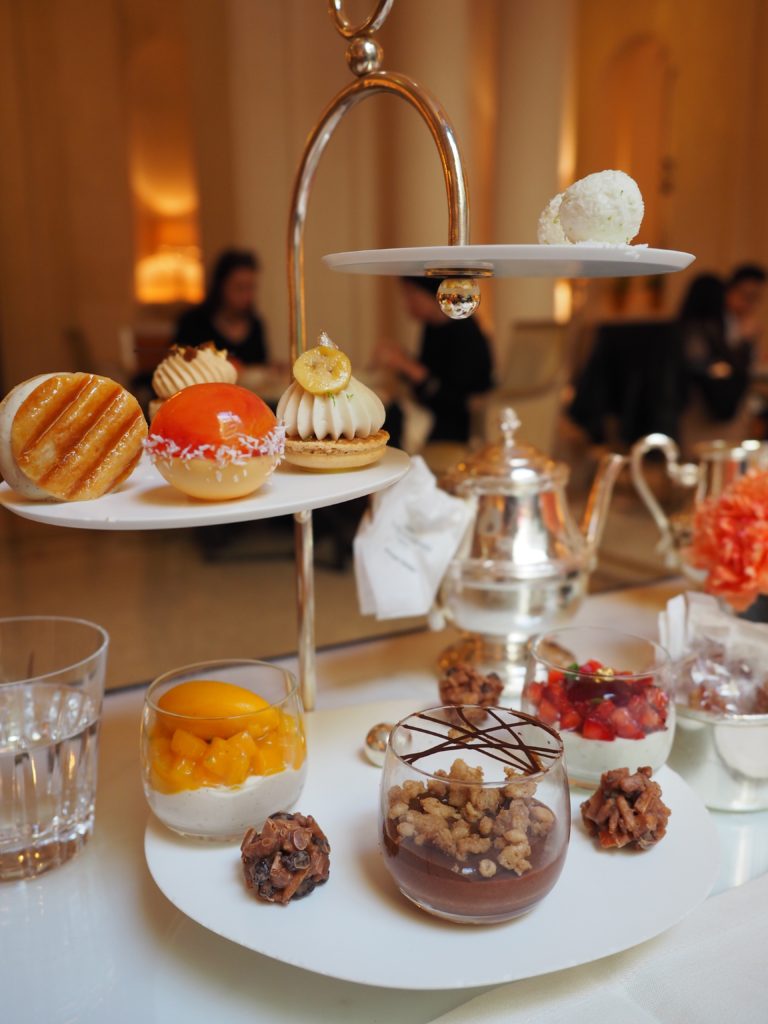 Hôtel Plaza Athénée Afternoon Tea
I know, I know… by now you're starting to wonder if I ever eat savoury food. The truth is that I don't eat a whole lot of savoury food that excites me, as being a vegetarian with a handful of intolerances I find it difficult to find great dishes I can eat.
So next we dropped into the Hôtel Plaza Athénée on Avenue Montaigne to try their afternoon tea, as they are renowned for offering a sweets only selection of pastries (no scones, no tiny sandwiches… just straight to the good stuff!) I'd love to give a detailed description of everything we ate but there were just so many pastries and so little time! We mistakenly ordered x1 setting per person, later realising x1 serving is enough to share between two.
Address: 25 Avenue Montaigne, 75008 Paris
Nearest transport: Franklin D. Roosevelt (1, 9)
Hours: Open Weds-Sun, 10 a.m.-8 p.m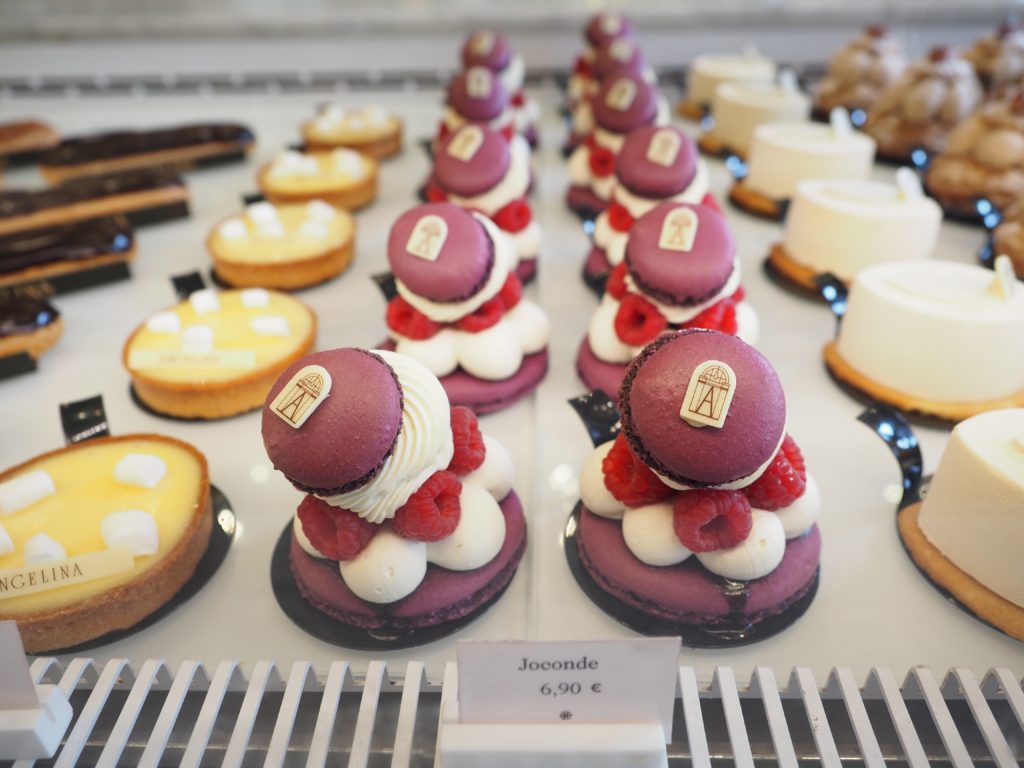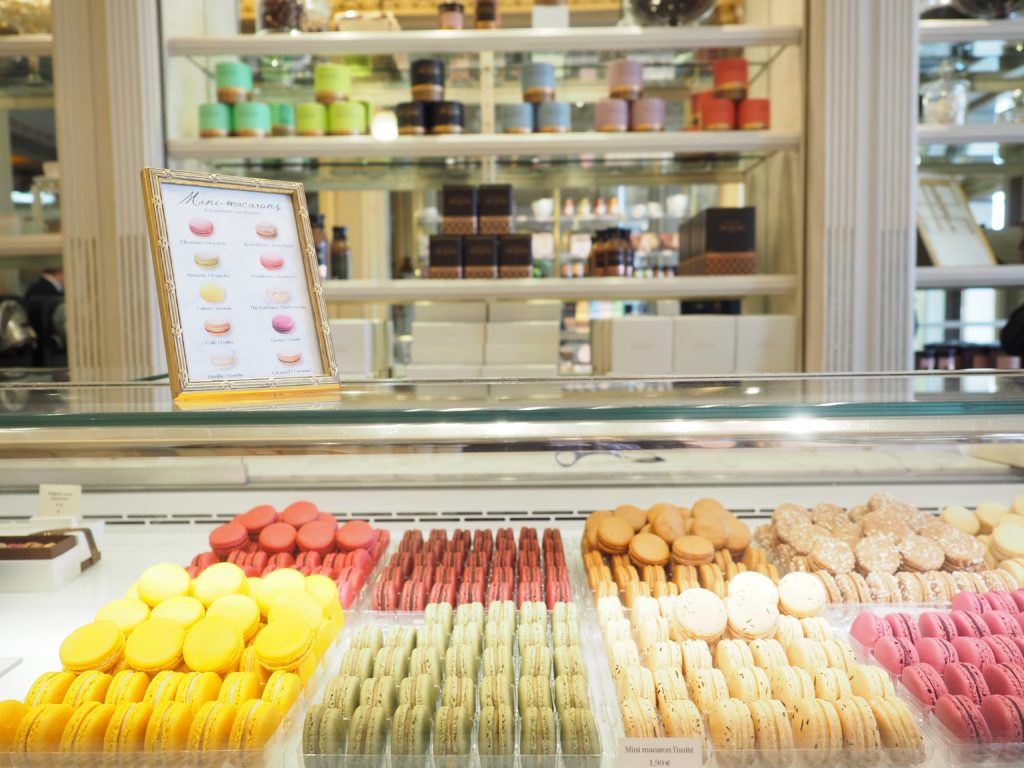 Back to Angelina (oops!)
Because I have a total of zero self control and because there are now so many Angelina locations throughout Paris, I couldn't help but to stop in once more to grab a couple pastries to go.
I didn't love the macaron selection nearly as much as Carette, but I did enjoy the delicious and overly indulgent Joconde – a combination of macaron, lightly whipped cream and fresh raspberries. Drool!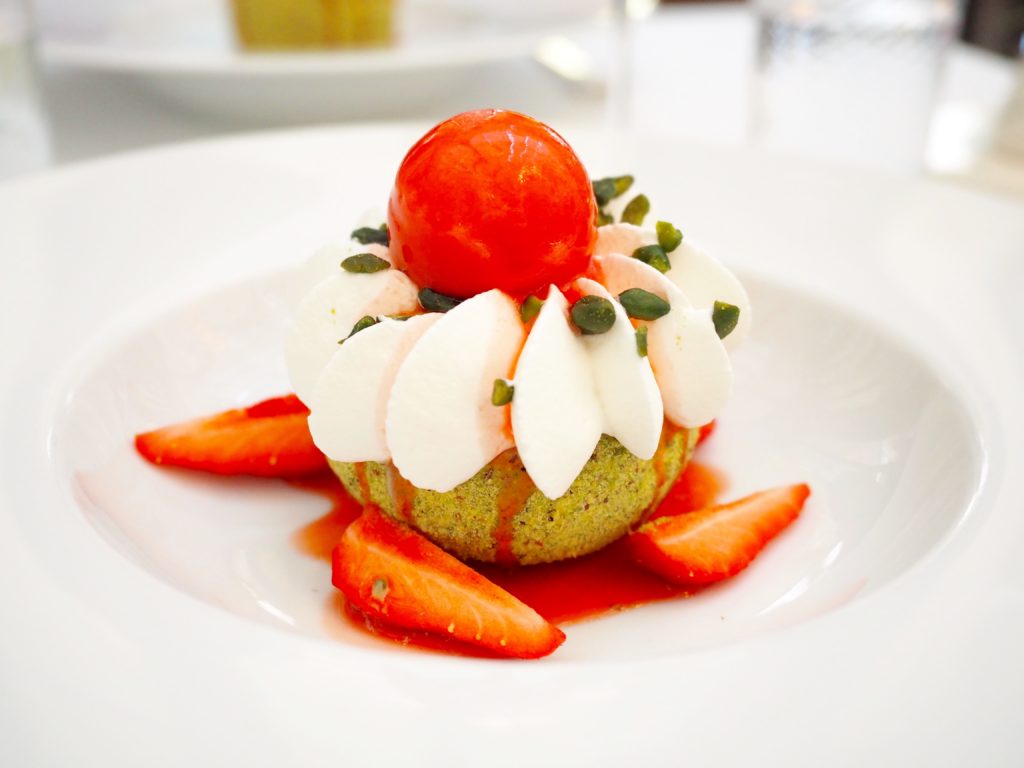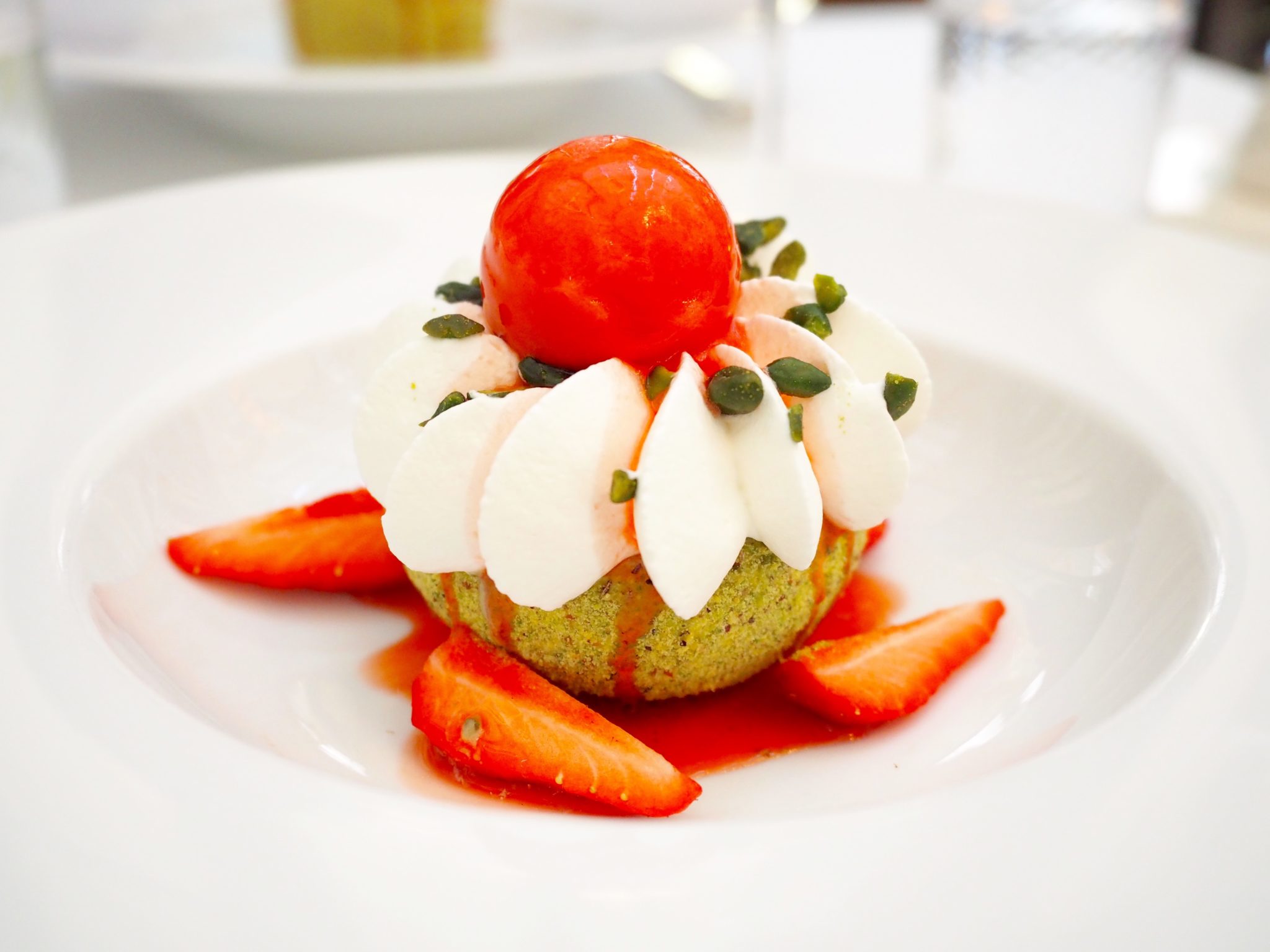 Dinner at Il Carpaccio
On our last evening in Paris after eating ourselves into what can only be described as a sugar-induced coma, I treated my boyfriend to his first Michelin star restaurant experience at Il Carpaccio, an Italian one Michelin starred restaurant located inside Raffles Hotel. We ordered three courses:
The meal began with an artichoke starter, not a typical choice for either of us but unquestionably delicious with a variety of textures to open our minds to the experience ahead. Sadly my main dish (asparagus risotto) was nothing to write home about and lacked any flavour whatsoever, but my boyfriend's face lit up as he worked his way through his main meal.
But the true highlight (hardly a surprise) was the Pierre Herme dessert. This would have had to been one of the best desserts of my life to date: a pictachio mousse enrusted in a crunchy case, topped with whipped cream, whole pistachios, strawberries and raspberry sorbet + coulis. To die for!
Address: 37 Avenue Hoche, 75008 Paris
Nearest transport: Charles de Gaulle Étoile (1, 2, 6) or Ternes (2)
Hours: Open Tues-Sat, 12 p.m.-2.15 p.m // 7 p.m.-10 p.m
'Til next time Paris!