Hot chocolate in Paris is different to any other place I've ever tried it before. It takes over-indulgence to a whole new level with its thick, rich consistency which is better consumed with a spoon than straight to the lips. It is sinfully delicious and a must when in Paris so here's a list of the best places to sip on hot chocolate in Paris.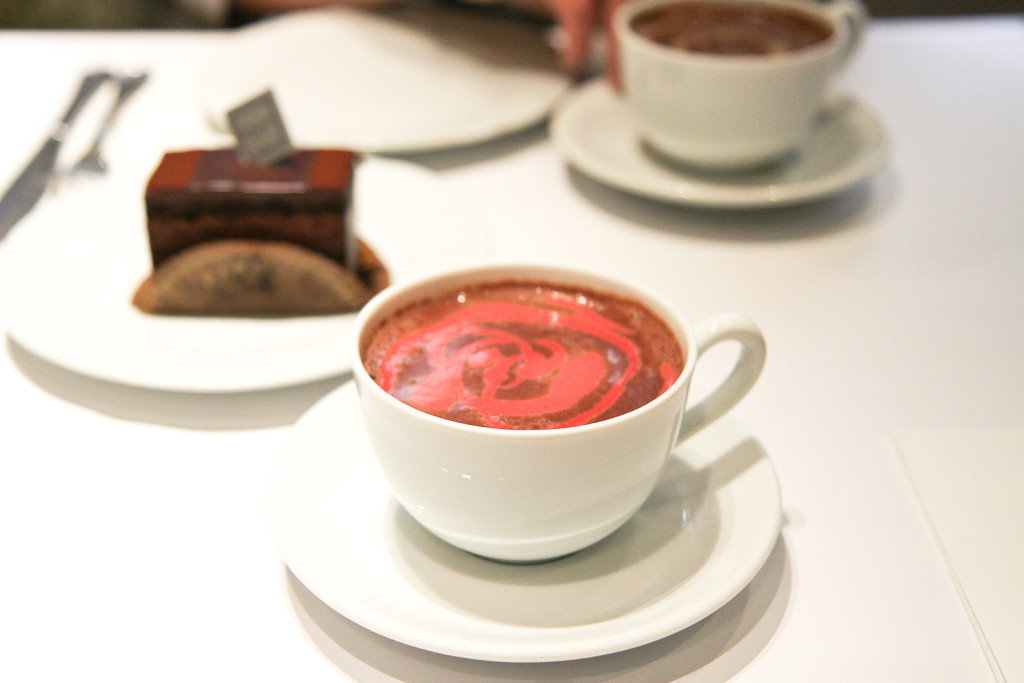 Where to find the best Hot Chocolate in Paris
Jean Paul Hévin
In my opinion, Jean Paul Hévin is the king of hot chocolate in Paris offering loyal customers as well as newcomers the best in the city. The flagship store has a chocolate bar upstairs where the chefs whip up each cup individually in front of your very own eyes. Not only has he mastered the traditional hot chocolate to perfection but he has also experimented to offer wicked concoctions such as chili, oyster and spiced ginger which bizarre as they might sound, taste delicious.
231 Rue Saint Honoré, 75001 Paris | Métro Tuileries
Angelina
Angelina is where all of the tourists flock as much for the hot chocolate as the exquisite interior. Enjoy a famed chocolat chaud in the belle époque designed tearoom and marvel at the decadence of your surroundings as well as your hot drink. They even serve a white chocolate version which is surprisingly scrumptious and not as sickly as it might sound.
226 Rue de Rivoli, 75001 Paris | Métro Tuileries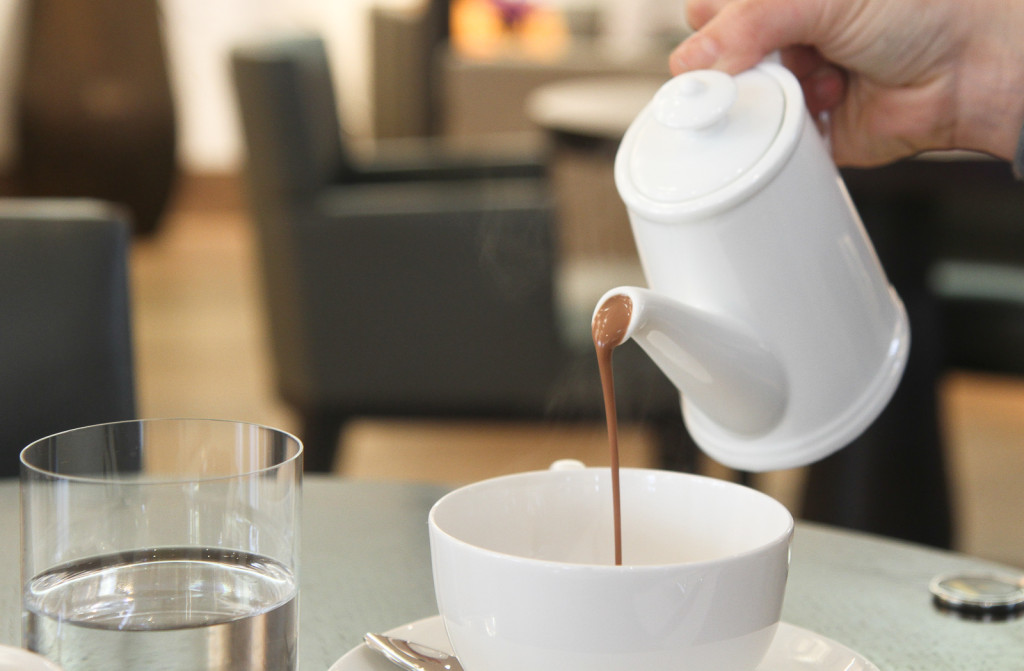 Jacques Genin
According to many Jacques Genin serves the best hot chocolate in Paris and it is undeniably delicious. Its very simple recipe is made from melting the finest Araguani de Valrhona chocolate into hot milk. It comes with a few taster chocolates to try which will undoubtedly whet your appetite for the vast selection of ganaches and pralines which line the counter. Take a few for the road and choose amongst flavours such as chestnut honey, Madagascan vanilla or rosemary.
133 Rue de Turenne, 75003 Paris | Métro Filles du Calvaire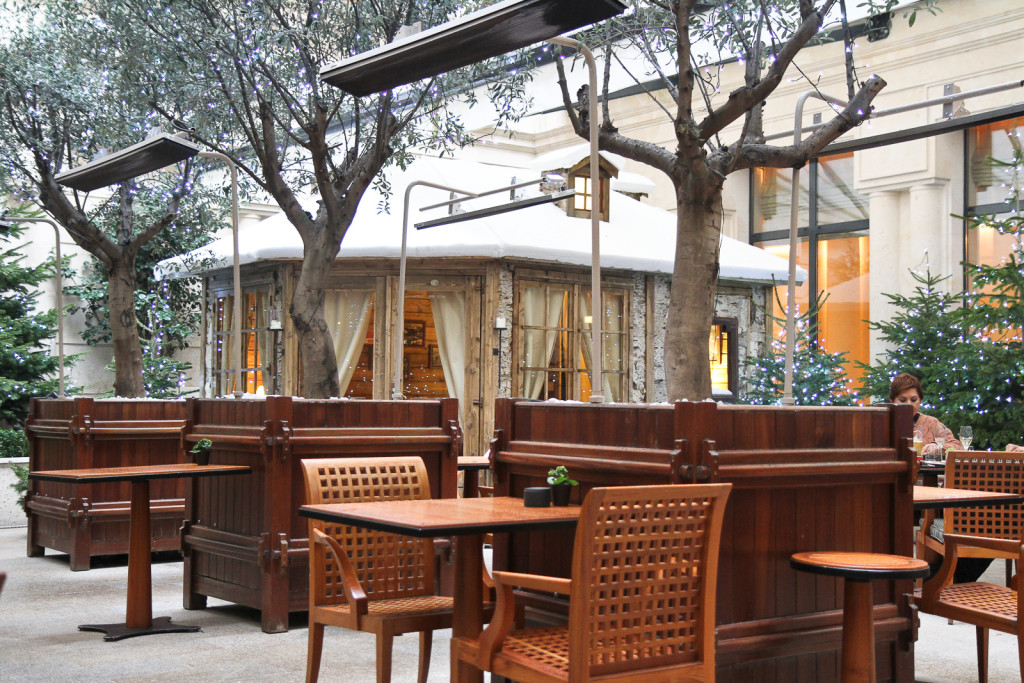 Park Hyatt Vendôme
Come winter this luxury 5 star hotel turns its tea salon into an après-ski lounge complete with a wood cabin, sheep skin chairs and snow dusted fern trees. For the ultimate trip to the French Alps without leaving Paris come here for one of their luxury hot chocolates and desserts.
5 Rue de la Paix, 75002 Paris | Métro Opéra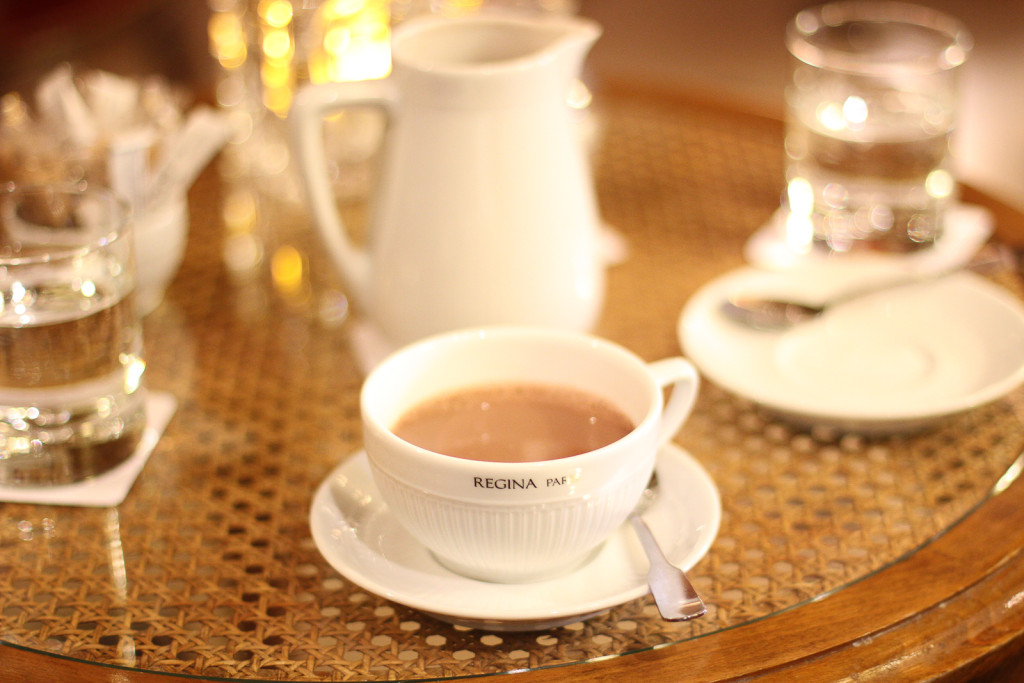 Hotel Regina
This plush hotel offers a very cozy tearoom to non-guests as well as guests. It sells a variety of Ladurée patisseries and a killer hot chocolate to boot. It is the perfect remedy on a cold winter's day.
2 Place des Pyramides, 75001 Paris | Métro Palais Royal Musée du Louvre
Café de Flore
This historic café has become an emblem of the Saint Germain area. Most people stop by for its famed reputation to sit in the seats of the 19th century great thinkers and writers who used to congregate here however those in the know talk of its exquisite hot chocolate. It arrives steaming hot with a pot of chantilly cream to taste and is best enjoyed on the terrace on a cold day to really savour every mouthful.
172 Boulevard Saint-Germain, 75006 Paris | Métro Saint Germain des Près
Ladurée
I don't think there are many people who haven't heard of Ladurée by now and with its pastel-hued macarons and exquisite array of pastries I am not a bit surprised. However people don't often come here for the hot chocolate but they really ought to. I would also recommend heading to les Marquis de Ladurée which is dedicated entirely to chocolate and where come the winter months, hot chocolate is served out of little paper blue cups.
Ladurée: 21 Rue Bonaparte, 75006 Paris | Métro Saint Germain des Près or Les Marquis de Ladurée: 14 rue Castiglione, 75001 Paris | Métro Tuileries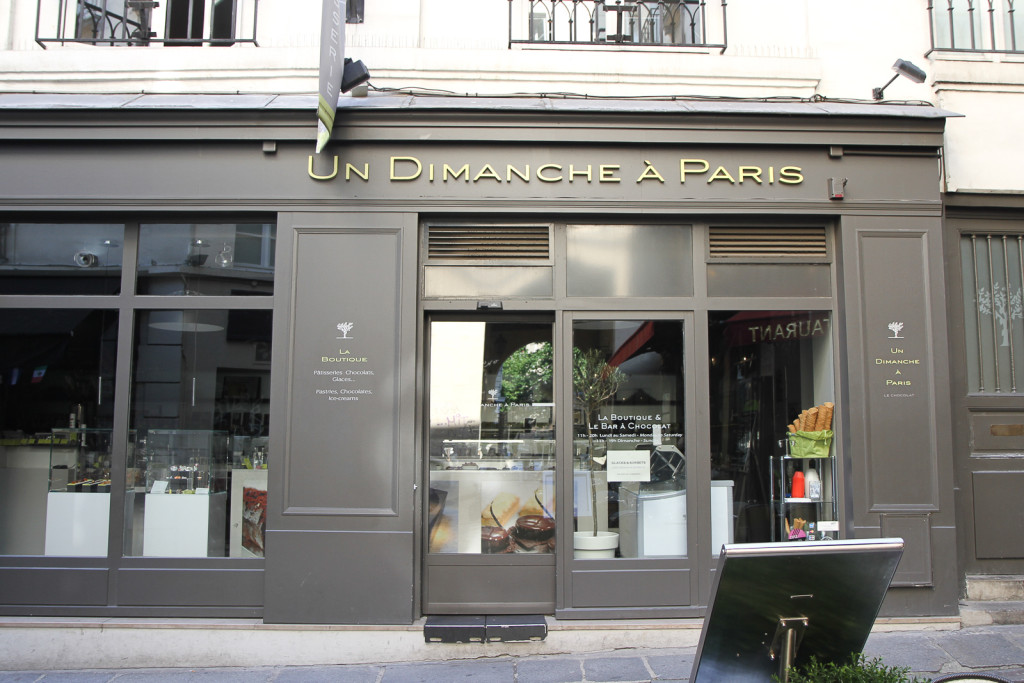 Un Dimance à Paris
Un Dimanche à Paris has become famous for its luxury brunch which whilst on the pricier side is said to be worth every penny. Included in the brunch menu is the hot chocolate which is thick and creamy, just as it should be. You needn't order the brunch to try it and trust me a trip to this pastry shop is well worth it for the hot chocolate alone.
4 Cours du Commerce Saint-André, 75006 Paris | Métro Odéon="4″]
Photography and words by Faye Bullock