This is one of the most scenic, effortlessly beautiful road trips in the world. Buckle up, you're in for one hell-uv-a ride! See here for more on planning your Pacific Coast Road Trip. For booking hotels last minute or on-the-go, I tried the Skyscanner Hotel App for the first time. For more ideas on where to road trip in the USA, see my guide to figuring out where you should road trip in the USA.
Starting Point: San Francisco
San Francisco is the cultural, commercial, and financial hub of Northern California. It is effortlessly cool, busier than it has ever been, and now so popular with tech start-ups that rent prices are out of control. In fact, it would be cheaper to live in Manhattan, NYC, than it would be to live in San Francisco nowadays.
But with great weather year-round, nearby beaches and surrounded by a body of water, San Francisco has a lot to offer visitors. The cafe culture is strong, the people are interesting, and there's plenty of history/culture to keep you busy for a few days in San Francisco.
Don't Miss: The Golden Gate Bridge, Fisherman's Wharf, Alcatraz, Union Square, Haight Street, The Castro, Riding a Cable Car, The Painted Ladies.
Half Moon Bay
Though not your typical first stop on Highway 1, it is easy to see why I'd recommend a short stop at Half Moon Bay after enjoying a glorious evening of luxury at the Ritz Carlton Half Moon Bay to kick off my journey. Here in Northern California they're all about wine country – with a twist. As the sun began to set around 7:30pm in the evening, the fires were lit and everyone gathered to enjoy a combination of wine, nibbles, and sunset by the fire. Bliss!
Drive Time from San Francisco: 45 minutes
Santa Cruz
Whether you're young or young at heart, Santa Cruz is calling you. I saw photos of this place online and immediately put it on my list for places to stop on my Pacific Coast Highway journey. Its as colourful, fun, and crazy as it looks in photos… which is exactly what I wanted! You can pay for a day pass of unlimited rides or pay $4-$6 per ride if you only want to try a few. Parking is from $10 right by the Boardwalk.
Drive Time from Half Moon Bay: 1 hour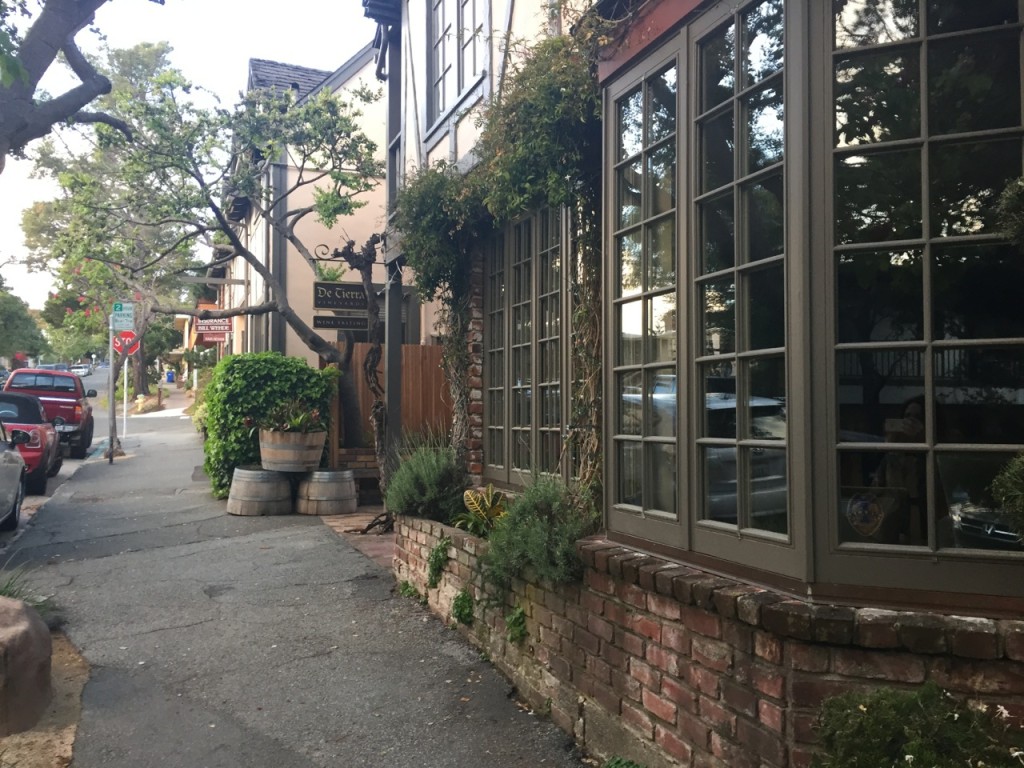 Carmel by the Sea
Just a short drive from nearby (bigger and more popular to spend the night) Monterey is the small seaside village/town of Carmel. If you can score a last minute deal on a hotel here, I'd highly recommend it. It is quite possible the most charming, romantic, cute and quaint little town on the California Coast. If you don't stay here, perhaps schedule a stopover for brunch or dinner at one of the many cute cafes. The most popular in town is Dametra Cafe – cheap and unassuming with really good Mediterranean cuisine. Expect to queue.
Driving Time from Santa Cruz: 50 minutes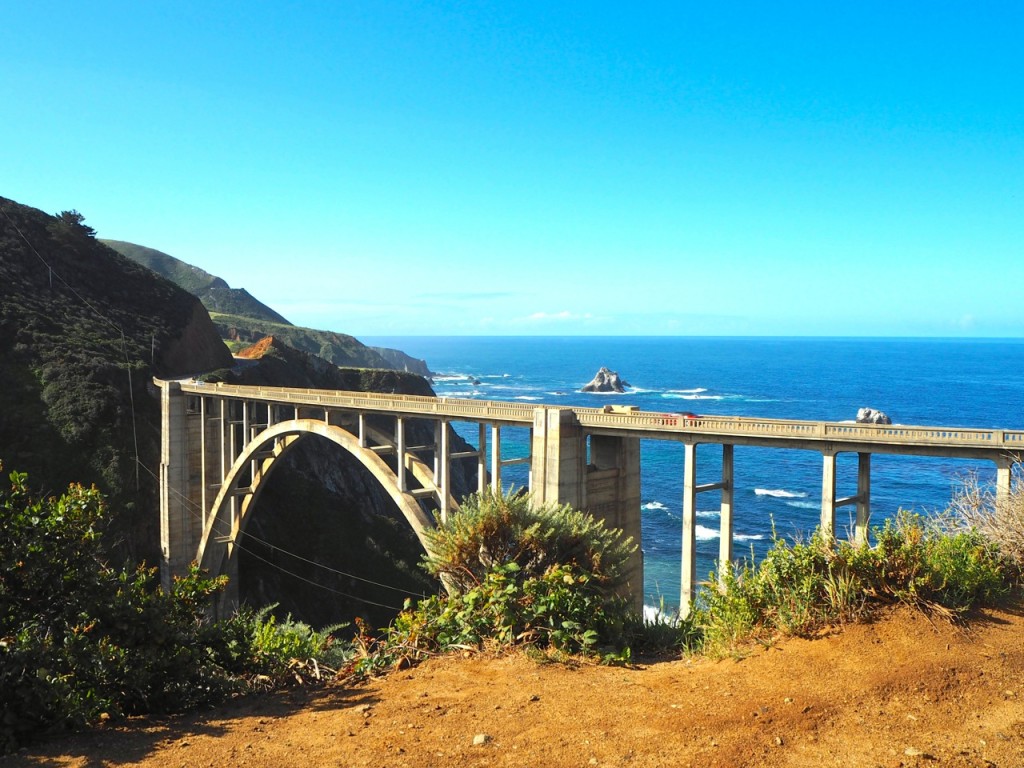 Bixby Bridge
Ahhhhhh – the icon. Many will tell you this is the best photo opportunity on the Coast, but just as many will tell you it is overrated. The verdict? It's great. But so is the rest of the Coast. This is but one memorable stop for a photo opportunity and a worthwhile spot to just sit and take it all in. Instead of stopping on the Coast side of the road, take the little dirt track on the opposite side of the road for a better photo that you'll likely have all to yourself.
Driving Time from Carmel: 25 minutes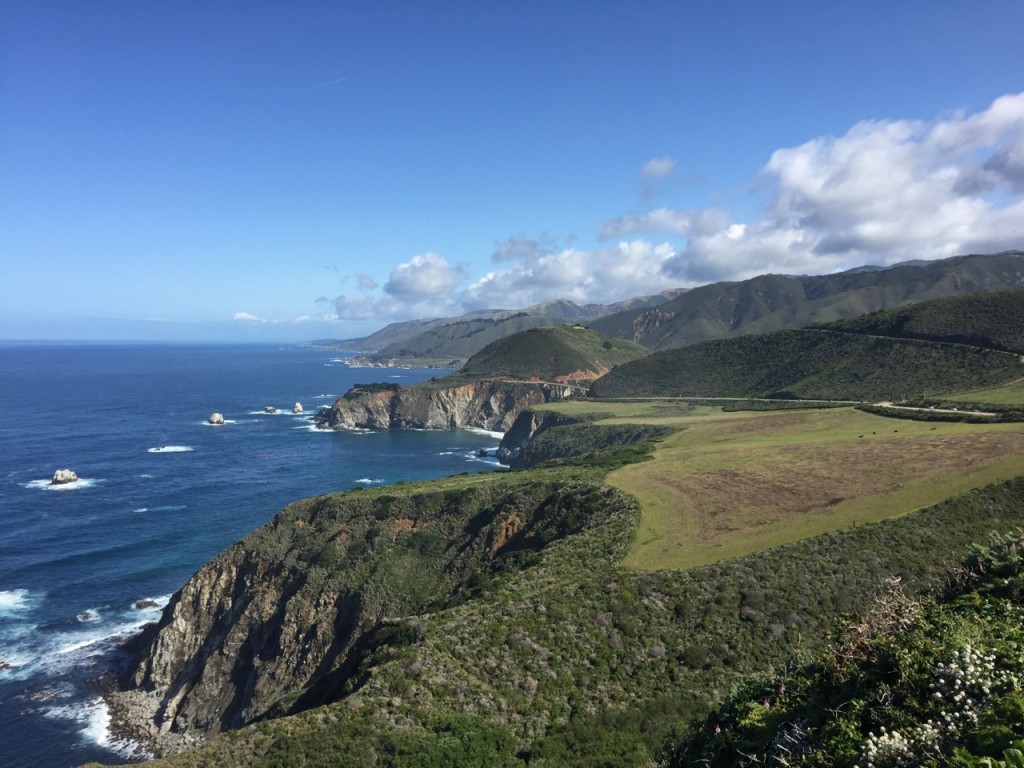 Big Sur, California
Carry on past Bixby Bridge and you are inside Big Sur. You don't really realise when you're in it, you just are. All of a sudden you're enjoying some of the most spectacular coast line — that's about the time you've hit Big Sur. Sadly all good things come to an end – so enjoy it while it lasts. Another handy hint: there is no phone reception here! Be sure to tie up all loose ends before you loose service, as you won't come back into service for at least a couple of hours. It is also handy to note that everything: gas, food, accommodation, is all much more expensive whilst 'in' Big Sur. Be sure to fill up your tank before entering to avoid breaking the bank.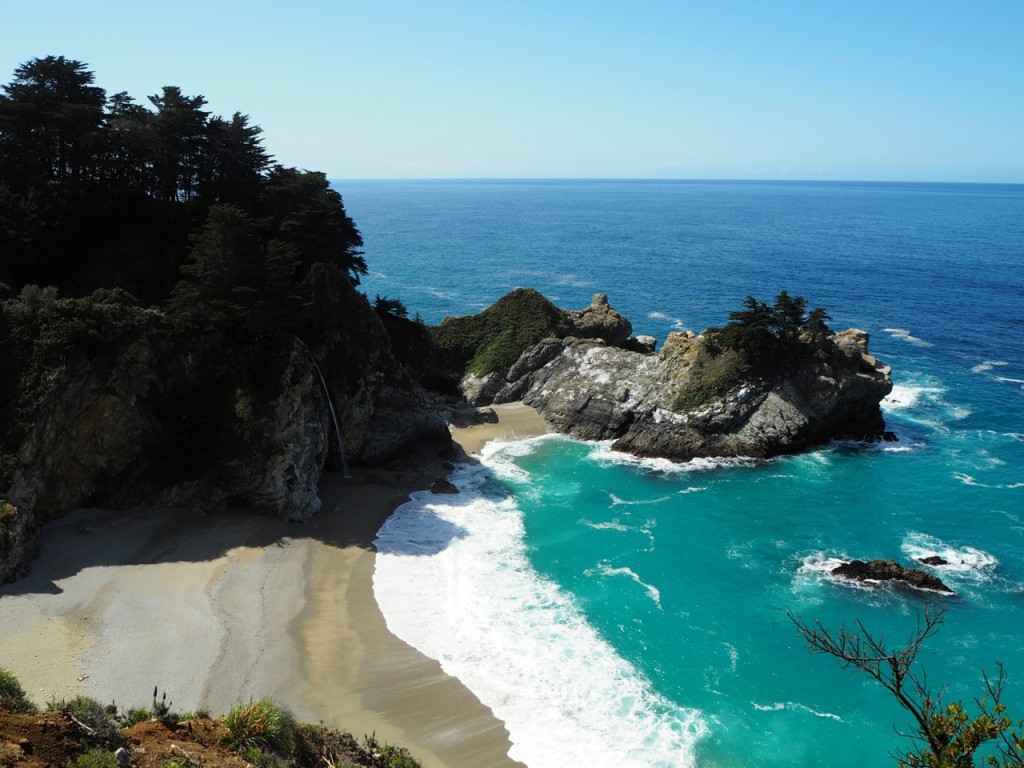 Mcway Falls
Aside from Bixby Bridge, the 'other' main attraction in Big Sur is the McWay Falls. Parking is a little challenging on the side of the road at times, so try to get an early start this morning if possible.
Driving Time from Bixby Bridge: 38 minutes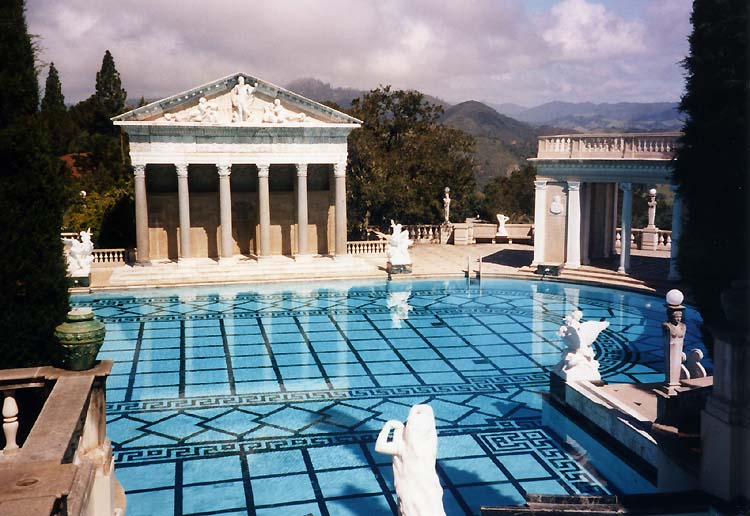 San Simeon – Hearst Castle
Some people will tell you this is a 'must see', others will tell you to ditch this stop. I couldn't decide, ran out of time, and skipped it anyway. If you've been to Europe and seen a castle or two throughout your days, it probably isn't worth the visit and entry fee. The most disappointing part about Hearst Castle is the strict policy to join a private tour – so don't expect to roam free on your own accord. It's totally up to you if you make this stop, but for $25, I thought I'd give it a pass.
Driving Time from McWay Falls: 1 hour, 20 minutes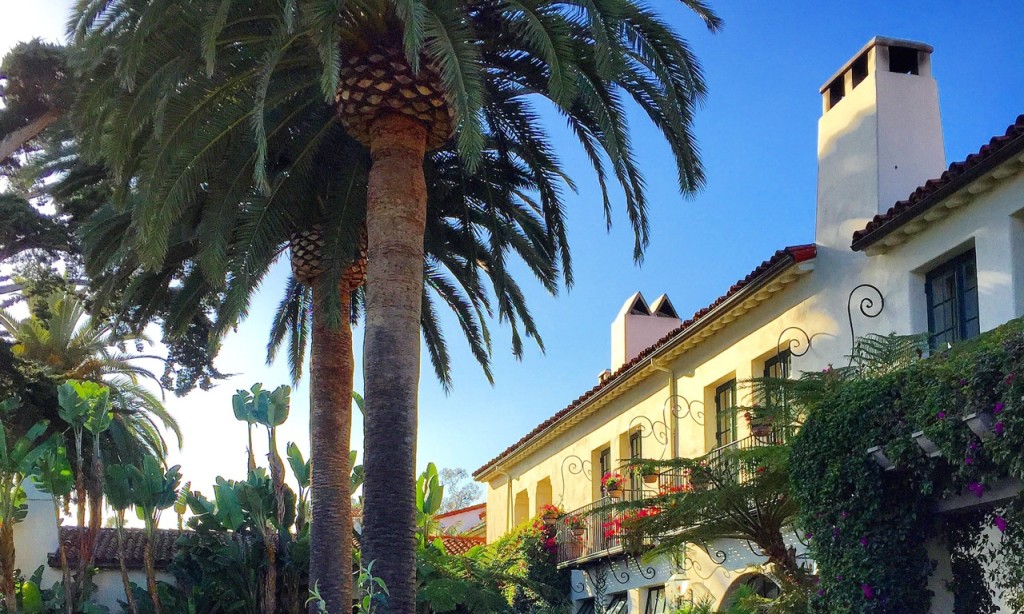 Santa Barbara
Oh the charm! My final 'pitstop' on the drive (aka sleeping quarters), was in Santa Barbara. It is quite an expensive city to stay the night in, so if you're on a budget I'd highly recommend nearby Ventura – less tourists and slightly more affordable, or even venturing a little further inland to Thousand Oaks to really save some dollars. Perhaps the most enjoyable part about my time in Santa Barbara was that I didn't really 'do' too much. I just sat by the ocean, soaked it all up, and enjoyed the last stop on my adventure before hitting the hustle and bustle of LA.
Driving Time from San Simeon: 2 hours, 20 minutes
Santa Monica / Los Angeles
And like all good things, the adventure must come to an end! To keep things coastal, I decided to end the journey in Santa Monica. LA has a lot of great attractions to offer (particularly if you're a first timer), but staying in Santa Monica will keep you outside of the hustle and bustle so you can continue to enjoy the California laid-back lifestyle.
If you've got an extra few days, be sure to check out nearby attractions like: Disneyland, Universal Studios, Warner Bros Studios, Hollywood, or maybe even check out a sports game in downtown LA. If the Lakers are on whilst you're in time, don't delay in getting a ticket. They don't come cheap. You might also consider going to a Clippers Game (though recently they are just as expensive), or perhaps getting behind the LA Dodgers at a Baseball Match. The options are endless!
Driving Time from Malibu: 31 minutes