So you're thinking of starting a Travel Blog? Congratulations! I first started my travel blog back in December of 2012 and it has since taken me to more than 80 countries across the world.
Whether you are starting a travel blog to simply document your trip or starting with the intention of building an audience and making money from blogging, this updated guide will help you through each step.
Throughout this post I will provide the best in-the-know tips from my own experience and share some secrets along the way. So without further introduction, here is the complete World of Wanderlust guide to starting a travel blog from scratch.
Post Updated October 2021.
1. Choose a name for your blog
At the core of a good travel blog is a good name that immediately shows your readers what your website is about. A good guide is to stick to under three words if possible and include a word that explains what your blog is about. Samples include Wanderlust, Travel, or short phrases like Field Notes. Once you have decided on your name, you'll need to check if it is available with a .com address. The best way to do this is to visit Blue Host and use the "Domain Name Check" tool to check availability.
2. Purchase the Domain and Hosting
Once you have decided on your blog name and determined that the dot com address is available, it is time to purchase the domain. If you have never owned a website before it is as simple as this: you purchase the domain (www.worldofwanderlust.com) and then you sign up for annual hosting (around $8-$13 per year).
There are two major options when you buy your website and hosting. The first is Blue Host and the second is Dream Host. Both offer a very similar product and similar pricing, so you can't go wrong with either choice.
Use this link to set up your web hosting with BlueHost!
It is important to choose a good hosting service because when things go wrong (technical issues are such a drag), you'll need to be able to make contact and rectify any problems as they arise!
Before you read any further, be sure to choice between the two hosting providers and buy your .com address. This will only take a few minutes.
3. Install WordPress
Now that you have registered a Domain (if you don't yet, click here to buy a website/hosting with DreamHost) and have registered yourself for hosting, it is now time to install WordPress. WordPress is the platform that you will write your blogs from, upload images, manage comments and build the core of your website. It looks like this from the back end of the website: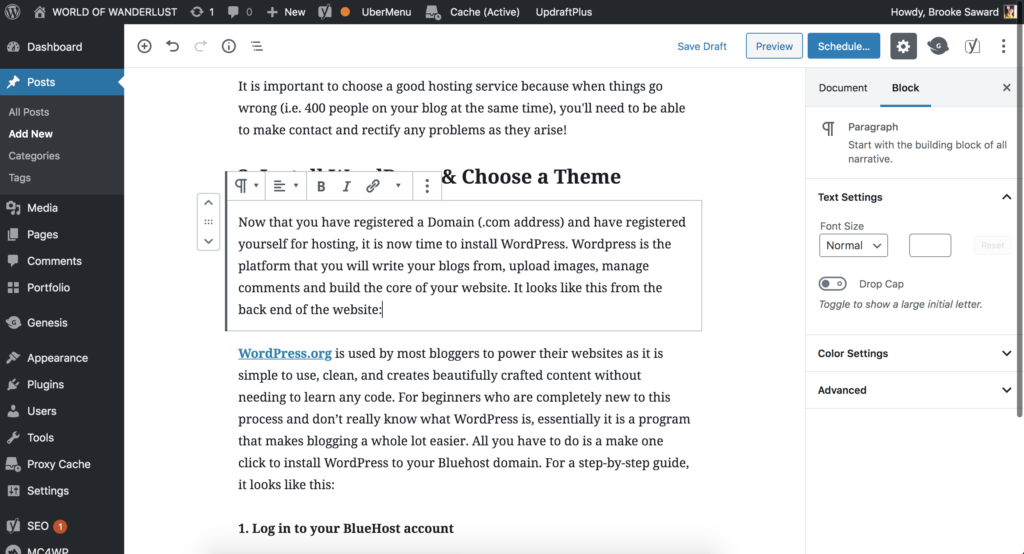 WordPress.org is used by most bloggers to power their websites as it is simple to use, clean, and creates beautifully crafted content without needing to learn any code. For beginners who are completely new to this process and don't really know what WordPress is, essentially it is a program that makes blogging a whole lot easier. All you have to do is a make one click to install WordPress to your Bluehost domain. For a step-by-step guide, it looks like this:
1. Log in to your BlueHost or DreamHost account
2. Click on "Goodies" in your left hand sidebar
3. Click on "One-Click Installs" from the drop down menu
4. Select "WordPress"
5. Select your domain and hit "Install for me now"
6. Go to your website and add "wp-admin"
(www.yourwebsiteaddress.com/wp-admin)
7. Log in with your WordPress username and password
Et voila! It really is that simple. You're almost ready to go.
4. Choose a Theme
Next up is your WordPress Theme which will determine the style of your blog. Everything from your font, spacing and layout will be determined by the theme you choose. While WordPress offer a bunch of themes for free, the investment in your theme is completely worth while! Themes are a form of personalisation and it allows you to make your blog stand out.
Remember to keep it simple, especially when you are starting out to build content. Readers want to land on a page that is easy to navigate, with a number of menu items to direct them to the content they are looking for (i.e. "Destinations" or "Types of Travel").
This makes it easier for readers to find the content they want to read after landing on your homepage. Another consideration is to choose a theme with a sidebar, which will allow you a to write an "About Me". This is helpful when convincing new readers to stay on your site. Here you can also place ads to help monetize your blog later, or direct readers to highlighted content.
Here are the best websites to shop for themes:
Creative Market (my preference)
5. Create great content
In the year 2020 it is now more important than ever to create great, quality content to reach an audience. There are now more blogs and content sites than ever before, so be sure to take these next steps seriously when you begin your travel blog:
Blog Post Layout
Make sure to use headings and subheadings to make your content easy to read. Breaking up your text with images is also essential, but be sure to strike a balance between photographic content and words. Readers on the web are visual and you need to make it easy for them to maintain their attention.
Write Regularly
If you are trying to build a loyal audience, be sure to keep your content regular and relevant. Because I am someone who likes to write in creative "bursts", I will usually write 5-10 blog posts at a time and schedule them for the future.
Listen to your readers
It is important to remember that you are not only writing for yourself, but also for your audience. The sooner you can establish who your audience is (geographic location, age, interests), the sooner you can write blogs that will help them book their own travels based on your recommendations.
Show don't tell
Finally, it is important to make your blog unique and true to your own experience. Be sure to share with the reader what you encountered and take them on a journey. People resonate well with personal experiences more than they do a factual explanation of where you went, what is there and why. You can also slip between these two voices, but be sure to share your own experiences along the way.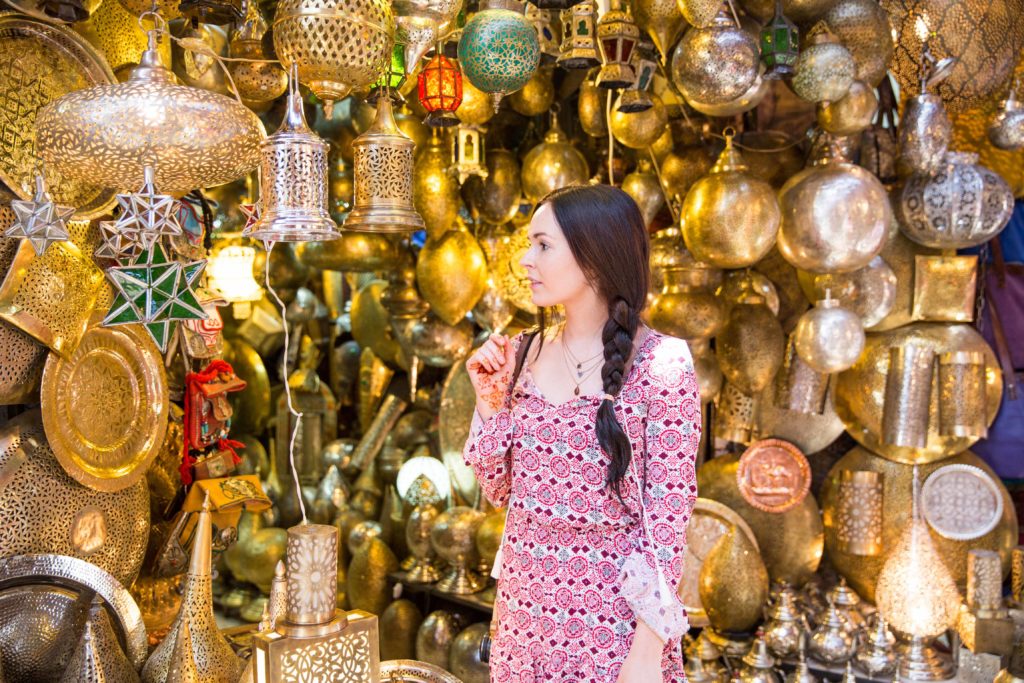 6. Monetize your blog
I'll cut straight to the point: travelling the world is not cheap. If you're starting a travel blog because you love to travel and would like to make it your job someday, then monetizing your blog is essential. The sooner you monetize your blog, the sooner you start to earn from previous travels that will set you up for future travels.
It is no secret that travel blogs make money. Whether it be through direct advertising (ads on the page) or affiliate links to products, there are many ways to make money from a blog. You should never feel guilty or like a sell out for monetizing your work – it is essential to survival. It is as simple as this: if you spend time building a great website with great content, you should be rewarded for it! Your readers will agree too because it means they can keep getting free travel advice from you, their source.
Where to start monetizing?
Over the years I have learned what works for me with monetization. While there is no cookie cutter answer to the question, I can certainly give you some insider knowledge as to what I have found works:
Google Adsense
There are many ads services out there but after trying and testing a few options, I have found that Google Adsense is the best for me. This is a reliable steady stream of income that is determined by how many visitors land on your site. The more content, the better! Just be sure to master SEO first.
Affiliate Programs
There are thousands of affiliate programs to choose from but there are a few key programs I have found success with for my audience. Because so many people ask about the outfits I am wearing, I started linking products via RewardStyle a few years ago. This is the premium platform for fashion bloggers and if your audience is interested in what you are wearing, there is no reason you can't use it as a travel blogger!
Another great program I use is affiliate links from Book Depository. I started linking books when I launched the WOW Book Club as a way of sharing what books I'm reading and enjoying. This is a great way to integrate other types of interests into your blog, while never straying too far from your subject matter. Because there is a lot of downtime in travel, sharing what I am reading is natural to my travels and feels natural to share with my readers.
I don't use many other affiliate programs but I have tried a few more over the years. There are so many other programs in the travel space, but be sure never to overload your audience to a point where it feels inauthentic. If you have genuine recommendations then it will never feel forced. Readers who appreciate your free content you provide them will not mind the odd affiliate link – they're interested to know what you recommend anyway!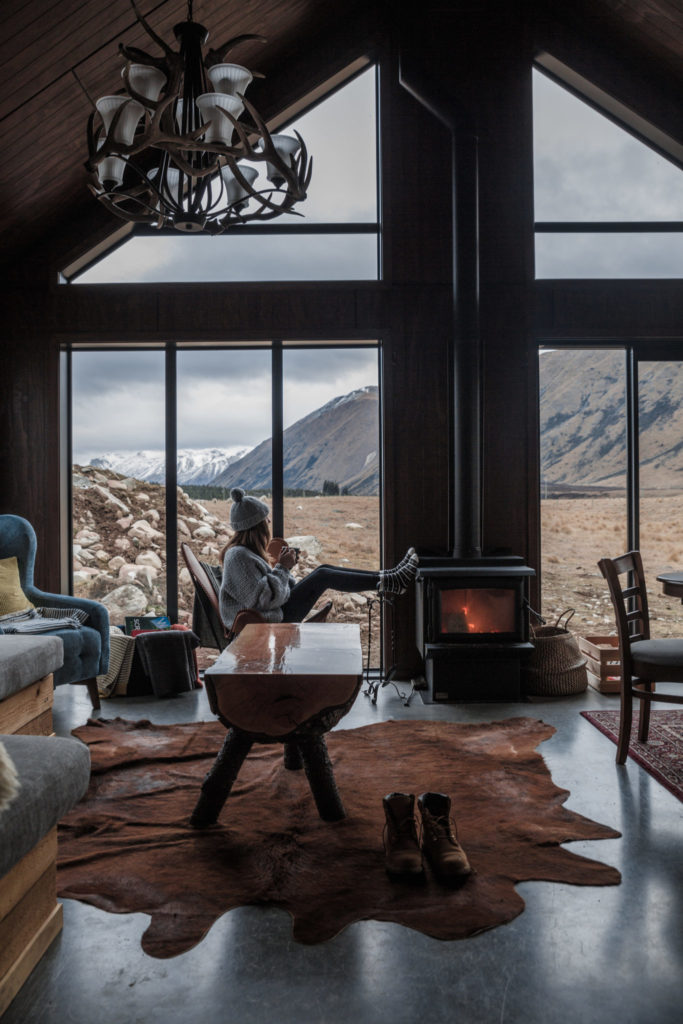 7. Grow your Audience
The best way to grow your readership is to create great content, write consistently and most of all be authentic. Blog readers are most attracted to read your blog if they can relate to you and find similarities between themselves and you, so it is most important to be yourself.
When it comes to travel writing it is important to make note of what you find interesting about a place. In Vienna you might be completely swept away by the coffee culture and wind up traversing the city in a nostalgic gaze. Be sure to note everything: what you see, the sounds, the smells, the tastes. Sharing these details with your reader will make them get a real sense for where you are.
Growing your audience in 2020 extends much further than your blog. Nowadays we have social media which is as easy as uploading a photo and has taken a great amount of interest away from blogs. People who travel just to take a photo might only plan their trips off instagram. But those who travel to experience and engage with the culture are still likely to read travel blogs and plan with your help. Here are a few ways to grow your audience in 2020:
Get Social
Social media is an obvious way to grow your audience. I found over the years that most of my audience came from Instagram and Facebook. Both of these platforms send traffic to my blog. I also find a lot of traffic comes from Pinterest, though I spend less time on this (maybe a personal goal for 2020!)
Search Engine Optimisation
Search Engine Optimisation is a skill to learn if you want more non-readers to arrive on your blog. This is how potential readers will find you when using search engines like Google.
Quality over Quantity
When a new reader arrives on your blog you want them to be amazed at what great content you are offering. You want them to feel inspired and informed. Over the years your travel writing and photography is bound to improve with practice, so be sure to consider it a skill you will develop over time.